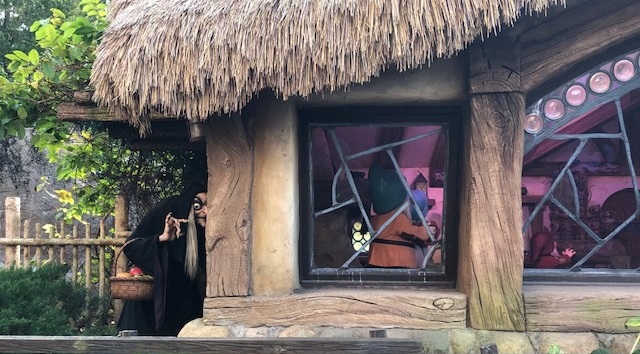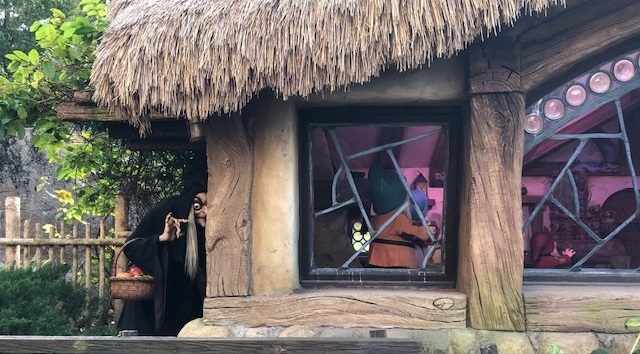 Fantasyland by nature is seemingly the most child-friendly part of all of Walt Disney World. Even so, there may be a few surprises that you and members of your travel party may want to be aware of before you take on the attractions.
SPOILERS AHEAD! If you are not looking for spoilers, read no further as this post will delve into attraction details that you would rather be surprised by. However, if you like to know what you are getting into or need some help deciding whether an attraction may be appropriate or enjoyable for members of your travel party, then hopefully this will be of help to you!
Keep in mind, everyone's definition of scary is different. I have one child who is afraid of nearly everything and one who exits attractions talking about ways the Imagineers can make it scarier.
Likewise, my kids travel with one grandmother who would rather stay away from thrill rides and one who is up for any and every coaster, so I travel with people on both extremes of thrill-seeking and thrill avoidance. The diverse preferences have opened my eyes to a variety of perspectives.
Fantasyland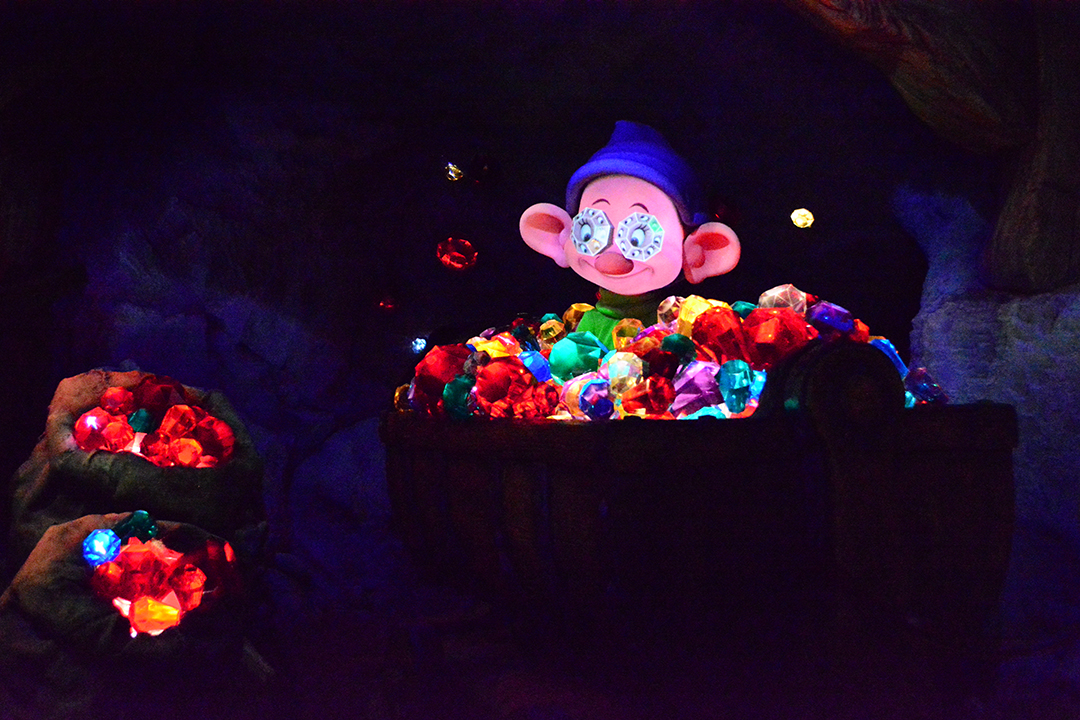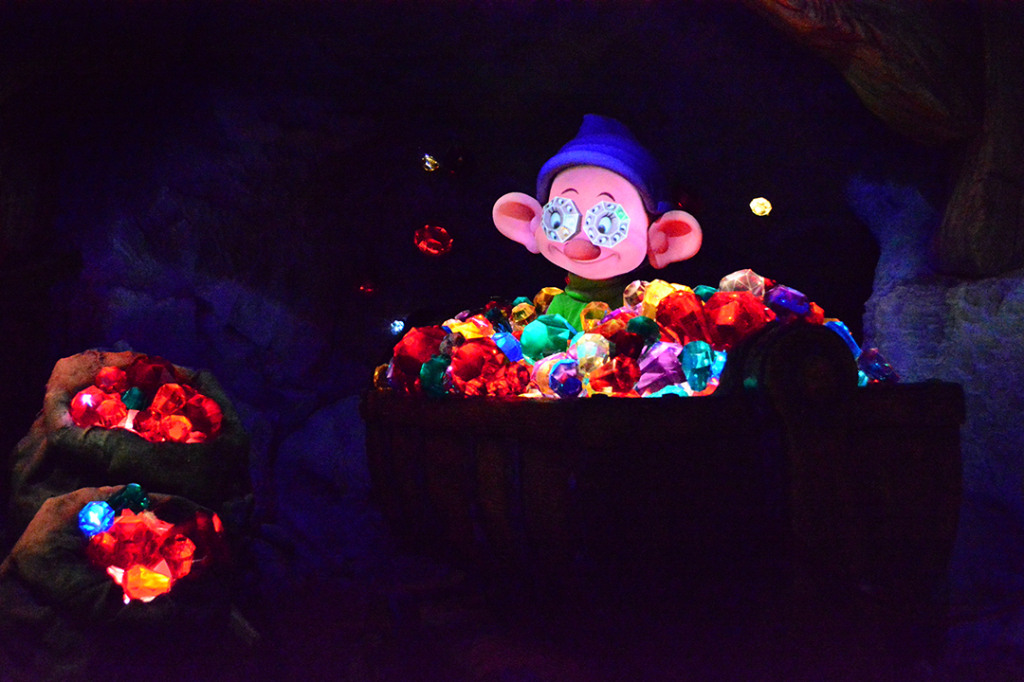 Peter Pan's Flight
This dark ride brings on waves of nostalgia for many guests who remember it from childhood. For me, it is darling to see my own kids marvel over it the way I used to. It is not intended to be frightening, but some guests may prefer to skip it.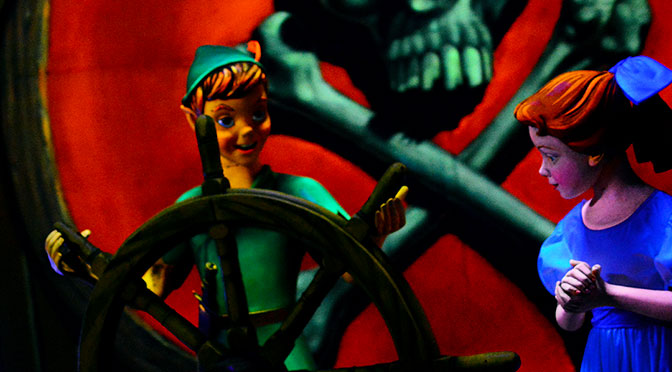 Heights: The ride vehicles are suspended high up in the air, so guests who are afraid of heights will probably find it nerve-racking.
Darkness: The ride is relatively dark, but not pitch black. Still, it may be worth preparing your little ones for it.
Characters: Some little riders may find Tick-Tock the crocodile or Captain Hook and his pirates frightening.
Overall, I tend to think of this ride as tame as my little one who is afraid of everything could ride it over and over happily.
"it's a Small World"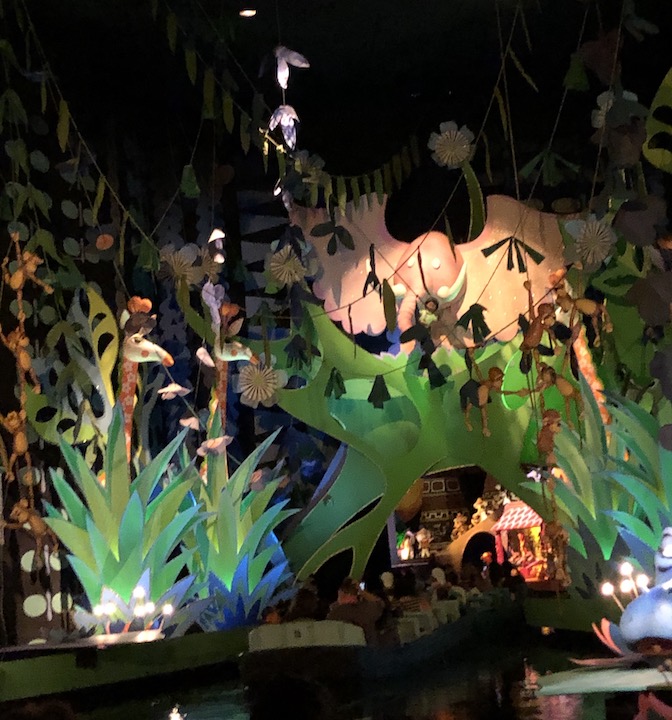 This dark boat ride is not intended to be scary. It takes riders through scenes from around the world featuring animatronic dolls singing various renditions of the title song. I cannot think of anything about this ride that is frightening except for perhaps the prospect of being stuck on it with the song playing over and over and over for hours on end.
The Many Adventures of Winnie the Pooh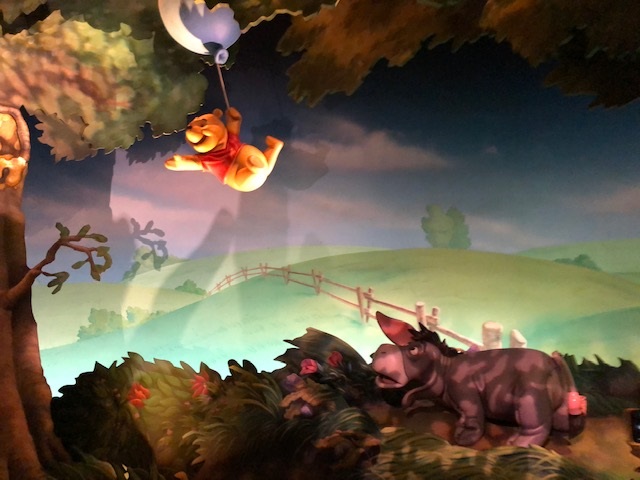 This dark ride is based on the film The Many Adventures of Winnie the Pooh. While the film is gentle and charming, and this ride seems as if it would be on the surface, some children actually find it a little bit scary. Even if your children enjoy Pooh and his friends, you may want to prepare them for a few things before you embark on this particular adventure.
Storms and noise: There is a part of the ride where a thunderstorm crops up, and it includes a lightning flash and a clap of thunder.
Heffalumps and Woozles: The Heffalumps and Woozles sing a somewhat ominous song and have a tendency to be creepy. My littlest traveler was wary of them and did not want to ride the ride a second time because she did not want to see them anymore.
Darkness: The ride is dim in some parts, but not pitch black dark
Mickey's PhilharMagic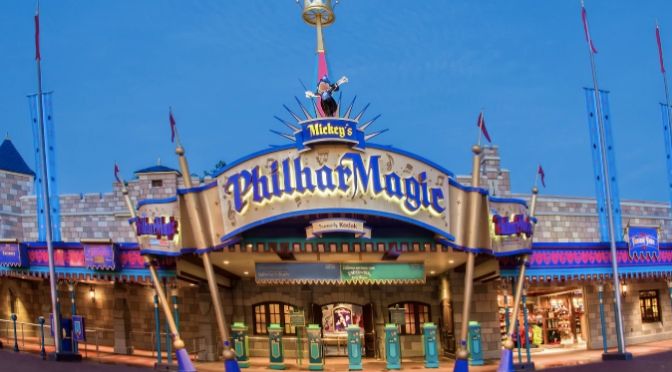 This is a 4D show starring Donald Duck. It features performances of songs from films like Beauty and the Beast, Little Mermaid, Lion King, and Aladdin. It is intended to be charming, and I really enjoy it. I thought this one would be a no-brainer for my toddler, and I was surprised that it has the potential to be scary. Here are some things to consider before taking your little one:
Darkness: It is dark in the theater, so if your child has never been to a movie, this might be troublesome for him/her.
3D Elements: Some parents may not want to put 3D glasses on their young children. Moreover, some children may not understand 3D or the purpose of the glasses. They may also be frightened when visuals seem to pop out at them. Some kids find it delightful, others find it terrifying. For example, Donald throws an instrument, and it seemingly spins towards you. At the end of Be Our Guest, corks pop off Champagne bottles, make loud air compressor noises, and fly at viewers. This is the point where my little one took off her glasses because she was DONE with 3D. She didn't like the corks at all. However, she enjoyed the rest of the show sans glasses.
Loud Sounds: There are some loud noises. Travelers who are sensitive to noise may want to wear hearing protection.
You Might Get Splashed with Water: Since it is a 4D show, you might get little splashes of water on you. Some children really cannot stand to be wet in any way, shape, or form, so if you are traveling with a child who gets upset by splashes, you may want to sit this one out.
Uncertainty: Donald gets sucked into a vortex in the beginning. It is quickly evident that he is okay, but some little ones may need to be reassured. Also, Donald flies off the screen and crashes into the wall behind the audience in the end. Animatronic Donald's feet stick out of the wall. Some kids think this is funny. Other kids think this is upsetting.
Prince Charming Regal Carrousel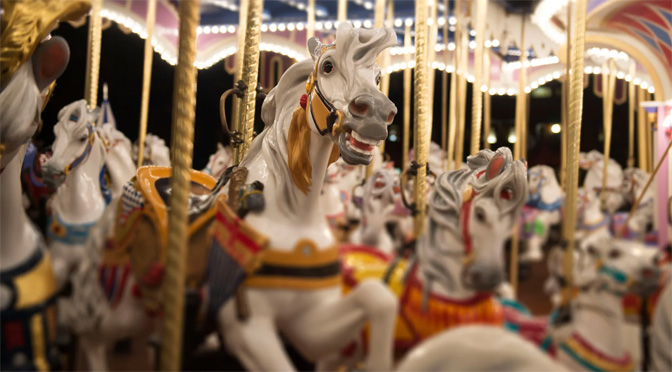 This attraction is a traditional carousel. It is as charming as the name suggests and is sure to delight travelers who would enjoy riding a gallant steed in the shade of Cinderella Castle. If you are wary of the up and down movement of the horses or of horses in general, there are sleighs you can sit inside of as an alternative. They sit flat on the platform as it circulates. They are a great alternative for those who want to ride but do not want to climb onto a horse.
Enchanted Tales with Belle
Enchanted Tales with Belle is a half walk-through, half-theatrical presentation where audience members take a walk through the story of the nigh Belle and Beast fell in love. It is fun for budding performers, but some children may find it intimidating.
Upon entry, guests step into a room with a talking wardrobe. The wardrobe is large and loud, and that may upset some children even though it is not meant to be scary. At this point, audience members are asked if they would like to participate. There are plenty of roles for all child-aged participants to play including everyday objects like a salt shaker or a picture frame.
Next, the audience moves into a room filled with benches. Children participating are asked to sit in the front with a Cast Member. Here, some children get upset because this requires being separated from the place where their parents/guardians are sitting and moving to the front of the room with the other participants. Each child participates in a parade, walking to Belle when introduced and posing for a photographer. Some children find this part extremely intimidating as well and instead rush back to their parents.
Even though this is a sweet little performance, and it is meant to celebrate children rather than intimidate them if your child is wary of being in front of an audience and will probably not want to participate, this is an attraction that may not be worth your time, and you might consider skipping it.
Mad Tea Party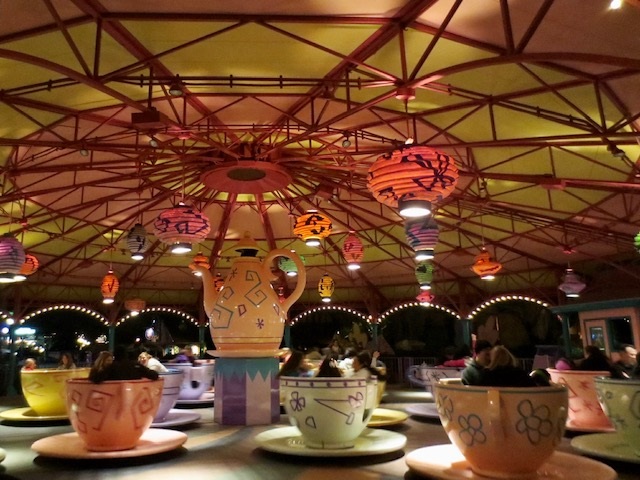 This ride tends to delight children. It is a bunch of teacups that spin around in circles. Riders can control how quickly the cup spins. While it might make people dizzy or aggravate motion sickness, it is not meant to be frightening. However, the ride's braking system makes a sudden, very loud noise at the end that startles both of my little travelers. If you have a child who is sensitive to sound, I would highly recommend having him/her wear a pair of noise-canceling headphones for this one. Neither of mine will ride without their "earmuffs."
Journey of the Little Mermaid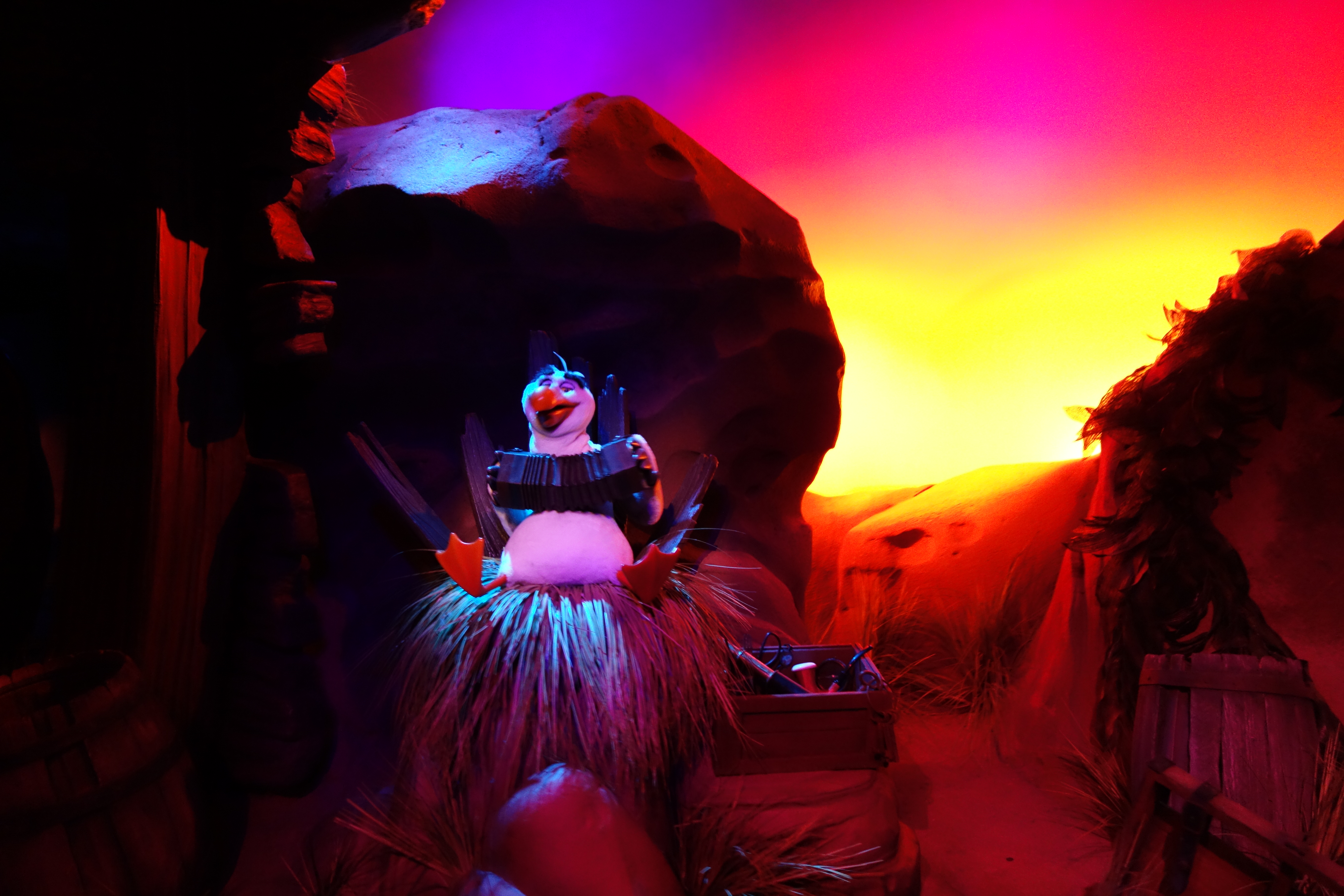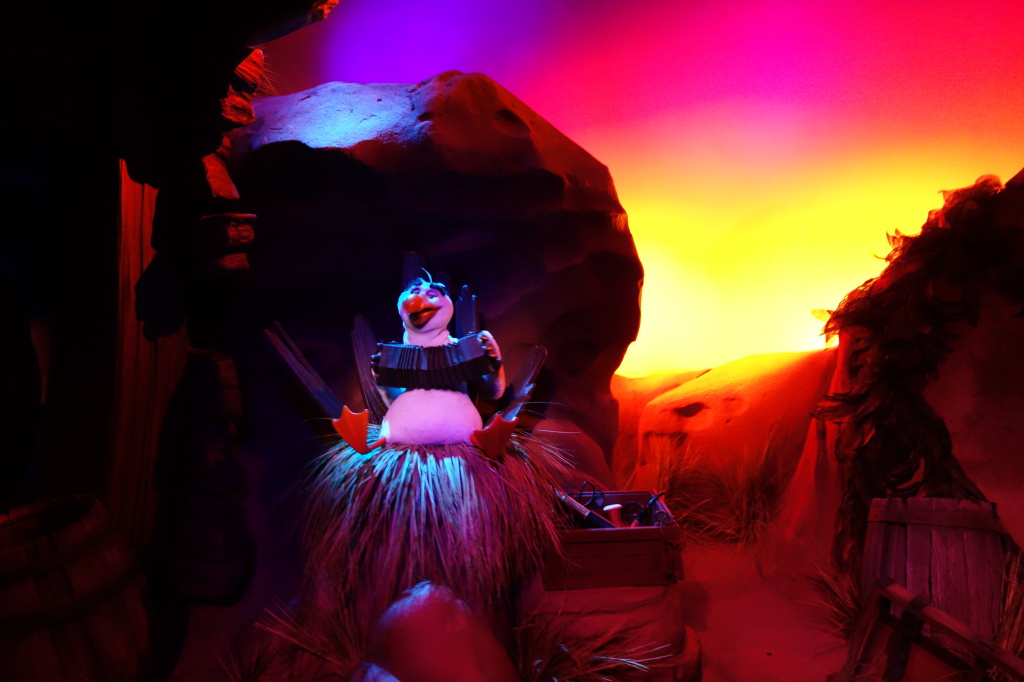 Journey of the Little Mermaid is a slow-moving dark ride. Passengers board a seashell and travel through scenes from….you guessed it: The Little Mermaid. The ride is primarily delightful, and visitors will enjoy excerpts from "Under the Sea" and "Kiss the Girl." The one thing children may find frightening is a large animatronic Ursula performing an excerpt from "Poor Unfortunate Souls." The entrance into her realm is a little spooky, too. My littlest traveler hides her face, but it isn't frightening enough to keep her from wanting to ride it over and over.
Barnstormer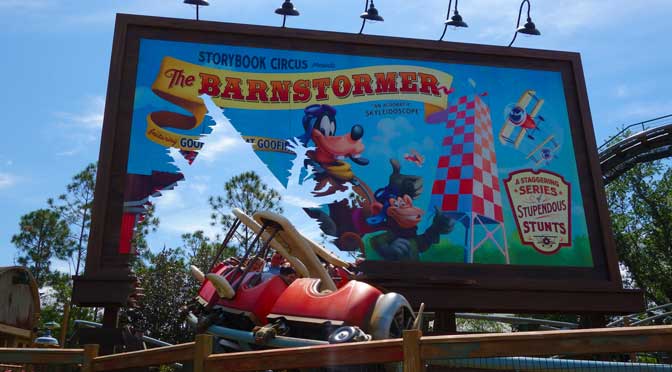 Barnstormer is touted as a "children's roller coaster," but it is a pretty wild ride. It is not a very comfortable coaster. Adults may find themselves cramped in the small seats. My 3 year old thinks it is terrifying and cried real tears on it. She wanted to ride and regretted it about 20 seconds in. Fortunately, it was a very quick ride and she didn't have long to be scared. My 5 year old smiled the whole time and said it was fun, but has never asked to ride it again.
Speed: The coaster feels like it is moving very quickly.
Small Drops: There are some small drops on this ride.
Movement: It has twists and turns. It is also pretty jerky. In fact, it is probably one of the roughest rides at the park.
Visuals: You feel like you are bursting through a sign at one point.
Heights: It isn't super tall, but travelers who are wary of heights may be afraid of the first hill.
Dumbo the Flying Elephant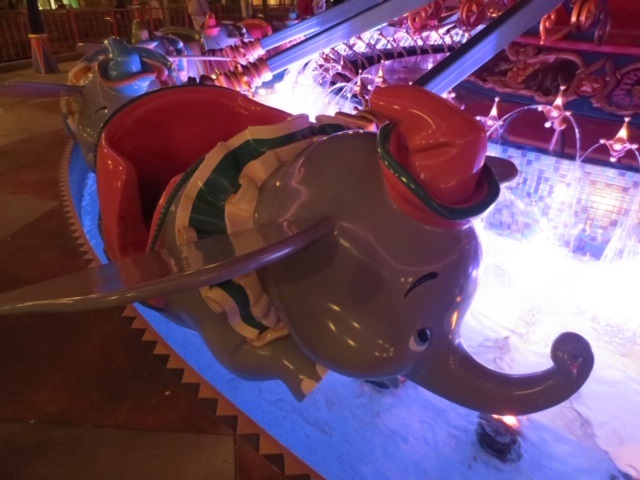 This quintessential classic is a spinner style ride with Dumbo the elephant ride vehicles. This family favorite is not meant to be scary. However, it does lift riders into the air, so those who have a fear of heights may want to avoid this ride and meet the travel party at the exit.
Seven Dwarfs Mine Train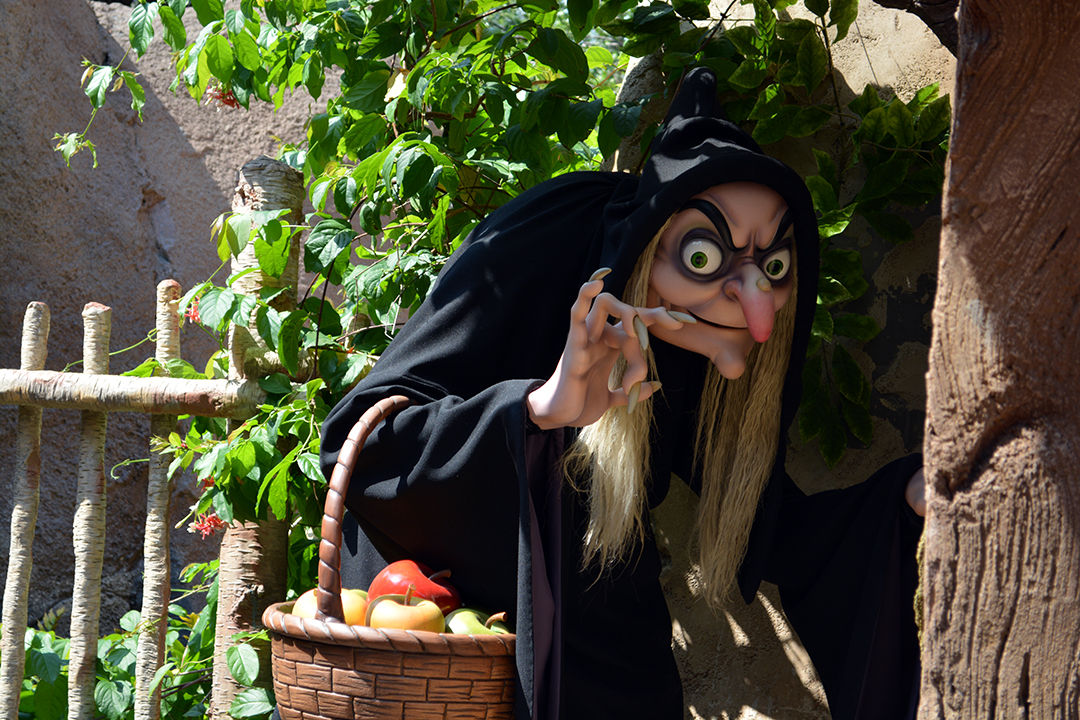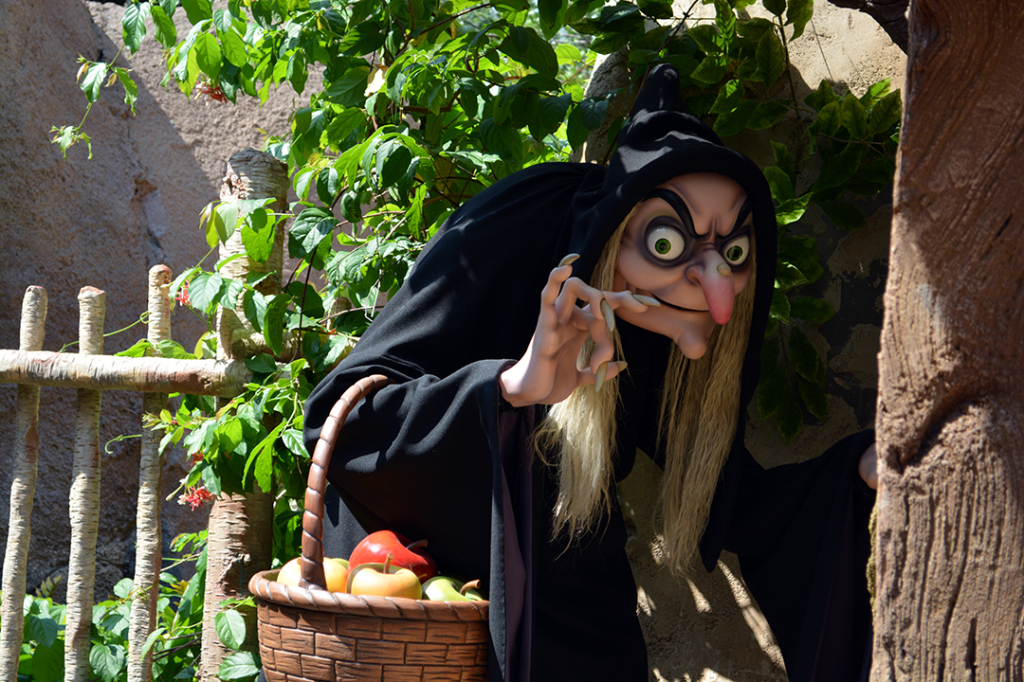 Seven Dwarfs Mine Train is a family roller coaster featuring Snow White and the Seven Dwarfs. It is tame and smooth as far as coasters go, but it may still be a bit too intense for some members of your travel party.
My children both rode it at age two. One loved it. One thought she loved it, but on her second ride started anticipating the scary parts and didn't like it as much as she had initially. This still did not prevent her from giving it a third try on a subsequent trip.
Speed: This ride is speedy and the acceleration is one of the things that frightened my younger child. My mother also found the speed a little intense.
Small Drops: The ride has small drops. None of the drops gave me the stomach drop feeling roller coasters can deliver, but again, some riders may find it too intense.
Twists and turns: The coaster curves you so that you are a bit sideways. The ride vehicles are designed to rock with the movement of the coaster, so the ride experience is quite smooth, especially compared to Big Thunder Mountain Railroad and Space Mountain. But, again, it is a bit of a wild ride.
Heights: Since the coaster has hills, those with a fear of heights might want to avoid riding it. However, I find the heights on this one less frightening than I do on many coasters.
The Wicked Queen: The Wicked Queen makes an appearance at the end of the ride in her Witch disguise. She is standing outside of the cottage as Snow White and the Dwarfs promenade within, so the scene is not completely scary. My little one simply commented "A Witch," but she didn't try to hide.
Loud Noise: The animatronic section of the ride is pretty loud. As you enter the mine, the Dwarfs are singing, but then a bell sounds very loudly, and they sing Hi-Ho in loud voices. If a member of your travel party is sensitive to loud sounds, you might consider having him/her wear protective ear-wear.
While this coaster has its share of thrills, it is clear to see why it has a low height restriction of 38″ which allows toddlers and preschoolers to hop aboard. Overall, my whole family agrees that this is a better "starter coaster" than the aforementioned Barnstormer, which only requires a 36″ height.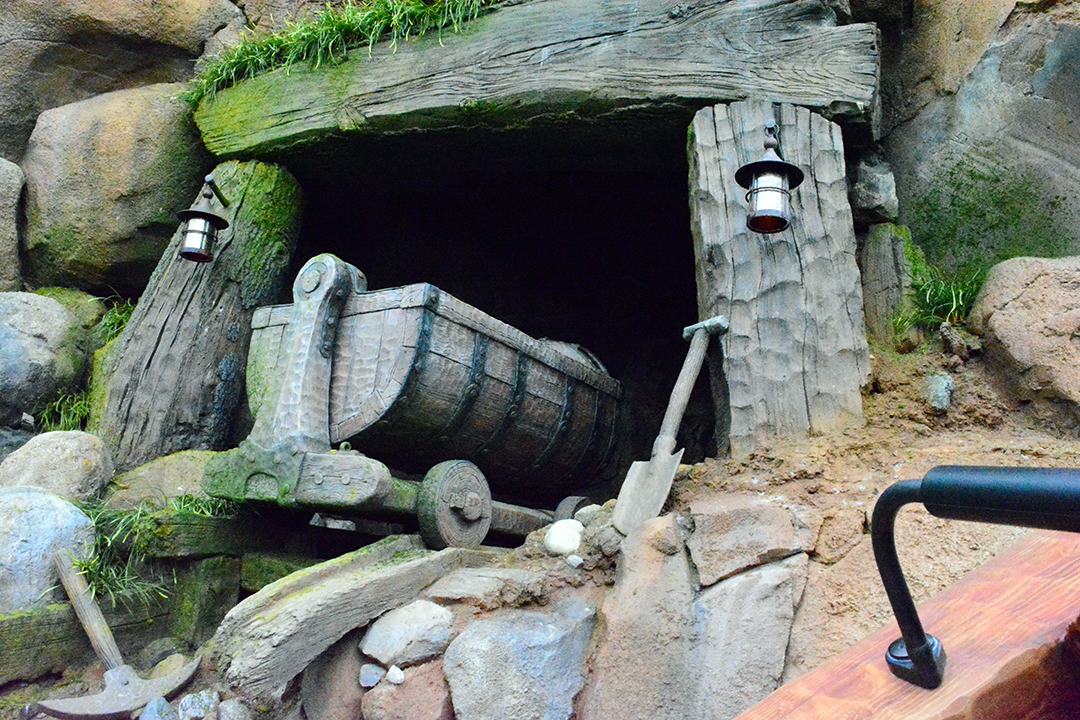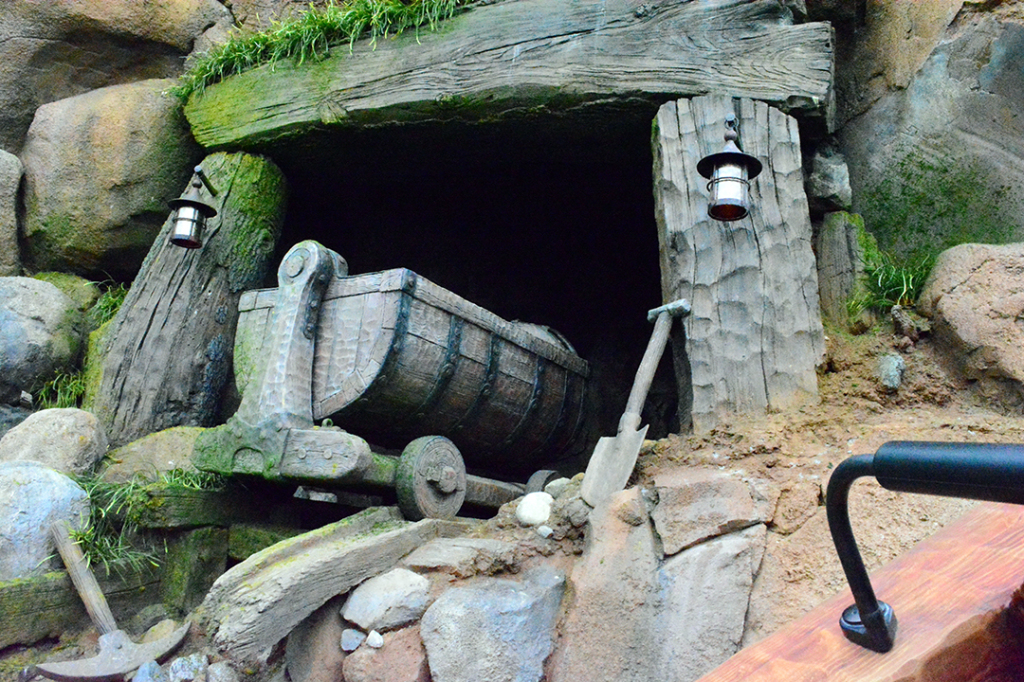 Overall, Fantasyland is quite possibly the tamest section of Walt Disney World. It does have a few thrills and some unexpected scares, but it is meant for families and many childhood favorites reside there. You know your travel party best, and hopefully, this guide will help you to decide what is most appropriate for your group!
Want more Magic Kingdom Scare-Factor Reviews? Check out Tomorrowland.
I have also covered Epcot: Check it out here.
What Fantasyland attractions are your favorites? Have any of them surprised you in terms of how scary they are? Share your thoughts below or on Kenny the Pirate's facebook page! You can also use the large blue facebook button below to share this post.