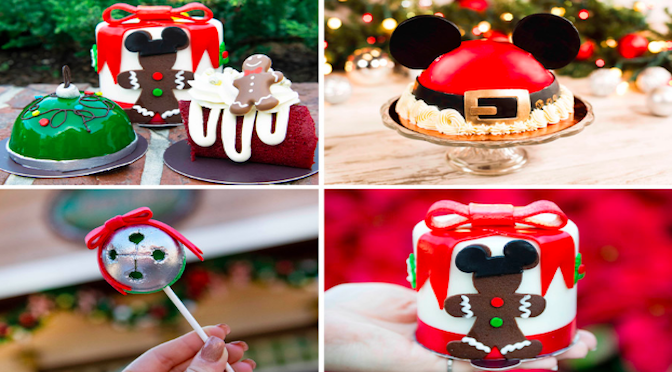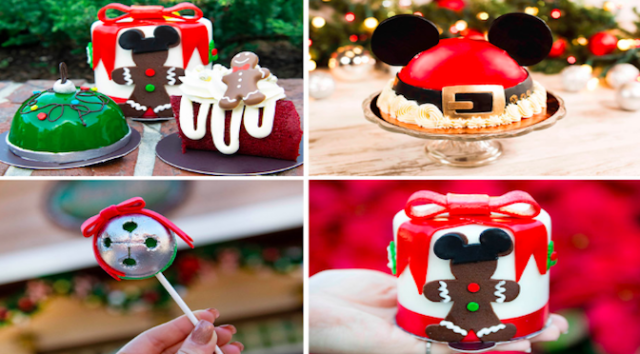 If you are headed to Disney Springs this holiday season to do some shopping, take a stroll along the Christmas Tree Trail or to visit Santa, you will definitely want to make time for some of the exclusive seasonal snacks that are being offered.
The Ganachery is a must for our family when we visit Disney Springs and it is offering a wide variety of holiday chocolatey treats that I can almost smell through my computer screen.
The Ganachery is featuring two adorable edible piñatas, a Santa Mickey Piñata (filled with crispy pearls and house-made marshmallows), and a Reindeer Pluto Piñata (filled with reindeer chow).
This season you can also try a Chocolate Christmas Cottage (filled with peppermint bark), chocolate-enrobed stollen bread, Peppermint Ganache or their delicious house-made Eggnog.
Amorette's Pastisserie is sure to satisfy any sweet tooth with their array of holiday treats to chose from. I personally can't wait to try the adorable Ornament Macaron (made with milk chocolate peppermint ganache) and the Yule Log Dessert (with red velvet cake and spiced cream cheese icing).
Other treats featured include an Ornament Pastry (featuring bourbon hot chocolate mousse with marshmallow and chocolate chiffon cake) and a Holiday Petit Cake with Morello cherry, Chantilly, chocolate chiffon cake, and dark chocolate mousse.
You can also pre-order a Mickey Santa Dome Cake that serves four-six people and is offered in several flavors, including chocolate chiffon, ice cream mousse, dark or white chocolate crispy pearls, and Chantilly cream.
Other Exclusive Holiday Snacks that are featured at Disney Springs include:
Cookie Dough and Everything Sweet Food Truck – Peppermint Cookie Dough and Holiday Funnel Cake topped with Peppermint Cookie Dough
The Daily Poutine – Turkey Holiday Poutine – White and Dark Turkey Meat, Stuffing, Gravy, and Cranberry Relish
B.B. Wolf's Sausage Co. – Turkey Sliders featuring Turkey Sausage Patties with Munster Cheese, Gravy, Cranberry Relish, and Arugula
AristoCrepes – Holiday Bubble Waffle with Peppermint Ice Cream, Whipped Cream, Chocolate Sauce, and Candy Cane Pieces and a Cherries Jubilee Crepe with Cherry Filling, Romanoff Chantilly Cream, and a Black Cherry Liquor Sauce
Christmas Tree Trail – Mrs. Claus' Churro Bites with Peppermint Chocolate Sauce, Thank Garland Frozen Hot Chocolate, Frozen Eggnog, and Holiday Cocktails
Don't forget these treats are seasonal and will disappear early January 2020. If you are looking for some additional savory snacks you can check out the 2019 Epcot's International Festival of the Holidays Food Guide!
Which treat are you looking forward to on your holiday visit to Disney Springs?
Jess is an experienced Disney traveler, wife, mom of two beautiful girls and golden-doodle Maui. Disney World has always been her Happy Place. She embraces the motto 'Hakuna Matata' and looks forward to sharing her love of all things Disney with you!