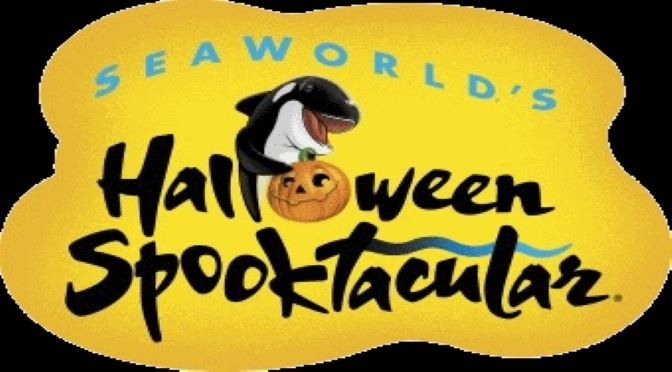 During October, celebrate Halloween Spooktacular at SeaWorld Orlando with a family friendly event that you're sure to whaley love! Best of all, it's  included with admission cost!
Every weekend in October, SeaWorld will host a Halloween Spooktacular event during their daytime hours.  That makes it completely kid friendly, and costumes are encouraged. Below is the list of entertainment options available.
[the_ad id='41456′]
Trick or Treat Trail
The young and the young-at-heart are welcomed to Trick or Treat through the trail and meet and interact with some surprise sea characters along the way! Insider tip: Bring your own  re-usable bags if you do not wish to purchase the ones they sell for $2 (proceeds do help support the Busch Gardens Conservation Fund though). Also, worth mentioning that the candy is mostly non-chocolate such as Airheads, Now and Later, and Trolli.
Sesame Street Halloween Parade
This is an all new parade this year inside Sesame Street Land featuring your favorite furry friends dressed in their Halloween costumes singing and dancing to fun Halloween music that teaches kids to be safe during their night of Trick or Treating!
Halloween Dance Party
Make a splash as you dance along with some colorful sea friends as a DJ plays some upbeat family friendly tunes. "Happy happy dance dance" like Elmo!
Pets Ahoy Halloween
"Dogs and cats, ducks and doves, potbellied pigs and a few surprise animal guest stars will show you just what SeaWorld Orlando's encouragement-based training techniques can accomplish." This is such a super cute and entertaining show that normally runs throughout the year but during the Halloween Spooktacular will have a fun Halloween spin to it that you won't want to miss!
Meet a Mermaid
Guests will delight in meeting a real live mermaid!
Count Von Count's Spooktacular Breakfast
"Count" me in to this famlily-style breakfast event at the Seafire Grill Restaurant! Enjoy all your sweet and savory breakfast favorites alongside your most favorite furry Sesame Street friends! This event is held at 9:30 am on Saturday and Sunday only.  Adults $29.99 / Children (age 3-9) $14.99 . Advance purchase recommended.
Games, Merch, Snacks, and Face Painting
Guests can get a Spooky Game Pass (6 games for $20) and play fun favorites such as Balloon Pop and Disc Drop with each game resulting in a prize!  Additionally offered to this event are some  fun snacks such as "Cotton Candy Ice Cream Wraps" , "Build Your Own Cupcakes", "Donut IceCream" " Mini Donuts"  . Halloween merchandise is also offered with some fun t shirts and light up wands. Face Painting is available for kids. Insider tip: costumes are permitted but painting your own face or wearing a mask is not. Have your face painted here to match your costume!
All in all this event at SeaWorld could be a great addition to your Halloween/Fall festivities list! Since this is included in the cost of admission all the rides and shows throughout the park are available as well to make for a full day of fun! If you've got small children and have downtime while on your Disney World or Universal Studios trip I highly recommend the Halloween Spooktacular!
So will you be on your way to where the air is sweet and take a  walk down Sesame Street this year? Let us know in the comments if this will be a new addition to your fall tradition!
– Amanda Wesche