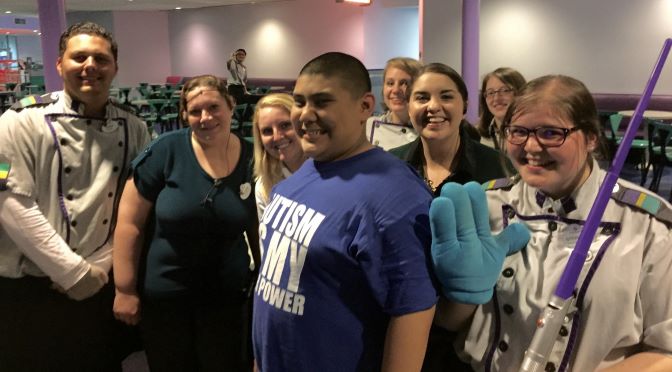 By Melody Grewal – Before my non-speaking autistic son mastered his way of reliable communication and before we had passed some years in therapies easing the effects of anxiety on his sensory system, we toured Disney World ritualistically. One night four years ago, we were in the middle of his own very unique MK Touring Plan.
Our plan involved only the front right side of Magic Kingdom:  Walk up the right side of Main Street toward Monsters Inc. Laugh Floor.  Watch Monsters Inc. from the first row (centre seat, left side).  Go to Cosmic Ray's and sit in the back area.  Look out the window at Cinderella's Castle.  Eat a snack packed from our resort room, which had been brought from home in checked luggage.
[the_ad id='41483′]
And that's it. That's how we toured Magic Kingdom every time we went for two years. Usually, it all worked out fine. But on one particular night in September 2015, the back section was already roped off and closed, being cleaned for the night. I stood by the ropes, trying to convince myself tonight would be a good time to try to train my son's flexibility. As I tried to calm myself, holding back tears, dreading the upset that would result from a routine snag, two Cast Members approached and asked "Can we help you?" I explained my worry and they said, "That's no problem! He can sit back here!" and moved the rope for us. I was so relieved and promised to keep our area as clean as we found it. So off we went to sit by the window, look at Cinderella's Castle and enjoy a snack. Happy guy! Happy parents!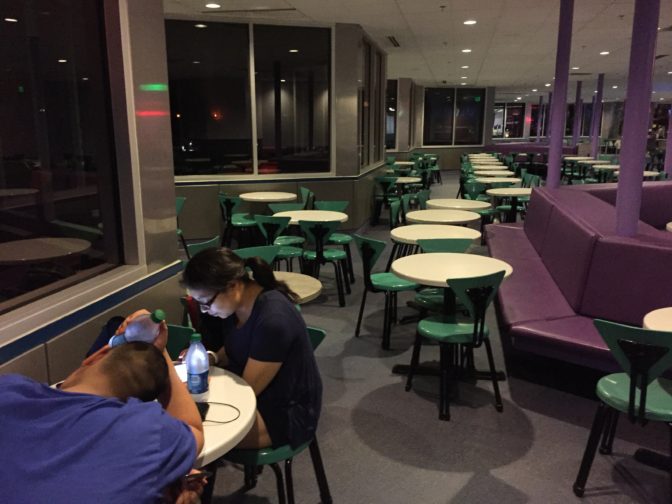 After we had been sitting a bit, a whole bunch of Cast Members came by to present him with a tray of signed place mat and goodies!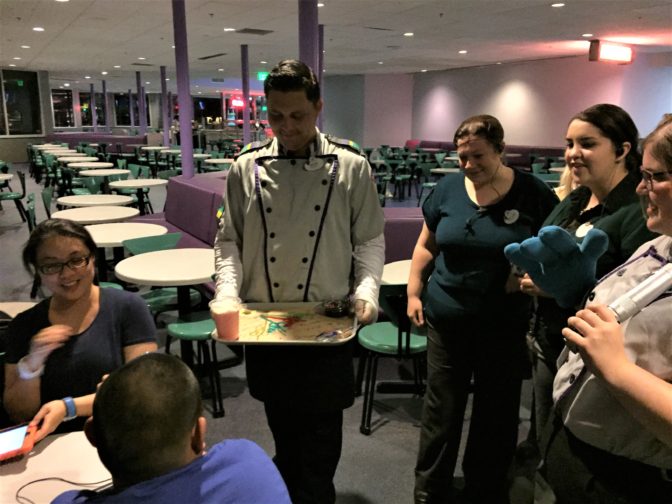 They told him how welcome he was and how happy they were that Cosmic Ray's was one of his favorite places and that he should visit them as often as he wanted any time of the day. He would always be able to sit in "his" area.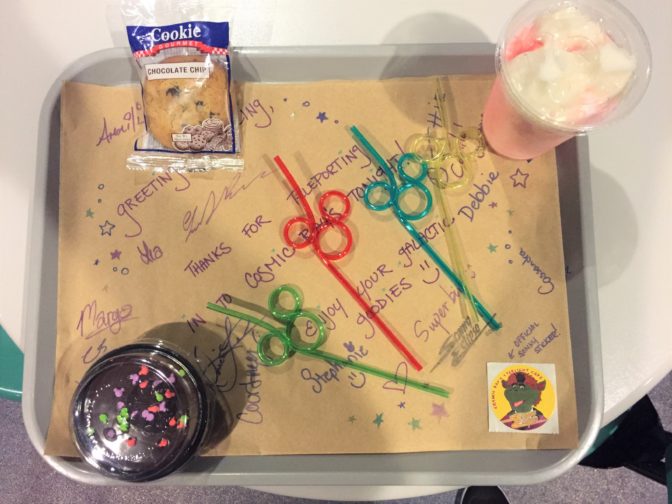 My son, Iz, smiled from ear-to-ear at their welcome. Such a relief and joy for us as parents to know that not only were we not trouble to these lovely cast members, but treasured guests. And that night, for the first time, Iz was successful drinking from a straw! A huge deal for a kid who has had to work hard to gain new motor planning skills related to meals!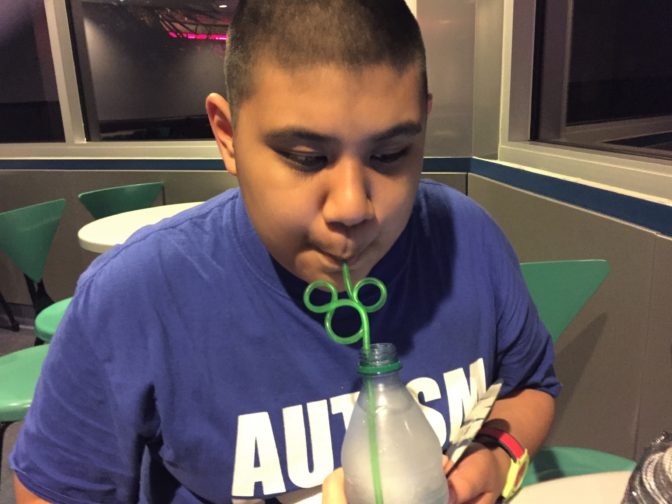 Looking back, it was the welcome we received that night that bolstered our entire family's confidence to try to eat in a restaurant together. At that time, we had never eaten in a restaurant as a family because it caused Iz so much anxiety. But that night those cast members told us with their actions that Disney was where we would be safe to try, no matter how much time Iz needed to ease his anxiety, or how slowly or differently than other guests we had to proceed, it was ok. We were welcome. And I'm so thankful to report that Iz did successfully eat his first ever meal ordered off a menu at Mama Melrose's in Hollywood Studios two years later!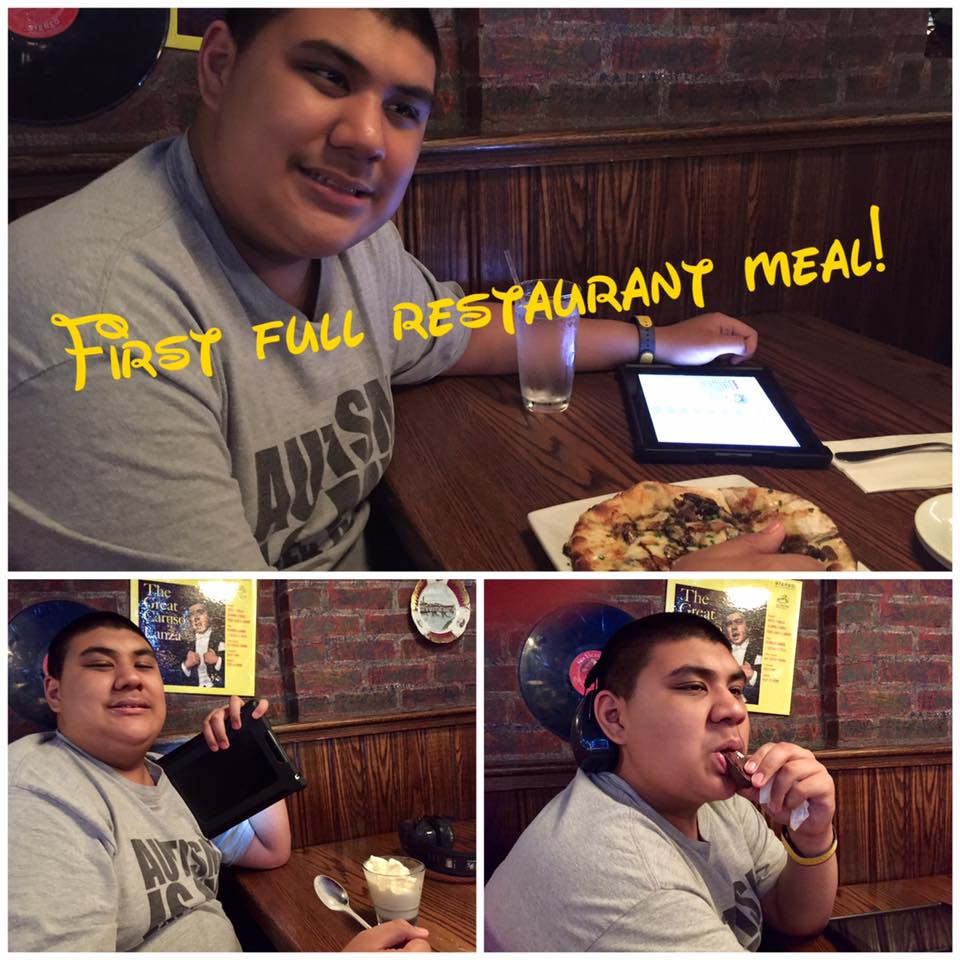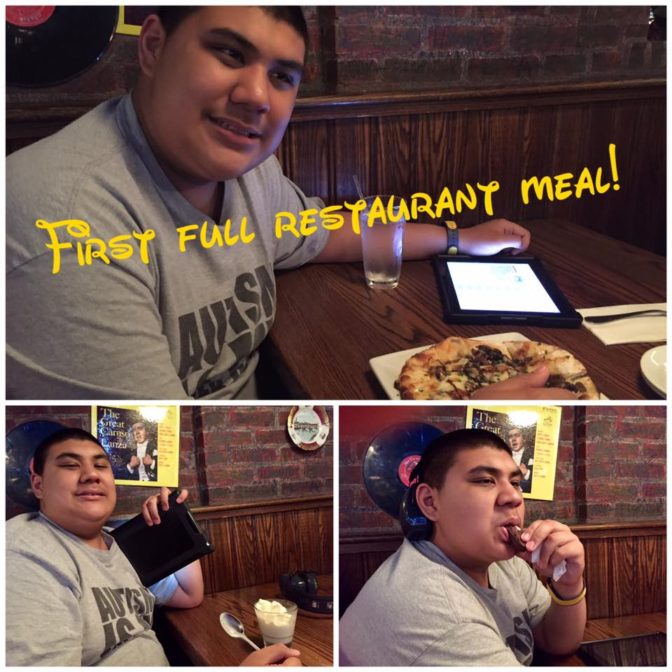 And fast forward to today, Iz has mastered all the motor planning for table service restaurant dining from start to finish – able to order off a menu and enjoy his meal like a gentleman. He can do it anywhere now, not just at Disney World; but it was because we had Disney restaurants to practice in, that he can. Here's my fave pic from one of our latest trips, taken in Skipper Canteen in Magic Kingdom.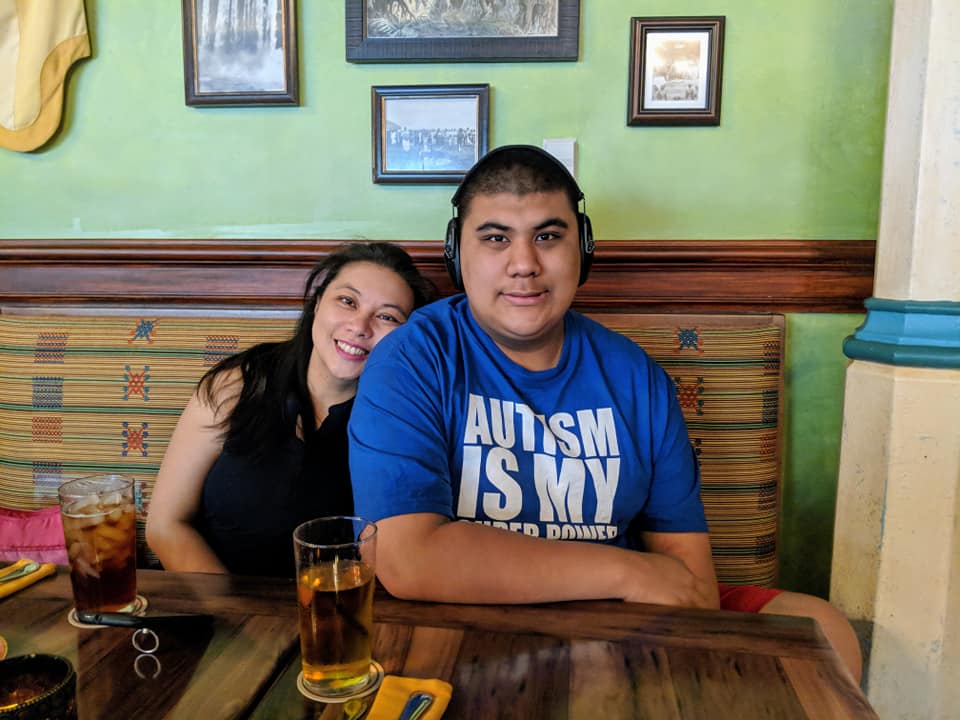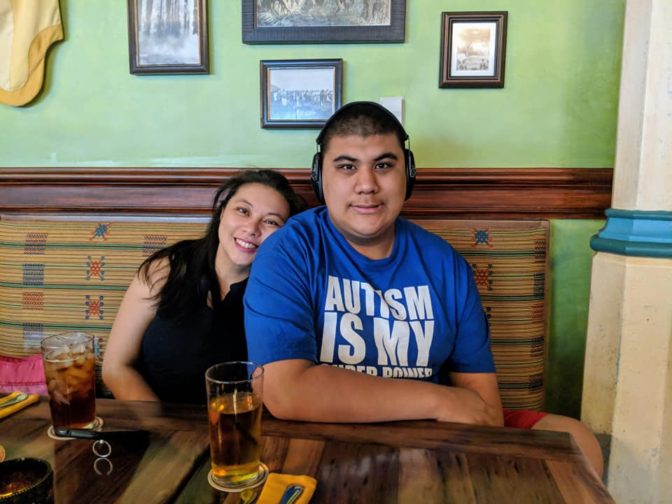 I'm typing this memory up now four years after that night at Cosmic Ray's, but I'm still tearing up and smiling just the same. Sometimes people wonder how we can go back to Disney year after year. It's memories like this one engraved into our hearts that made Disney "home" for us. To us, we're not going to Disney, we're going to our vacation home.
Do you have a Magical Memory as a disabled person or about your disabled loved one? Please comment and let us all share the smiles!
Melody Tien Grewal is a loyal Character Locator subscriber, Annual Pass holder, and Disney Vacation Club member. She has been flying to Walt Disney World 2-3 times a year for over 10 years with her husband and non-speaking autistic son.