Will you continue to search for free Disney content or consider subscribing to the upcoming Disney+ streaming service?  Read more for a discount code (for Disney Visa holders), and a look at both sides…
Disney+ Streaming
Disney is replacing their current movie club with a new streaming service, beginning November 12, 2019.   Disney is entering the streaming world with a splash!  Disney+ will feature Disney, Marvel, Pixar, Star Wards, and National Geographic.  (Did you know Disney owns 73% of National Geographic?  This makes sense with Disney's awesome nature films.)
[the_ad id='41487′]
At D23, it was announced that a Live Action version of Lady & The Tramp will air on Disney+.  (I'm not always a fan of live action remakes, but I'm a sucker for movies with real dogs any day.)  Disney also stated that "in one year, you'll be able to rediscover more than 7,500 episodes and 500 films from our library."
In addition to the abundance of animated films, Disney+ will also show classic live-action family films like "Honey, I Shrunk The Kids," (Anyone else miss that Hollywood Studies playground?), and "The Rocketeer" (LOVE this movie).  For Star Wars fans, you're probably aware that you cannot rent these movies anywhere.  All except the two most current Star Wars movies will be shown on Disney+.  You'll have the ability to download material on Disney+.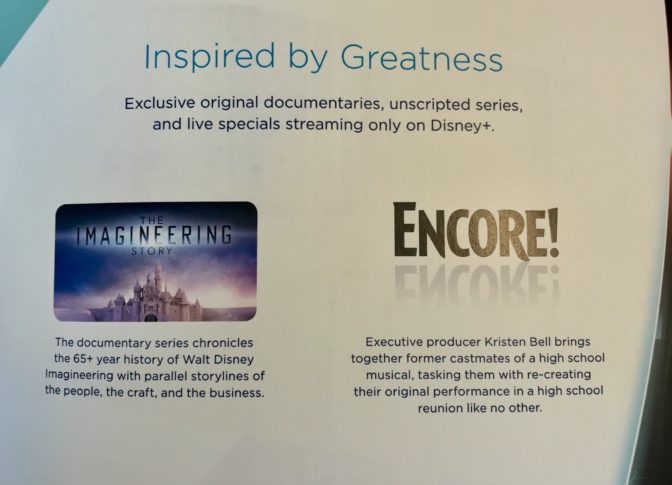 Disney has also announced several exclusive items:
Star Wars: The Mandalorian (Live Action Series
Disney: Lady and the Tramp (Live Action Movie)
Disney: Noelle
Disney: High School Musical (The Series)
Marvel: Hero Project
The World According to Jeff Goldblum
Into The Unknown (making Frozen)
Disney: Monsters At Work (The Series)
Disney: Timmy Failure Makes Mistakes Here
Marvel: Wanda Vision
Marvel: The Falcon Winter Soldier
Star Wars: The Clone Wars
Marvel: What If?
Marvel:  Loki (Mini-Series)
*These exclusive items will be added gradually.  Not sure which series will be on Disney+'s launch.
Disney is giving us lots of choices to get our Disney fix!  The question remains, would you rather watch random free movies on Freeform, etc., or pay $6.99 per month  ($69.99 annually) for the Disney+ streaming service?  There's currently a couple of discounts being offered (now through September 30) for Disney Visa cardholders.  See pictures below for codes.  The discounts require a 2- or 3-year subscription.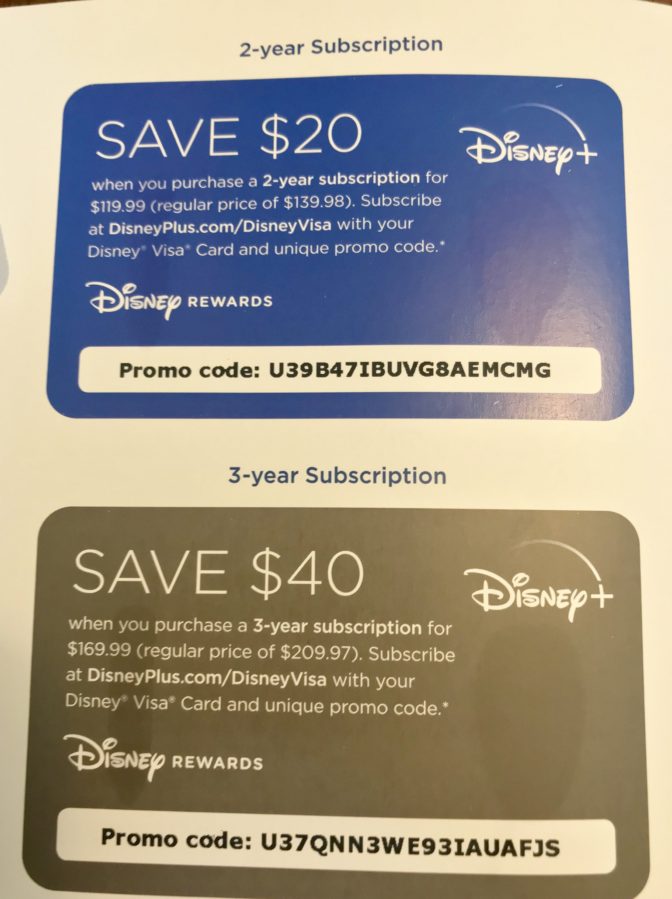 I'm honestly on the fence with this one.  We subscribe to cable, and have a number of Disney channels.  Although I love Star Wars and Marvel, do I want to pay to have access to them regularly?  I would love to see The Lady and The Tramp movie and exclusive content though…
What are your thoughts on Disney+ service?  Which exclusive content peaks your interest?  Will you subscribe? Why or why not?
~Susan Phillips
SOURCE : D23.com