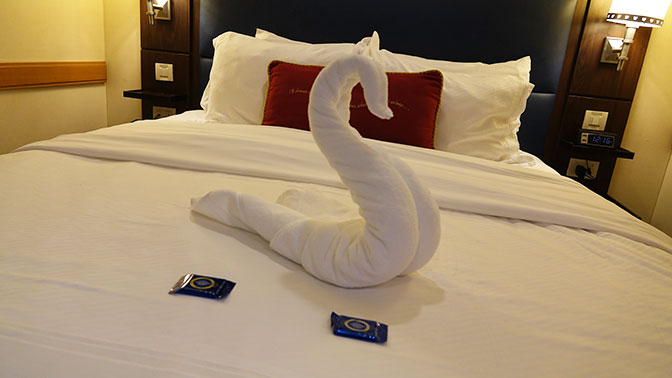 Once you have decided on booking a Disney Cruise, the next decision is to decide on which stateroom to choose.  Which one would you choose?  Do you like seeing the ocean? Maybe you want an Oceanview.  Would you want to sit on a balcony? Maybe a Verandah would be ideal for you.
Disney Cruise Line ships have four main categories to choose from, each having different types and various locations on the ship.  You can find the different categories of staterooms from Disney Cruise Line's website or they are also listed here:  Concierge, Verandah, Oceanview and Inside.
Each category is in a different price range and offers various amenities.  For example, the Concierge is the highest category of stateroom.  While it has all of the amenities of the other staterooms, these include upgraded amenities, such as choosing which pillow to sleep on, guests can choose their own robe and slippers and are provided with a concierge service specialist available for the duration of their cruise.
They are able to make reservations for guests, any special room requests or anything you could probably think of.  Guests of these staterooms are also given priority to certain reservations and have exclusive access to different areas of the ship, including a Concierge Lounge and private sun deck. Think of this category as being the equivalent to staying Club Level in one of Walt Disney World's Deluxe Resorts, like the Contemporary or Animal Kingdom Lodge.
During our family's trip on the Disney Fantasy, we chose to stay in the Deluxe Family Oceanview Stateroom.
This stateroom is large enough for four guests and is approximately 241 sq. ft.  Our room included a queen bed and bunk beds for our children, which they loved!  The bunk beds are pulled down each night.  Also, on the ceiling there is a mural of Tinker Bell or Peter Pan in a starry sky.  It's a little difficult to see in the picture, but it is shown below.
Our room also had one large porthole window, which we all enjoyed sitting in.
I believe one of the nicest things about the staterooms on a Disney Cruise is that they are not your typical cruise ship stateroom. You will find that the stateroom on your cruise seems more spacious, open, and has unique features that you might not find on a typical cruise line.
For example, the most obvious difference is their bathrooms.  Disney has what they call a "split-bath", which includes a bathroom with a vanity, sink, shower and round tub and a half bathroom with a vanity, sink and toilet.  Why is this unique?  Well, it is very convenient to have when families are getting ready all at once to begin their day or getting ready for dinner later that night.  One person can shower and get ready, but the bathroom is still available for everyone else.
We also had a sitting area with a couch, TV and desk.  The beds were high enough off the ground so that we were able to store our suitcases underneath.  There was plenty of cabinet and closet space for all four of us and it included amenities such as a TV, full-length mirror, refrigerator, safe, phones, WiFi and hair dryer, which I actually loved enough to purchase the same brand to use at home.  The beds were also very comfortable.
Your stateroom attendant will come to your room at least twice a day.  In the evening after dinner, we always came back to a new towel animal waiting for us on the bed along with chocolates.  Our kids loved seeing which animal was next.
Overall, I enjoyed the stateroom that we chose for our cruise.  It was large enough for all four of us and we never felt cramped.  I loved having the "split-bath" and I actually still use the H20 Plus® spa, bath and shower products that they had in our room.  Guests are able to purchase the products onboard or from the Disney store if they enjoy it as much as I did.
The stateroom we stayed in was on Deck 7.  I found this deck to be very convenient because it was in the middle.  The elevators of the ship can get crowded or you sometimes find yourself waiting for quite some time for an available one.  We were close enough to use the stairs for pretty much everywhere we wanted to go.  We were close to the restaurants and the entertainment, such as the pool or theater.  I also did not find it to be very noisy.
Which stateroom would you choose for your cruise?
Maggie Baltz