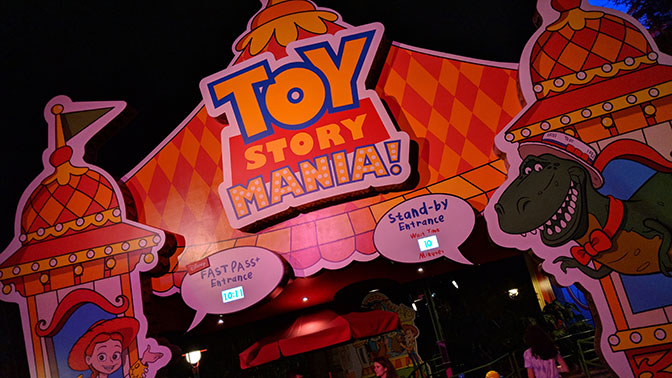 Recently, my daughter and I paid to attend the Disney After Hours option for Disney's Hollywood Studios to determine, "Is it worth it?"  For an offering that costs $125 per person , it seemed that we'd need to do a great deal to get our money's worth.  Here's the details about Hollywood Studios Disney After Hours and how our night went.
Disney After Hours is $125 per person and allows for 3 hours of park time after all the day guests have left and you're allowed to enter a couple of hours early.  In our case, we entered at 6:00pm for an 8:00pm park closing and the program technically ran from 8:30pm to 11:30pm, so we received an extra 30 minutes of park time.  Annual Passholders do receive a discount on advance purchases.
What's open for Hollywood Studios Disney After Hours?
Rides
Alien Swirlin Saucers
Rock n Roller Coaster
Slinky Dog Dash
Star Tours
Tower of Terror
Toy Story Mania
Character Meets
BB-8
Buzz Lightyear
Chewbacca
Jessie & Woody
Kylo Ren
Mickey & Minnie
Olaf
Complimentary Snacks
Ice Cream Novelties
Popcorn
Soda or Bottled Water
Initial thoughts on what's offered
We loved that we could mix in the meet and greets with the rides and every popcorn and ice cream stand was open throughout the event to all you to enjoy as many ice cream novelties, sodas and popcorn scoops as your heart delights.
There was a good variety of meet and greets, but we wished that the new Edna Mode, as well as Mike & Sulley meets were open.  That would have allowed us to avoid waiting in long lines.  My daughter opted to skip those meets and come back on  a day visit to see them in the morning.  You can find their schedules on Character Locator for ease of planning.
There's only 6 rides in Hollywood Studios at this time.  If they add Star Wars Land in the future, then it would be an even more terrific and more in-demand event.  It was not sold out.  The crowds were considerable on our visit as it was during MLK break period, but those crowds were gone by 8:30pm and had no affect on our visit.
What we accomplished.
6:15pm  After we checked on the Edna Mode and Monsters Inc meets, my daughter decided that she wanted to meet Vampirina.  She met her at breakfast on her first day, but wanted to see her at her meet location.  The lighting made for a great photo with no flash.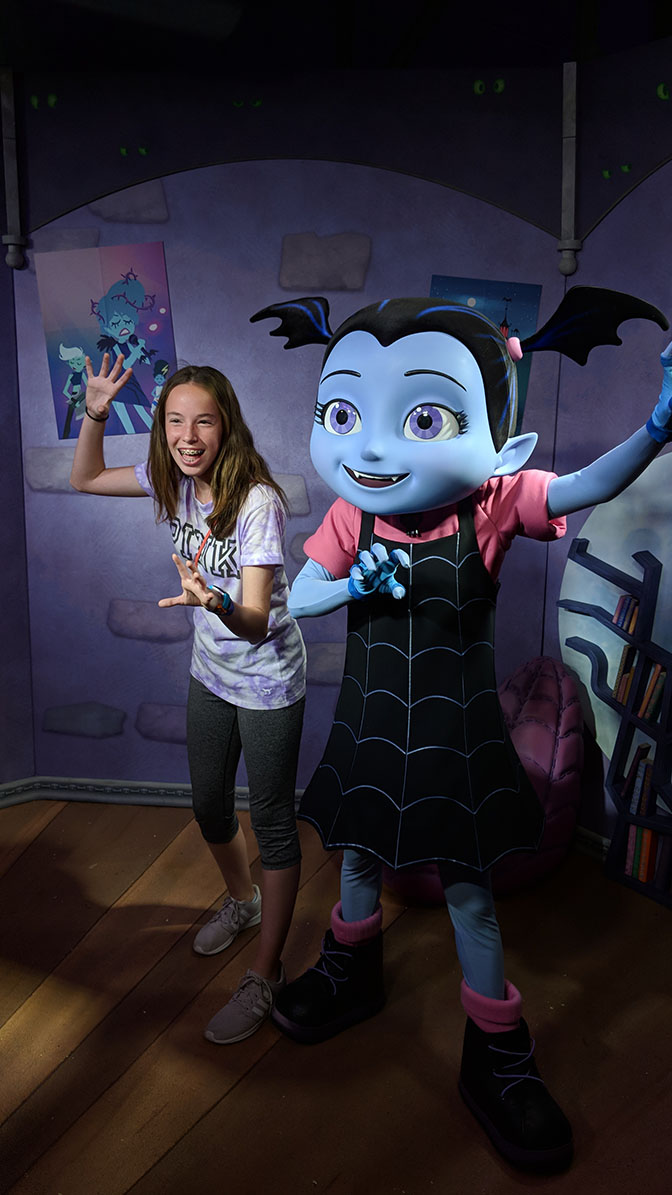 The check-in location to recieve your armband is located at the corner of Hollywood and Sunset.  It only takes a moment for them to scan your MagicBand and give you the wristband.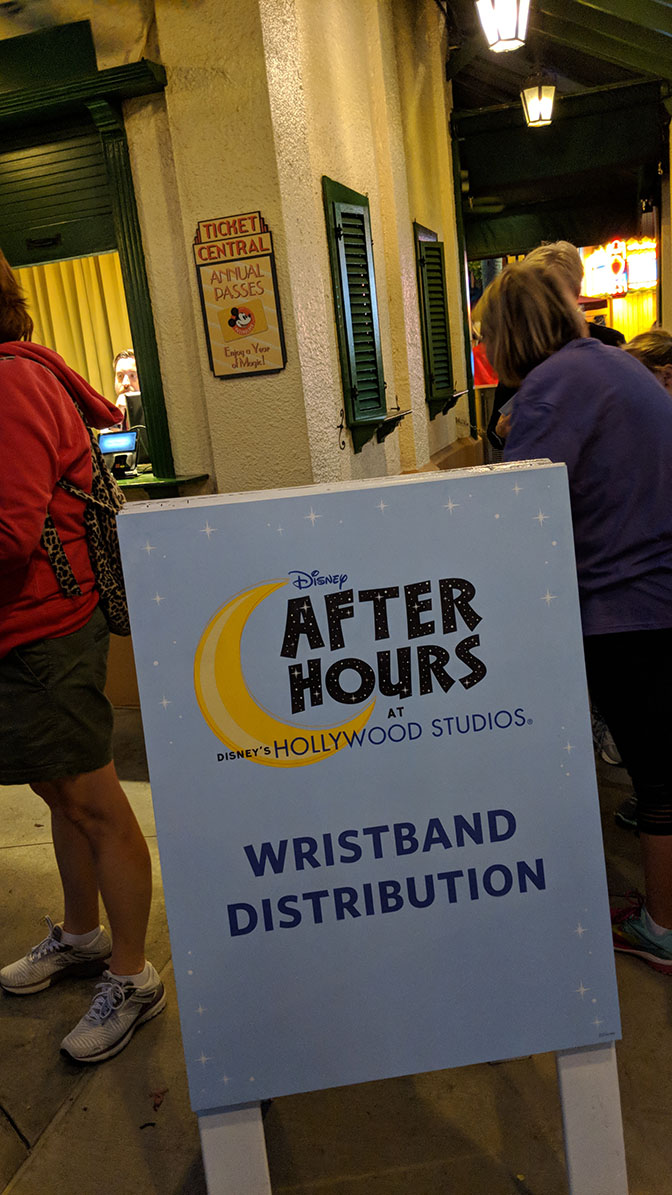 The little paper guide also tells you what takes place during the paid event, but the full list is above.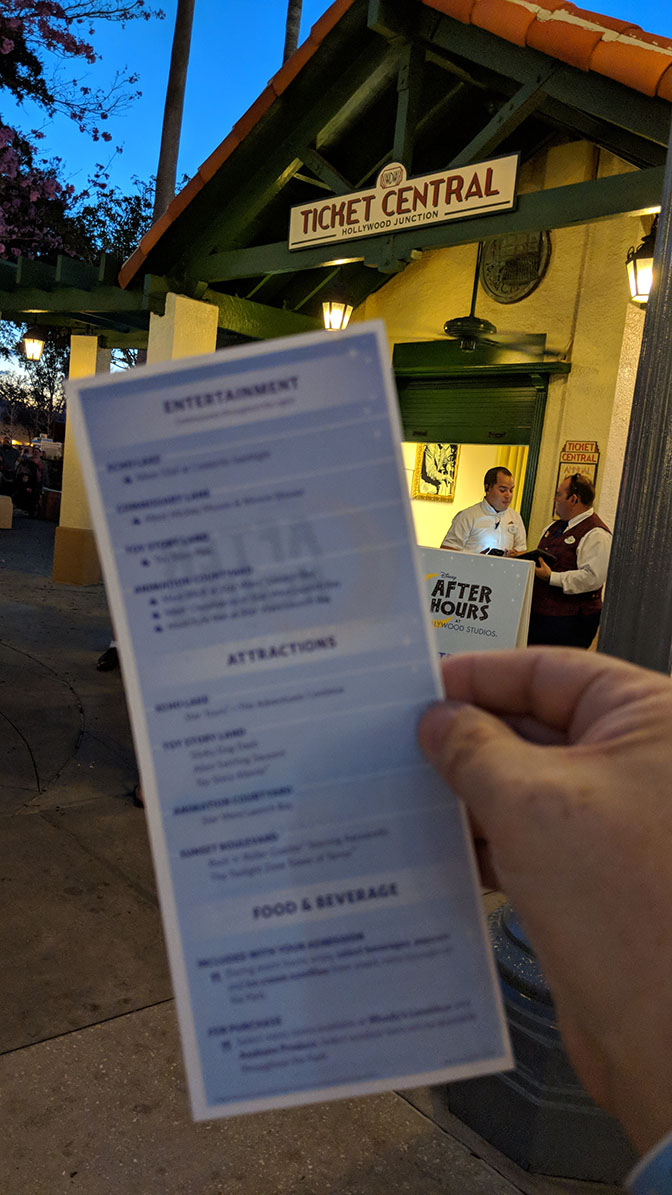 6:40-7:00pm We walked right into the Voyage of the Little Mermaid and plopped down on the front row.  We've never seen this show from the front row.  You could easily discern the puppeteers at work during the show from this vantage point, so it's not ideal for the kiddos, but you can take some cool photos from up close.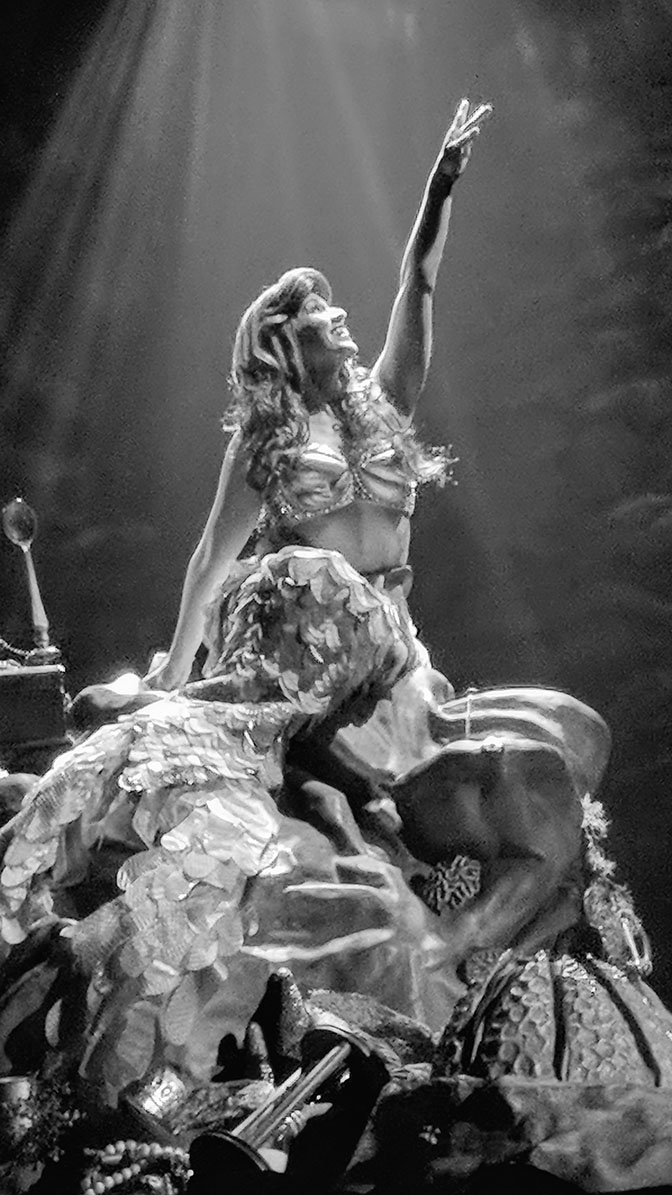 We grabbed a Fastpass to view Fantasmic! and wanted decent seats, so we went into the show around 7:00pm for an 8:00pm start.  @Spokesmayne on Twitter was looking for a seat a bit later and we squeezed him in while he was doing a live feed on Youtube.  Super nice guy.
I wish they would upgrade this show.  It's fun, but it's basically be the same show since we began visiting many years ago.  The Disneyland version really puts ours to shame.  I do like the Pocahontas portion of the show, as that is unique.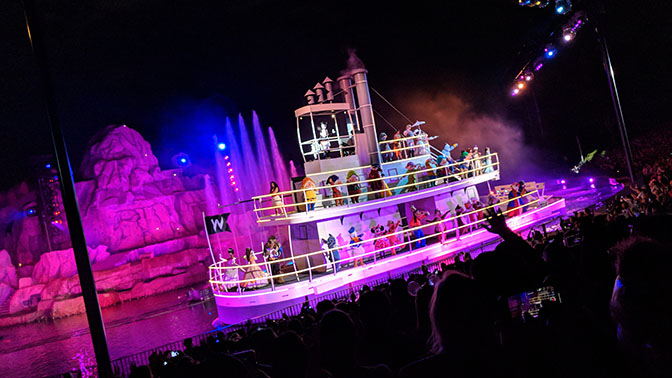 8:40-8:55pm  The event has now officially begun and the entrance at Tower of Terror was full of confusion as left over day guest think they can enter the ride, but they don't have the event wristband and are turned away.  We only waited a couple of minutes for our elevator to arrive.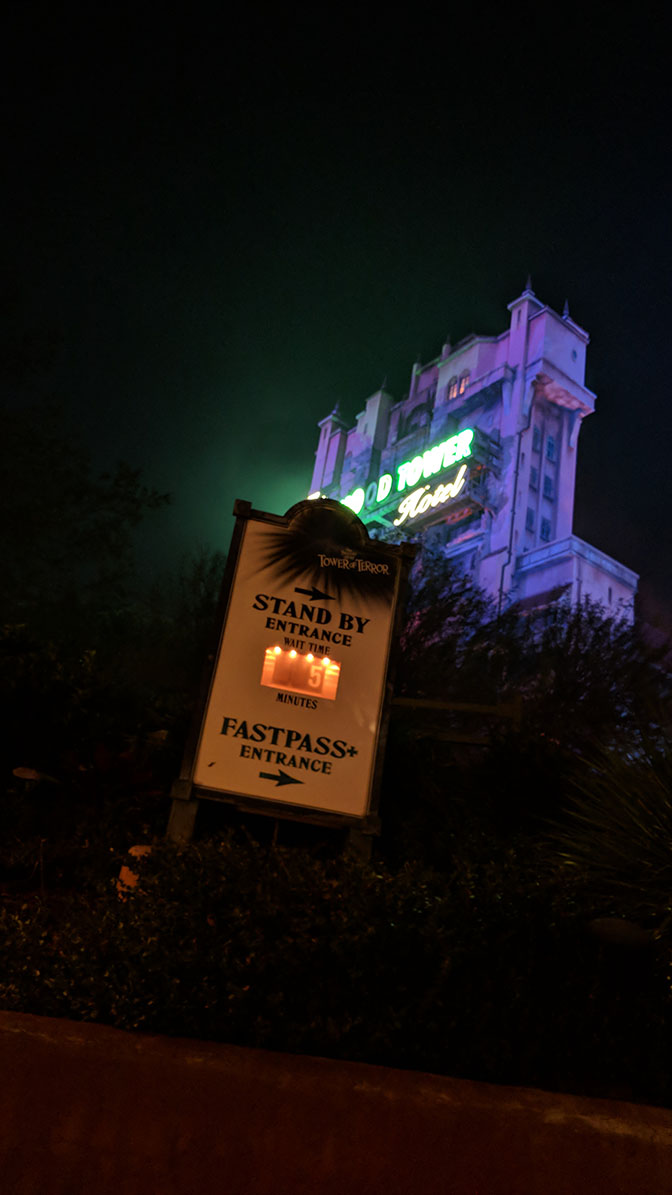 Would someone please put the Evltwrurdoomd back?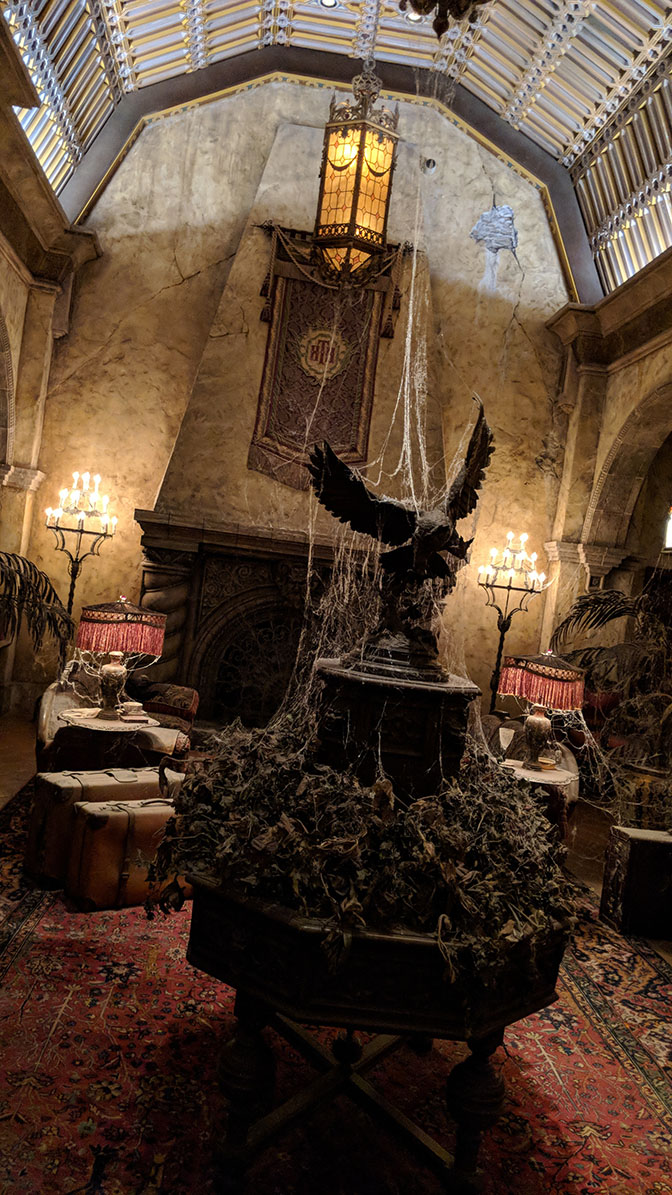 8:57-9:05pm If you like Rock n Roller Coaster, you could have spent 3 hours riding this over and over and over with no wait.  We weren't even forced to watch the pre-show.  We only waited one round of trains to board.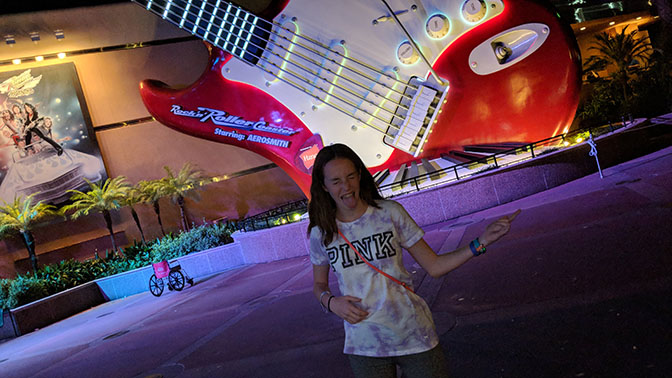 After riding, we grabbed a Mickey Premium Bar and soda and made our way toward Star Tours.
9:11-9:29pm Star Tours.  We only waited for the standard loading spiel as there was no one in the line.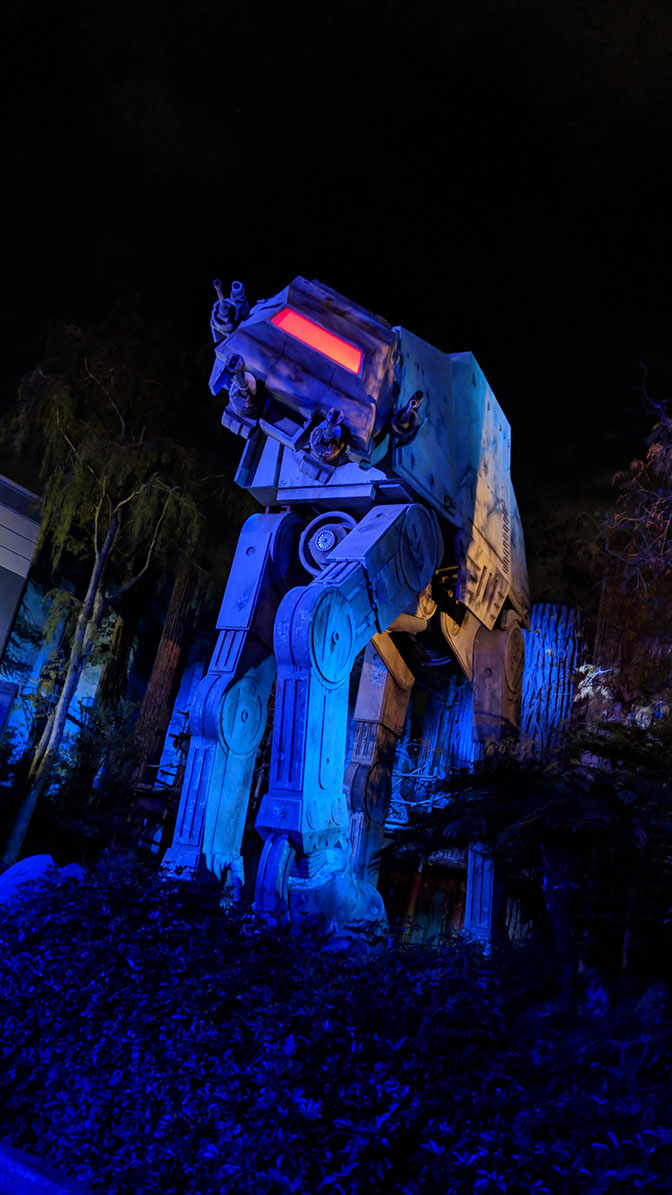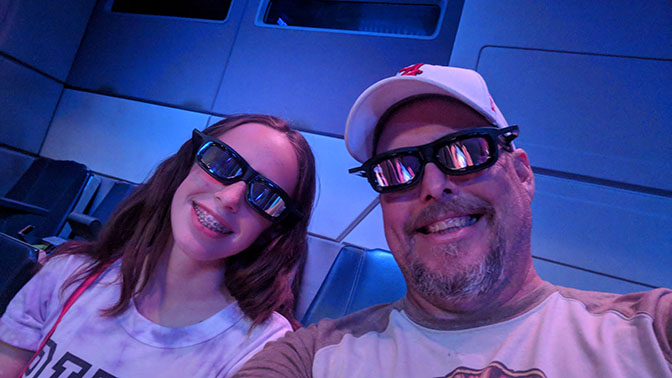 9:31-9:38pm meet Minnie and Mickey.  There was only one family in front of us to meet this great pair of characters.  Minnie wears her pink dress.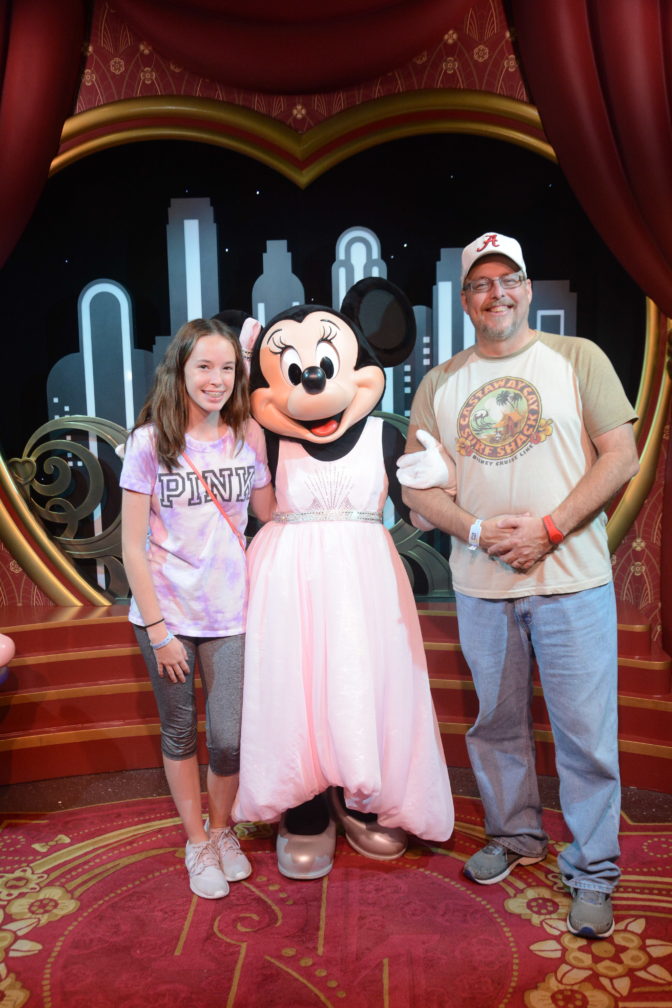 And Mickey is in his sorcerer's apprentice costume.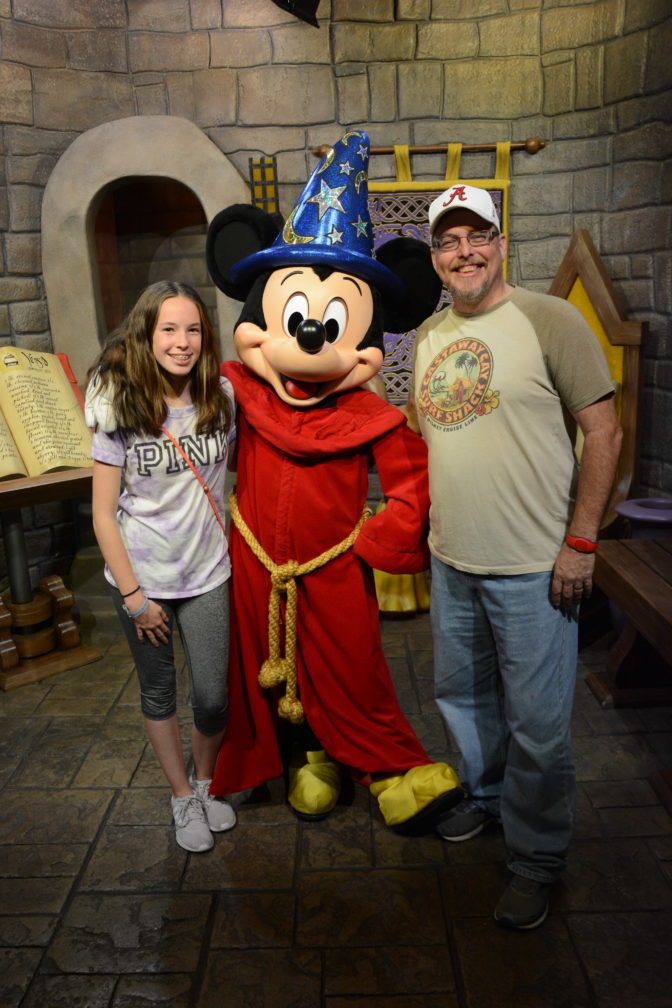 9:39-9:42pm.  We walked right up to meet Olaf with no wait!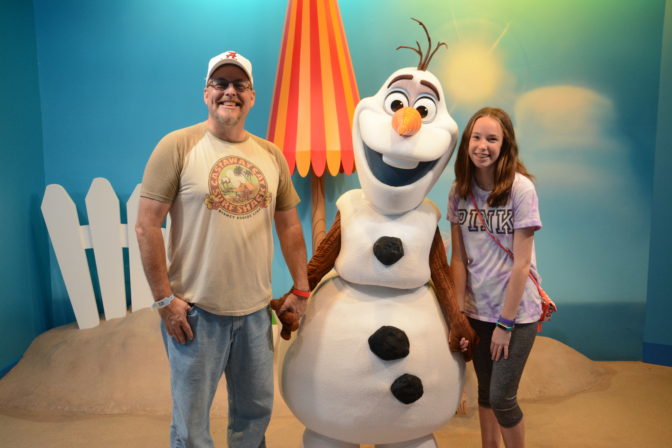 9:49-9:52pm  We continued our casual walking pace while enjoying some bottled water.  When we arrived at the Chewbacca meet, we found this horrible view.  The place was so packed that we could barely move.

Chewie is a hugger, but he could rip your arm off, if you cross him.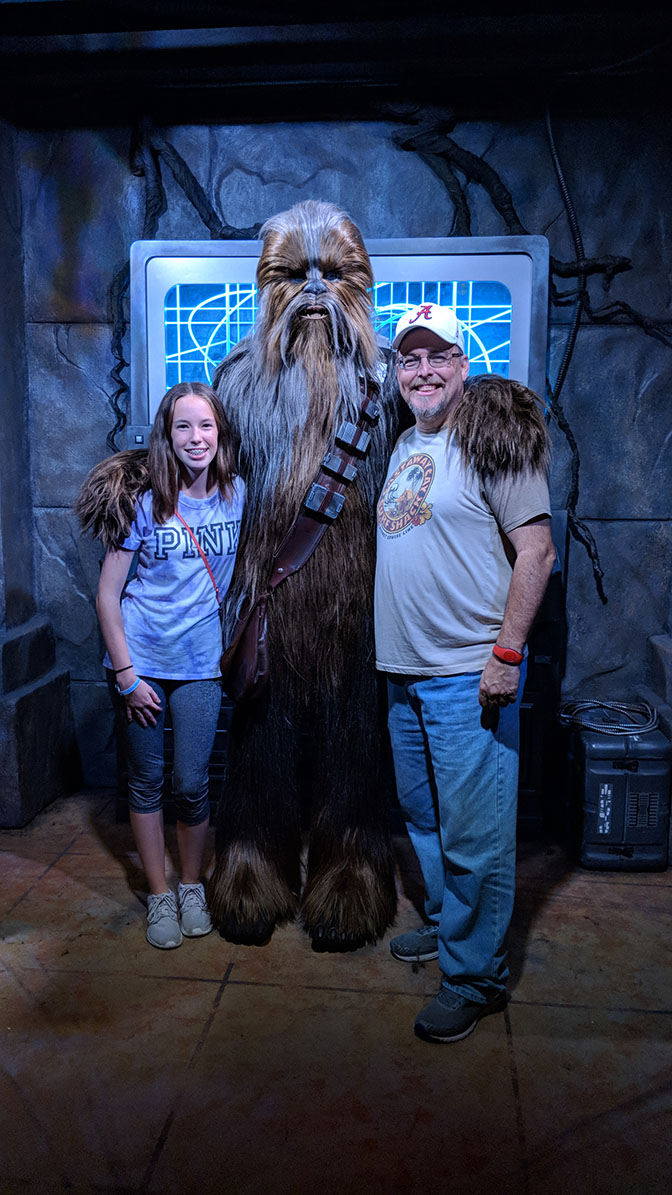 9:53-9:59pm  Another terrible zero minute wait for Kylo Ren.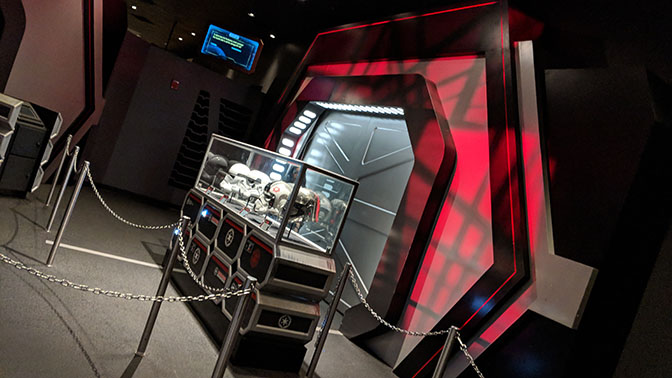 Kylo didn't really care for our choice of poses.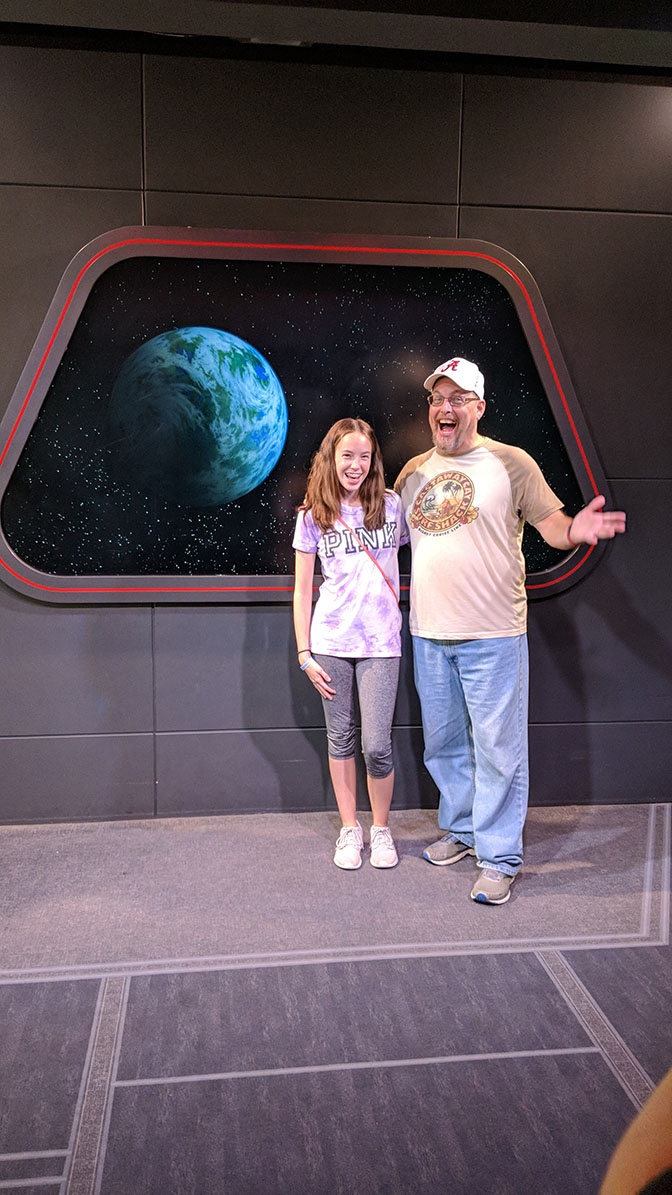 He did join us after we got ourselves in line.  He has issues with people being happy and always wants to hack on walls with his light saber.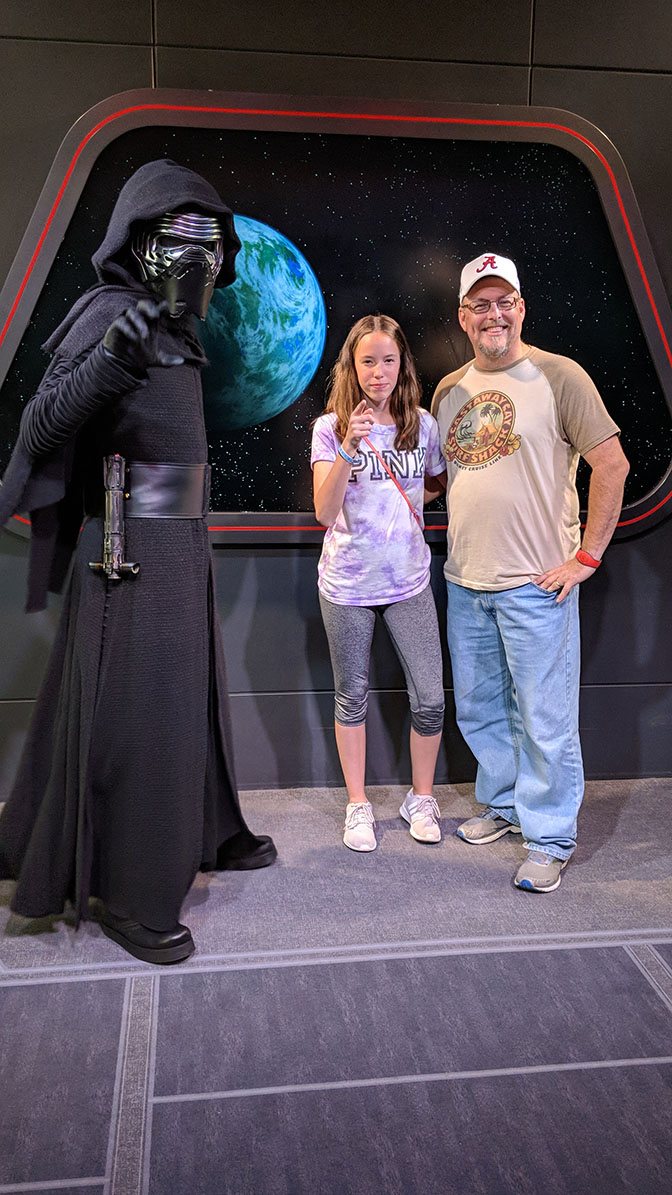 9:57-9:59pm  Another ZERO minute wait to meet BB-8.  He beeped and booped and bopped.  I think he was saying hello or he was constipated or something.  It's hard to distinguish.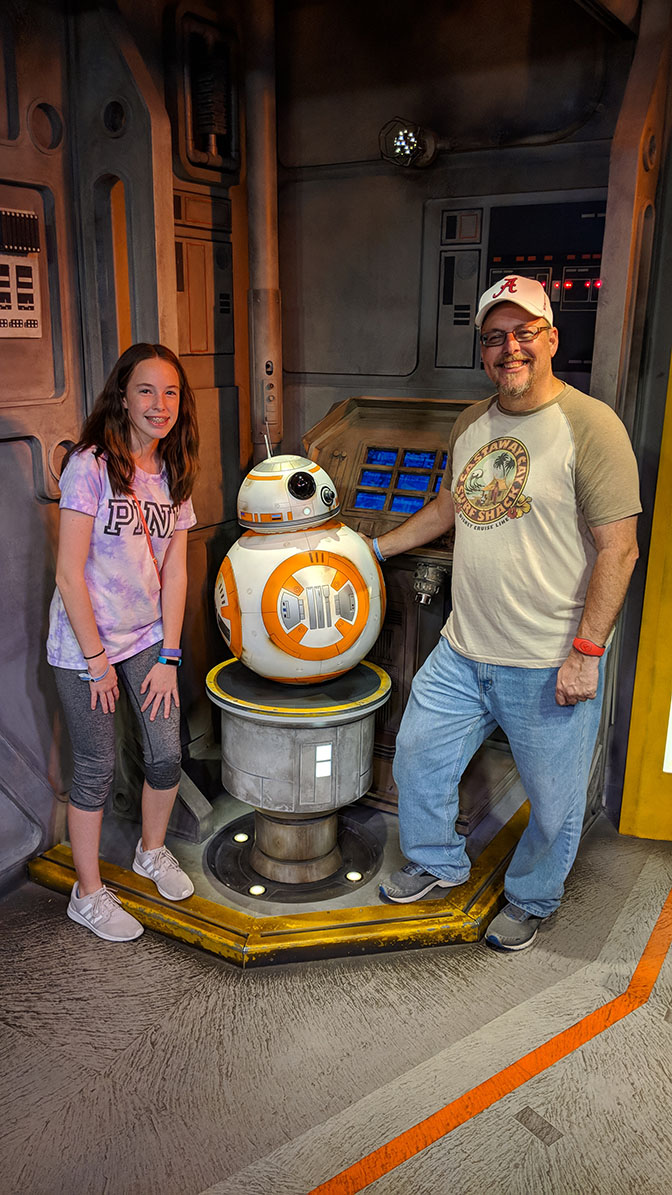 9:59-10:10pm We grabbed some soda and popcorn and made our way over to meet Buzz Lightyear.  There was NO ONE in line to meet him.  To infinity and beyond!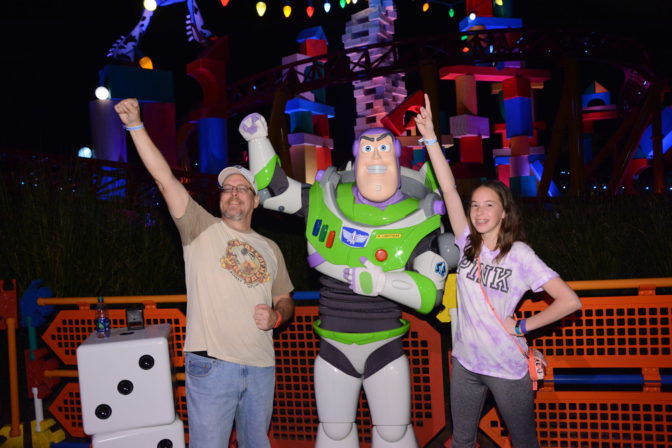 10:11-10:26pm.  The posted wait was 10 minutes, but we actually walked right up to the loading area.  It was like a 2 or 3 car load wait.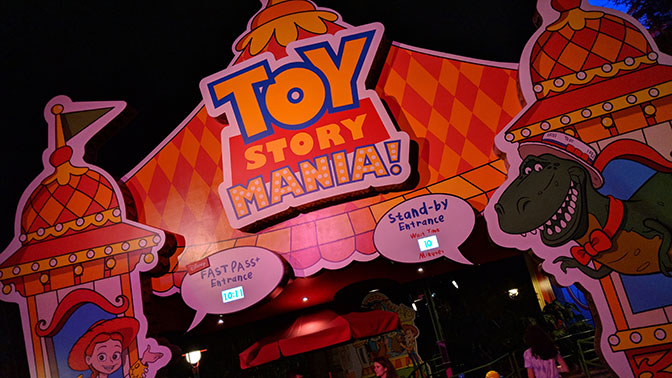 Not my best score, but I'll take it as we were having fun together.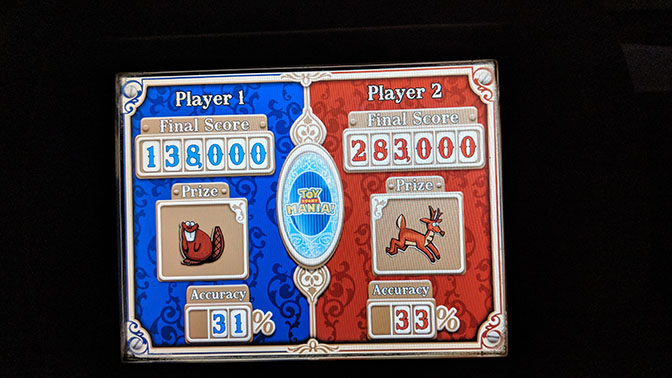 10:29-10:45pm We arrive right at the time they were going to check on the other toys, so the wait was about 8 minutes longer that it could have been for these guys.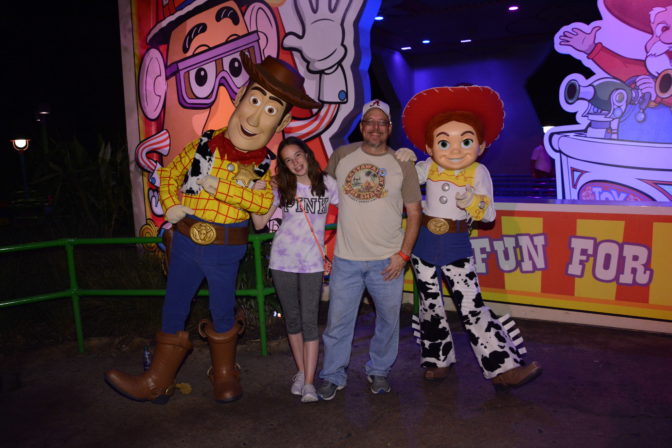 10:46-10:51pm  Alien Swirling Saucers.  There was no one in the line, so we were allowed to use the Fastpass queue to board more quickly.  If we wanted the regular line, they would have allowed it.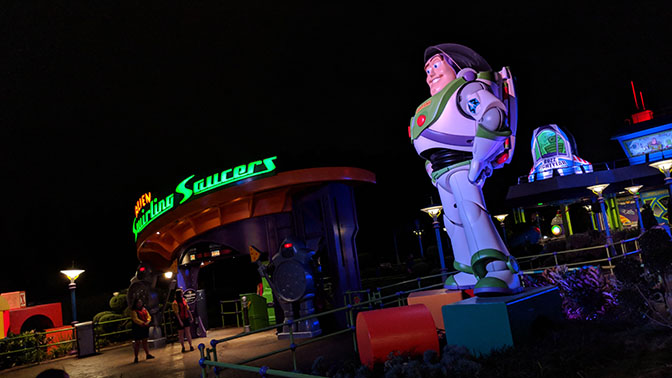 From 11:05pm to 11:30pm we rode Slinky Dog Dash 4 times!  The wait was very minimal and we barely made it for the final ride of the night.
So, to recap, we rode all 6 rides and Slinky dog an extra 3 times.  That's 9 total rides.  We met 10 different characters, watched Voyage of the Little Mermaid and watched Fantasmic using this event ticket.  Additionally, we had our fill of ice cream, popcorn, soda and water.  The Cast Members were actually letting guests know late in the event that they could grab a soda to go.
Was it worth it?  I think so!  I could use one day ticket to do all the shows and characters that are not available on a different day and then buy this Disney After Hours for Hollywood Studios and do everything with no stress and no waits.  I actually preferred this event to the Early Morning Magic event that I've visited previously.  I you to use the Disney After Hours and enjoy the park with little or no waiting!