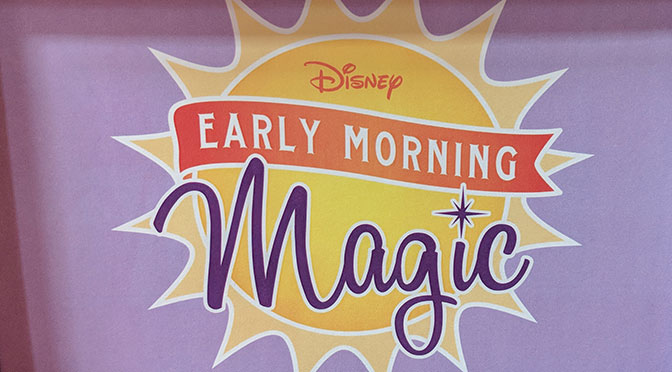 Disney's Hollywood Studios is now offering a paid program called "Early Morning Magic."  It is not to be confused with Extra Magic Hour, which is a complimentary program for all onsite guests.  This Early Morning Magic allows you to enjoy Toy Story Land for over an hour with little or no waiting for Slinky Dog Dash, Alien Swirling Saucers, Toy Story Mania as well as meet and greets with Jessie and Woody and Buzz Lightyear.  Here's my review of the experience and some tips.
Arrival and Check-in
Guest can enter Hollywood Studios as early as 7:30am, but you can arrive earlier, if you wish.  You'll see a sign like this pointing you to the tap points that allow guest entry for this special event.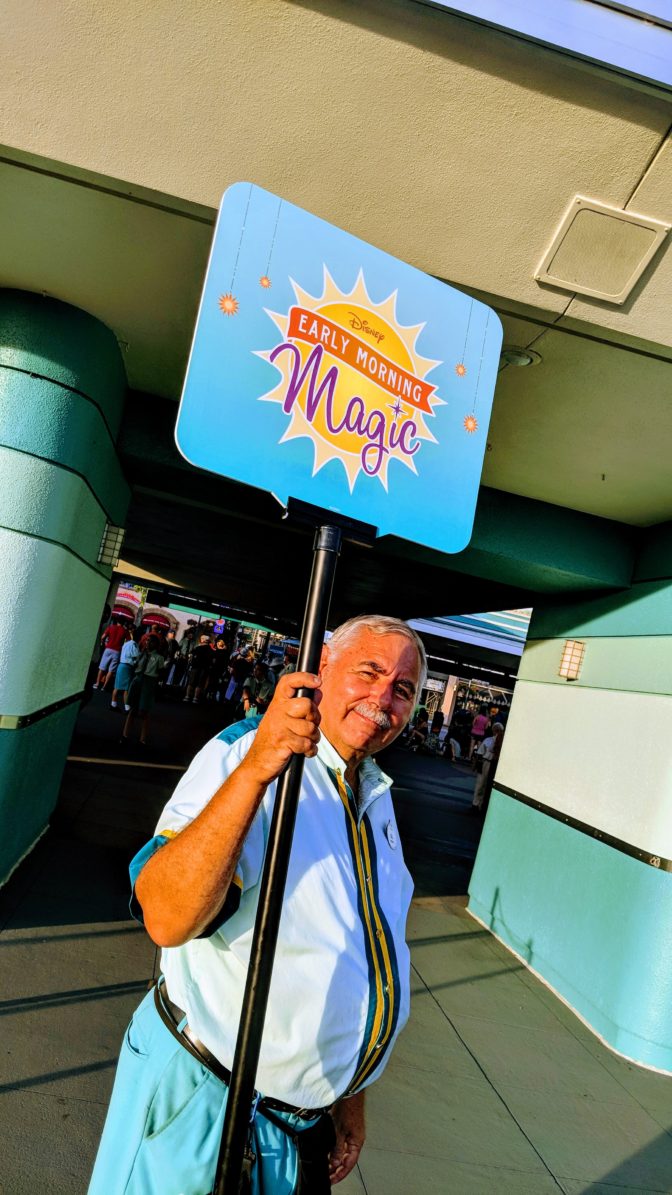 A Cast Member will look up your reservation on an iPad device and tell you to proceed forward to receive your special armband for the event.  You'll want to keep this armband on through the event and during breakfast.  After that you can remove it for the remainder of the day.  You do need to have a ticket for park entry for the day, it is not included in the cost of the event.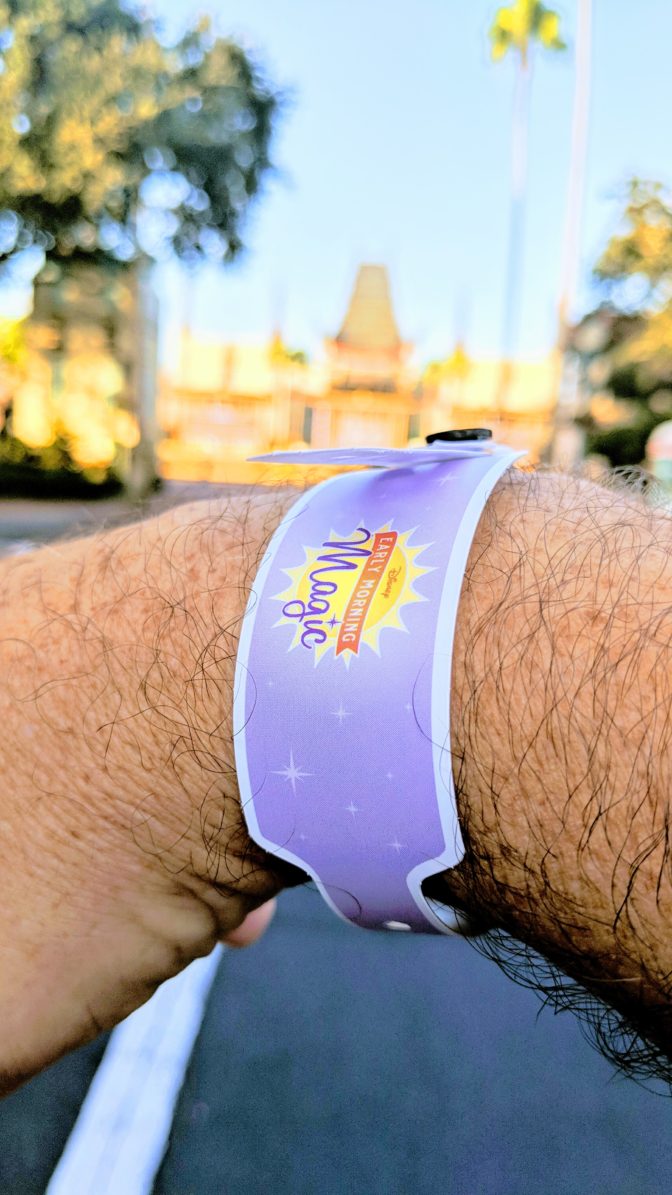 An empty park photo would be amazing, but they have those gaudy movable stages already in place early in the morning, so your photos won't be with the Chinese theater, but a rolling advertisement for the Star Wars stage show.
Toy Story Land Experience
You are allowed to stroll to Toy Story Land on your own, there is no Cast Member guiding you into the land.  You'll find Buzz along with Jessie and Woody available for meet and greets as you enter.  You'll see the best way to handle all the experiences in my Hollywood Studios Early Morning Magic Touring Plan.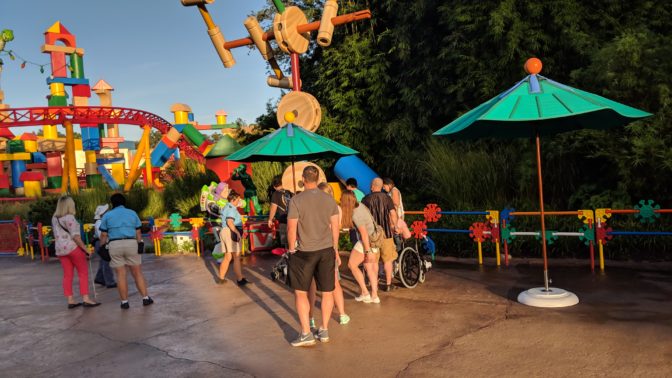 Jessie and Woody are meeting their fans.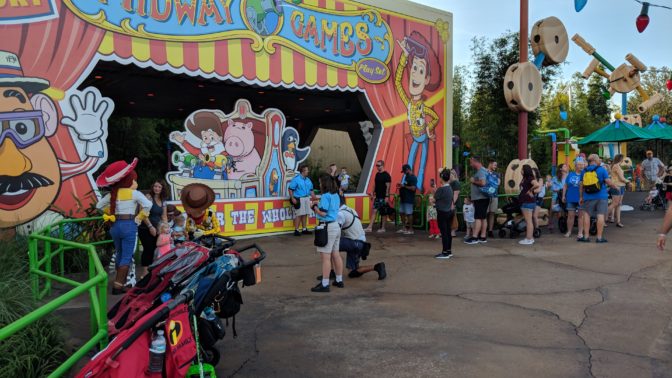 These crowds!  I can't handle these crowds!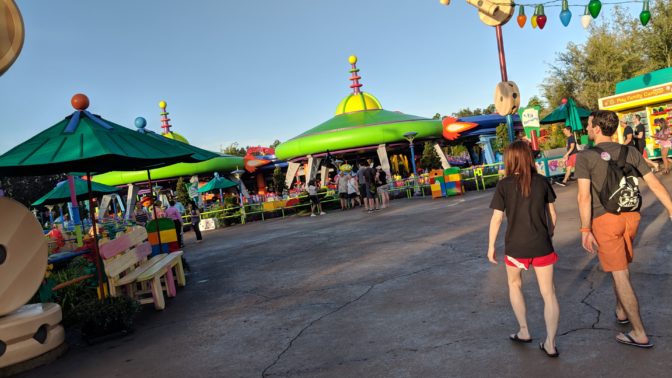 This was a "media" day for Early Morning Magic, which means that several local blogs, vloggers and news agencies were invited, free of charge, to experience this offering.  I paid for my own entry for this event as I usually do.
With that said, you can see that they were still shooting off Slinky Dog Dash with empty seats until the regular guests entered the land en mass at 8:50am.  You can ride Slinky Dog Dash over and over and over.  They used the Fastpass entry point to allow you to reduce your time walking.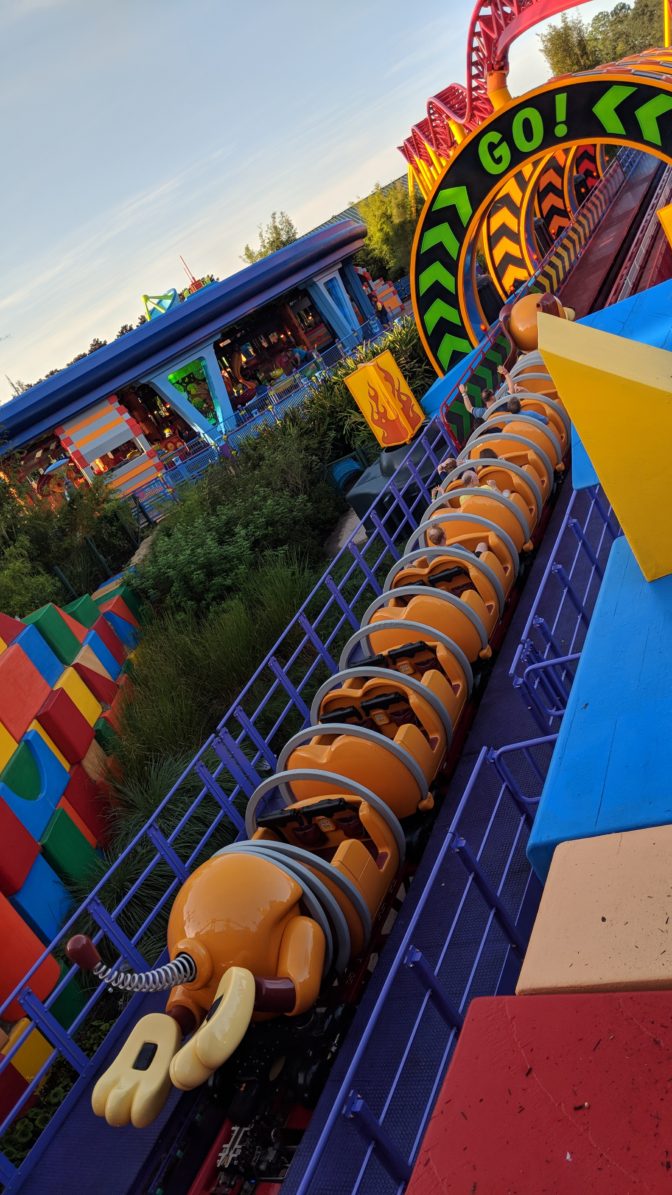 This is how crowded it was each time I boarded.  I walked right on each time.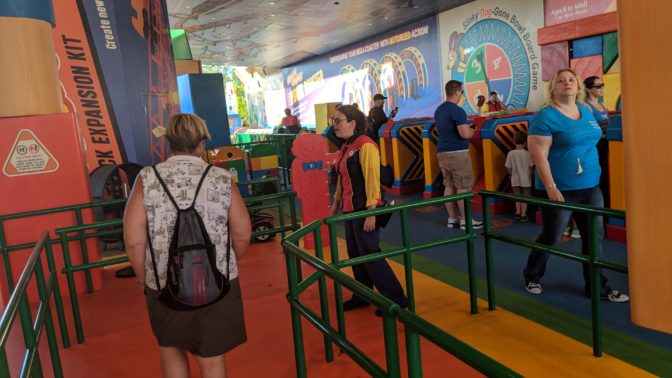 After several rides on Slinky Dog Dash I found Alien Swirling Saucers to be a ghost town as well.  I only rode it once as it shakes the fillings loose in my teeth, but you could ride multiple times if you did better protecting your teeth as a child.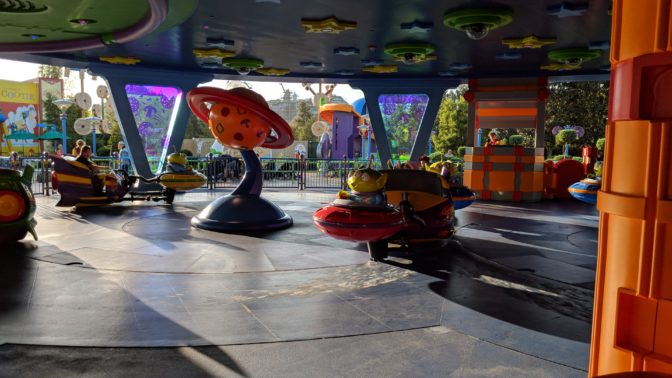 Cast Members were set up in front of Woody's Lunchbox with ice cold water and coffee.  It was over 90 degrees at 8am on the first day, so that cold water was a real blessing.  Toy Story Land's major failure is that it does not offer shade or air conditioning.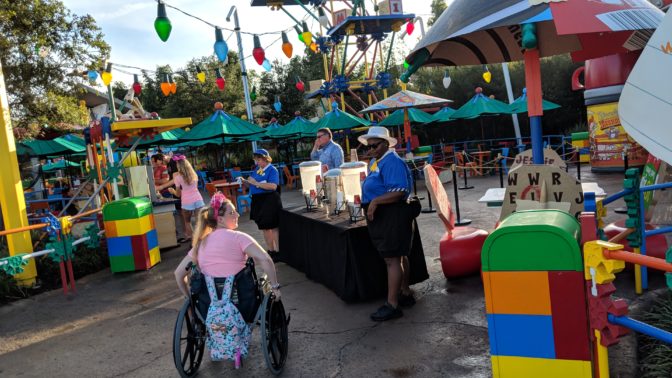 Toy Story Mania uses the regular stand by line, but didn't force you to zig-zag through the switchbacks.  They said they did this so you can see the queue and experience Mr. Potatohead.
Hey! Howdy! Hey!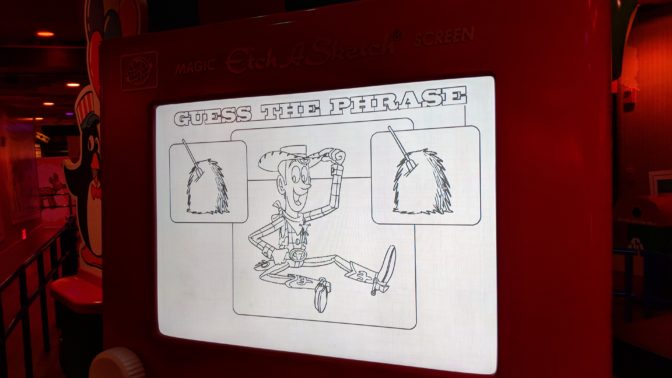 If you're claustrophobic, you may not be able to handle this kind of crowding!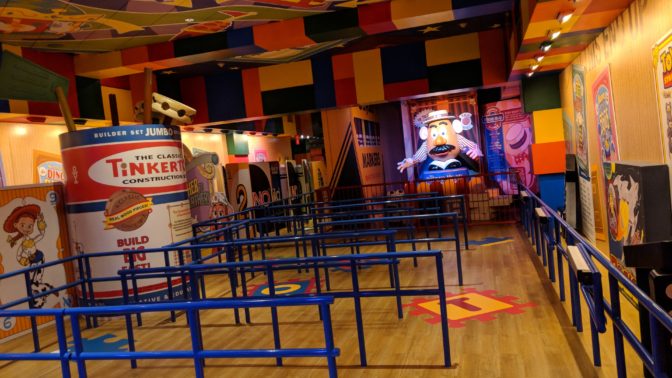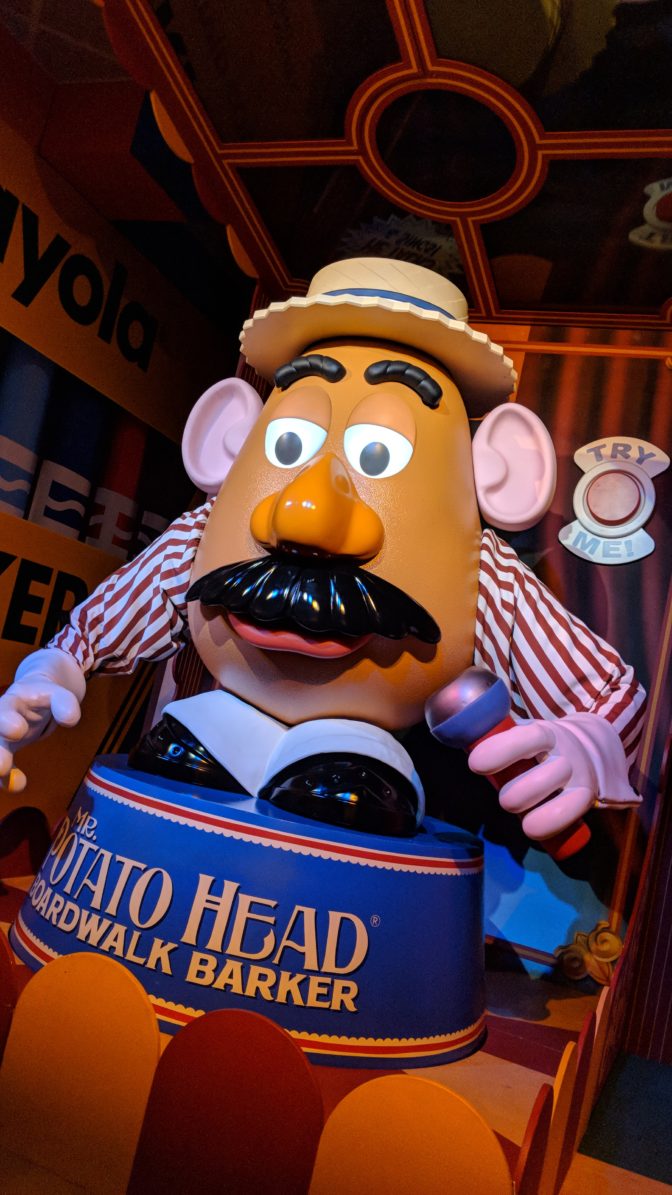 Boom!  Pretty good for riding solo, huh?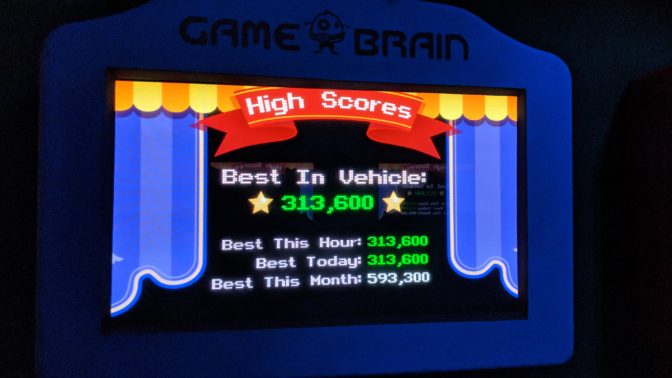 As I mentioned earlier, Jessie and Woody are available for meet and greets throughout Early Morning Magic.  They do take frequent breaks, especially in this unseasonal heat.
Buzz is also available for meet and greets.  Each character does have Photopass.  Buzz stamps.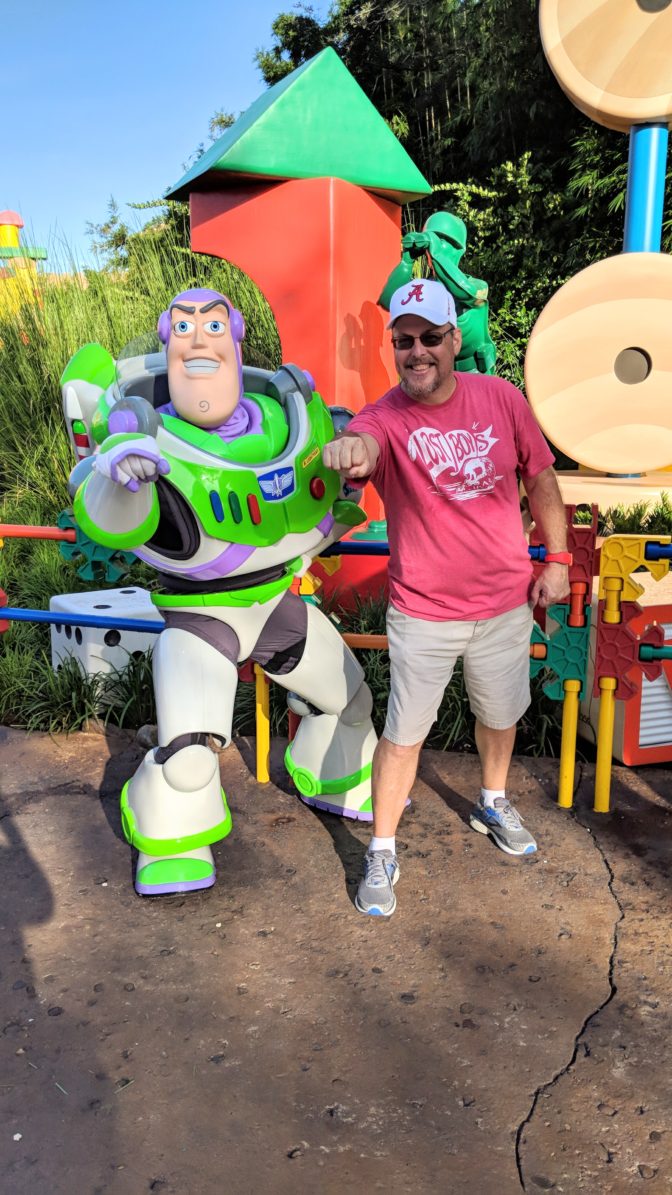 The meal
The $79 per adult and $69 per child entry fee includes breakfast at ABC Commissary from 8am until 10am.  Only guests with the Early Morning Magic wristband are allowed to enter.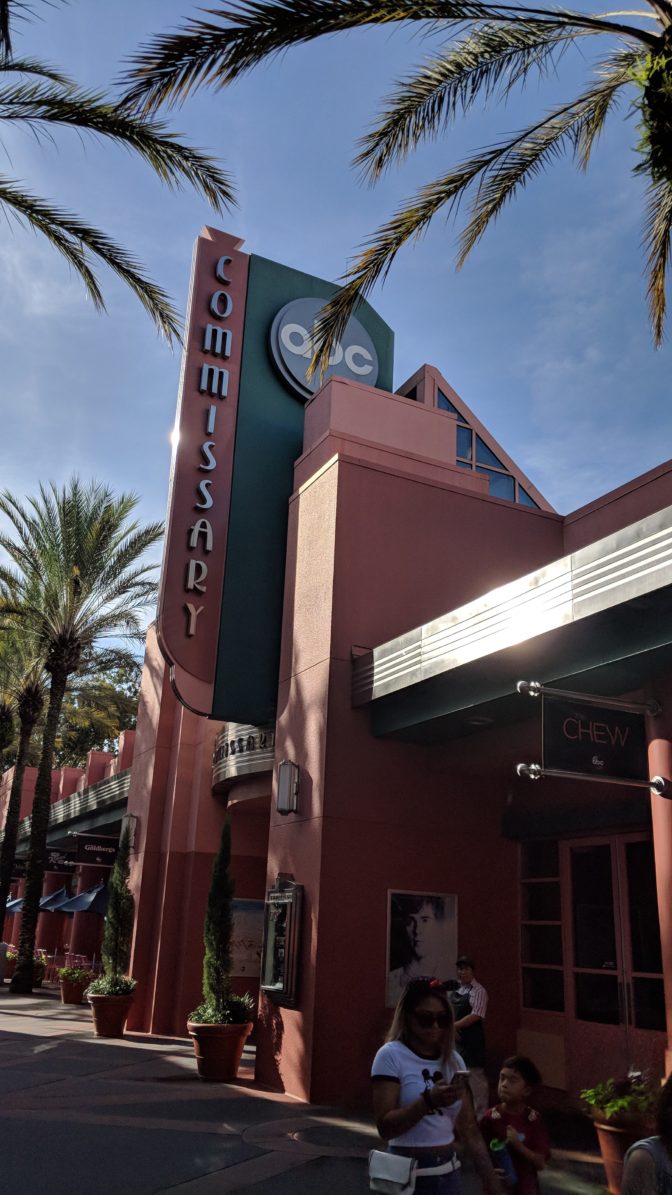 After entering, you'll be asked to place your order your entree.  It was a little confusing because one Cast Member told me I could only order one dish.  After I consumed one chicken finger and one donut, I returned to the order area, informed the Cast Member that I had already ordered, but wanted some eggs, the CM told me it was no problem and provided me with a child's egg and potato barrels.  I was allowed to order a soft drink and could get refills.
It is a series of pre-made little black bowls that a Cast Member grabs for you.  The process is very fast.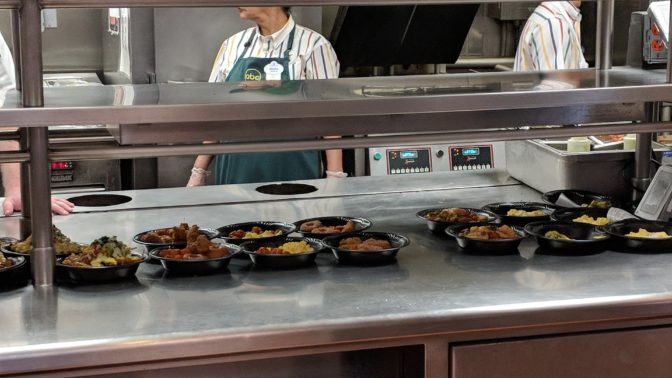 The Chicken Fingers and Potato Barrels with Cinnamon Cronuts.
I didn't care for this.  The chicken fingers are just the same old stuff you can order anytime, but they put maple syrup all over them.  The Cronut and Sweet Potato Barrels were also affected by the syrup.  It was a lot of sweet stuff.  I, personally, don't care for Sweet Potatoes.  I asked if they had regular tots and was told that there wasn't a replacement option.  I also had no idea why I had chives all over my chicken and cronuts.
The cronuts were very crunchy and overly chewy.  I would just prefer regular donuts or donut holes over them.  The kids eggs that I had later were just fine, but again, they came with sweet potato barrels.  I have the full menu just below this photo, then my final thoughts on Early Morning Magic.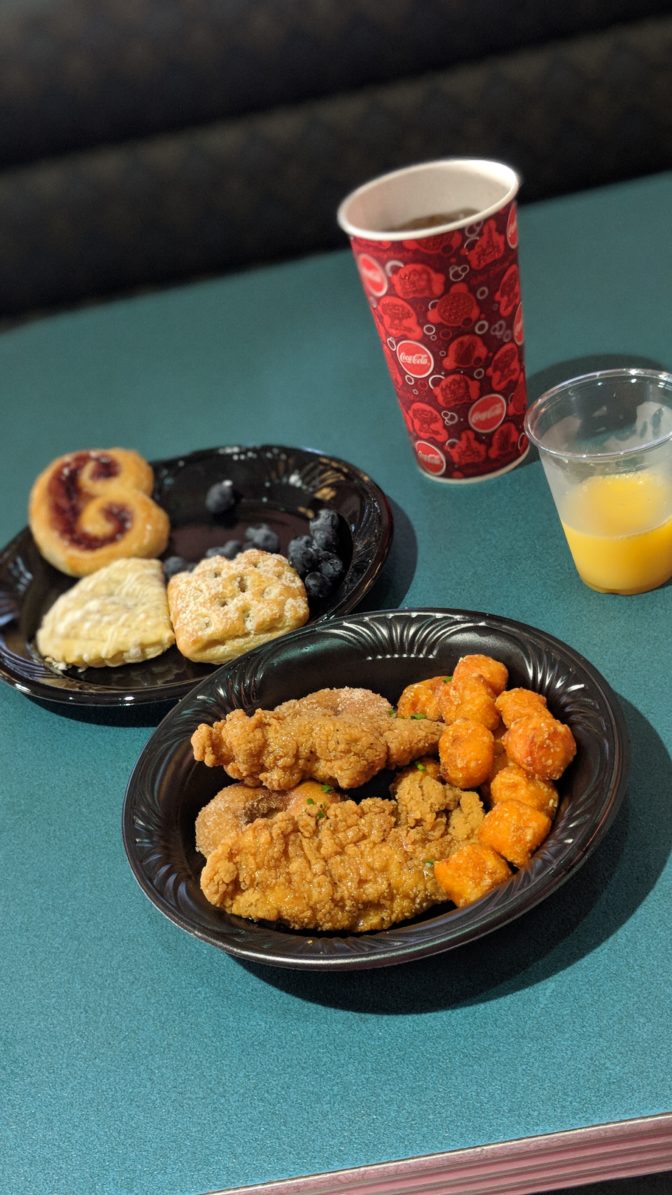 Adult Meals (order one)
Avocado Toast with Egg and Greens
Avocado Chive Mix
Lettuce, Tomato mix
Oven Roasted egg
Chive
Crostini
Chicken and Cinnamon Cronut Bowl
Two fried chicken tenders
Sweet potato barrels
Two cinnamon cronuts
Maple glaze
Chive
Mexican Street Corn Chilaquiles and Eggs Bowl
Fried tortilla strips
Avocado chunks
Corn, bean and sausage mix
Scrambled eggs
Pico de gallo
Queso Fresco
Chives
Cilantro ranch dressing
Shrimp and Cheddar Grits
Cheddar Grits
Onion, Mushroom, Peppers, Sausage and Shrimp mix
Chive
Smoked Salmon and Charcuterie Board
Smoked salmon
Capers
Chopped hard-boiled egg
Spicy Micro greens
Pickled red onion
Cream cheese with chive
Lettuce, tomato mix
Olli Salami
Debrinzinger sausage
Capicola
Crostini
Kids Meals
Kids Chicken and Cinnamon Cronut
One chicken finger
Sweet potato barrels
Cinnamon cronuts
Kids Scrambled Egg and Sweet Potato Barrels
Scrambled eggs
Sweet potato barrels
Continental Buffet (Available to all)
Seasonal Fruit and Berries – Seasonal Fruit Salad and Mint with Honeyed yogurt dipping sauce, Cantaloupe, Honey Dew, Pineapple, Berries, Grapes, Seasonal Stone Fruit
Variety of Freshly Baked Breakfast Pastries – Mini Cinnamon Rolls, Cheese Danish, Butter Croissants, Mini Multi-grain Croissants, Chocolate Croissants, Apple Lattice, Strawberry Half Moon, Raspberry Leaf
Yogurt Bar – Plain Greek Yogurt, Berry Yogurt with assorted dried fruits, fresh blueberries, walnuts, slivered almonds, pumpkin seeds, dried cranberries, granola
Cold Cereal Bar – Frosted Flakes, Fruit Loops, Granola, Milk
Drinks
Juices – Orange and Apple
Coffee – Regular and decaf
Selection of Teas
Milk – White or Chocolate
Spa Water
Hollywood Studios Early Morning Magic Touring Plan
I've created a special touring plan for those who wish to take part in Early Morning Magic and make the most of their time up to around Noon.  After that point, the park is pretty simple, as it will just be a bunch of shows and a few characters.
My thoughts on Early Morning Magic
I'm often asked "Is it worth it?" for events like this.  That is a subjective question for those who are willing to spend $79 per adult and $69 per child.  I would say that the lack of lines for the rides and the characters (if you meet them in the proper order) is the selling point for this event.  You can ride Slinky Dog Dash until you're sick of Dachsunds and have the words "Here we go!" stuck in your head.  In that sense, it is worth it.  You don't have to book the Fastpass 63 days in advance, you don't have to feel stressed, you don't have to stand around the main entrance for an hour.
I didn't really care for the breakfast options as most are more like things for lunch or dinner.  I like the American buffet at Pinocchio's Village Haus for the Magic Kingdom Early Morning Magic.  I asked those around me who tried other food options and many liked the Mexican dish.  The charcuterie board wasn't filling enough for the couple beside me.  I wish they would offer bacon/sausage and regular tater tots vs the sweet version.  Those are all preference issues and I am not a food review person.
If you plan to ride Slinky Dog Dash 15 times, it is worth it for that alone!