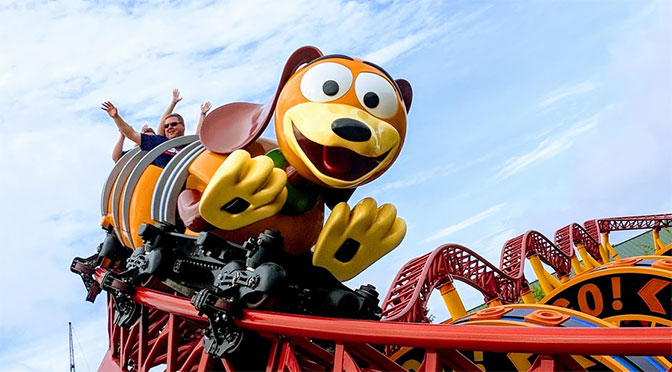 Early Morning Magic is an opportunity to experience select attractions and enjoy a nice breakfast before regular park opening.  There is an additional cost involved, but getting access to Toy Story Land  in Hollywood Studios with very few guests can offset the cost involved.  Here's the details.
What is it?
Guests earn early access to all Toy Story Land attractions including:
Slinky Dog Dash
Alien Swirling Saucers
Toy Story Mania
Meet Buzz Lightyear
Meet Jessie and Woody
"A continental buffet with yogurt, fruit, pastries and assorted cereal, as well as your choice of a main dish like avocado toast or fried chicken served with a tasty cronut. The breakfast  will be available at a select quick-service dining location outside of Toy Story Land."
When does it occur?
Monday, September 17
Monday, September 24
Monday, October 1
Wednesday, October 3
Monday, October 8
Wedenesday, October 10
Monday, October 15
Wednesday, October 17
Monday, October 22
Wednesday, October 24
Monday, October 29
Wednesday, October 31
Wednesday, November 7
Monday, November 12
Wednesday, November 14
Monday, November 26
Wednesday, November 28
Monday, December 3
Wednesday, December 5
Monday, December 10
Wednesday, December 12
Monday, December 17
Wednesday, December 19
What does it cost?
$79 per adult 10 and older
$69 per child 3 to 9
Tax is included
Important details:
Separate Disney's Hollywood Studios admission is required.
Check-in will take place at the Main Entrance to Disney's Hollywood Studios.
Guests who have purchased both regular Disney's Hollywood Studios admission and Disney Early Morning Magic event entry will receive a wristband for identification upon check-in.
During this special event, the only attractions available will be Slinky Dog Dash, Alien Swirling Saucers and Toy Story Mania! along with opportunities to meet Buzz, Woody and Jessie.
Guests must be 38" or taller to experience Slinky Dog Dash and 32" or taller to experience Alien Swirling Saucers.
Guests with a 7:30 AM reservation will begin in Toy Story Land and breakfast will be available from 8:30 AM to 10:00 AM. Other reservation times may be available based on capacity.
At approximately 9:00 AM, the theme park will open to Guests with regular theme park admission tickets and event-only attraction access will end.
If using Walt Disney World Transportation, please confirm transportation schedules as reservation times may be outside of transportation operating hours. Please allow up to 1.5 hours to get to your destination when traveling within Walt Disney World property.
The number of Guests admitted to these events is limited. In addition, all reservations are non-refundable, non-transferrable and are only valid for admission during the special event date and hours.
All attractions, entertainment and experiences are subject to change without notice.
How to tour with this offering:
I would book my Fastpasses for Rock n Roller Coaster, Tower of Terror and Star Tours and the remainder of the day in Studios will be pretty simple with characters and shows.
Will these events affect the crowds in the park?
Absolutely NOT.  These events are available to very few people and do not affect park attendance at all.
Call (407) 827-7350 or visit this link at Disney World's website to purchase today.
I'll be adding these dates to my Crowd Calendars today as well.