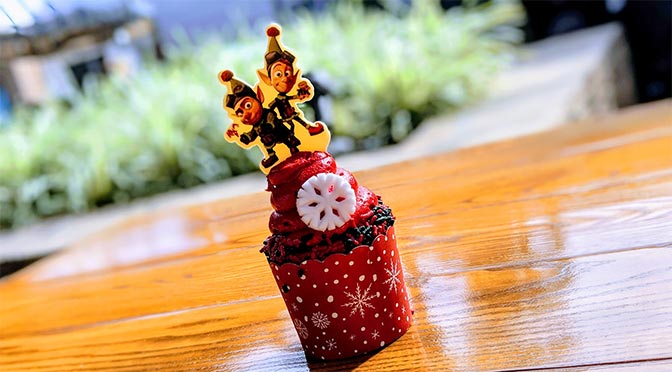 Prep and Landing is one of my favorite Pixar Seasonal cartoons.  The adventures of Wayne and Lanny are hilarious and never disappoint, but their cupcake does.  What about the Spiced Chocolate Verrine?  Let's find out!
Prep and Landing Cupcake ($5.99 DDP Snack)
This cupcake is a Gingerbread Cupcake with Cream Cheese Frosting, BUT it is totally ruined by the enormous glob of red icing.  The Gingerbread cake portion was tasty, light and fluffy, but the red icing leaves that horrid after taste that takes hours to get out of your mouth.  Additionally, I saw a child stain his white t-shirt with the icing.  Due to the red icing, I'll rate this a as a pass.
You could rake off the red stuff and just eat the cupcake, since it is infused with white cream cheese icing as well.
Spiced Chocolate Verrine ($4.99 DDP Snack)
This dessert is also called Spiced Cold Chocolate.  It is a  Spiced Chocolate Mousse with a Homemade Cinnamon Marshmallow and Chocolate Cake.
I had no idea what a Verrine was, so I asked the Cast Member.  He didn't know, so we asked around and finally just Googled it to find out that it has to to with the style of serving, not the actual dish.
This was quite delicious.  It has chunks of chocolate cake in the bottom of the "Verrine" covered by a spiced chocolate mousse.  It is topped with cinnamon covered marshmallow chunks, which aren't of a normal texture and finished with a dark chocolate band.
If you are a lover of chocolate, you'll enjoy this dessert.  It's a good use of a Dining Plan snack.
I've added these snacks to Character Locator, so you can add them to your plan!
REVIEW: Chocolate Chestnut Pinecone and Frozen Hot Cocoa at Disney's Hollywood Studios