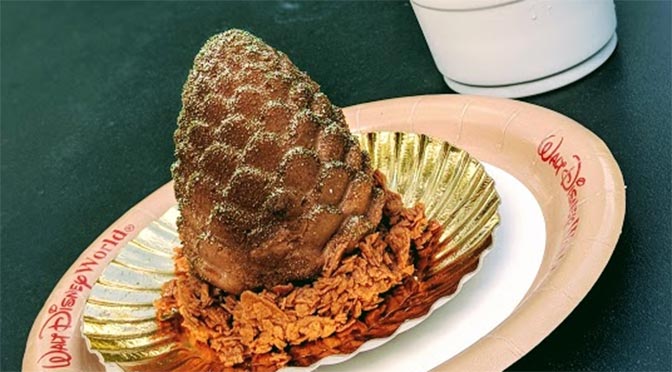 On the first day of the "Flurry of Fun" in Disney's Hollywood Studios, I set out to taste the various snacks that will be offered during the Christmas season.  Let's begin with the Chocolate Chesnut Pinecone and Frozen Hot Cocoa that can be found at Backlot Express.
Frozen Hot Cocoa ($4.49 DDP Snack)
This frozen concoction can usually be found at Blizzard Beach and makes for a delightful treat on a hot summer day.  It was over 90 degrees on November 6, 2018, so that worked to my advantage with this drink offering.
The Frozen Hot Cocoa would probably sell better with a more catchy name like Frozen S'mores.  It tastes exactly like a S'mores with a hint of toasted marshmallow in every sip, but as a frozen drink.  I highly recommend this drink!  You can also find this at other counter service locations.
Chocolate Chestnut Pinecone ($5.79 DDP Snack)
First, this dessert is totally adorable.  It looks exactly like a pinecone!  The presentation was perfect.  It is a thick chocolate mouse over a chunk of chocolate cake.  It is set on a bed of praline bits.
Cutting through the praline bits was difficult with a fork, so I usually ended up with bites of the chocolate mouse and cake.  It was quite delicious and I would order this each visit to this park to share with a friend or loved one.  Trying to get tastes of the praline bits proved difficult without a plastic knife or using my fingers, but they were tasty and added a nice crunch.
Backlot Express also has a new look for the Olaf Cupcake that has been around for quite some time.
Olaf Cupcake ($5.99 DDP Snack)
Chocolate Cupcake with Vanilla Buttercream Frosting
Backlot Express is also offering a couple of new seasonal alcoholic beverages:
Frostbite ($12.50)
Tito's Handmade Vodka, Blue Curaçao, Cranberry Juice and Sweet-and-Sour
Frosted Gingerbread Cocktail ($14.50)
Frozen Cocktail with Ketel One Vodka, Baileys Irish Cream, Kahlua Coffee Liquer, Ice Cream Mix and Gingerbread Syrup
I've updated the Backlot Express menu on Character Locator to reflect these new items.