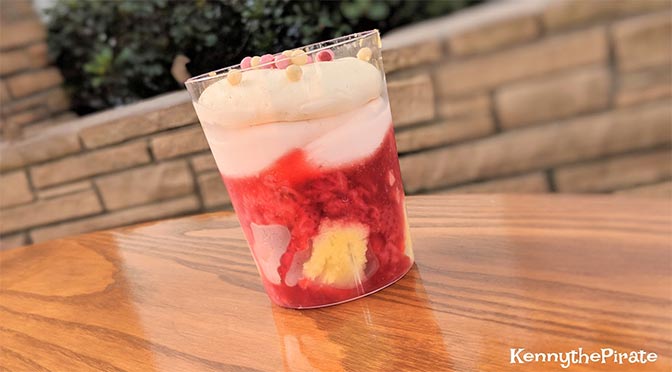 Do you enjoy a fresh Strawberry Shortcake?  Do you like a hint of peppermint?  It's possible that you'll enjoy this dessert.  Take a look!
Strawberry Mint Creme ($4.99  )
This dessert features Marinated Strawberries over a bed of shortcake topped with a light Peppermint Crème and chocolate pearls.
Among the Flurry of Fun desserts, this was my absolute favorite.  It had a light peppermint flavor with flavorful, fresh strawberries and the shortcake was perfect.  It was light, yet filling and especially delightful on this hot afternoon.  If you like the ingredients, you'll love this dessert!
I've added this to the Character Locator menus, so you can add it to your touring plan!
Check out these other reviews!
REVIEW: Prep and Landing Cupcake and Spiced Chocolate Verrine at Rosie's All-American Cafe
REVIEW: Chocolate Chestnut Pinecone and Frozen Hot Cocoa at Disney's Hollywood Studios