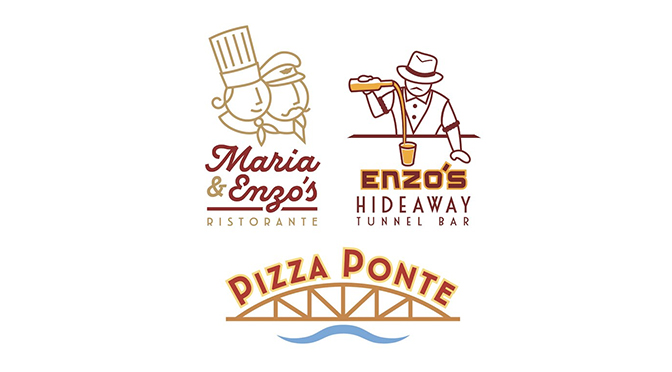 Scott Joseph's Orlando Restaurant Guide recently announced that Disney Springs will offer three new restaurant concepts that will be located in the upcoming Edison area across from STK Orlando.
Pizza Ponte will be a fast-casual restaurant, Maria & Enzo's will be an Italian trattoria and Enzo's Hideaway will be a "speakeasy."  It will feature Italian doughnuts, stuffed pizza bread, Porchetta, and pizza by the slice.  You can also find pastries, pizza, Italian sandwiches, and espresso.
Maria & Enzo's will occupy an abandonded airline terminal dating to the 1930's.  It will feature a variety of travel memorabilia.  The dining room will offer a tremendous vista with 50 foot ceilings and a full view of the surrounding Lake Buena Vista.  The food will offer a Silicilian flare.  It will offer dishes like meat-stuffed rice balls, eggplant parmesan and handmade pastas that will be  served tableside.  You will also find fresh steaks, fish and pork dishes.  Maria and Enzo's will also offer a variety of fine Italian wines that were specially selected for this location.
Enzo's Hideaway will be a throwback to the days of rum-running and speakeasys during prohibition.  Casual Italian food and throwback cocktails will be offered.
These 3 new restaurant concepts will open this holiday season.