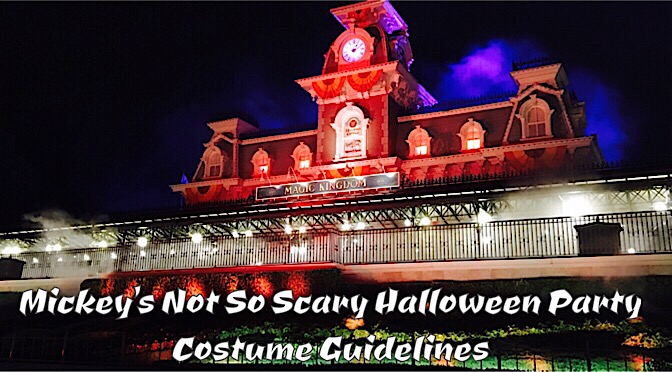 Mickey's Not So Scary Halloween Party is one of our favorites events every year. There are many reasons for this, but one of them is that adults can dress up in a costume! Normally, no one over the age of 13 can wear a costume when entering the park. We love seeing all of the creative costume choices of other guests when we attend the Halloween party. Here are Disney's guidelines for costumes along with our tips for a successful costume.
Disney's Rules and Guidelines for Mickey's Not So Scary Halloween Party Costumes
While Disney does allow for adults to wear costumes during their Halloween party, all guests must follow the costume guidelines. The list below is their official one for this year's Mickey's Not So Scary Halloween Parties. So before purchasing a costume, make sure to review this list and make sure you don't violate any of their rules.
GENERAL
Disney reserves the right to deny admission to or remove any person wearing attire that is considered inappropriate or could detract from the experience of other Guests.
All Guests may dress as their favorite character, but may not pose for pictures or sign autographs for other Guests.
Costumes must be family-friendly and may not be obstructive, offensive, objectionable or violent.
No costumes may contain any weapons that resemble or could easily be mistaken for an actual weapon.
Costumes may not contain sharp objects, pointed objects or materials that may accidentally strike another Guest.
Guests who do not adhere to these guidelines may be refused entry into, and/or removed from, the park unless his or her costume can be modified to meet the above standards.
GUESTS AGES 13 AND UNDER
Costumes and some masks may be worn, as long as the mask does not cover the entire face and eyes are visible.
GUESTS AGES 14 AND OLDER
Disney strongly discourages layered costumes or costume props that surround the entire body and may request additional security screening.
Costumes may not reach or drag on the ground. (e.g., full-length Princess dresses)
Guests may wear capes if the length does not go below the waist.
Themed T-shirts, blouses, sweatshirts and hats are acceptable.
Acceptable accessories include: transparent wings, plastic light sabers, toy swords and tutus. Guests cannot wear headwear that covers their face.
Guests cannot wear masks of any kind.
Please note: all rules and regulations are subject to change without notice.

Our Tips for Costume Choices
Limit Layers and Think Light – Even in October, it can be very warm in Orlando. That being said, think light. Guests who choose a t-shirt printed to look like a costume may be more comfortable than if they were wearing a full costume. And light cotton fabric that breathe are better than thick, polyester fabrics. Short sleeves are a better than long ones.
Families with a Matching Theme for Costumes Rock – We see many amazing costumes at Mickey's Not So Scary Halloween Party, but our favorites are the ones where families follow a common theme. Whether it is Snow White and her dwarves, the characters from Wreck-it Ralph, or a Star Wars movie come to life, we love it when families theme together.
Keep Your Props Light – You will do a lot of walking about during this party. Additionally, if you are going to trick or treat, you will collect a LOT of candy! Heavy candy. Lots of it. We recommend that you keep any costume accessories light, and, if possible, make them double duty. Our daughter dressed up as Rey, and her accessory was a treat "basket" that was a life size stuffed BB-8. She didn't find it overly heavy, and she collected her candy in it.
Whether You Dress Up Or Not, Have Fun And Get Candy!
Now, don't let this article create undo pressure. If you are not about dressing up, you don't have to. Lots of individuals just wear a t-shirt themed to a favorite character, or purchase a MNSSHP t-shirt at the Magic Kingdom to wear. And you can even trick or treat without a costume. No one will be judging.
Whether you do or do not wear a costume to Mickey's Not So Scary Halloween Party, do not forget to take the time to memorialize your night at the Magic Kingdom with Disney Photopass.  Click HERE to see a list of all of the special photo opportunities that you should take advantage of while at the Party.
What costumes have you and your family worn to a Mickey's Not So Scary Halloween Party?  What is the best group costume that you have ever worn or seen while at the Party?
– Chris Edwards