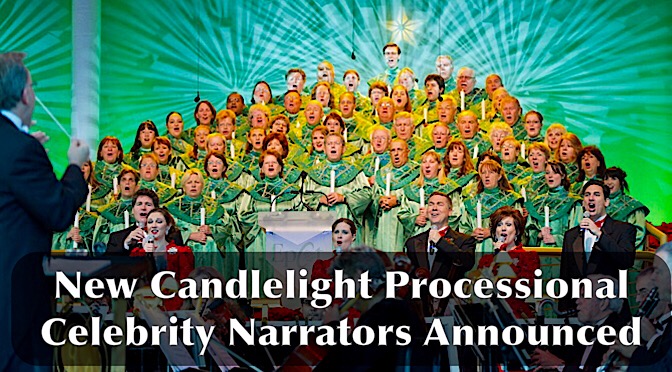 Disney recently announced four additional celebrity narrators for the 2017 Epcot Candlelight Processional. This holiday favorite has a few performances every night from around Thanksgiving up until just after Christmas.  A celebrity narrator is joined by a live orchestra, a Disney choral group, and a different guest performance choral group in telling the Christmas Story through reading and song.
The schedule of celebrity narrators is usually announced in parts as Disney is able to set the schedule with the narrators.  With this recent announcement of four celebrity narrrators, the list is now up to eight confirmed. Four additional slots are still unconfirmed.  This post will be updated as any additional celebrity narrators are named, or if any changes to schedule are made.  So keep checking back.  As with any important Disney World details, this information is also found within Charater Locator (www.characterlocator.com).
Returning Celebrity Narrators for the Candlelight Processional
Some celebrity narrators enjoy the Epcot Candlelight Processional so much that they return for following years.  Returning to this year's Candlelight Processional season are Chandra Wilson who plays Dr. Bailey on Grey's Anatomy; Whoopi Goldberg, co-host of ABC's The View and recently named Disney Legend; Actor Neil Patrick Harris; Country Music star Trace Adkins and Contemporary Christian Music artist Jaci Velasquez.
First Time Candlelight Processional Celebrate Narrators
Recently added to this year's narrator's list are newcomers Matt Bomer from White Collar and The Last Tycoon; and Warwick Davis, known for several roles including Wicket the Ewok in Star Wars Episode VI, a recurring role in the Harry Potter movie series as Professor Flitwick, and his starting role as Willow Ufgood in Willow. Two previously new celebrity narrators are Pat Sajak, the host of Wheel of Fortune, and TV star CHH Pounder.
Here is the list as it stands so far:
TBD – November 24 to 26, 2017
Matt Bomer – November 27 to 28, 2017
TBD – November 29 to 30, 2017
Whoopi Goldberg – December 1 to 3, 2017
Pat Sajak – December 4 to 5, 2017
TBD – December 6 to 8, 2017
TBD – December 9 to 11, 2017
Warwick Davis – December 12 to 14, 2017
Trace Adkins – December 15 to 17, 2017
Neil Patrick Harris – December 18 to 21, 2017
CCH Pounder – December 22 to 24, 2017
Jaci Velasquez – December 25 to 27, 2017
Chandra Wilson – December 28 to 30, 2017
No Additional Cost to Attend
There is no additional charge to be able to sit in the uncovered seating area at the theater, but do you recall my earlier recollection of the long waiting line in the past? The lines for the shows do start to form well in advance of each performance, and will vary depending on the crowd levels and celebrity speakers for the particular day.

Three Ways to Attend a Candlelight Processional
There are three ways to approach attending the Candlelight Processional. The first is to get to the theater well in advance of the show that you wish to attend, and patiently wait in the line for general seating.  The Epcot Candlelight Processional is very popular, and depending on the day and scheduled celebrity narrator, the standby line for general seating can form hours ahead of the event start and become quite long.
As the theater is an open outdoor seating, the second option is for Epcot guests to stand behind the America Gardens Theater seating (in the World Showcase walkway) and watch from the back. This second option does not guarantee a spot, or even a good view.  The positive perspective of this option is that the amazing sounds of the Candlelight Processional are still loud enough for even those in the far rear of the area to hear clearly and enjoy.
The final option is a Candlelight Processional Dining Package. Reserving one of these packages not only means having a great meal in a nearby Disney restaurant, but guarantees a seat close to the front of the stage.  You will find the post about the Candlelight Processional Dining Package for this year here.
Start Making Christmas Holiday Plans for Disney World
Disney World is a busy place during the last few weeks of the year.  Everyone loves spending the holidays there.  Start planning your next Christmas trip early in order to get the most options for event and restaurant reservations.  And stay tuned to Kenny the Pirate for new information about what to expect for the 2017 Holiday Season as it is known.
– Chris Edwards