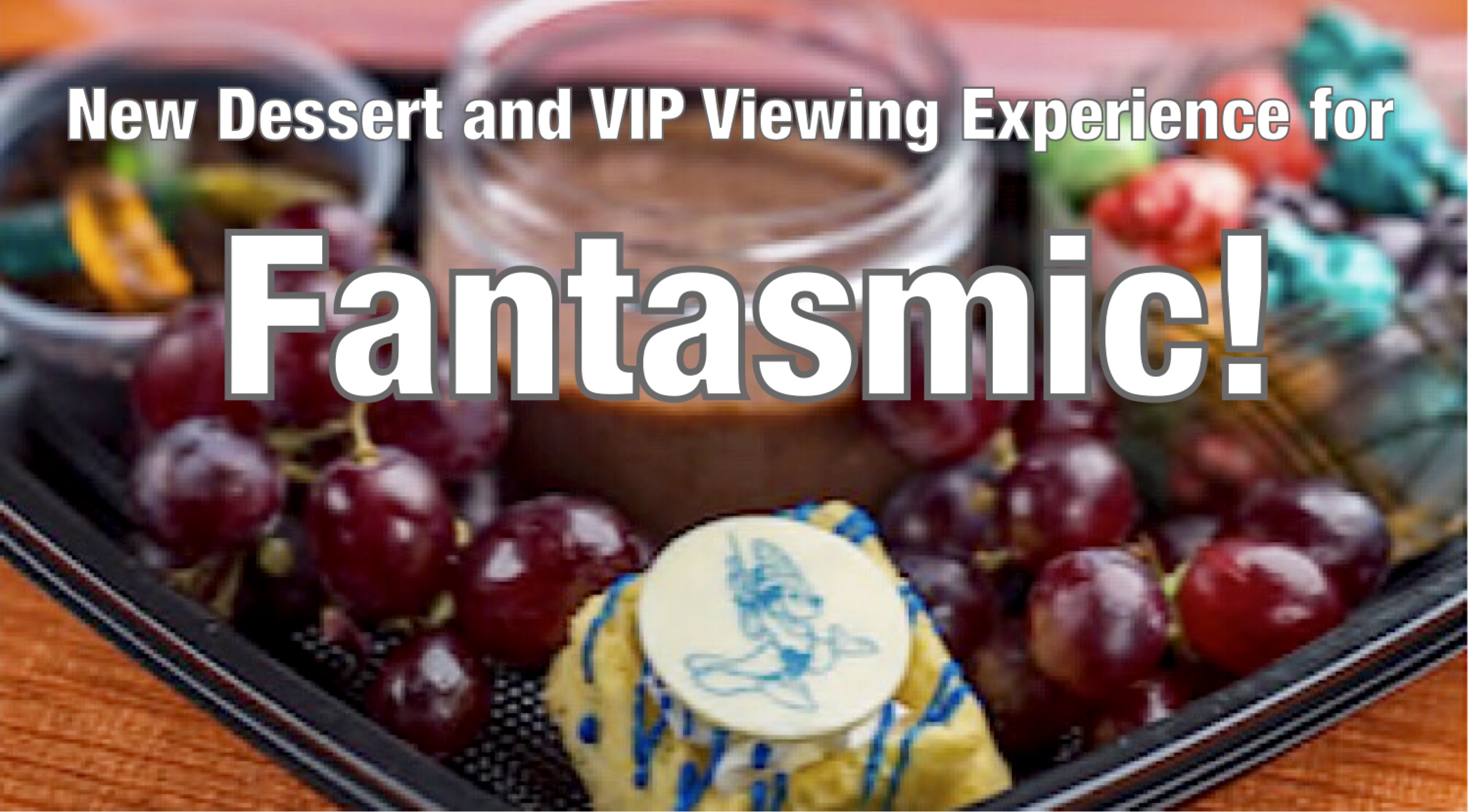 Disney is adding a new Dessert and VIP Viewing Experience for Fantasmic! This is a perfect way for guests to guarantee a great spot to watch Fantasmic! without having to purchase a full dining package. In addition, guests will receive some treats to enjoy for the show without having to wait in line at the snack bar.
Drinks, Treats and Reserved Seats!
For this new event, you will enjoy fresh prepared snacks of both a sweet and salty variety to include items like chocolate dipped strawberries, cheese and crackers, and make your own "worms and dirt" pudding.
Guests 21 and older will enjoy an alcoholic drink in a souvenir cup, and those under 21 will get a non-alcoholic drink to enjoy, also in a souvenir cup.
Once you have gathered your food and beverage, you will be shown to a VIP seating area to watch Fantasmic!
Reservations Highly Recommended
The cost for this even is $39 per adult and $19 per child (ages 3 to 9) including tax. While this does not include gratuity, Disney states that it is not required.
Disney highly recommends that guests obtain advanced reservations. They will allow walk-ins, but only if they have spots available. Book online here, or by calling (407) 939-3463.
For the Dessert and VIP Viewing Experience, Disney offers the following fine print:
The Fantasmic! Dessert and VIP Viewing Experience is available on all Fantasmic! show days and offered with the first show of Fantasmic! only. Reservation times range from 90 minutes prior to show to 45 minutes prior to show.
Check-in for the experience at the Fantasmic! theater located on Sunset Boulevard next to Beauty and the Beast – Live on Stage. Enter through the theater FassPass+ queue to get to the check-in podium. At check-in, each Guest receives a custom credential for identification. Guests may not transfer the credential identification to others and will not receive a replacement if lost or stolen.
There are not assigned seats in the VIP Viewing area. Guests will choose seats upon arrival on a first-come, first-serve basis. In the event of inclement weather, your food and beverage experience will still be available, but may be moved to an alternate location. Please proceed to the theater at scheduled reservation time for additional direction.
Entertainment is subject to change or cancellation without notice. In the event of a show cancellation, VIP seating will be made available for an alternative show within 5 days of the date you were originally scheduled to attend. Valid theme park admission is required.
Disney Dining plan entitlements may not be redeemed for this experience.
Guests must be 21 years of age or older to consume alcoholic beverages. Guests must provide a valid form of government identification in order to verify age.
Book Now for the Dessert and VIP Viewing Experience at Fantasmic!
The first night for this new experience is September 8th. Guests can begin booking a reservation now by either clicking here or calling (407) 939-3463.
What do you think? Are you going to have a VIP seat and a chocolate covered treat at your next Fantasmic! show?