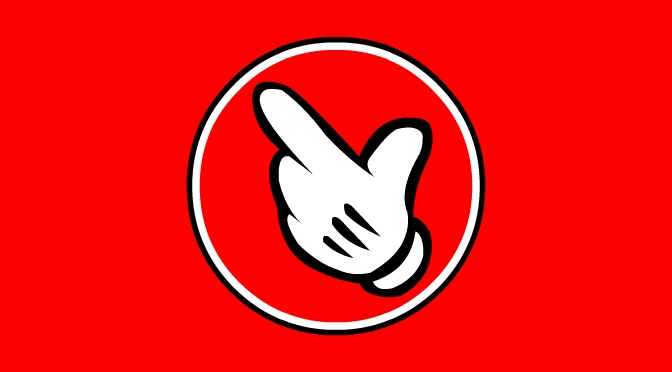 I'm excited to announce that we've just completed another major upgrade to Character Locator.  If you subscribe, you'll find all these great new features available for you to use.  The upgrades include information to plan your Disneyland trip, the ability to create park hopping plans and more.  Are you ready for a demonstration?
When we first created Character Locator, it was only that, a way to meet as many characters as possible.  When I began this blog there was NO character information available.  My dream was to expand that and make Character Locator a full PLANNING TOOL.  In our upgrade a couple of years ago, we accomplished some of that goal and have continued to improve.  Now, we are taking a BIG step forward.
(Reminder that this is an unofficial planning site.  It is not connected to or provided by any Disney entity).
1.  A brand new menu!
The menu is now expandable.  It allows us to provide you with more content, while using less space.  You'll easily be able to choose if you want Disney World or Disneyland (or other future expansion) information.  You can also quickly access your Touring Plans and our terrific Chat Room.  If you click on Disney World or Disneyland, the menu expands and contracts as needed.
Oh, you can earn yourself free renewals by using your personal referral code too!  Your friend even receives 10% off the subscription as a gift from you.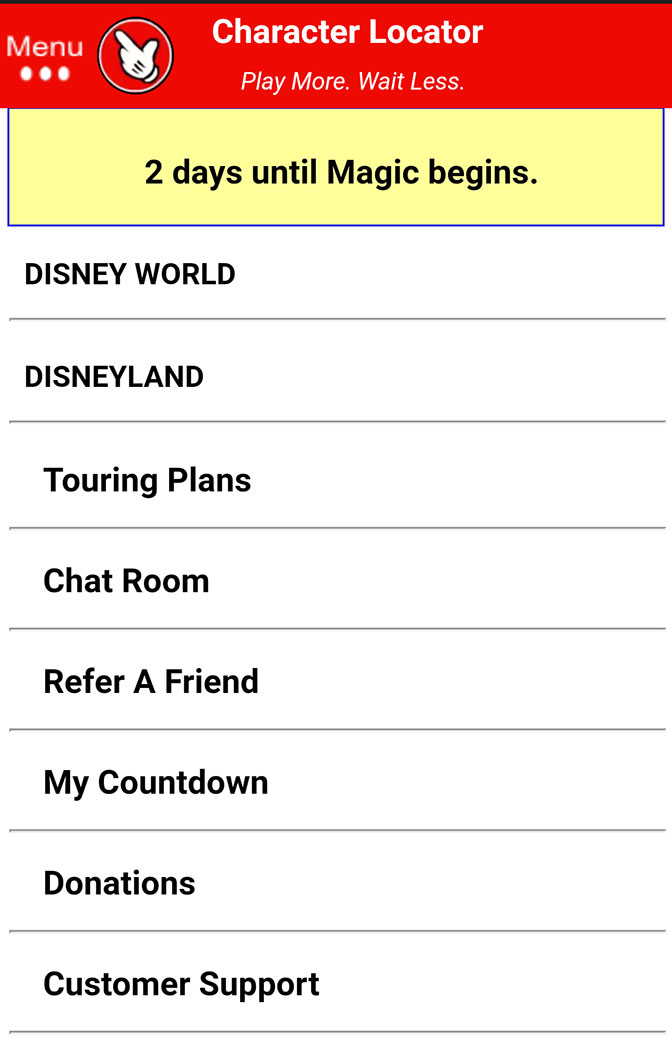 I clicked upon Disney World and the menu expanded down to show you all the great options.  You can reach your Touring Plans from here, visit the Crowd Calendar for a view of park hours, extra magic hours and entertainment.
You can also choose any of the 6 parks AND we've added Disney Springs to the available information!  You can even add Disney Springs to a Park Hopping Plan.  We'll talk about that shortly.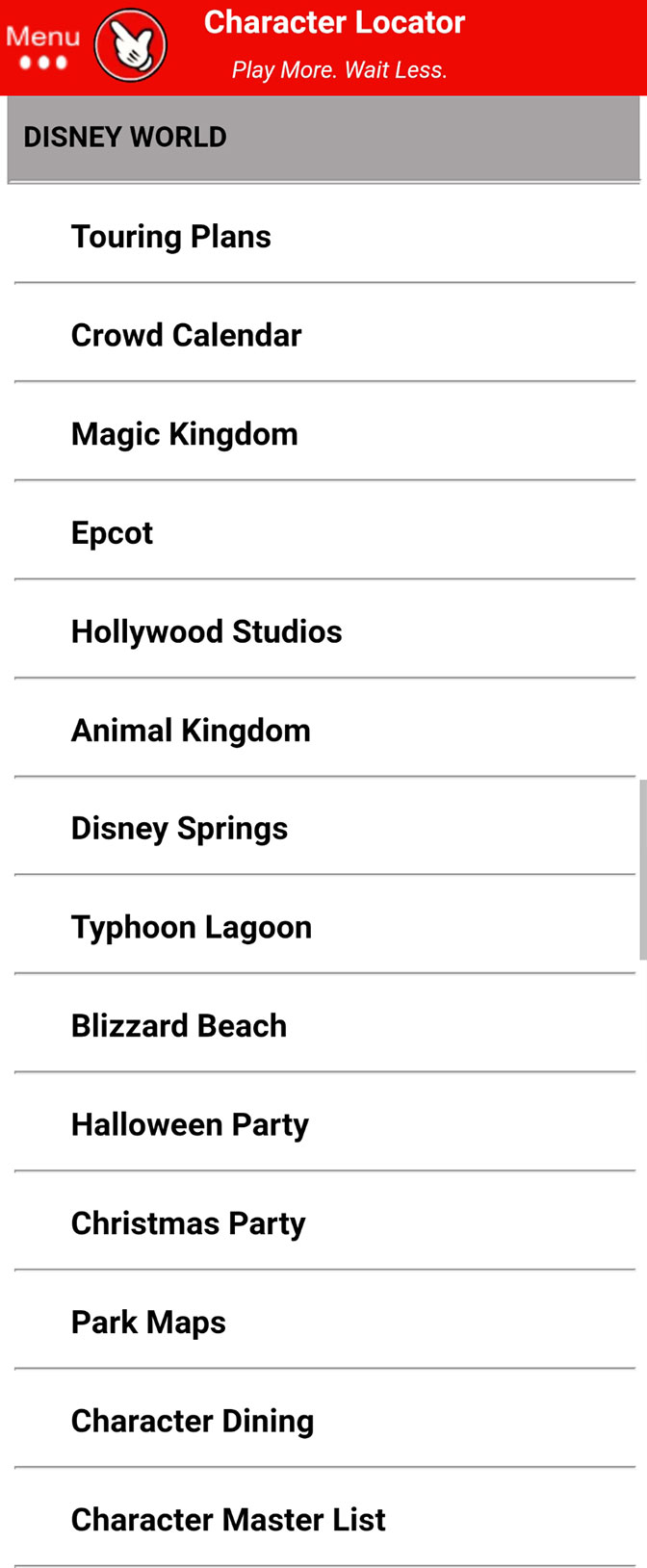 2.  We've added Disneyland planning information!
You'll find Touring Plans, a Crowd Calendar (usually about 6 weeks in advance), Disneyland information, California Adventure Information, Downtown Disney, as well as their version of the Halloween Party (Halloween Party plans to be added soon).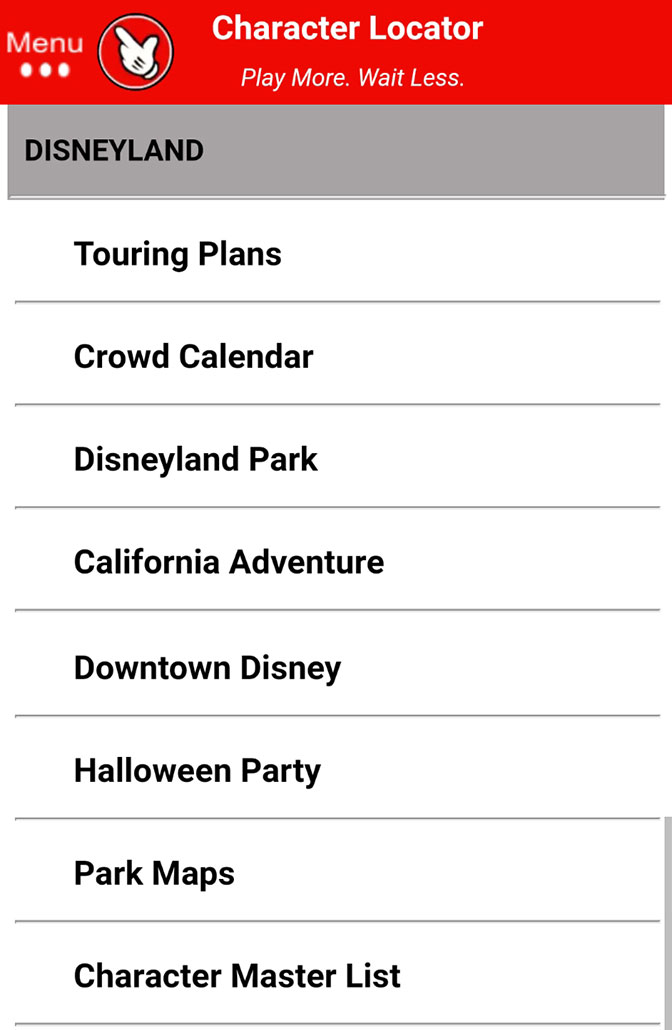 You'll see all the same great categories that have been available for WDW planning.  Characters, Shows, Rides, Menus and Extras.  I've listed a number of characters that may not provide any type of regular schedule in case you might see them in the park on your date of visit.  You'll have access to some Interaction Tips to banter with characters when you find them.  All of these categories are available to add to your Touring Plan.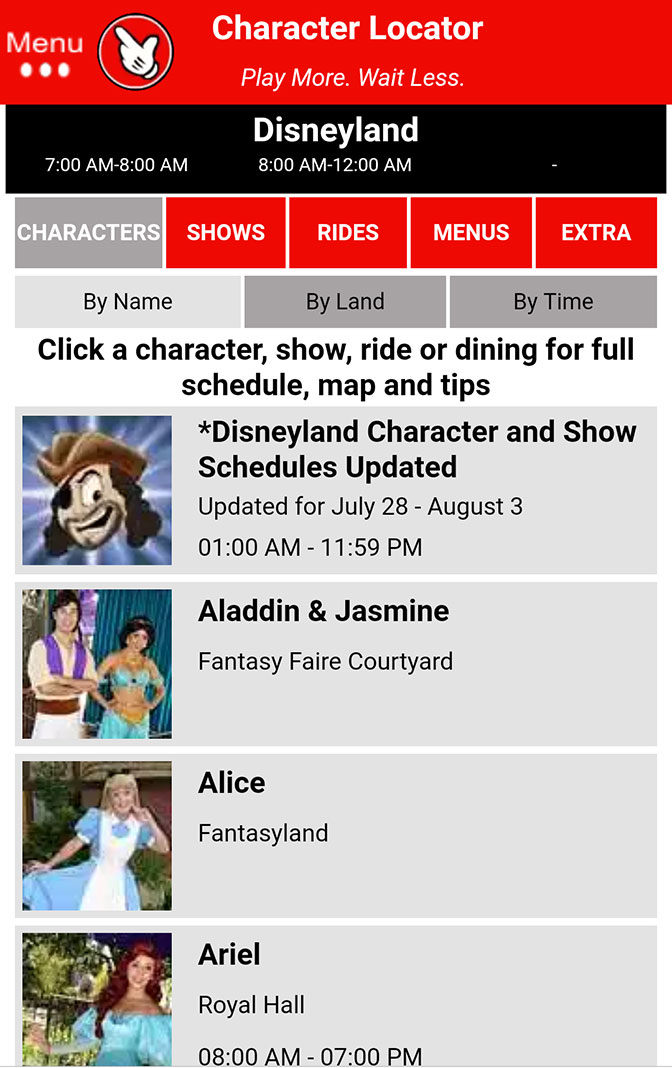 The most exciting part of the new Character Locator Disneyland information is the Touring Plans that we offer.  We have a variety of KtP made plans that you can easily Copy to your plans.  You can then tweak them as need to fit your needs.  You can also build your own plans from scratch, if you so desire.  Our Touring Plans are now color coded as well for those who like to easily see the difference between a ride, show, menu etc…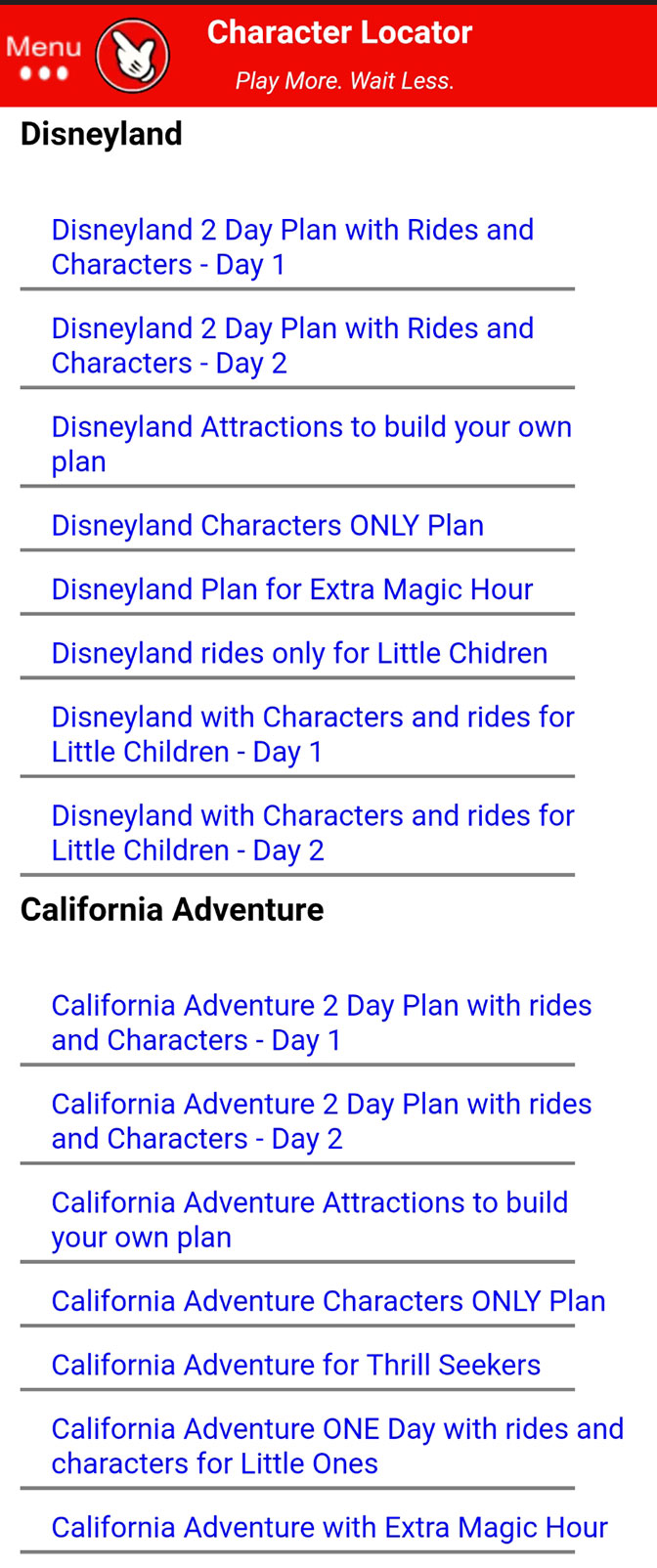 3.  Park Hopping Planning
One of the most requested features among the Character Locator Crew is the ability to create their own Park Hopping plans.  BootstrapBob worked hard to find a way to allow you to build such plans.  This is the FIRST tour planning tool to allow you to build your own Park Hopper Plan.  You begin as you would in constructing any plan on the Touring Plans page.  Click "Select Park."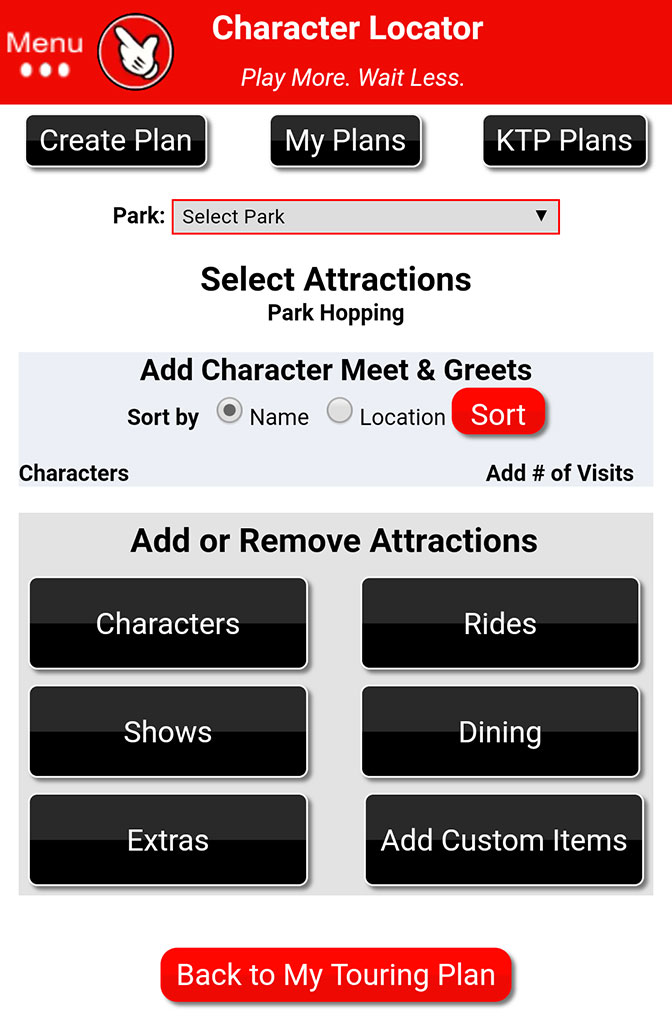 You'll now see a pop up that asks what type of plan you'd like to build for yourself.  Choose "Park Hopping" in order to build such a plan.  If you want a single park plan, you can still build those as well, but you cannot change a regular plan into a Park Hopping plan.  You must begin with Park Hopping for that feature.
At this time it will include all of the parks and Shopping and Dining areas.  In the near future we'll include Resort information as well.  For now, add anything Resort oriented as a "Custom Item."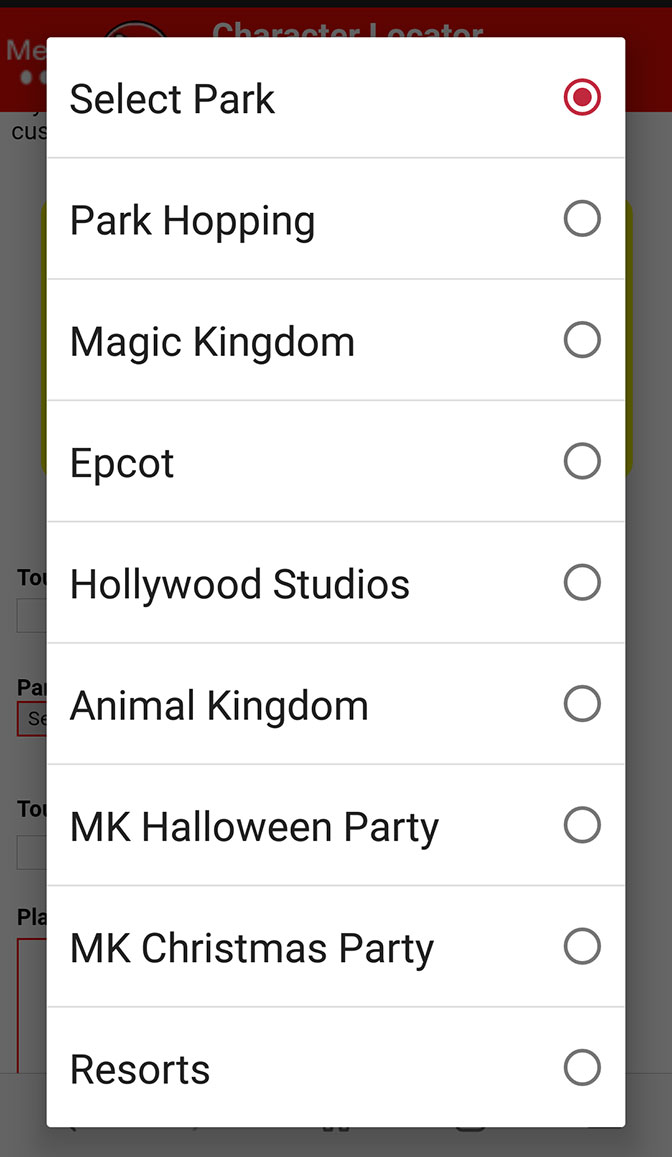 After choosing Park Hopping, you'll need to select the park in which you'd like to begin.  As you can see, I selected Magic Kingdom.  After clicking on that, wait 3 to 5 seconds while the information loads.  You can then select from Characters, Shows, Rides etc…  Just click the little + to add something to your plan or the – to remove it.
In order to choose a second, or subsequent, park, you'll need to use the same park drop down selector to choose your second park.  It may seem a bit unusual at first, but you'll catch on pretty quick.  It only took me a couple of minutes to create a Park Hopping plan and BootstrapBob didn't give me any initial directions.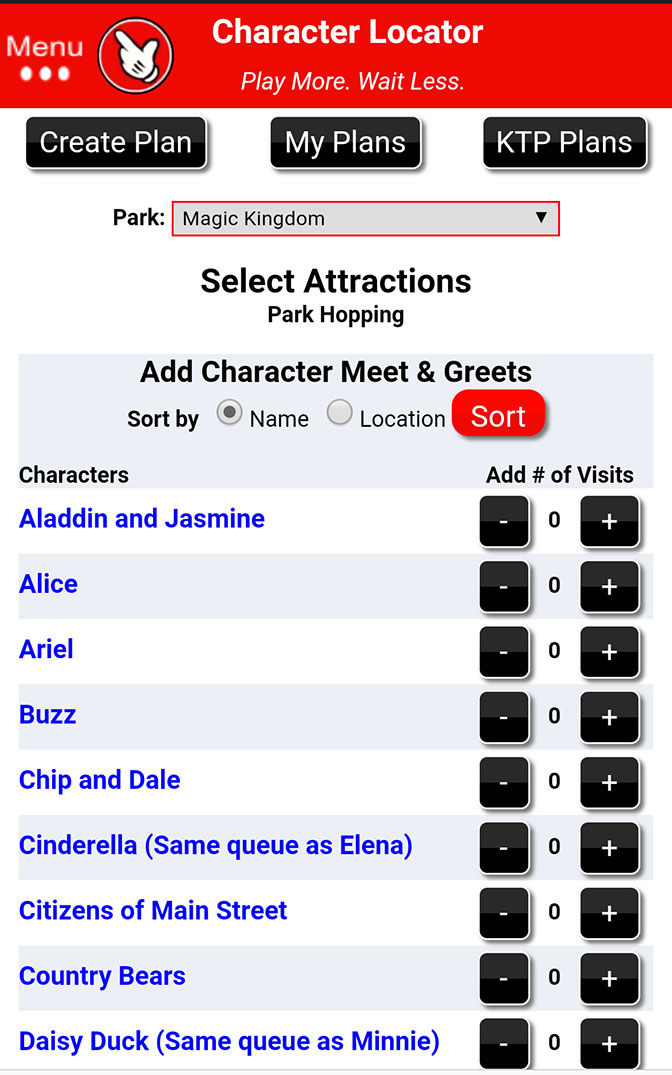 Subscribe to Character Locator now for the best planning tools available for your upcoming vacation.