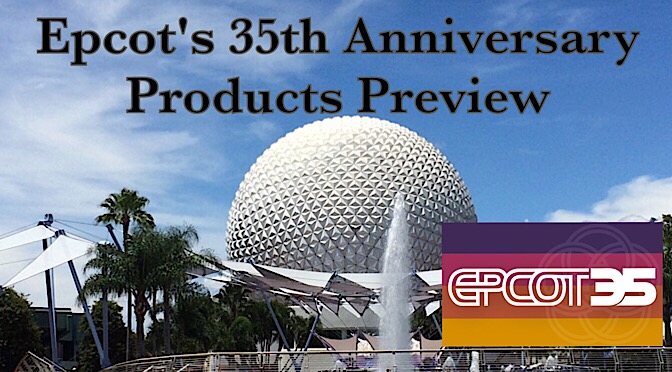 October 1st is a special day of each year for Walt Disney World.  Two of the four Disney parks share this day as their Opening Day Anniversary.  The Magic Kingdom had its Grand Opening on October 1st 1971.  Disney has been celebrating its 45th Anniversary this year with special events and merchandise throughout these past few months.  And on October 1st 2017, the anniversary party will shift from Disney World's first theme park to its second; the Epcot 35th Anniversary.
KtP Note – I've opened the door for my buddy Chris Edwards from Ear to Ear Magic to share news items with us from time to time.  He's a great guy and really loves Disney.  After you read the article, go check out his site.
October 1st 1982, Disney World opened its second park based on a concept developed by Walt Disney himself, the Experimental Prototype City of Tomorrow. The park's original working name was EPCOT Center.  In the mid 1990's,  the name changed to just Epcot.  And this year, Disney World will be celebrating EPCOT's 35th Anniversary.
New Epcot 35th Anniversary items
Disney Parks provided  the first images of some of the 35th Anniversary merchandise.  Guests will be able to find the new products in Epcot starting late September.  Later, after the anniversary date, Guests can purchase them on the Shop Disney Parks app.
Items in the Disney Parks Blog preview included the usual categories of t-shirts, hats, and keychains.  And the Disney Consumer Products team designed them to be a step back in time to Epcot's first years.  Many of the products boast an array of colors similar to those on early Epcot merchandise.  These Epcot 35th Anniversary items have gold, orange, pink, purple and red colors that look very similar to the type of souvenirs that guests would have purchased in Epcot back in the 1980's.  The colors are muted in such a way as to embody an additional vintage look.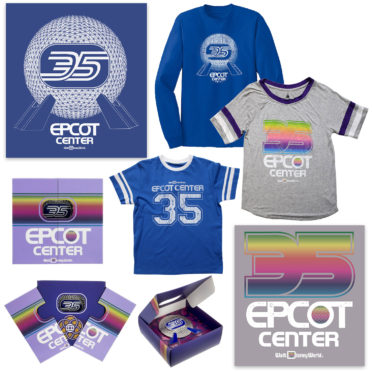 There are two other design factors that add to the retro look and feel for the 35th Anniversary line-up.  First, many of the items sport the theme park's original name "EPCOT Center".  Second, these new items will not include any images of Mickey and his friends.  Since Disney did not invite Mickey and any other known Disney animation characters in Epcot when it first opened.  Epcot had its own new character created for its park mascot; a purple dragon named Figment.  Because of this Figment will once again have the number one spot on this new merchandise.  With retro color schemes, the use of an older park name, and Figment as a sole featured character, these new products would make guests question their being new if not for the fact that they have the number "35" also printed on many of them.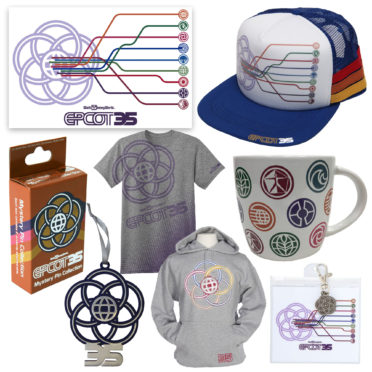 New "Retro" Item
In addition, there are a few items that look retro but are products that did not exist in the 1980's.  One group that fits this are the Disney trading pins.  There have always been some pins in Disney parks, but the trading pin phenomenon did not begin until just before the year 2000.  Second, Disney will release a new Epcot 35th Anniversary Magicband, with a limited edition size of 3,500 bands, and of course, Magicbands are a very new technology.  The new Magicband has a retro 1980's Epcot design.  Because of this nice contrast, and some special lights and sounds when scanned, will make this LE MagicBand very popular.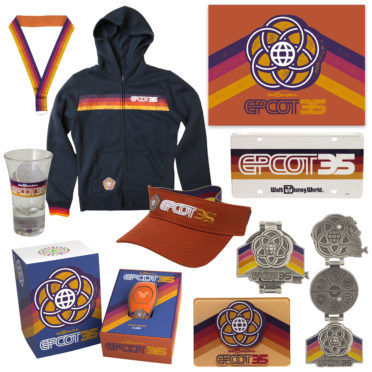 They say that fashion is a cycle.  And for the Epcot 35th Anniversary, this new line of Epcot merchandise will bring the 1980's back before our eyes.  More products than this will come out, but Disney Parks' recent Epcot 35th preview gives us a good idea of how these new anniversary products will be a real blast from the past.