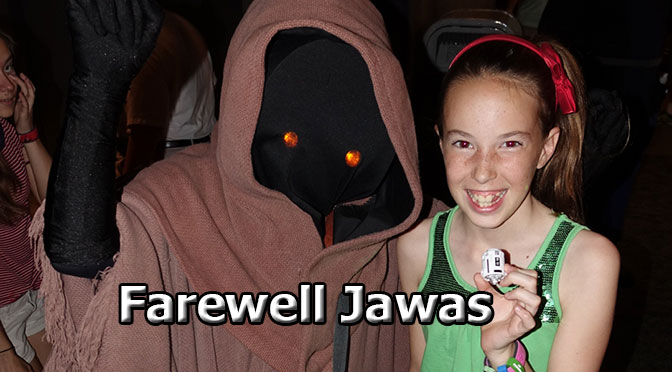 From what I was told, the Jawas are officially leaving Hollywood Studios.  Back on April 19, 2017 I first reported the rumor that the fun little Tatooine traders would be heading home.  It appears that the rumor is true.
From what I was told, effective July 29, 2017 the Jawas are retired from regular meet and greets at Hollywood Studios.  We've enjoyed trading with them for many years, dating back to the former Star Wars Weekends.  We've made many great memories and had many laughs.
A rumor is circulating that Rey could begin appearing with BB-8 inside the Star Wars Launch Bay.  If that were to become the case, the Cantina would be needed for the extended queue area.  I had mentioned that Disney had been casting Rey.  Up to this point Rey has only appeared in the Star Wars: A Galaxy Far, Far Away show at Center Stage.
Farewell little traders and safe travels back to Tatooine and enjoy a glass of blue milk on us!  Hopefully, they will return to trade when Star Wars: Galaxy's Edge.  In the mean time, you may want to remove them from your Character Locator Touring Plan.
What do you think of this change?  Feel free to share the post on Facebook.