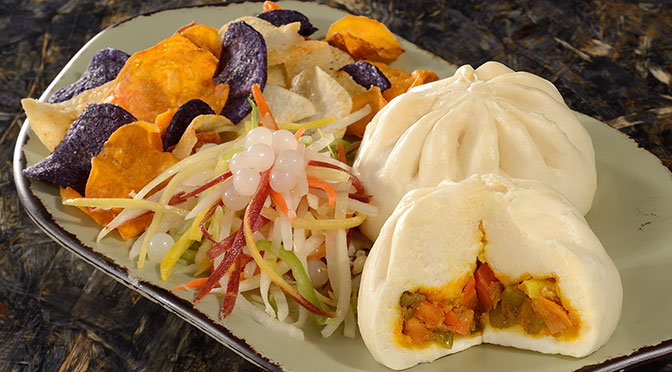 The new Satu'li Canteen will be the first "fast casual" restaurant to offer Mobile Order from the My Disney Experience application.
Mobile Order
The restaurant's new Mobile Order option will allow guests to pre-order and pay for their food before arriving at the restaurant.  Once you arrive, you can bypass the regular ordering quue and touch the "I'm here" button which will let the kitchen know it's time to prepare your food.  This should save each guest a few minutes of standing in line and staring at menu boards.  The guest will then be notified through the application when their order is ready to be picked up at the Mobile Order window.
The order must be paid for with a credit card attached to your account.  Quick Service Disney Dining Plan is accepted at Satu'li Canteen but, at this time, Mobile Order only accepts credit cards.
Conservation is at the heart
The effort of the restaurant is to be as "green" as possible with a minimal amount of waste created.  Each meal will be served on plates with silverware, like Be Our Guest.
Disney released a few details on the upcoming menu which is said to offer a "healthful bounty with wholesome grains, fresh vegetables and hearty proteins"  There will be an open on-stage grill in the main dining area that offers a "museum-like" vibe.  It is said to offer inside and outside seating.
Satu'li Canteen Menu details
Disney – Diners start with a base of quinoa and vegetable salad; red and sweet potato hash; mixed whole-grain and rice or romaine and kale salad.  Next is either with wood-grilled chicken, slow-roasted beef, sustainable fish or chili-spiced fried tofu. And the bowl is finished with charred onion chimichurri, black bean vinaigrette or creamy herb dressing.
The menu also offers steamed "pods" – bao buns with either cheeseburger or vegetable curry and served with root vegetable chips and crunchy vegetable slaw.
For little ones, there's an option of grilled chicken or beef, fish or tofu with greens or rice; a hot dog wrapped in Parker House dough; cheese quesadilla, or a steamed "pod" (cheeseburger bao bun).
Pandora – the World of Avatar and Satu'li Canteen will officially open on May 27, 2017, but many believe the land will "soft open" for practice beginning some time early in May.