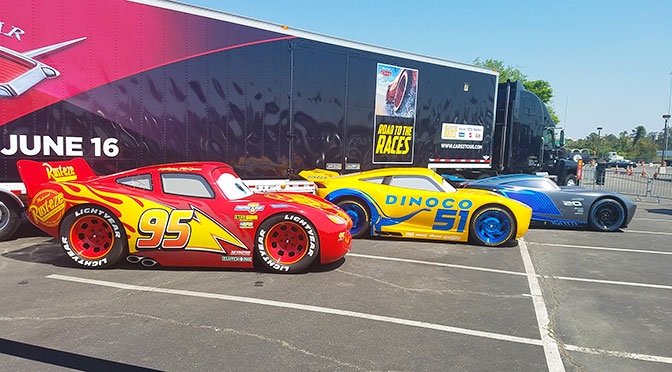 Sneak Peek:  Cars 3 Lightning, Cruz Ramirez and Jackson Storm come to Disney Springs
March 23-26, 2017 the Cars 3 Movie Tour is coming to Disney Springs.  The experience includes a meet with Lightning McQueen, Cruz Ramirez and Jackson Storm, a preview of the upcoming movie and some fun games for young children.  Here's my review.
The experience will be set up in the former bus boarding area in Disney Springs which is located near Once Upon a Toy Store.  The closest parking garage is the Lime Garage with ony a short walk from there.
It's open to the public on Thursday, March 23 at 12:00 p.m. and will run until 7:00 p.m. that evening. On Friday, March 24, and Saturday, March 25, join the fun from 11 a.m. to 7:00 p.m. And on the final day, Sunday, March 26, guests can enjoy the experience from 11:00 a.m. until 5:00 p.m.
In addition to the experience, you'll also find a variety of new Cars 3 Merchandise available in Disney Springs.
You'll enter a Nascar style midway area with a queue that allows for as many great Cars fans as possible.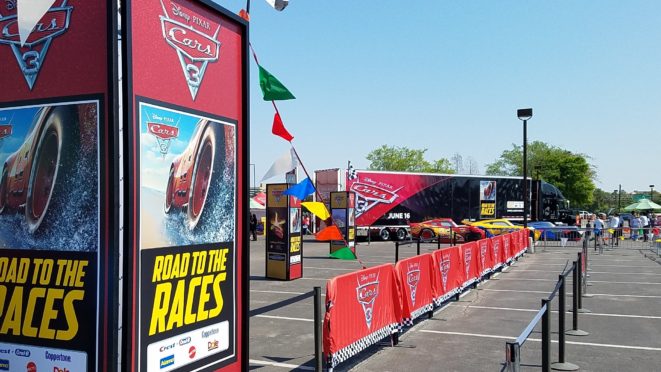 Throughout the area, you'll find several standees with the Road to the Races, some Nascar timeline trivia and an introduction to some of the new characters in the movie.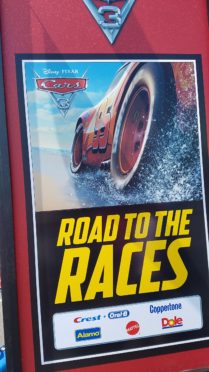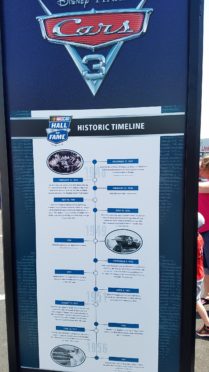 River Scott is a tribute to Wendell Scott, who was the first African-American man to win an officially sanctioned Nascar race.  Due to the racial divide in the country at the time Wendell won the race, but his trophy was not provided to his family for 47 years.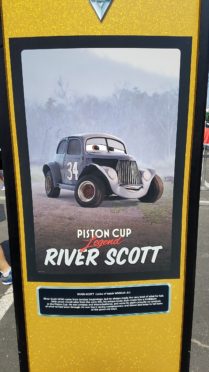 Smokey was a former team owner who worked with the great Hudson Hornet.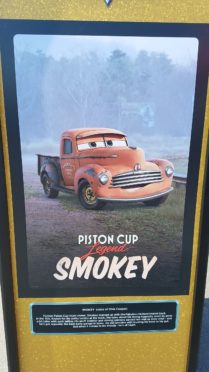 Jackson Storm is the hotshot rookie with much more speed than Lightning's old model can now produce.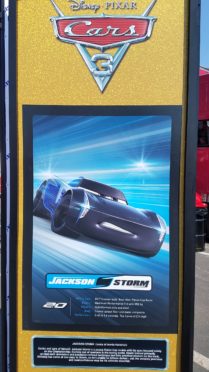 5 Time Piston Cup champion Lightning McQueen.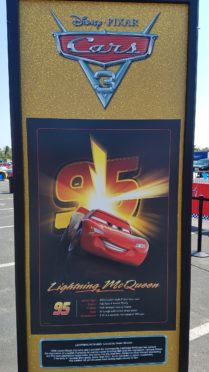 Louise Nash is based on Louise Smith who was called, "the first lady of racing."  She competed from 1949-1956.  She won 38 races in her career in numerous formats.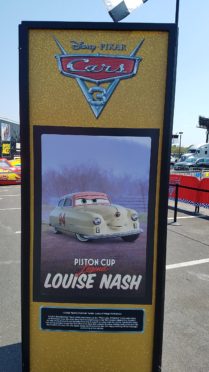 Cruz will become LIghtning McQueen's trainer who is trying to help him learn to race smarter, not just faster.  I have a sneaky suspicion that you'll see her grow into a different role ;)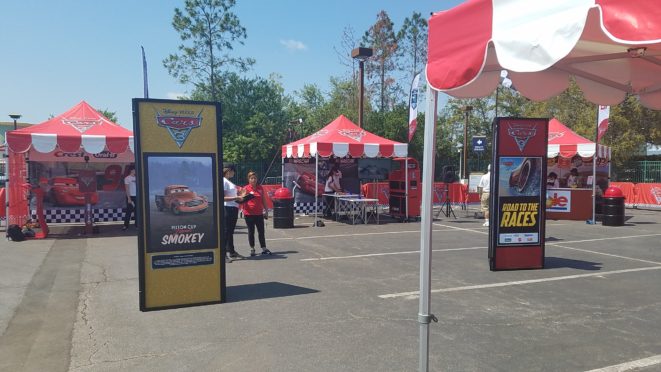 They offer a variety of fun areas for children.  This one allows the kids to do some coloring on a Cars 3 mural.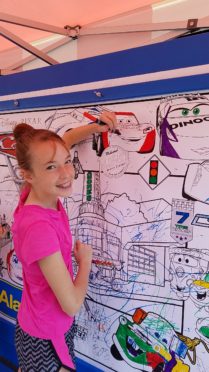 This game allows kids to spin the wheel to win Crest prizes or temporary tatoos from Cars 3.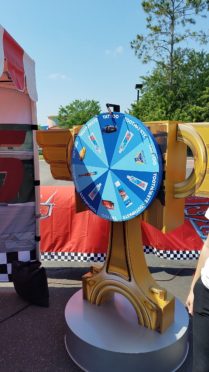 Debbie won the temporary tatoos.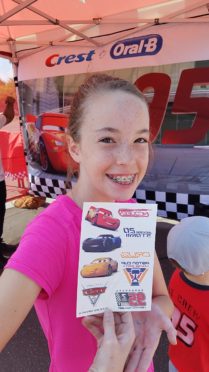 This area allows kids to do some racin' of their own using new Cars 3 characters and hot wheels tracks.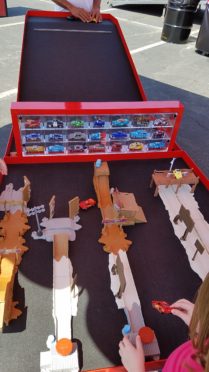 This area allows kids to cut out their favorite car or draw their own before cutting it out to build the car.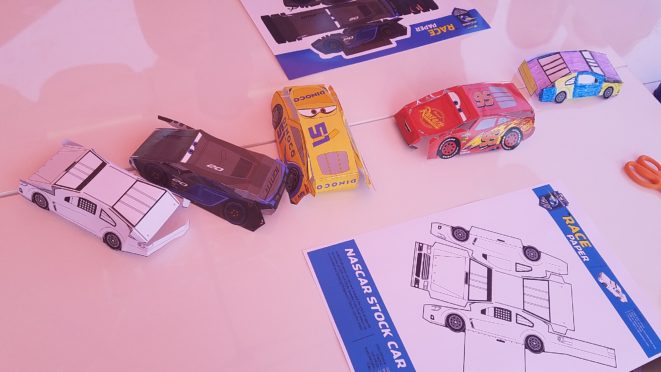 All the kids enjoyed the area where you learn to become a tire changer with a wooden tire and low impact cordless drill.  They only give you 30 seconds and I couldn't complete it that quickly.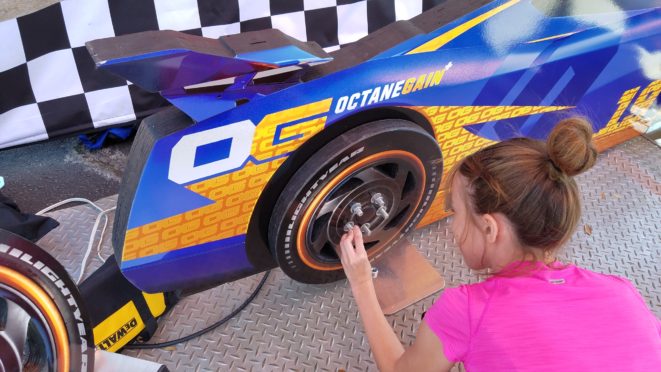 When you work up a sweat, they provide you with a free sample of a smoothie and a card that shows how to make healthy smoothies at home.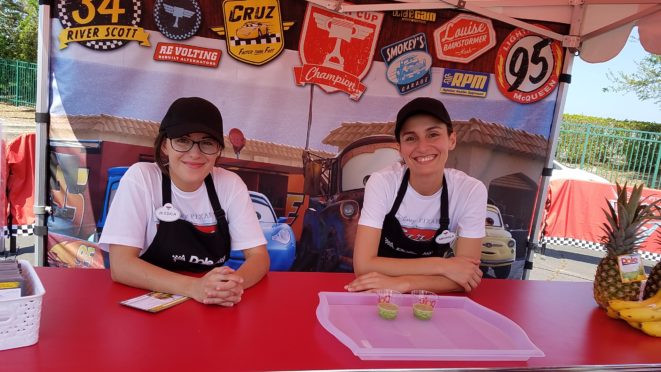 It's all the Cars meet now.  Lightning McQueen has been given a total makeover for the new movie!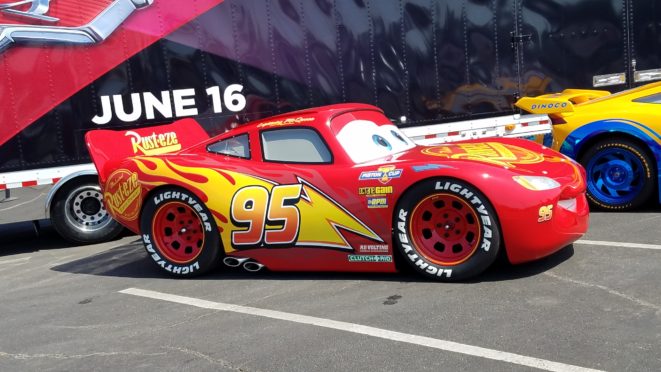 Front view of all 3 cars.  So fun and lifelike!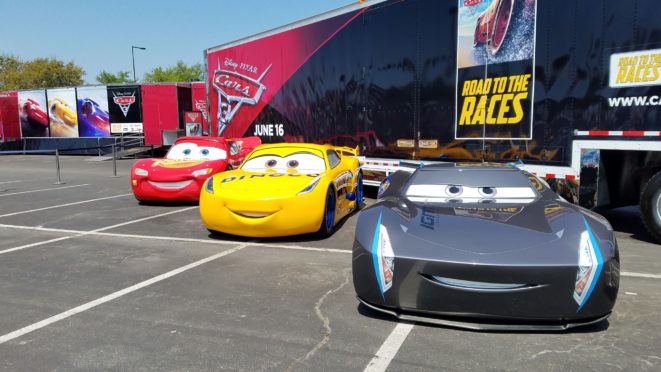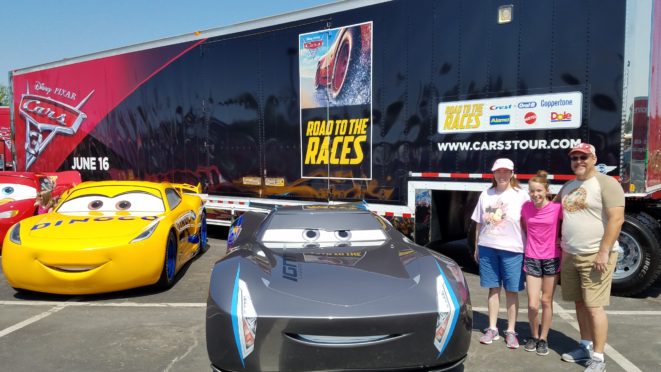 Makes me want to buy a yellow car and paint it up like this!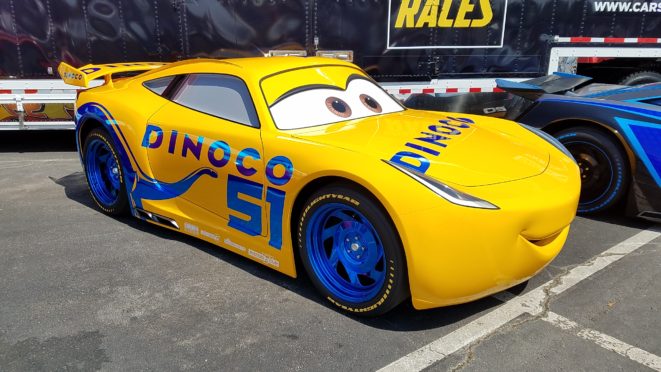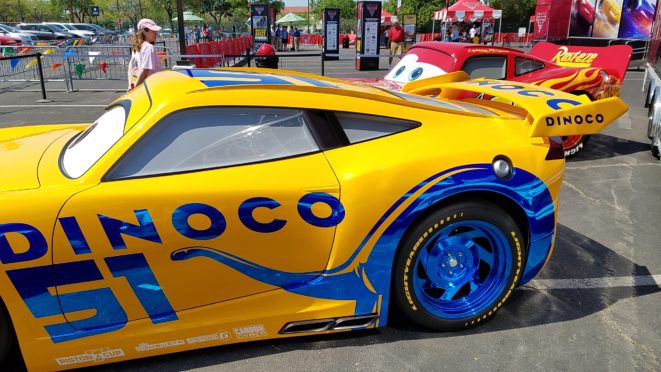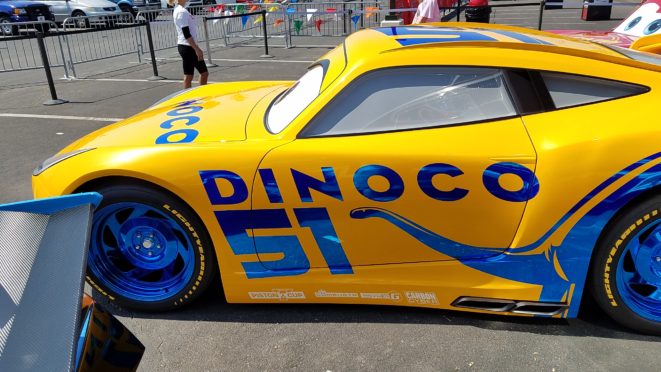 5 Time Champ Lightning McQueen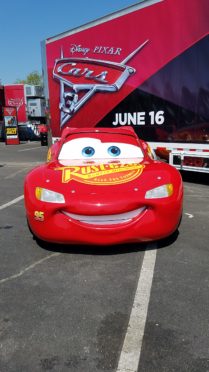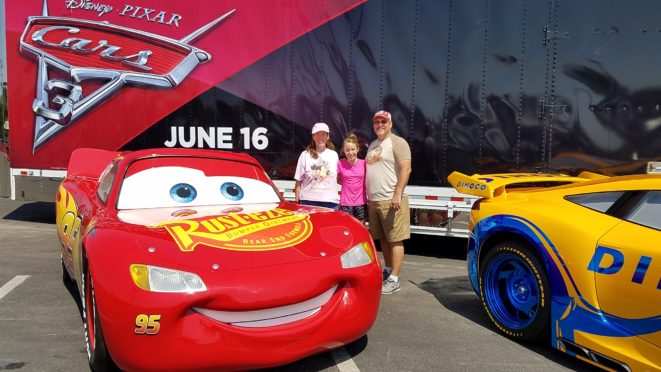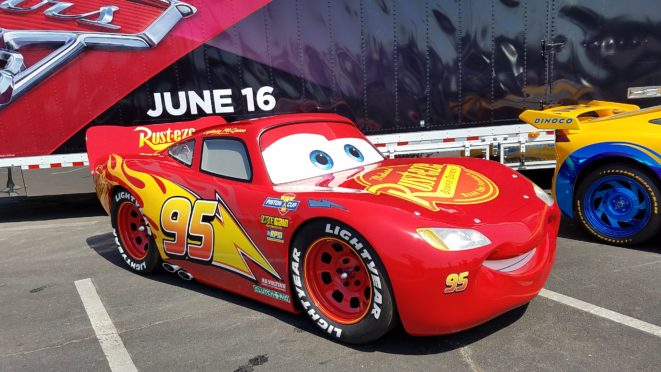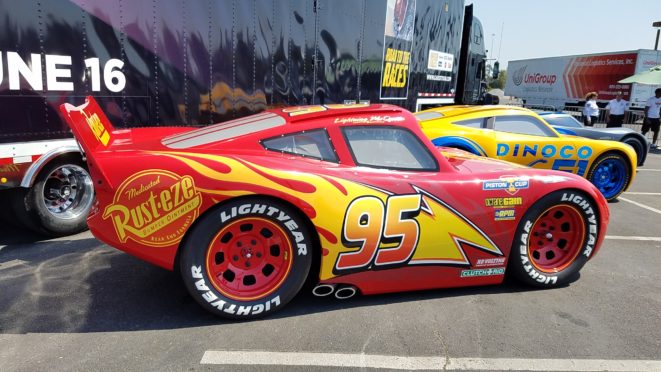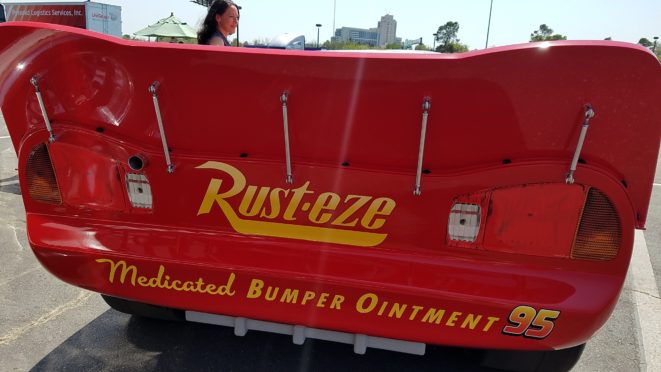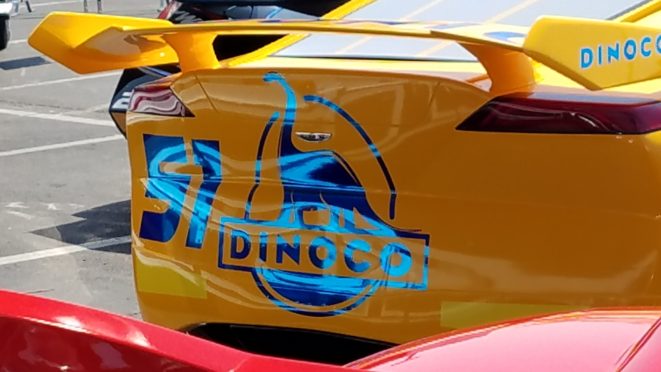 The movie preview was terrific.  They have some director's chatter that tells the backstory of the film, then you get to see an almost complete clip of the big Figure 8 race.  I'm excited to see Cars 3 in June 2017.