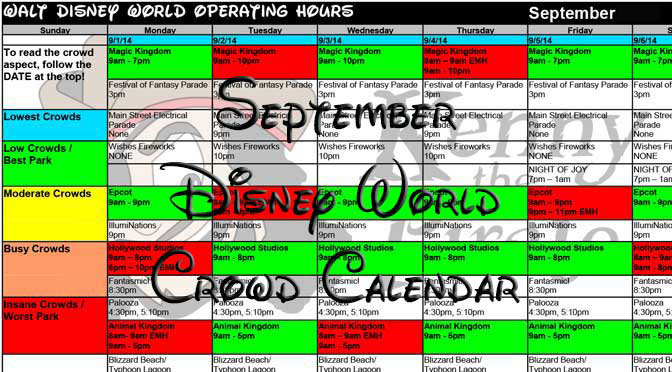 I've just completed creating my September 2017 Disney World Crowd Calendar.  It includes the initial park hours, Extra Magic Hours and the fireworks schedules that have already been released.  I've marked all the probable dates for Mickey's Not So Scary Halloween Party as well.  Here's some info you'll likely want to know:
Any night in which the Magic Kingdom closes at 7pm has been marked as a probable night for Mickey's Not So Scary Halloween Party.  There's one date in which the Magic Kingdom will close at 6pm, which is likely to be some sort of park buyout or media event that hasn't been released.  While the initial Disney schedules list "Wishes," my Crowd Calendar mentions "Happily Ever After," which is the proper fireworks for Magic Kingdom from May 12, 2017 onward.
Illuminations isn't listed on Fridays or Saturdays.  I believe that is because the park usually closes at 9:30pm during Food and Wine Festival, so they didn't confirm that detail.  Once Illuminations is added to the official calendar, I'll add it to mine, but I'd expect 9:30pm on the unlisted nights.
Hollywood Studios doesn't list Fantasmic or Fireworks.  It doesn't mean it won't occur, it just wasn't added to the initial release.  I'll add those into the park hours when Disney releases them.
Animal Kingdom doesn't mention Rivers of Light.  I'm sure it will be added later.
You'll notice that I've predicted a number of mid-week days to be Light or Very Light crowds, but I have trepidation predicting weekend days at those levels.  I've been seeing each weekend date as more Moderate or higher, even when the weekdays are very light.  If I over project, you'll come out the winner.  If I under project, you can wear your angry eyes.
Just understand that it's not based on how it "FEELS" in a park, but average actual wait times at rides in the various parks.  If you haven't visited before and expect to have the park all to yourself on a very light day, that is a misnomer.  You'll still wait 30-45 minutes for most headliners without Fastpass and the most popular rides will have an hour or more wait, even on the slowest days.
Use Character Locator to choose your days, then choose your parks.  Book your dining at 180 days out and add that to one of my awesome Touring Plans and then add your Fastpass+ selections at 60 days out.  Those important dates are always listed on the bottom of the Crowd Calendar!