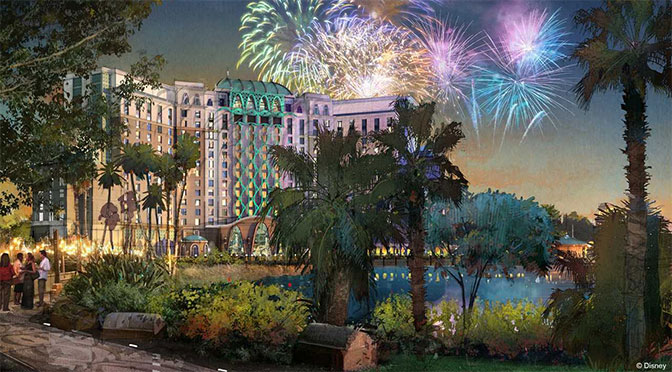 Disney just confirmed that a new 15 story tower will be constructed at Coronado Springs Resort and Caribbean Beach to be refurbished.
The 15 story tower will add 500 new rooms as well as offering suites and concierge level services.  Coronado Springs will also begin refurbishing its current resort rooms and "transform its landscape with floating gardens and an island oasis that connects the resort through a series of bridges."
The new 15 story tower will overlook Lago Dorado, the resort's lake and will include rooftop dining with the ability to see the various nighttime fireworks shows around the resort.  It is located closer to Hollywood Studios and Epcot, so those shows will be nearby.
Disney also announced that the Caribbean Beach Resort will be refurbished with new additions to the marketplace, as well as adding new retail shopping and waterfront dining.  Plans for Caribbean beach show a new building that will be in the Barbados village area.
Disney has not confirmed if either or both of these will be part of a Disney Vacation Club expansion that has been rumored for some months.  All this work will begin this year and is expected to be completed by 2019.