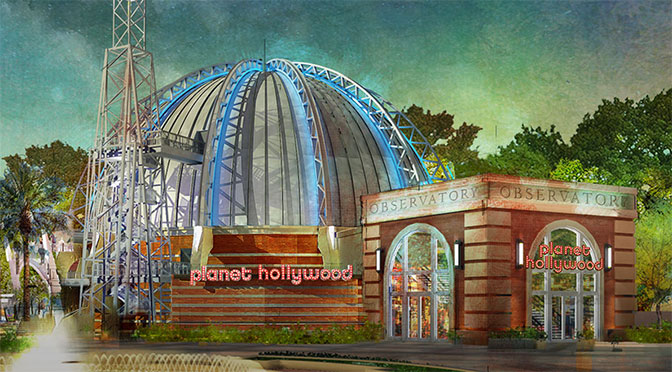 The complete remodel of Planet Hollywood in Disney Springs has taken far longer than expected and has experienced several delays.  Guests have booked reservations for various dates, only to have them canceled later by Planet Hollywood.  Well, it appears we have a new opening date for the Planet Hollywood Observatory.
According to the official Planet Hollywood website, the newly redesigned building will open for reservations on Monday, January 23, 2017.   The transformation will take it from a star covered globe to a steam punk inspired Observatory.
Planet Hollywood will serve lunch and dinner daily with a brand new menu that features burgers and sandwiches created by celebrity chef Guy Fieri.  Guy will bring his famous "Donkey Sauce" which is created from a combination of mayo, roasted garlic, mustard and Worchestershire sauce.