Miss Adventure Falls coming to Disney's Typhoon Lagoon
In August 2016 Disney Parks revealed that they would be building a new Family Raft water adventure at their Typhoon Lagoon water park.  It was set to be called "Miss Fortune Falls."   Disney World has changed the name slightly to "Miss Adventure Falls," revealed some artwork and given us an opening time frame!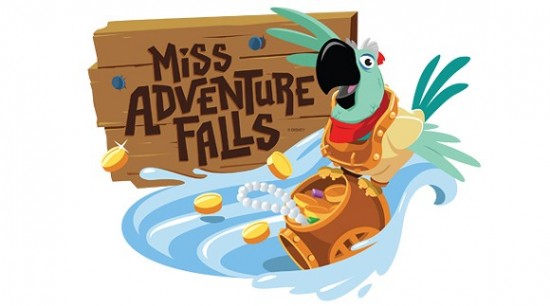 A Fast-Paced Waterslide Journey
Gather your crew and climb aboard for a thrilling, white-water voyage you won't want to "Miss."
Just beyond the pineapple fields of Crush 'n' Gusherawaits an all-new, family-raft attraction owned by Captain Mary Oceaneer—a sea-faring treasure hunter whose haul was caught in a rogue typhoon… and scattered across this tropical paradise years ago.
From your 4-person raft, feel a rush of excitement with family and friends as an aquatic conveyor belt chutes you into action. Then, hold on tight as you spy precious artifacts collected from all around the globe.
If you're lucky enough, you may even meet the captain's old diving partner—an Audio-Animatronic parrot who's still hunting for treasures at Disney's Typhoon Lagoon water park to this day!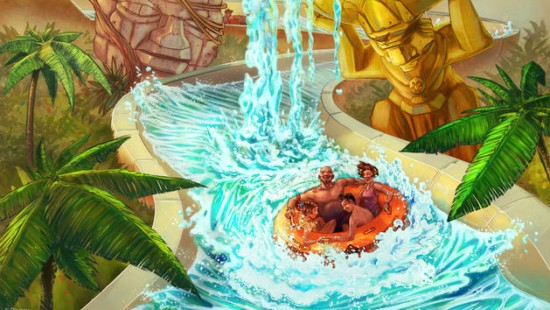 The ride is set to be open for guests when Typhoon Lagoon reopens from its annual refurbishment in March 2017.  The ride will not have a height limit, so it will be open for all family members to enjoy together.  It's somewhat reminiscent of the family raft ride in Blizzard Beach.
Miss Adventure Falls will be in the same area that was formerly occupied by the Shark Reef experience and near Crush n Gusher.  This sounds like a fun new additional to the park!