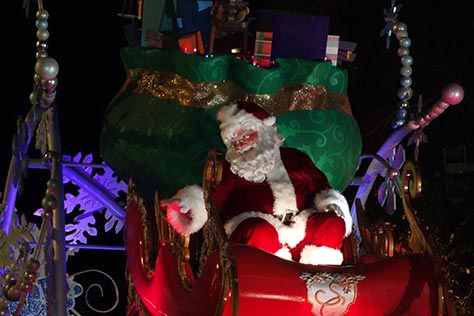 Each year Disney World and Disneyland film their portions of the annual Christmas Day parade in advance in the parks and resorts.  Here's the likely dates for the parade taping for 2016.
Disney World has changed the daytime parade times from 3pm to 5pm on November 10 through 12, 2016, so it's highly likely that the annual Christmas Parade taping will take place during those dates at Walt Disney World.
It will cause the Magic Kingdom to adjust how people enter and exit the park in the morning and early afternoon.  They tend to stack Main Street with festively adorned guests with bright smiles for the parade taping, which is done in segments and each segment is repeated a number of times.
Guests are then guided through the parade gate next to the Chapeau and you'll enter the park between the Plaza Restaurant and Tomorrowland.
You should also expect this taping to affect the Mickey's Royal Friendship Faire show and other Main Street shows.  Times are typically rearranged during this time of the year.  Several acts are filmed performing at Cinderella Castle.  No word on who will perform at this time.
Typically, visiting the Magic Kingdom in the morning is a great time for rides and character meets (but their schedules get scrambled as well) and the afternoon tends to be a little busier.