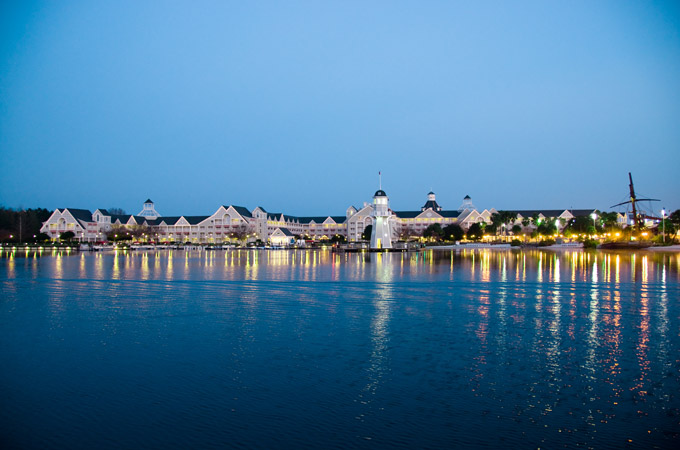 My love for Disney's Yacht and Beach Club Resort at Walt Disney World.
Guest post by Jen Pesci
My favorite place in the world (and by "world" I'm not referring to just Disney!) is Disney's Yacht & Beach Club Resort–specifically the sand-bottom pool at Stormalong Bay. This pool is shared by both the Yacht Club and Beach Club Resorts. What is this "sand bottom pool" I am referring to? Imagine wading around in warm water, soft sand, watching your kids build sand castles, while waiting for your cocktail to arrive poolside by a friendly Disney Cast Member. Did I mention when the kids order a meal from Hurricane Hannah's it comes in a pail, with a shovel attached?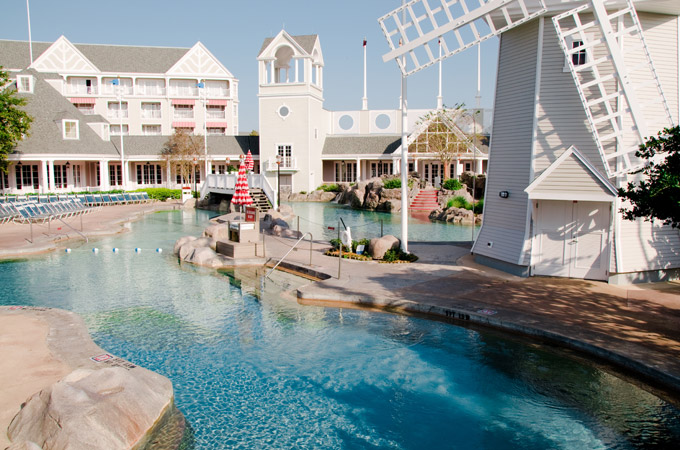 While spending a few hours at the pool, your kids might just ask to skip the parks for the whole day. The entertainment crew sets up shop on the pool deck and the whole family joins in on games like Disney Trivia, relay races, Bingo, and dance parties! If this isn't enough, there are 2 slides (one huge one and one for the younger set), a lazy river, a whirlpool area, 2 hot tubs, and a baby pool. There are also several "zero entry" areas that make it perfect for little ones to play in the shallow end.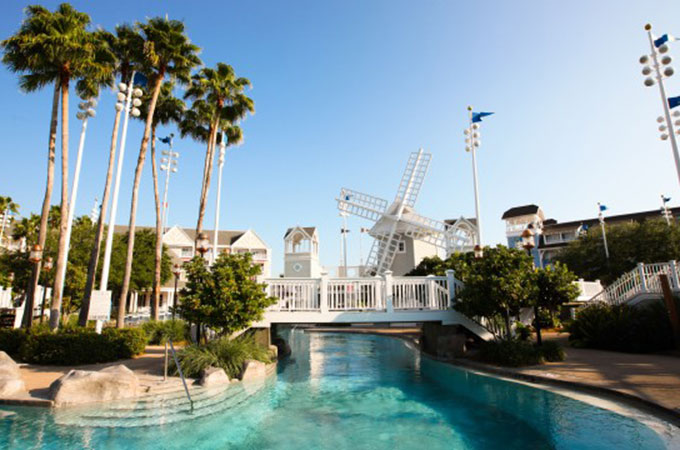 Both the Yacht Club and Beach Club have their own lobbies and a completely different feel. My family does prefer the Beach Club for the bustling lobby (probably due to the Cape May Cafe which we will get to later) and because the Beach Club gives off more of a "family feel" in my opinion. However, if a balcony is important to your family, the Yacht Club offers more balcony rooms, so that could be your deciding factor when choosing. Both resorts are in walking distance to Epcot (and I mean, if your room is on the far end of the Beach Club, you can probably throw a football right up to the main gates of the park.)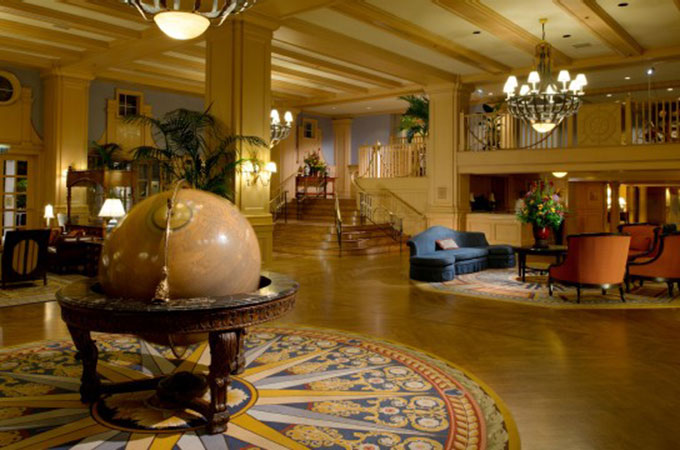 The Yacht & Beach Club is also in walking distance to Hollywood Studios and Epcot, but we prefer hopping on the friendship boat and enjoying the view along the way. For families with strollers, being walking distance to two parks is so convenient…no unpacking and folding up the stroller to cart it all on the bus…and when your cranky 3 year old finally nods out at the end of the day, there is no need to disturb her peace, as you can wheel her straight from the parks to your room–this is a HUGE mom perk!
On a side note, I once lost a contact lens while dining with the princesses at Akershus in Epcot. I was able to get to my hotel room and back faster than Belle could say "cheese!" and there was still plenty of bacon left for me to enjoy.
Speaking of food, is there a better motivation to get the kids out of bed than, "Wake up, kids! Minnie Mouse and friends are downstairs waiting for you at breakfast." Grab an autograph book from the gift shop, and walk across the lobby for breakfast with Minnie and her friends in bathing suits! Don't forget to try the breakfast potatoes, my favorite. For dinner, Cape May Cafe turns into a non-character clam bake buffet that has plenty of options for the seafood or non seafood eaters alike. Another perk…the kids can draw on the paper table cloths to keep busy.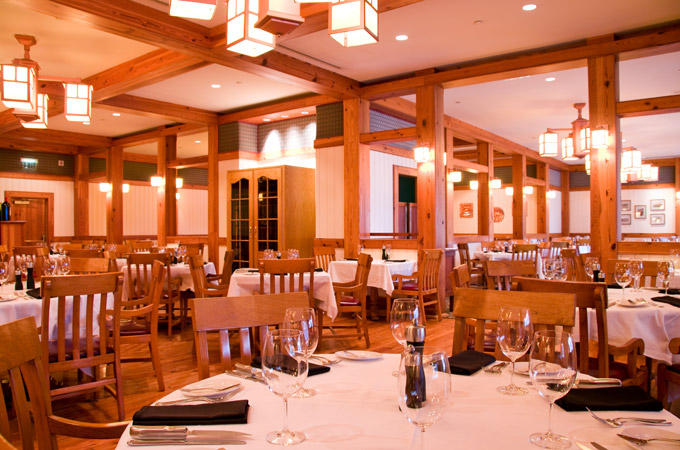 Another super popular eatery is Beaches & Cream…come for the burgers and onion rings or order the Kitchen Sink for a dessert I dare you to finish!
I "kid" you not, my kids' favorite part of vacation is spending a few hours in the Sandcastle Club–my husband and I enjoyed fine dining at the Yachtsman Steakhouse while the children were fed and entertained, and did not want to leave! Drop offs at the kids' club are welcome, but reservations are always a plus! Another option for a few kid-less hours?
Sign them up for the Albatross Pirate Cruise, and they will be whisked away to Epcot for a treasure hunt from 9:30am-11:30am. Parents might want to check out Trattoria al Forno over at the Boardwalk for a relaxing, sit down breakfast. If you love the breakfast, their Italian dinner menu should get your taste buds rolling. Plus, the Boardwalk area has their own nightly entertainment, so take the stroll around Crescent Lake and don't miss out on more family fun. Wait, there's more! Make full circle back to the Yacht & Beach Club for a campfire singalong, movie on the beach, and some night swimming…or catch the fireworks at Epcot before tucking the kids in.
I do recommend staying at Disney's Yacht & Beach Club Resort if you are looking to spend some time at the resort, preferably on a longer vacation where you can build in some pool time, and definitely during the warmer months to take full advantage of the pool area. For families looking to be at the parks from open to close, with no breaks or down time (can you say "exhausted?), then I would probably recommend checking out one of the value or moderate resorts.
Dining
Recreation

2 Full Service restuarants

Captain's Grille
Yachtsman Steakhouse

Pool bar
2 lounges
In-Room Dining: 24 hours

(Alternate dining locations within walking distance See below for locations)

2 Pools
Feature Pool:zero-depth entry, free-form with sand bottom, water slide, shipwreck-themed
7 whirlpool spas
Children's playground
Arcade
Tennis
Marina/boat rental
Water cruises
Fishing
Volleyball

(Beach Club)

Jogging trail
Health club
Massage/spa services