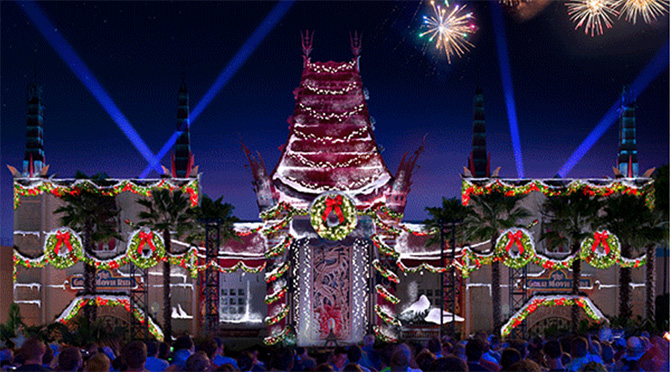 I just spoke with @buckeybarrys on Twitter who successfully booked the new Jingle Bell, Jingle BAM Holiday Party.  Here's the details:
November 14, 15, 18, 19 – 5:45pm
November 16 & 17 – No Dessert Party
November 20 through 26 – 8:00pm
November 27 through December 10 – 5:45pm
The Jingle Bell, Jingle BAM Holiday party will take place nightly from November 14 through December 31, 2016.  Guests will be asked to check in at Great Movie Courtyard 1 hour and 15 minutes prior to the new holiday fireworks show.
Most nights the fireworks will take place at 6:45pm, it's showing fireworks at 9:00pm during Thanksgiving week currently and no times are provided by Disney beyond December 10, 2016 at this time.  I've updated my Crowd Calendars through that point.
Cost of the Dessert Party is $69 per adult and $39 per child.  It includes all your dessert treats, beverages (including alcholic beverages) and special glasses to view portions of the fireworks show.
The Dessert Party will take place in the Courtyard of the Great Movie Ride and inside the queue and guests will be walked out to the viewing area with children and handicap guests seated in the front and all other guests filing in behind them.  The viewing area is reserved and is slightly left of center for a great view.  At the time of this article the Walt Disney World website isn't showing the Jingle Bell, Jingle BAM Dessert Party, but guests calling 407-WDW-DINE are finding success.  I'll update this post when it is linkable to the Disney site.  Request the Jingle Bell, Jingle BAM Holiday Party.
You can also view the fireworks for free by just showing up a little early in the Great Movie Ride / Center Stage area and standing amongst the other guests.