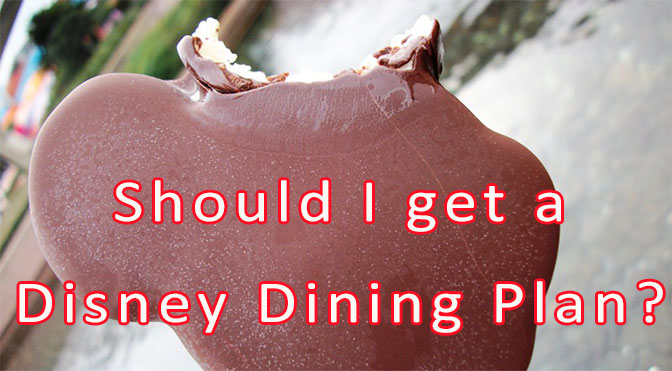 Dining Plan, or no Dining plan: That is the question.  Today's post will address the question of whether or not the Disney Dining Plan is "worth it."
Guest post by Tara Fox
As a Disney Vacation Planner, I am often asked, "Is the dining plan really worth it?" To that I respond with, "Do you plan to eat while on vacation?" If you plan to eat, then yes, a dining plan is worth it. The key is to find the dining plan that will work best for you travel party.
FIRST, it is very important to understand how the dining plans work. Dining Plans are made up of credits. These credits are for snacks (beverages, cupcakes, ice-cream cones, popcorn, muffins, fruit, etc.) Quick-service locations (walk-up counter service type restaurants where you choose a beverage, entrée, and dessert) and Table-service locations (sit down restaurants or buffets, character meals, themed dining, Signature dining locations, and dinner shows where you have your choice of a non-specialty beverage, any entrée on the menu, and dessert, or full buffet offerings).
These credits are allotted per person for each night of your stay at a Disney resort. They are able to be used at any time throughout your visit from the time you check in until 11:59pm of the day you check-out of your Disney resort. This bank of credits is available to your travel party to use as you wish. Perhaps you check-in to your resort around 6pm and wish to grab a quick bite to eat and turn in early so that you can get up early in the morning and take the kingdom by storm. Then you could visit your resort's Quick service location, all resorts offer Quick service and snacks. Moderate and Deluxe resorts offer snack, Quick-service, and Table- service options. That first day's snack and Table service credits are in your "bank" to either double up on a different day with a character breakfast and a spectacular dinner in Epcot, or a Signature dining location or dinner show.
The first option is the Quick-Service Dining Plan. ($42.84 adult, $17.47/child) This plan allots each person 2 quick-service credits and 1 snack credit per person for each night of your stay. If you are the type of family who really does not like to hold to a particular schedule and do everything on the fly. This is a great option for you. It allows you flexibility to go anywhere you want and visit any park you wish without the constraints of dining reservations. You can still plan a character meal, or a special fine dining experience while on this dining plan if you wish, you would just pay for that experience out of pocket.
The second, and perhaps most popular option, is the Disney Dining Plan. ($61.84/adult, $20.96/child). This plan allots each person 1 Snack, 1 Quick-service, and 1 Table-service credit per person for each night of your stay. This plan fits the bill for most guests because it allows the flexibility of a quick-service opportunity at some point in your day, but also allows you to enjoy a myriad of dining opportunities in the parks and resorts that will fit your family's tastes. There is truly something for everyone at Disney.
Many people believe that character dining is not included in any dining plan. That is simply not true. The fact is, all of the character dining is only one table service credit, with the exception of Cinderella's Royal Table which is 2 Table-service credits. These reservations can, and should, be made 180 days before you check-in to your Disney resort. Many people find it overwhelming to think about where they are going to eat, and at what time, 6 months ahead of time. This is definitely not something to worry about. I can guarantee, in six months, you will want to eat. Since you will have a dining reservation at a particular time, you can just plan accordingly throughout the day. If you have a later dinner, yet your children are usually eating dinner by 5:00, give them a special treat of a Mickey Bar or a Dole Whip around 3:00 so that they won't be so hungry waiting for that 7:15 Hollywood & Vine Dinner. It's a win/win and a great use of your snack credit as well!
The final option is the Deluxe Dining Plan ($111.73/adult, $32.56/child). This option is not for everyone. It is a lot of food. And depending on how you utilize these 3 dining credits and 2 snack credits each day, you could also be spending a lot of time in restaurants and missing out on what the parks have to offer. If your family is a true 3 square meals a day crew, than this is for you. You can start each day with a tasty breakfast in your resort, enjoy park time, stop and have a restful lunch, and then have a fantastic dinner later on in the evening. This is also a great option for families or couples who are true foodies. You can enjoy a late breakfast or early lunch, and then plan a scrumptious dinner at a Signature Dining location like California Grill, LeCellier, Cinderella's Royal Table, or Citricos every night.
A new option to the dining plans is the ability to swap 1 Quick-service credit for 3 snack credits. This is a great option for guests who prefer to graze rather than sit down and eat an actual meal. You must get all three snacks at one time and let the cast member know that you are using your Quick-service credit for your three snacks. Doing this, you could get 2 pretzels and a drink to share with someone, and only trade in 1 Quick-service credit and satisfying two bellies. Then later, you may want ice-cream and another beverage to share. This is maximizing your food intake throughout the day to keep you nourished and happy to stay up late and watch the late Electrical Parade in the Magic Kingdom!
When you compare the overall menu pricing for a meal at a Table-service location, the cost of a Quick-service, and a snack in each day, you will see that the dining plans definitely offer a savings. The dining plans do not include gratuity, so this is something you definitely need to be prepared to pay for out of pocket. You can tip with cash, scan your band and charge it to your account, or even take care of it with a Disney gift card. Also, Disney automatically charges 18% gratuity to all parties of 6 or more.
Including a dining plan in with your Disney vacation package also allows the ability to budget more efficiently. Purchasing the dining plan lessens the sticker shock and leaves you with fewer surprise expenses throughout your vacation. Worrying about your spending habits while on vacation certainly tarnishes the pixie dust and adds a level of stress that should not exist while visiting this magical place. Ask your Disney Vacation Planner which Dining Plan is perfect for you.
**Prices based on 2016 package pricing.
Are you planning a vacation? Reach out to our trusted travel agency sponsor Authorized Disney Vacation Planner
Mouse Class Travel
!