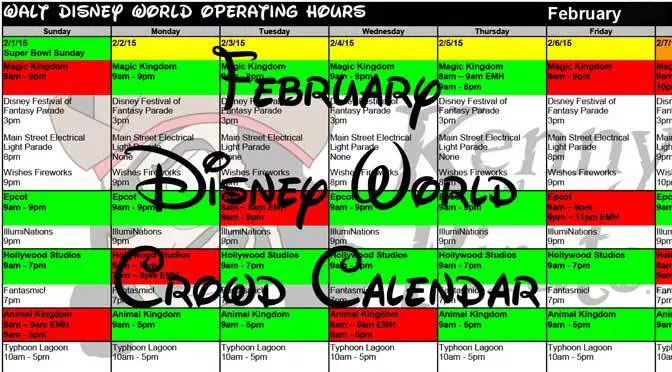 Walt Disney World Park Hours are now listed for January 2017, so I've created my February 2017 Disney World Crowd Calendar to help you.  Here's a few important notes that you should read before moving on to the February Crowd Calendar:
Most night time entertainment is not yet provided.  It does not mean it won't happen, it just means Disney hasn't listed it yet.  You won't find Animal Kingdom late hours or entertainment and Hollywood Studios Fireworks or Fantasmic.
Park hours WILL adjust.  Park hours always change, usually several times, before your travel date.
February will offer one Heavy Week with the combination of President's Week and Princess Half Marathon.  You'll find a couple of other spots with Heavy crowds.  Those weekends are for Cheer and Dance Competitions primarily.
Enjoy your trip and use Character Locator for all your trip planning needs from schedules to planning info, to park hours and the best Touring Plans possible!
Get all the latest KennythePirate Disney news and planning advice in your inbox!