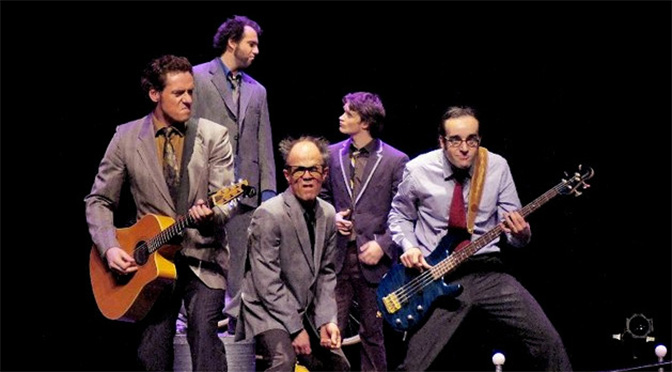 Epcot's Canada pavilion to premier yet another replacement act for Off Kilter. Since they removed the popular cultural rock band, the park has struggled to find a more permanent resident at the Old Mill Stage.  Here's the latest attempt:
Les Parfaits INCONNUS is best described as a Rock n Roll, small-scale circus. They perform live music with drums, guitars and horns while displaying magic tricks, balancing acts and jugglers.
"Armed with a bicycle, balls, a table, a barrel, a ladder and a board, 6 totally outrageous characters are left loose on the stage. They play the rowdiest, most daring pranks on one another, all in an atmosphere of good burlesque fun.
Les Parfaits Inconnus company is a non-profit organization and has been producing and presenting circus shows in Canada and abroad since it was founded in 2006, in Montreal.
Under its own mandate, the company seeks to discover new ways of merging circus techniques with musical performance and then present the results through the medium of a specific theatrical set-up.
It is this artistic choice of combining circus, music and theater within a single performance structure that makes Les Parfaits Inconnus stand apart from longer established troupes and companies.
"Les Parfaits Inconnus" are a Quebec circus troupe that first came to light in the zany, creative and unbridled minds of 3 street performers: Manu the Juggler, Sylvain the Acrobat and Yann the Musician. Their 2004 encounter sets them off rambling about an energy-filled, original project.
From their united playful vision, Les Parfaits Inconnus will offer the wider public a really entertaining show.
Circus, music, theater and comedy…
Inspired by street performance and burlesque, our band of acrobat musicians is inspired by the circus arts' true clownish origins in order to show the audience a fun-filled time backed by great music."
KtP – This actually looks like it could be a lot of fun.  Certainly better than getting hit in the head with flying wood chips.  Maybe these guys will catch on for a while?
Les Parfaits is scheduled to begin playing Sunday, June 12 and I added the schedule last night to Character Locator.