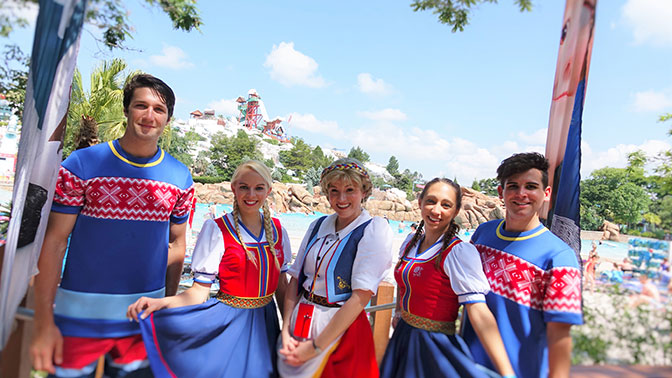 The Frozen Summer Games recently began at Blizzard Beach.  Jordyn and I went on separate days to check out this new offering.  I've included photos, video and our thoughts.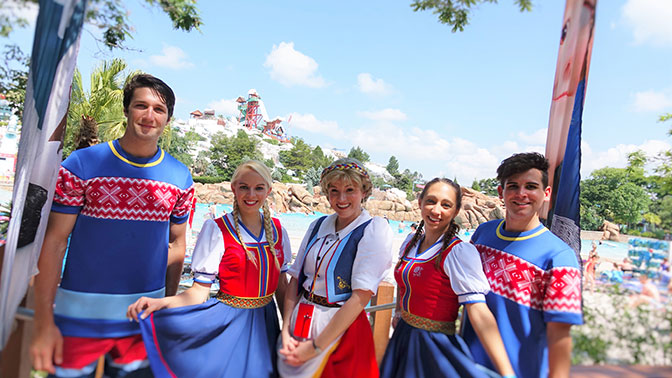 Get all the latest KennythePirate Disney news and planning advice in your inbox!
The Frozen Summer Games opening ceremony begins about 5 minutes before park opening, which was 10am on the days we visited.  You can check my Crowd Calendars for park hours for the summer.
As you enter the park, early in the day, you are asked to join Team Olaf or Team Kristoff by the activities team.
Each team member is given a complimentary armband.  Olaf is orange (nose) and Kristoff is green.  It's one of those paper sticky back type.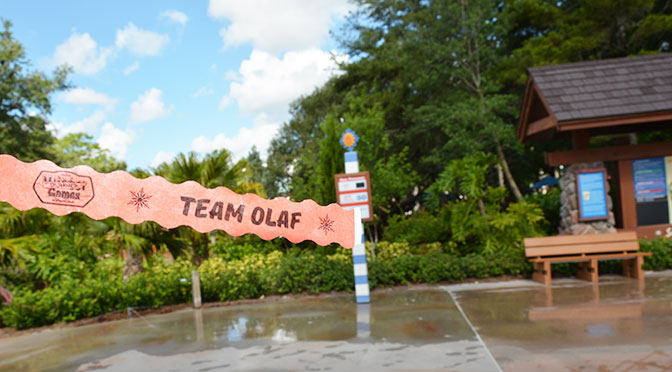 The opening show introduces you to Inga and Wolfgang, who are the emcees for the opening and closing ceremonies and the games themselves.  They are joined by Olaf and Kristoff (with a catch).  Inga welcomes you to the area near the Snowman family photo.  It's easy to find, just follow the path to the rope drop area at the base of Summit Plummit and you're there.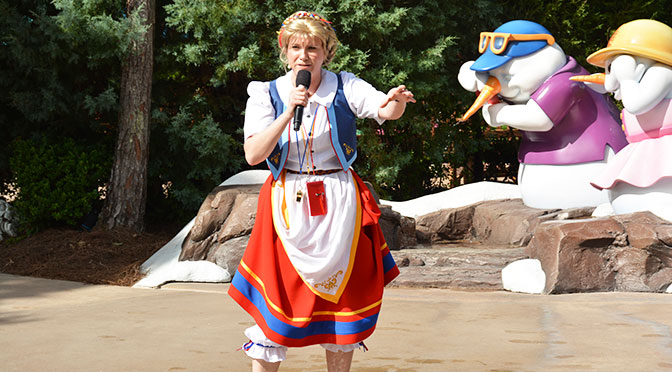 So, here's the only downer of the experience.  Olaf and Kristoff are WAAAAYYYY  AAAYYY  AAAAYYY up on the observation deck at Summit Plummit.  This photo was taken with a 200mm lens in digital zoom mode.  It is exactly what was taken with that lens on my Sony RX10m2.  It's a fairly accurate view of what your eye would focus upon at that distance.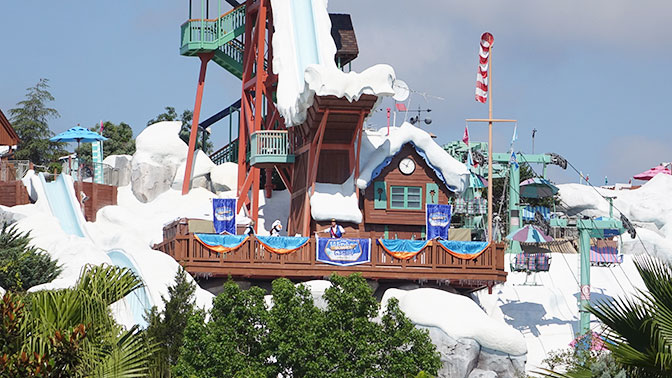 I cropped a similar image down to the size of my site so you can see Kristoff, Olaf and Wolfgang.  They participate in the opening, closing and updates through the day, but their appearance is almost negligible as they are so far away.  It would have been better to have them on the fun deck with some of the 42,000 Disney security guards.  Seeing them would be more fun than hearing them only.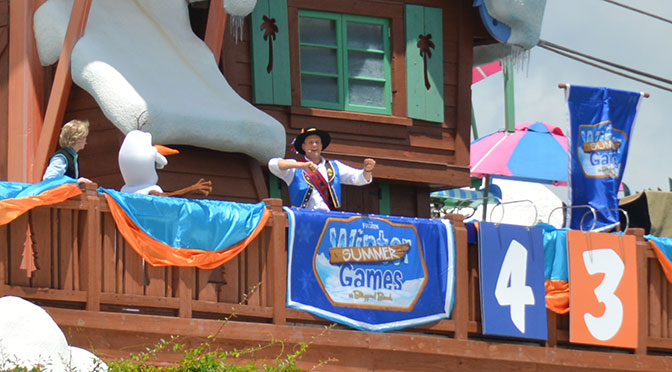 As you enter, you might find some simple crafts in this area.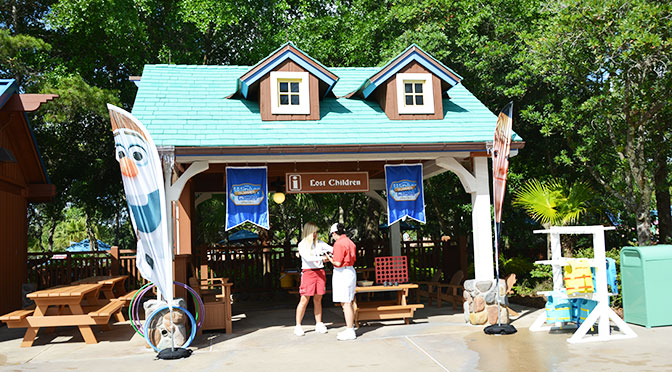 After a couple of unattended hours, it was beginning to appear a bit messy with glitter everywhere.  I sure hope glitter and school glue doesn't affect the park's water treatment!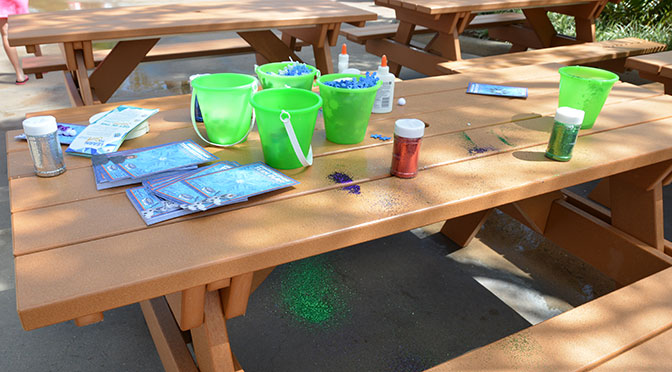 On the first day, it was very chaotic.  Cast Members hadn't been trained on where things would take place and when, but a couple of days later it was running more smoothly.
Here's how to find the "fun deck."  Head to the wave pool (which is excellent for littles, btw).  If you want one of those tubes, they are free, but you must snag it early in the day as people hoard them like a Series 1 Peace Bear Beanie Baby.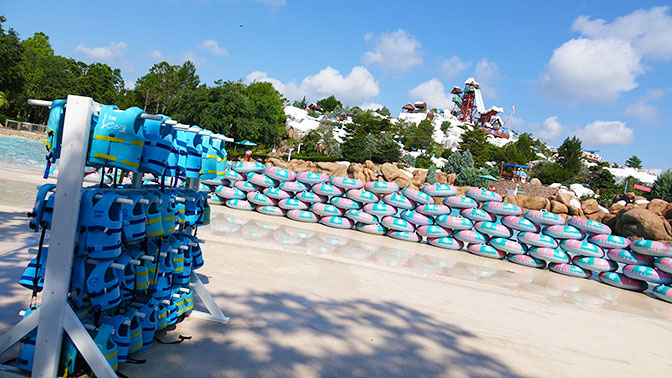 You've made it to the wave pool.  Turn around and find the Polar Pub, which is below and left.  I'd draw you a sexy arrow, but I think the pink building gives it away.  The "Fun Deck" and sand play areas are on the right with the blue sign.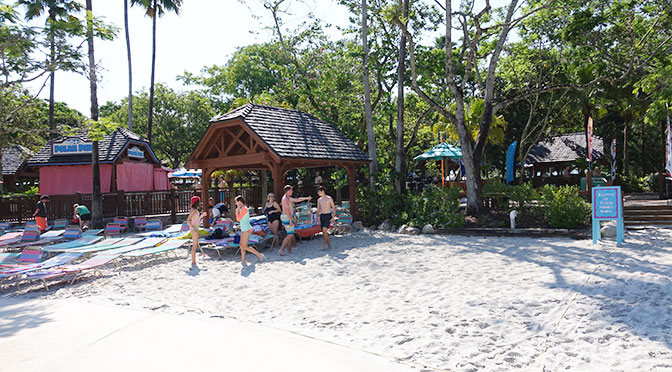 You'll see the activities team stirring up a crowd.  On my date of visit, the games began at around 10:45, 11:45, 1:30, 2:30 and 3:30.  Closing ceremony was at 3:45.  Wolfgang and Inga appear to get you involved in classic Norwegian ya's.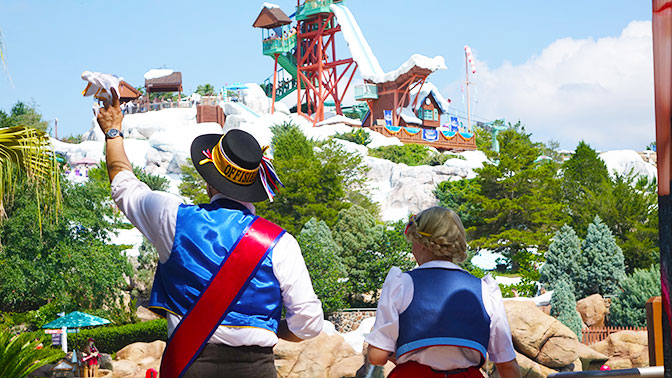 Wolfgang is in charge of the games as the Offisiel on duty.  He enforces the "rules" and awards the "points."  It's a very loose and very fun thing.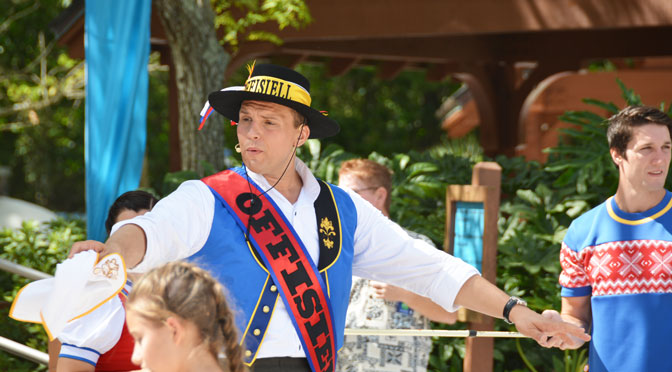 I think he was directing wave pool traffic here.  Important job to keep order with those floaties!  Look a loose one!  Run.  You may think I'm joking.  I was once in the wave pool and saw a loose one floating and some guy threatened me because it "belonged to his family."  Things get crazy when there's a ring of air involved.
So, back to the fun.  The kids who participated in various games like Limbo, Freeze game and Pin the Nose on Olaf all had a spectacular time.  There was fun had by all and the activities team seemed to be enjoying their job as well.  I didn't participate in the Limbo, I didn't want to show up the poor kids with my awesome bendy skillz.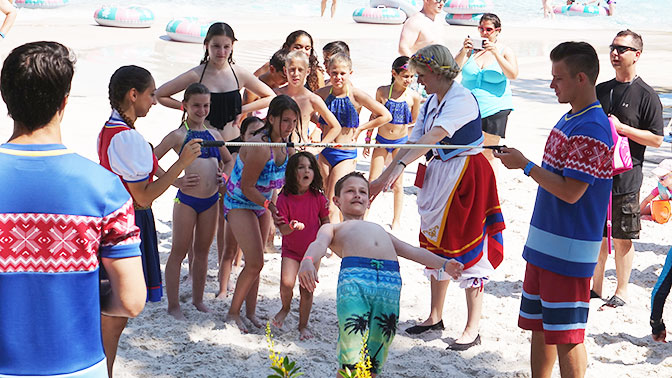 It's fun how they played games with Olaf.  First they built him, then played Pin the Carrot on the Snowman.  They throw a towel over the kid's head to keep them from seeing.  So much faster then the ole blindfold we used at kids parties.  They even get to look like little ghosts.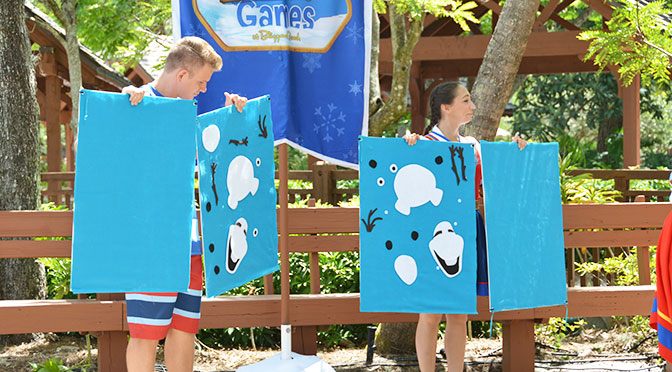 The scoring is very laid back, but they give kids little colored globes and they place them in the buckets.  The Offisiel Wolfgang quickly tallies the score in some obtuse way that I can't remember.  Something over something divided by 17 over a piece of cheese multiplied by available Space Mountain Fastpass+ or something like that.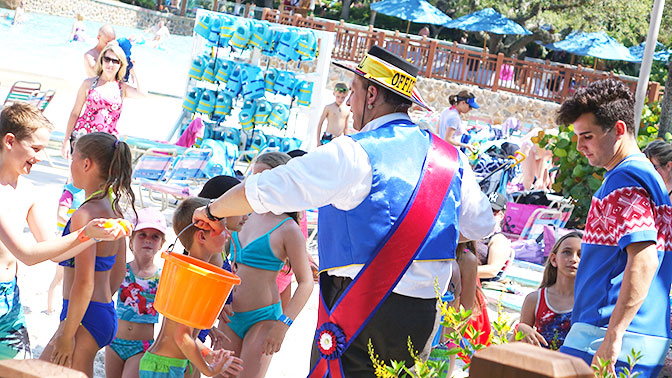 The kids all had a blast and you don't have to participate in every game or even sign up in any way, just show up and play.  It's a fun diversion that belongs in the water parks, but I wish Kristoff and Olaf weren't made of butterfly wings and would actually go down where the kids are.  If they don't sign or pose, just have Wolfgang and Inga tell them while Billy the Bodyguard keeps the freshly washed masses away.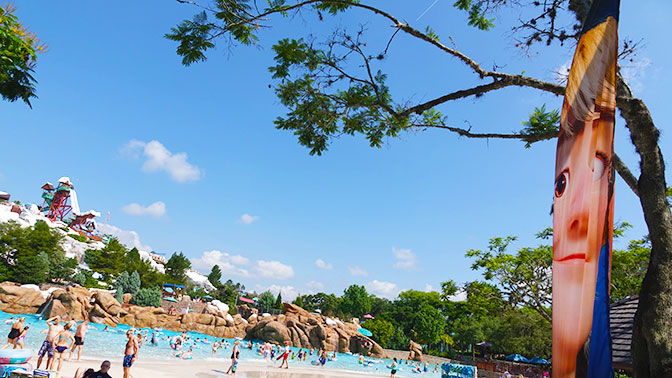 One caveat to having this party this summer is that Goofy no longer meets at Blizzard Beach in his cool swimwear :(  If you are visiting Blizzard Beach this summer, check it out and let your kids have some extra fun.  Tell the activities team it's a job well done for the kiddos!

Feel free to ask me any questions and I'll update the post as necessary.  You're welcome to share with your social media as well!