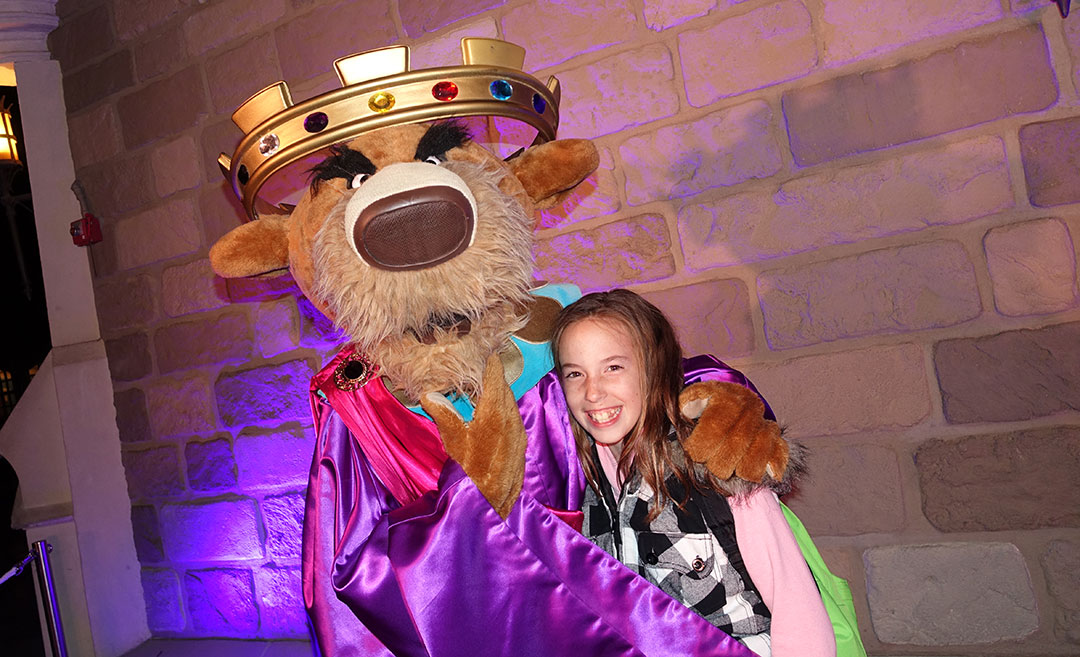 From time to time Disney Parks blog will offer a special "meet up."  In order to participate in one, you have to register really quickly.  I was fortunate enough to finally win the opportunity at one of these events.  Only other ones I've attended was the Wreck-it Ralph movie release and the Inside Out movie release.
We were asked to meet up at the top of the world lounge on the top of Bay Lake towers next to the Contemporary Resort.  When we arrived we found the Orange Bird inflatable.  It would be cool if he was a meetable character for these type of events.  Lots of rare characters would appear tonight!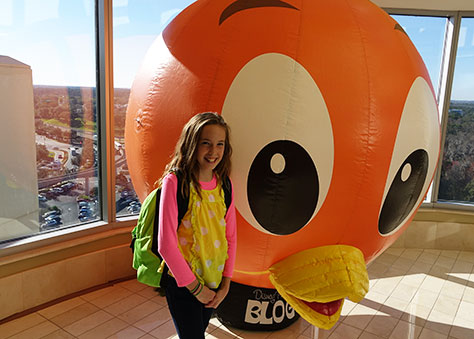 When we checked in, we were presented with this awesome Orange Bird MagicBand.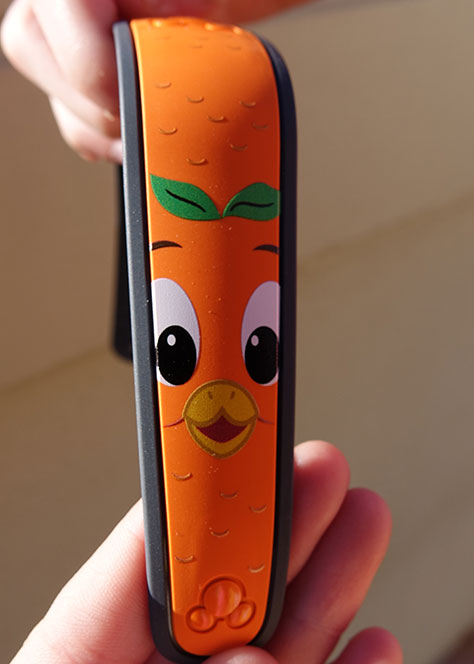 View from the top is horrible, right?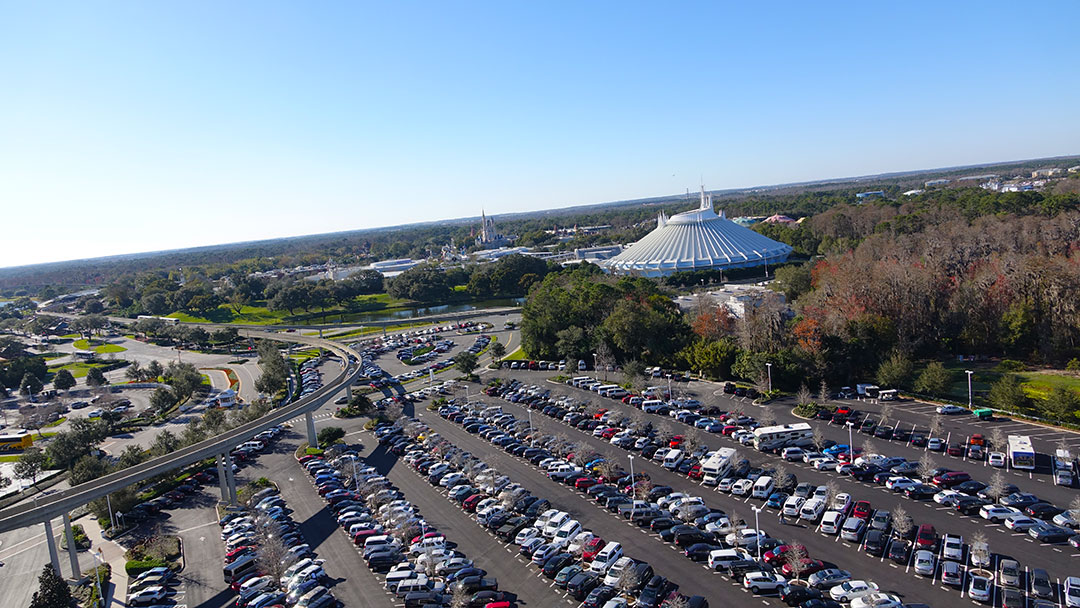 Suffering.  Pain.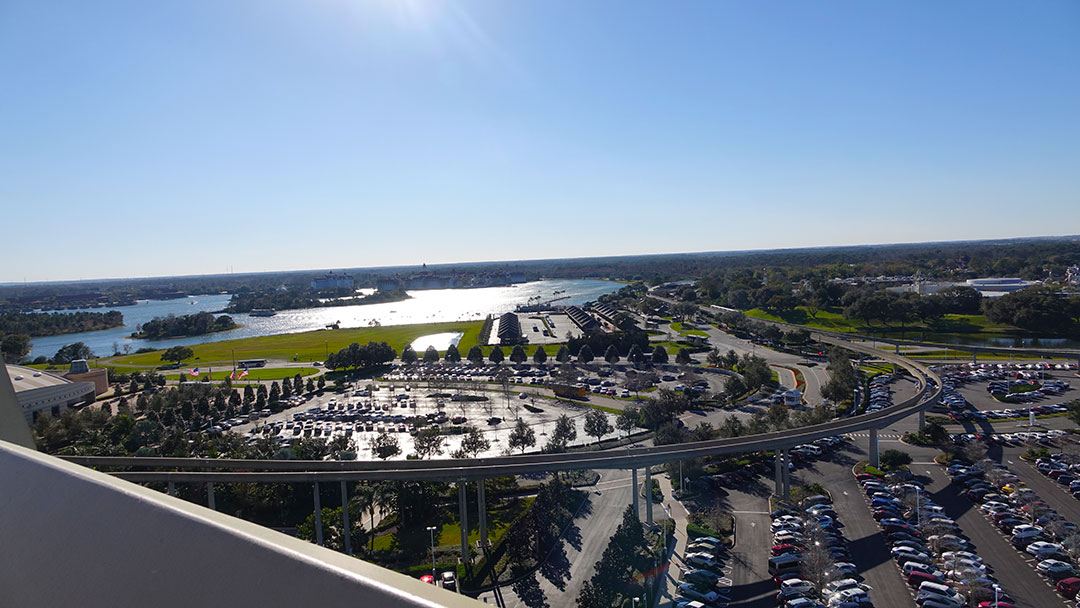 As we entered the Lounge, we found food and drinks abounding for every guest of this special meet up.  Area was quite full, but we didn't mind.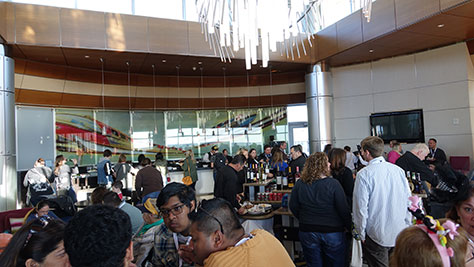 A DJ was spinning the tunes.  What? You mean he was just playing it from the Mickey laptop?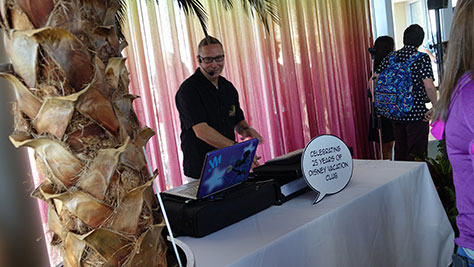 Entertainment for the night began as we walked in.  Mickey and Minnie were in some festive beach costumes greeting every guest for photos.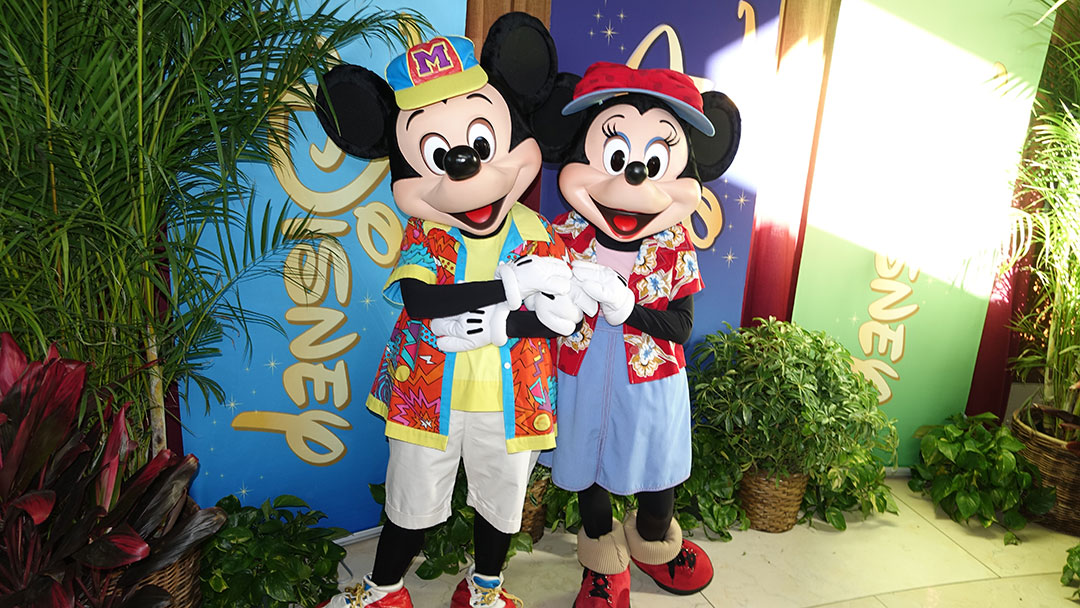 Debbie asked why I rarely appear in my own photos, so I've been corrected and will appear from time to time.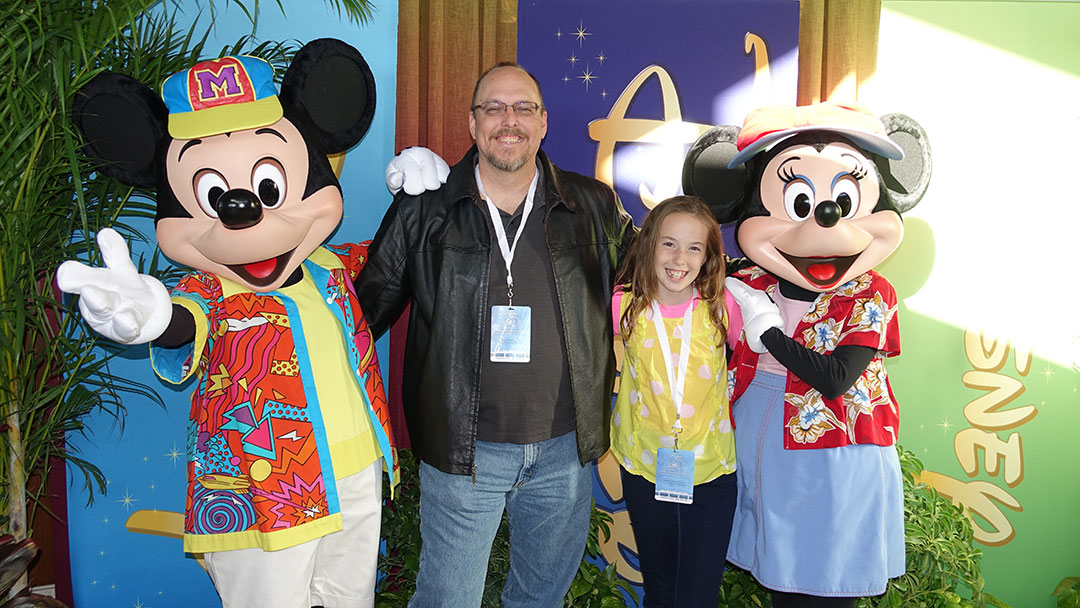 Her favorite transportation.  I should order a special car that looks like a Disney monorail!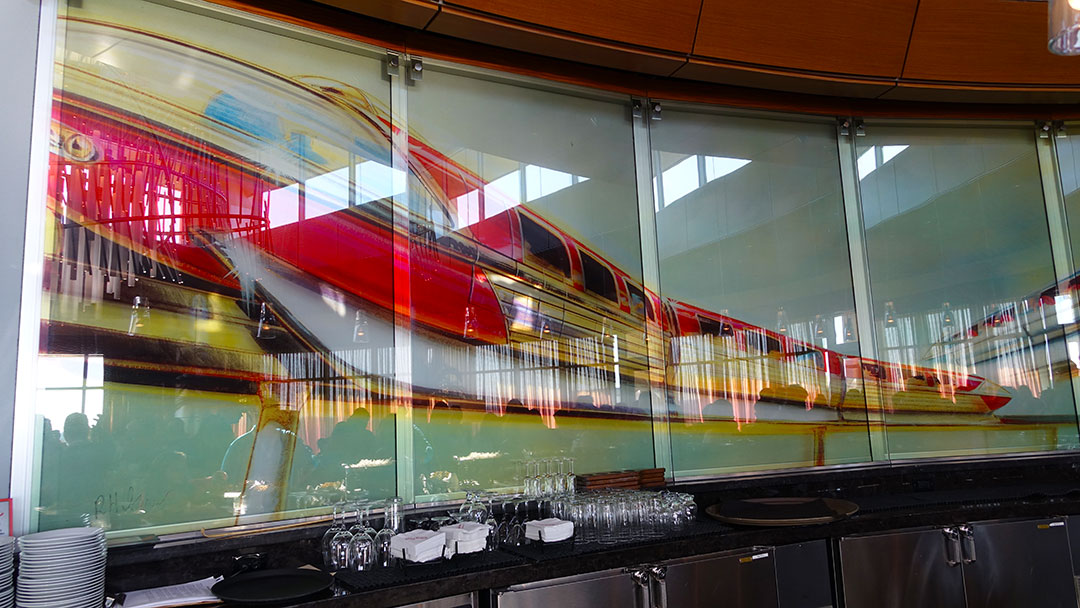 Chip n Dale as Rescue Rangers appeared for this once-in-a-lifetime photo opp.  Dream Along with Mickey had just concluded too.  A couple seconds earlier and fireworks behind their heads.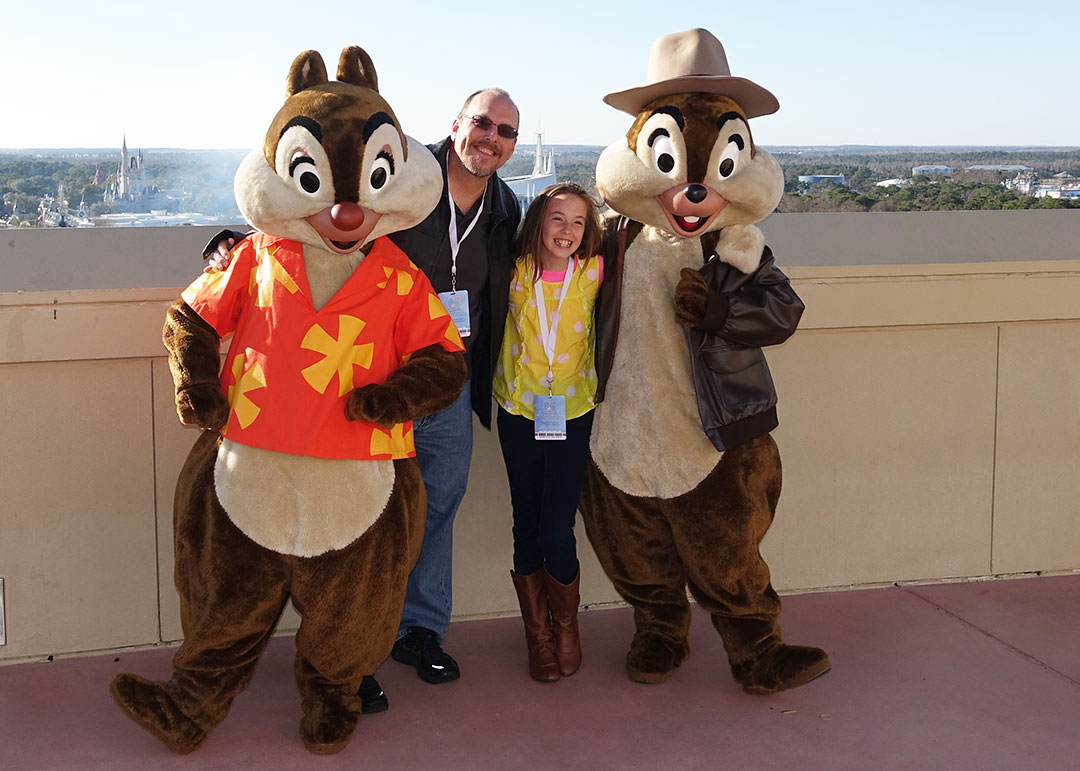 I know, I know, you hate this view.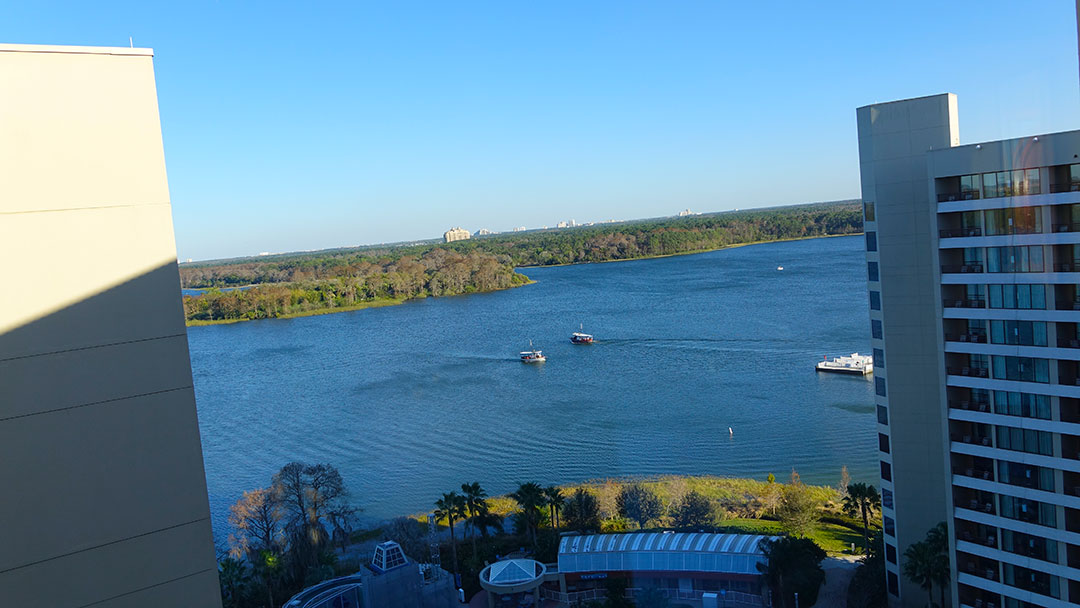 We took a tour of a 3 bedroom villa.  I'll post those photos and review soon.
After the fun at Bay Lake, we were bussed over to the Polynesian.  We were given special necklaces and more food and drinks were abundant.  We met the Hawaiian dancers who perform at the Spirit of Aloha show.  Young lady on the left is from the North Shore of Oahu.  We chatted about how amazing North Shore is.  She hopes to return for a visit some time.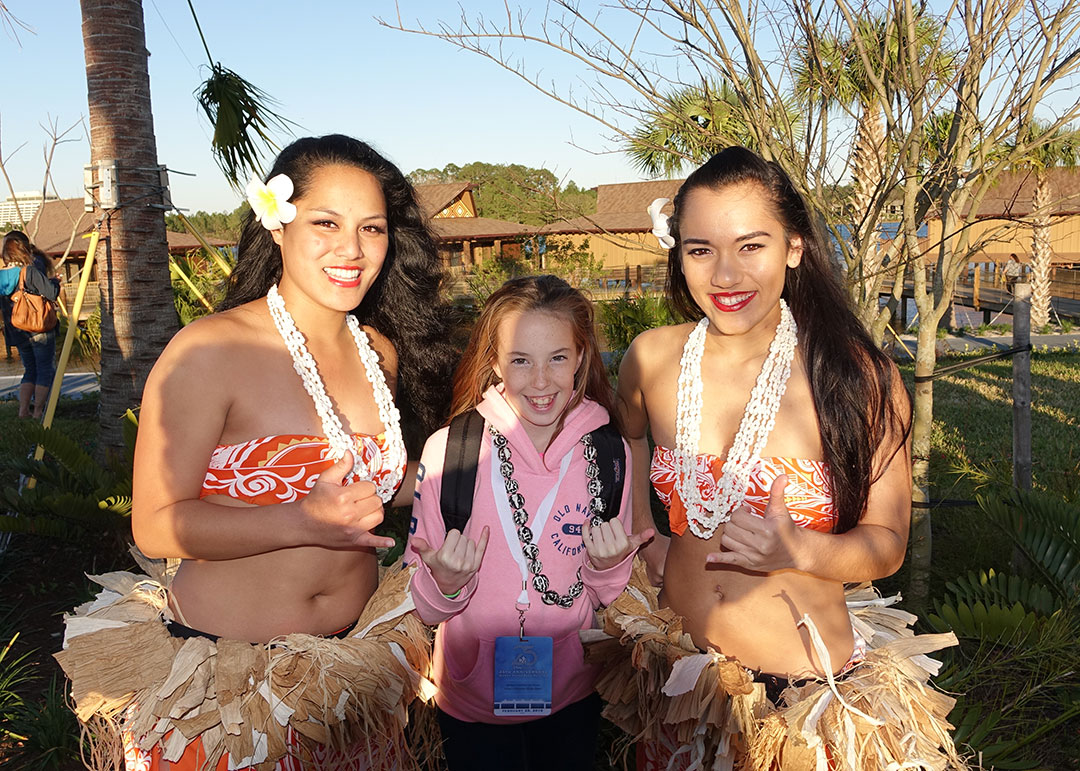 Still suffering.  Ouch!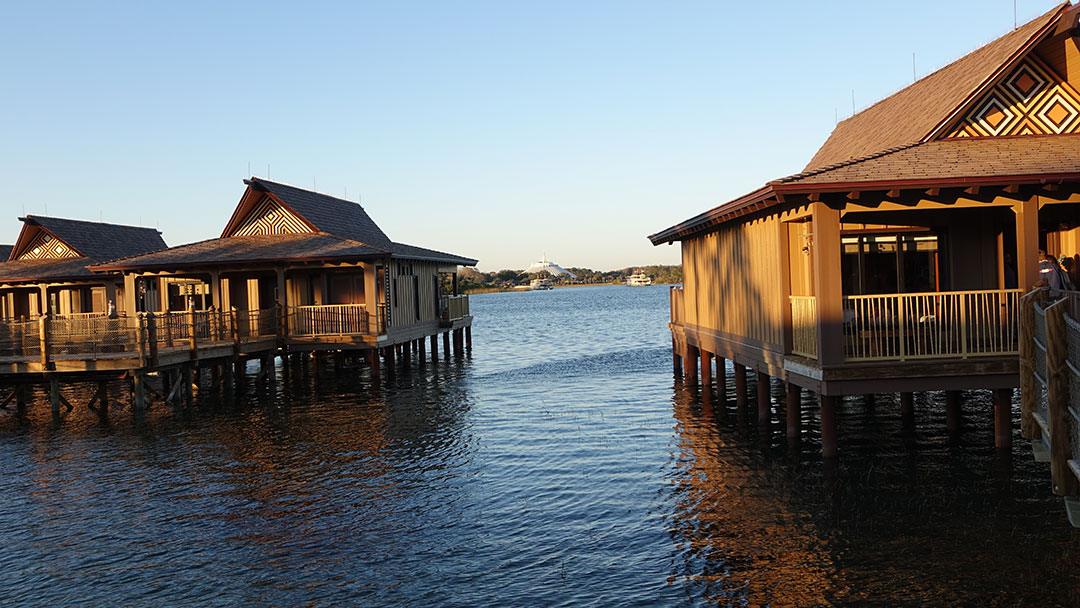 Hawiian singer with Ukelele, or jumping fleas, was providing entertainment.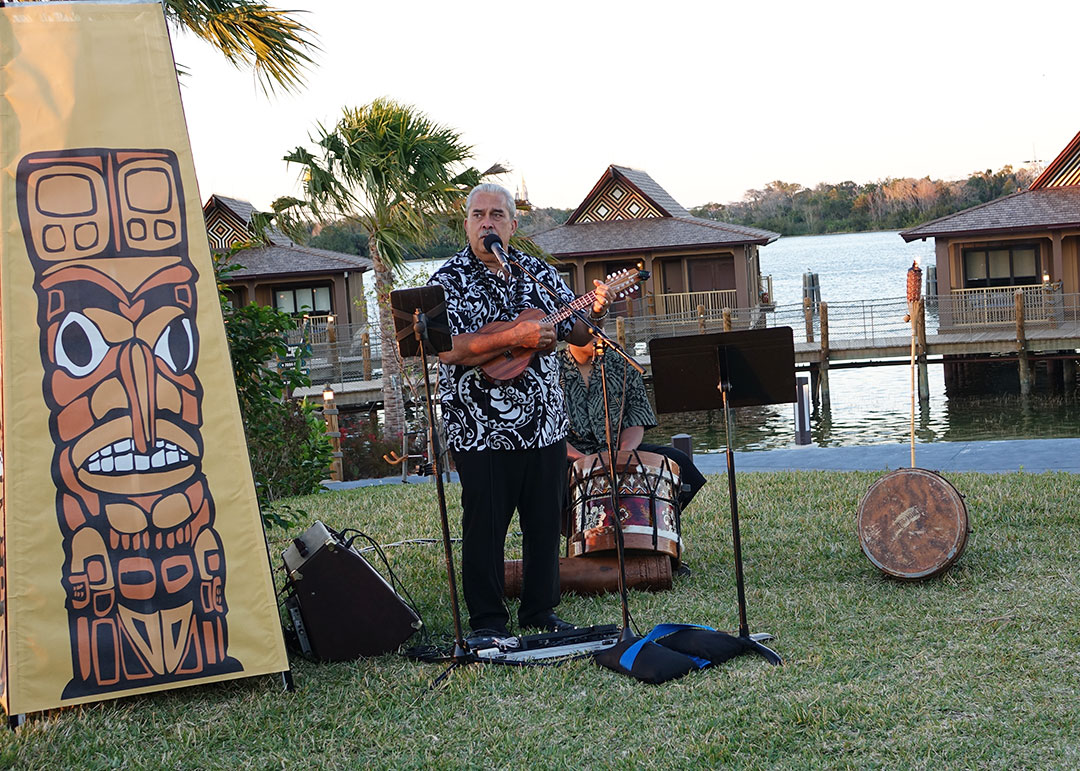 Dancers performed and a fire and knife twirler was there for the fun.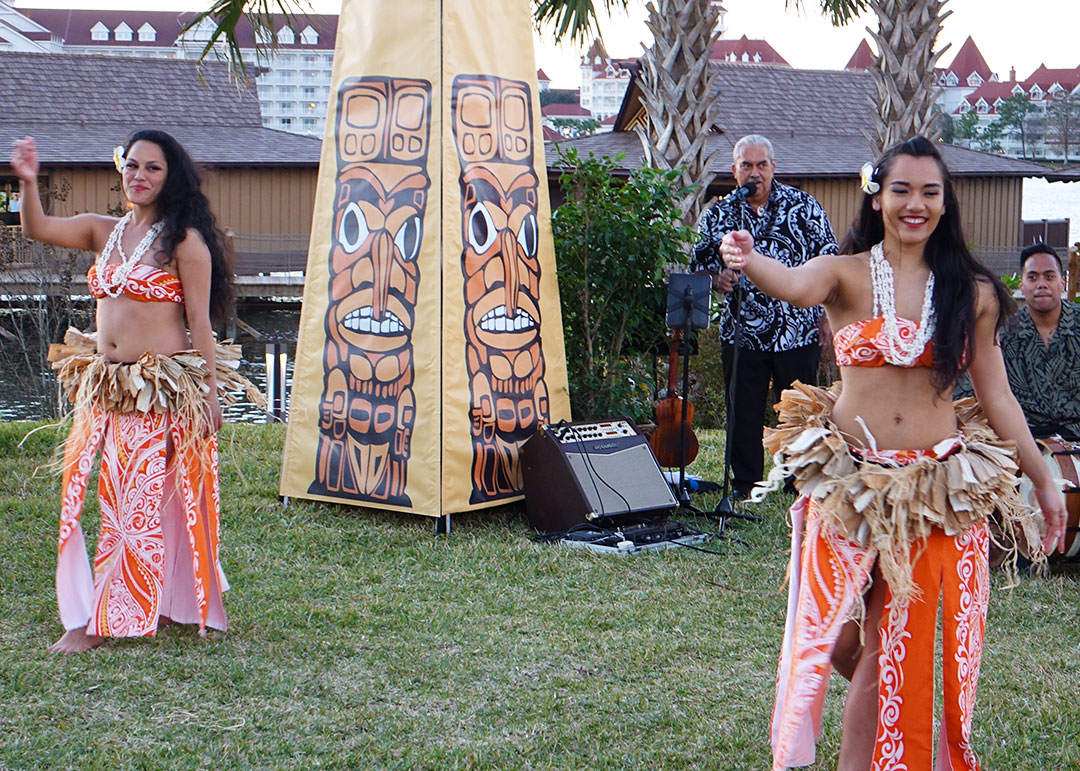 Debbie took a quick lesson in Hawaiian dance.  She was all smiles.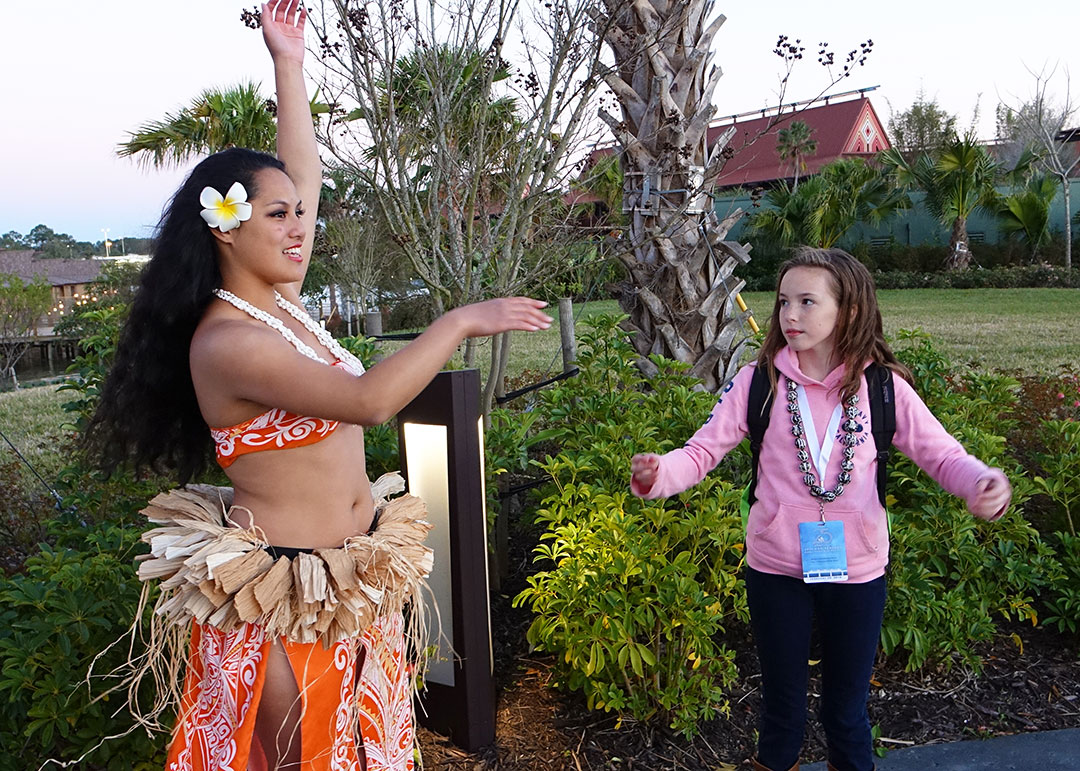 As winners of the Disney Parks blog contest, we were also given the chance to attend the 25th Anniversary Disney Vacation Club party.  We were told to arrive at 7pm, but learned later that the party events began at 9:30pm.  We watched Main Street Electrical Parade, rode Pirates, Big thunder, mansion and carousel before heading over to a character meet line.  We heard that Darkwing Duck could be meeting in Storybook Circus at Casey Jr area, so we headed that way and were among the first to arrive.  He ended up having a long line, even before characters appeared.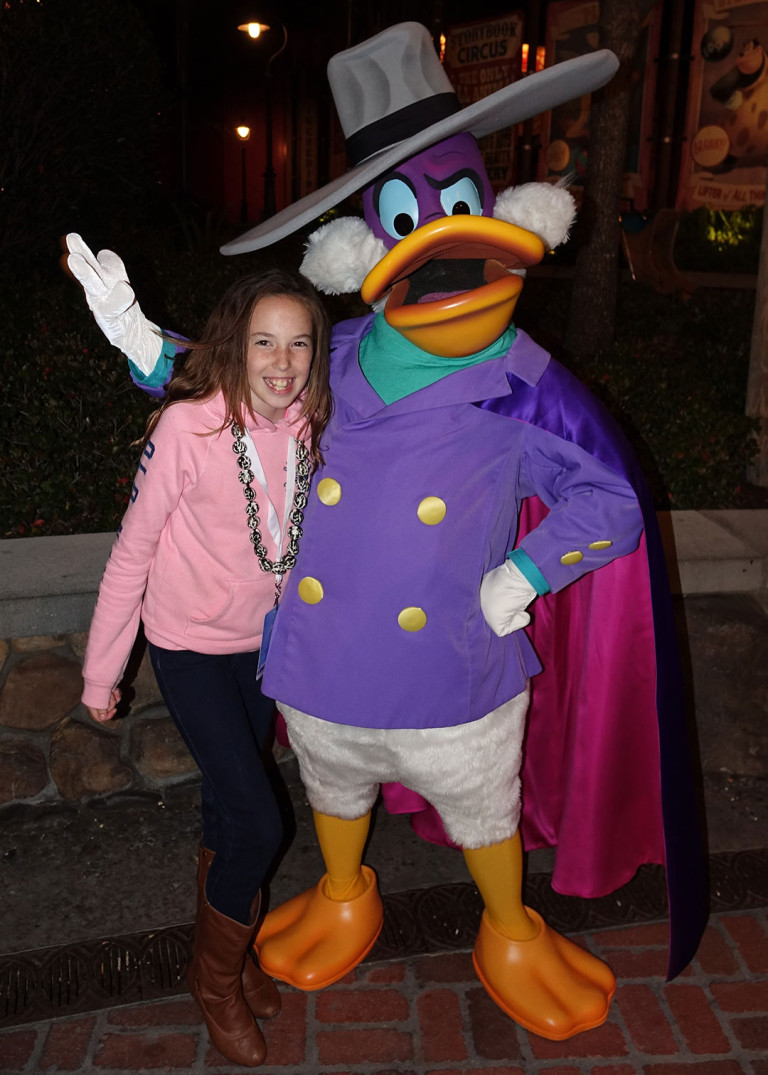 Launchpad McQuack also joined the fun.  He was located at the Barnstormer exit area.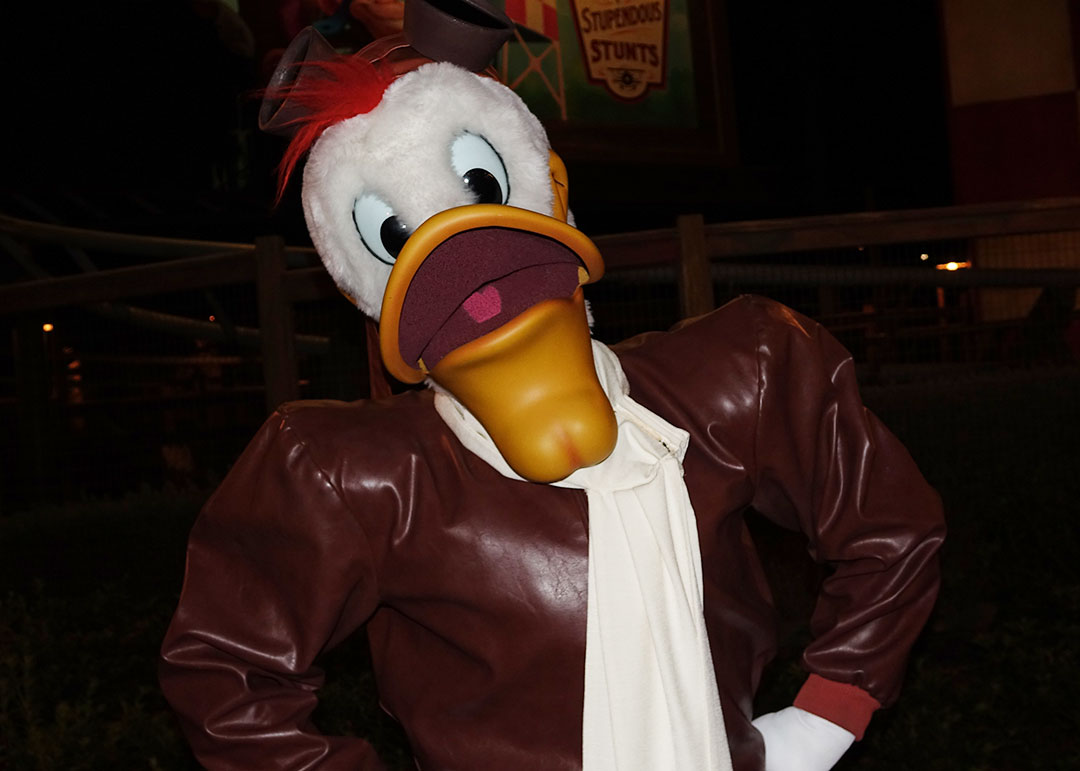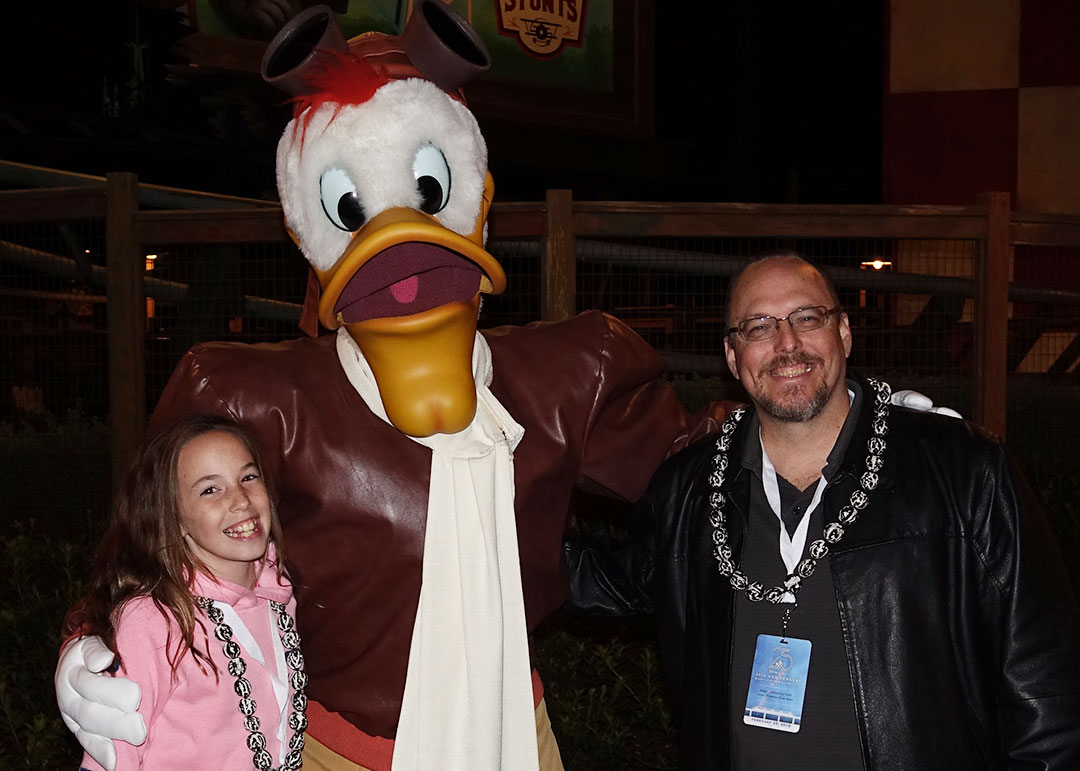 Debbie was super excited to find Vanellope.  She had met Ralph, but Vanellope kept leaving before she could meet her in Hollywood Studios.  Ralph and Vanellope were at the Storybook Circus entrance.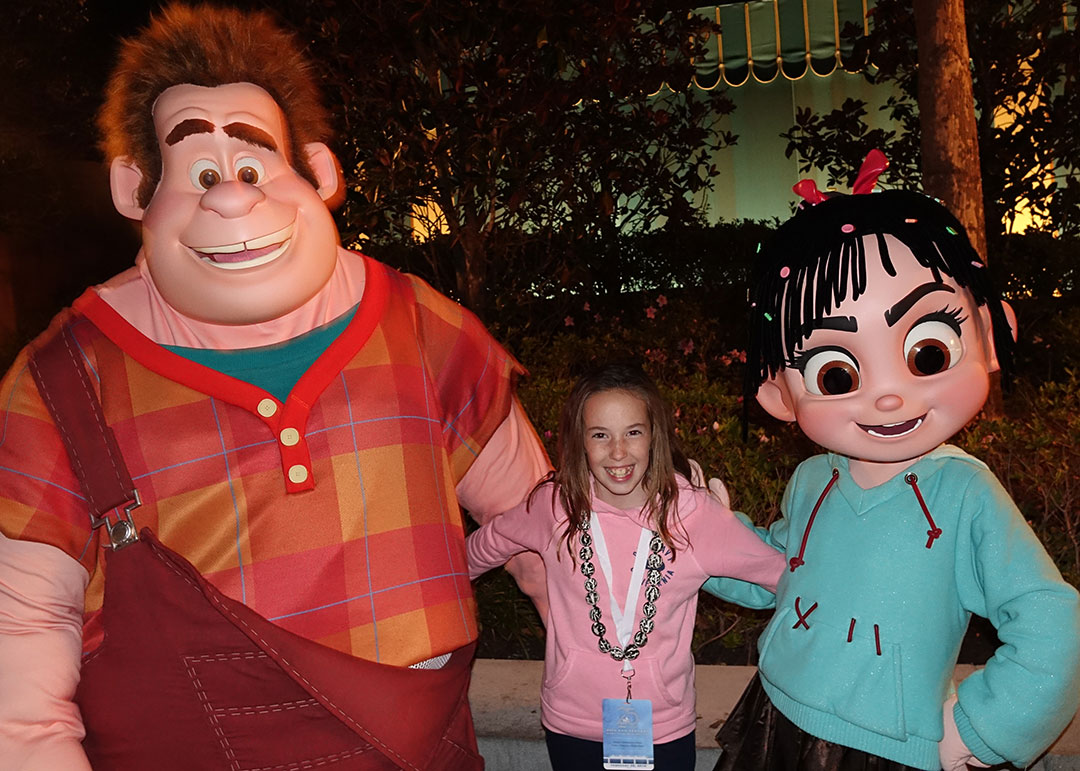 We grabbed some snacks.  Party offered chips, cookies, lemonade, coffee and hot chocolate.  Hot chocolate was a huge hit for this cool evening.  Initially, Debbie was going to skip Belle and focus on other characters, but she liked the setting and the fact that she was wearing her cloak.  She was in front of Gaston's tavern.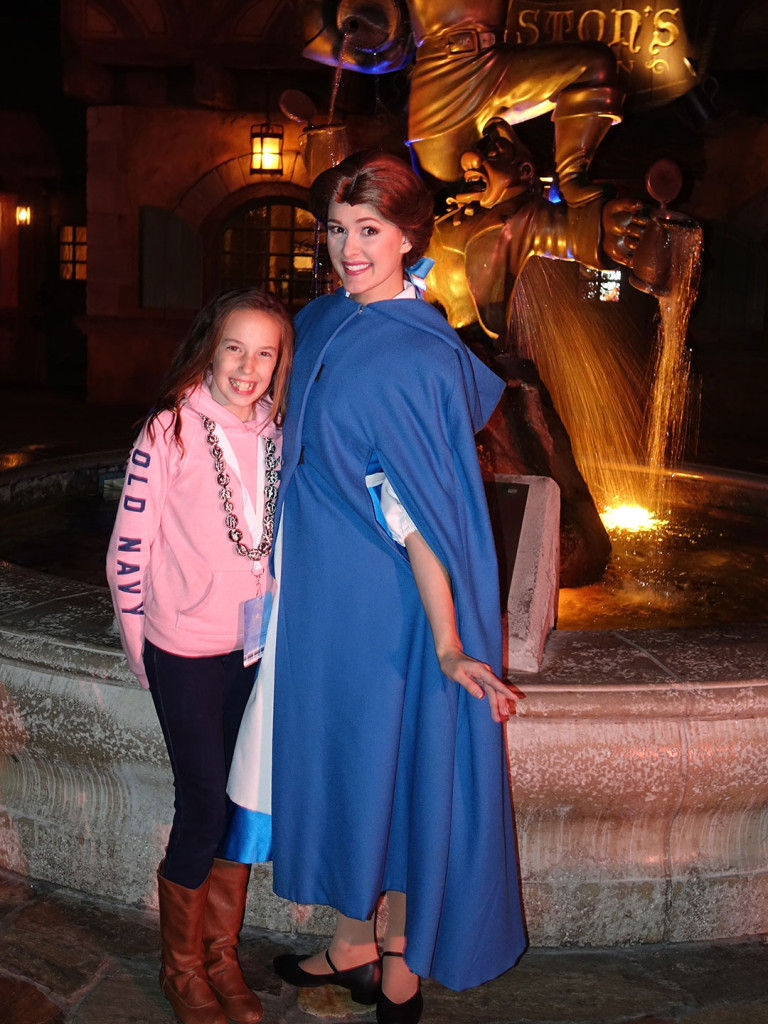 Louis was a must find for Debbie.  She loves this guy and she hasn't met him before, so lots of hugs took place here.  He was located outside the exit to Philharmagic.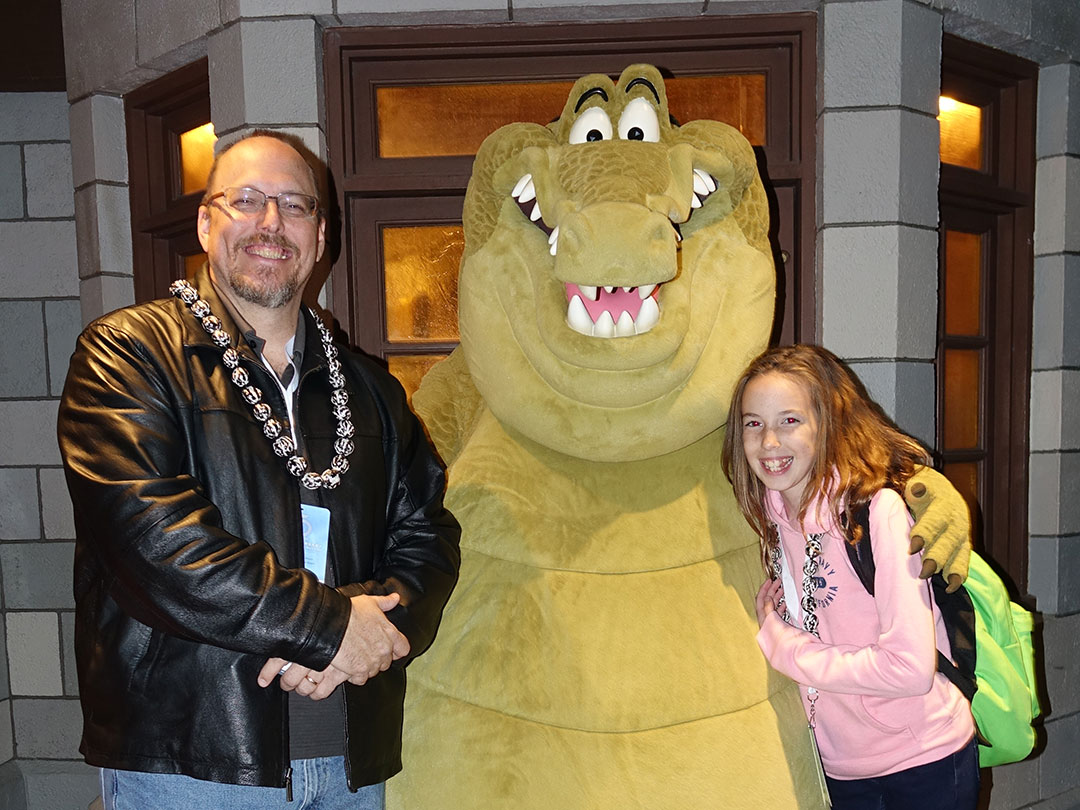 We heard they were offering entertainment at the Haunted Mansion, so we listened to the Cadaver Dans for a bit and looked for Daisy de la Cruz, the Haunted Mansion tightrope walker.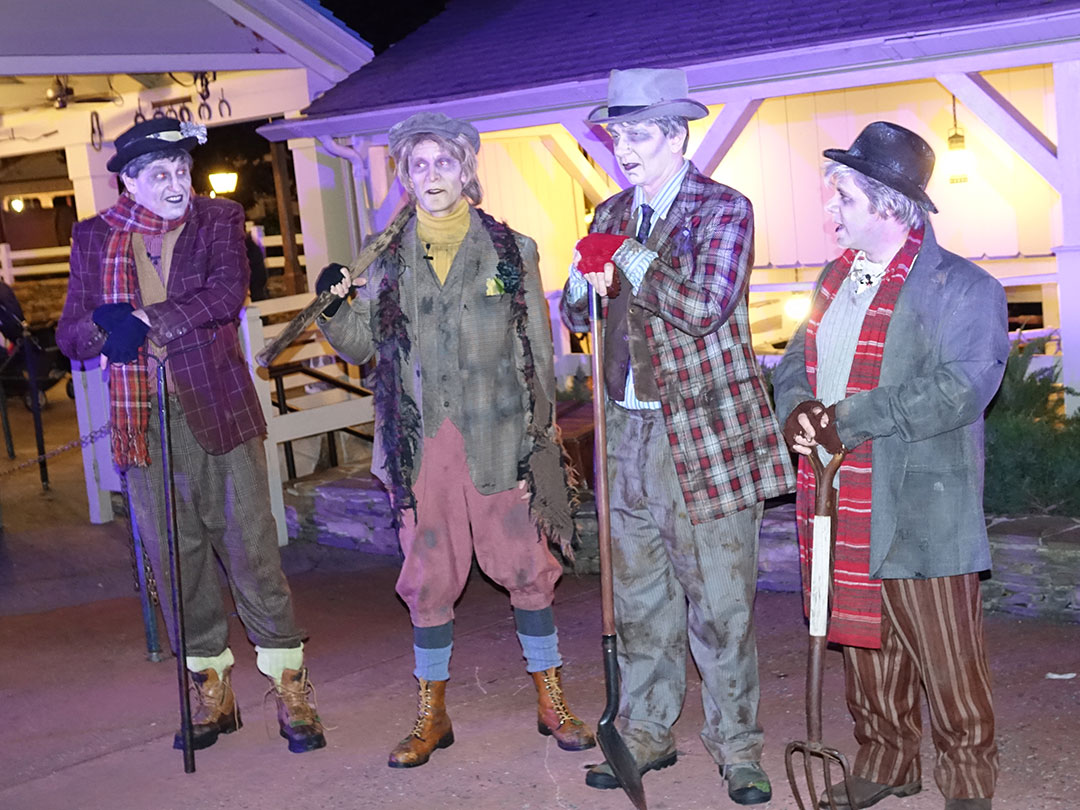 Daisy de la Cruz had just left for break, so I'll show you a photo from Brian Miller, who is a friend of the website.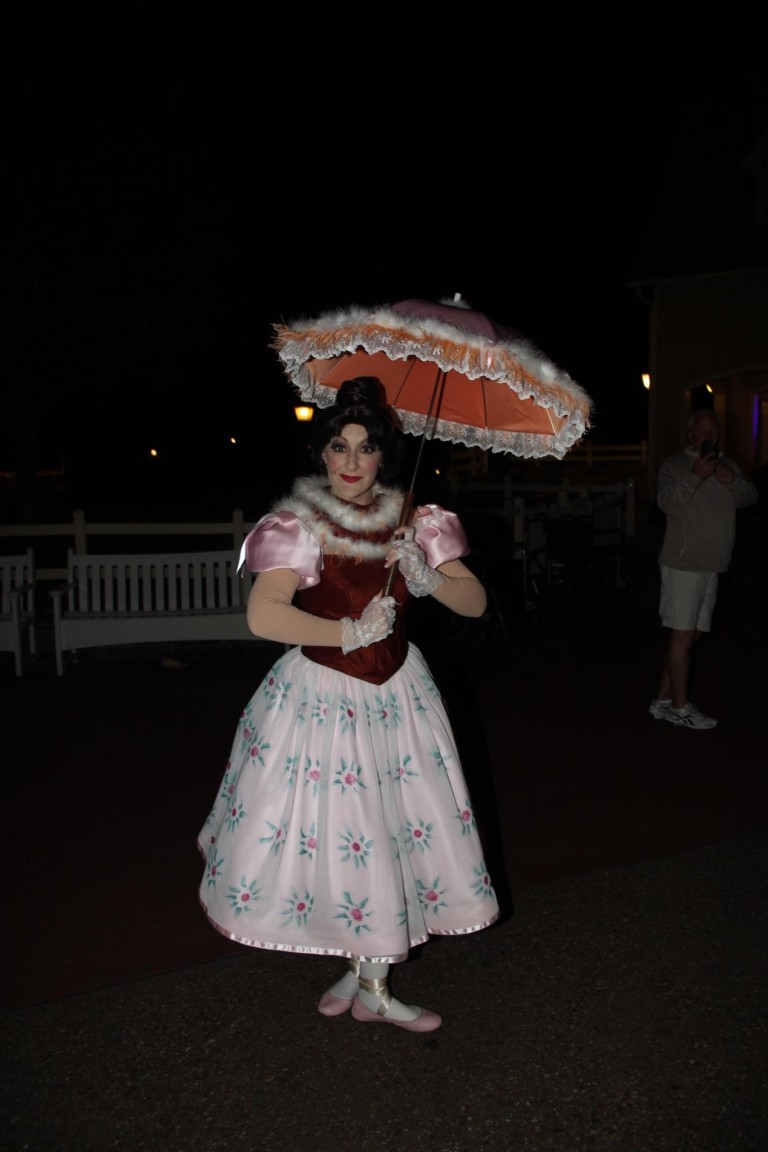 We decided to meet the Princes with Princesses since there was little to no wait.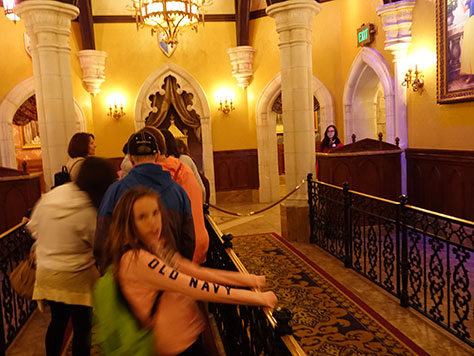 Flynn Rider was a hit.  When we left the line filled quickly to meet him.  Isn't Rapunzel's smile amazing?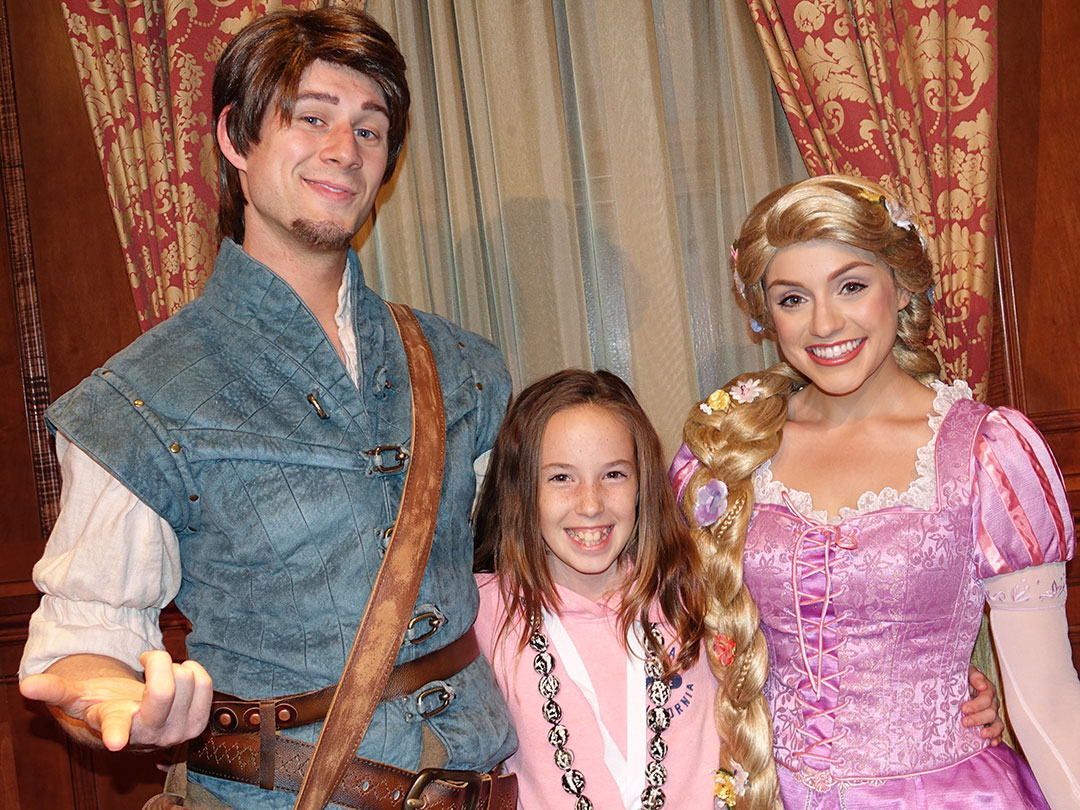 Princess tiana and Prince Naveen were in the same room on the left side too.  She was super sweet.  We talked about how it was weird to call him "husband" after that whole frog thing.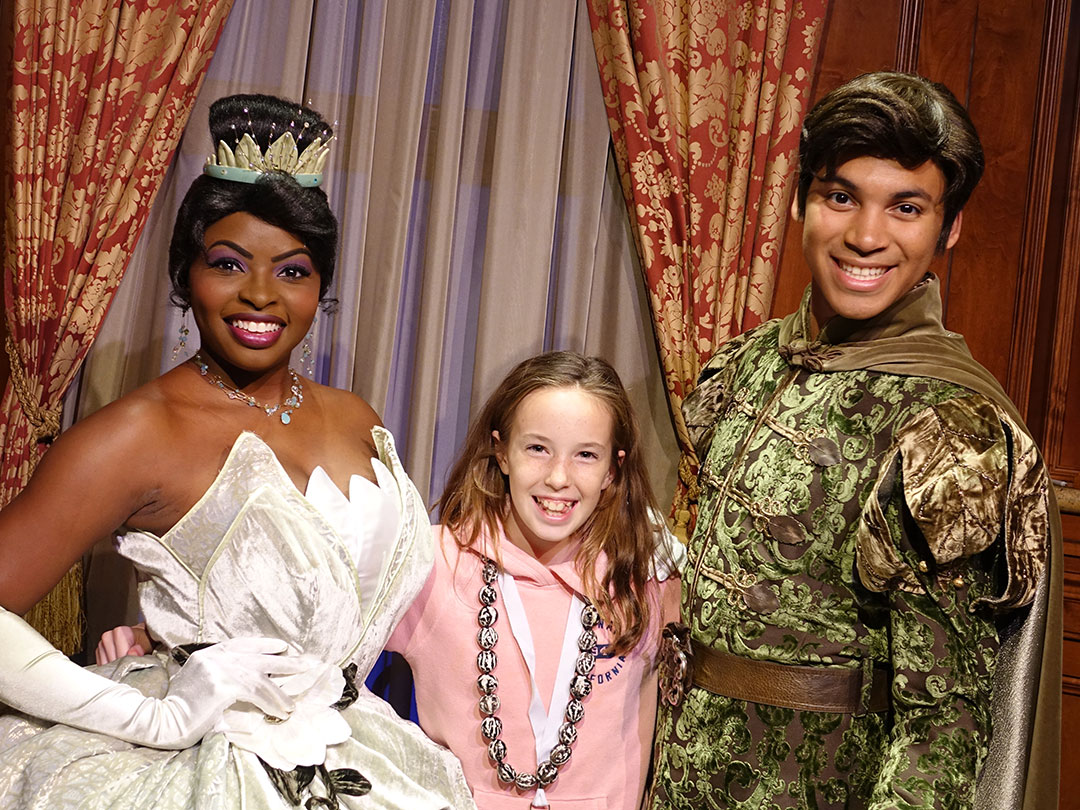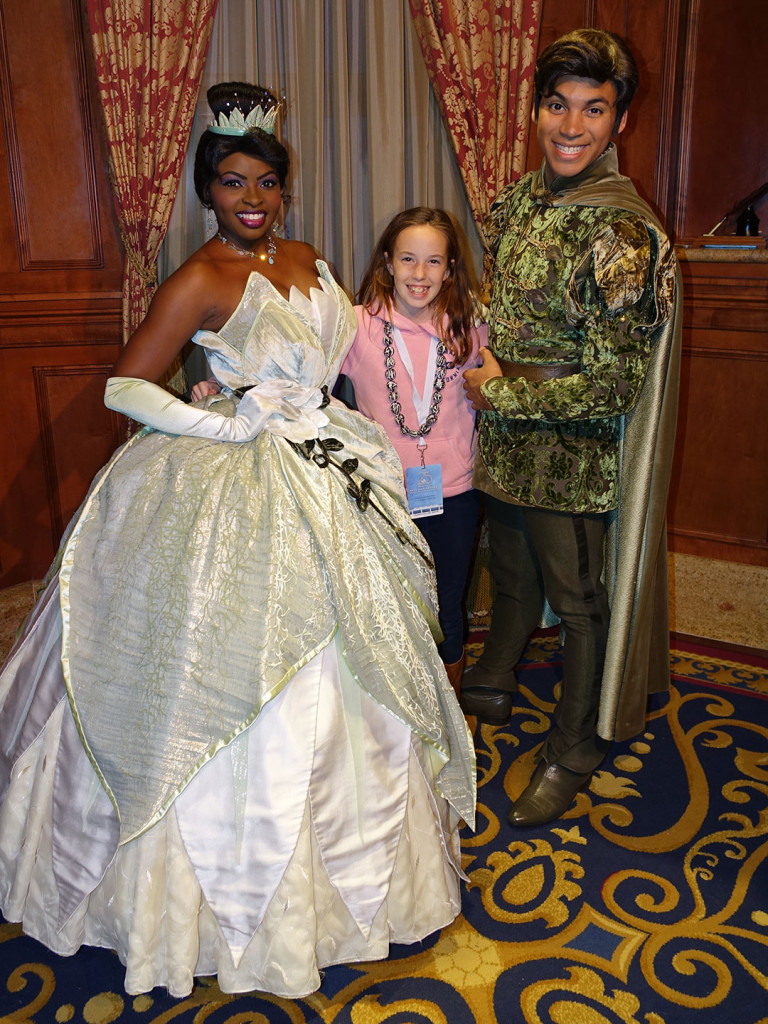 Look, pirate is in the photo!
We went through the other line and found ZERO people in line.  Prince Charming with Cinderella.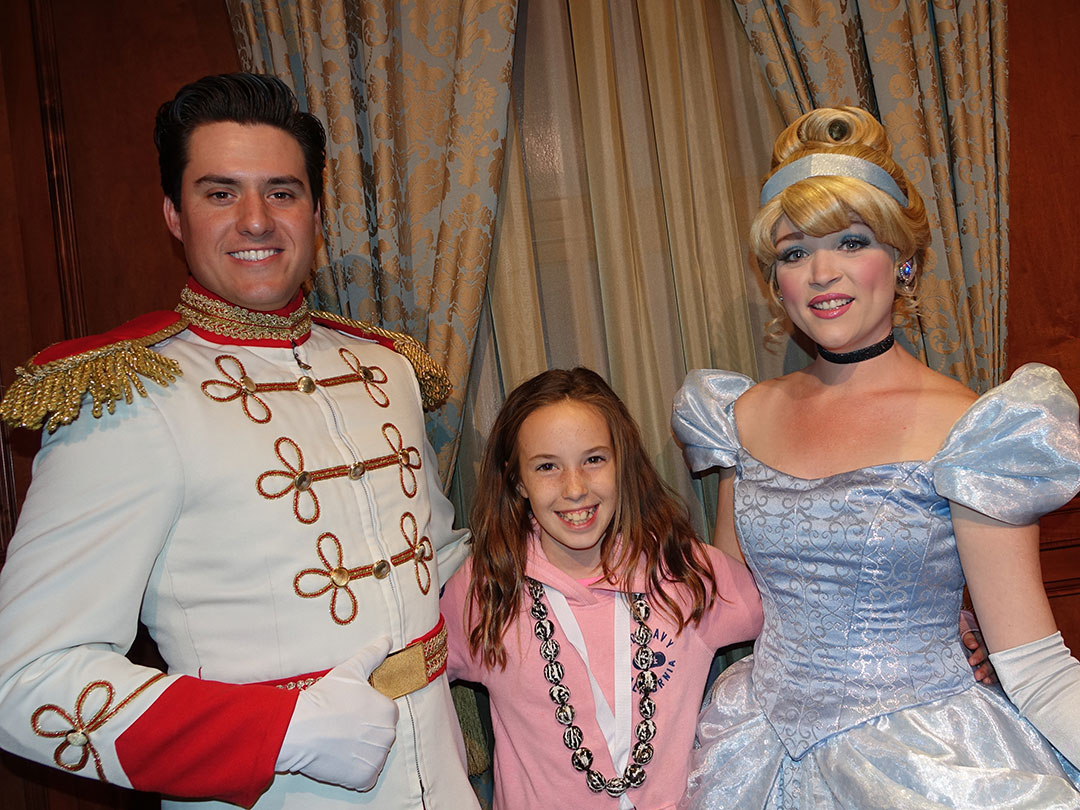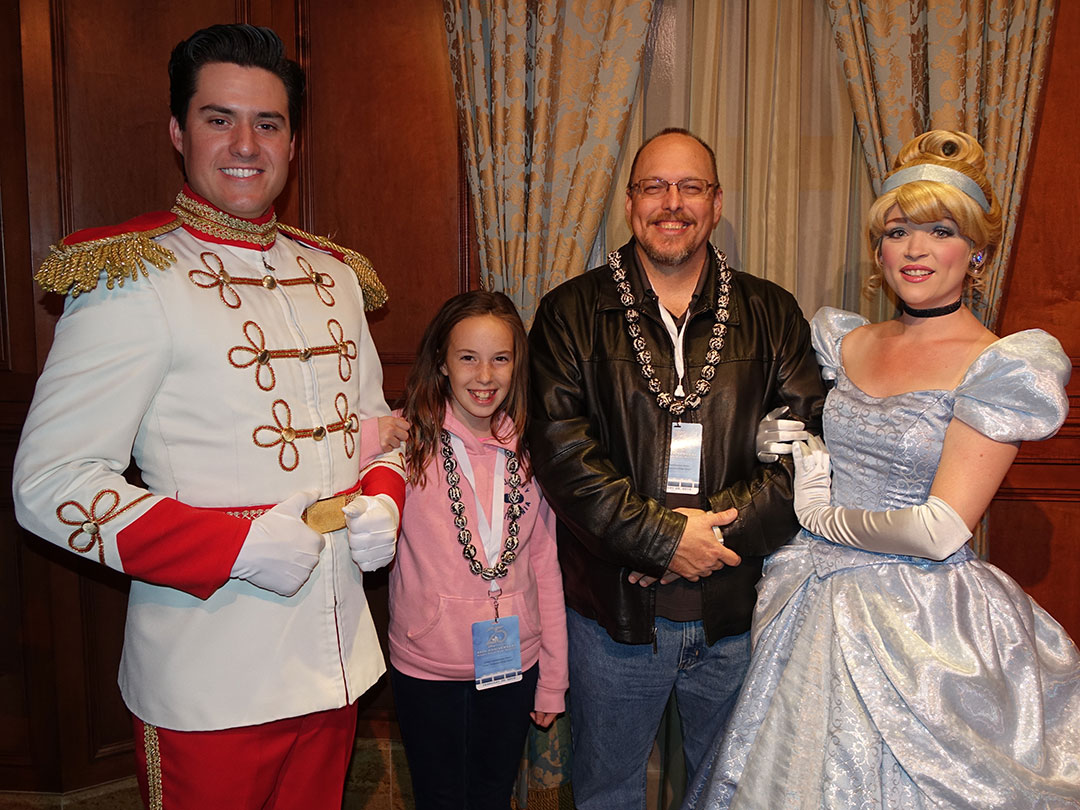 In the same room was Aurora and Prince Phillip.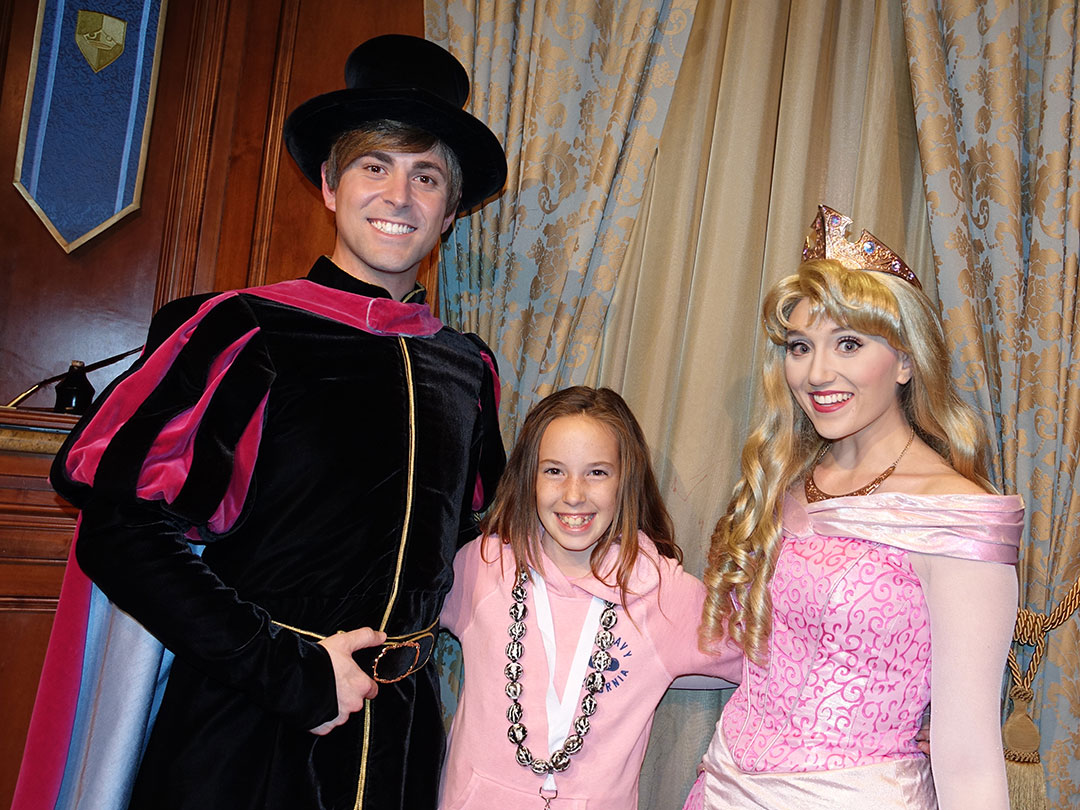 Only long line we faced was for the Robin Hood gang.  We had to choose between the special fireworks and meeting them.  Debbie wanted these guys, so we watched fireworks burst around us while we waited.  Prince John shoved the others away to get a special photo with the junior internet sensation :)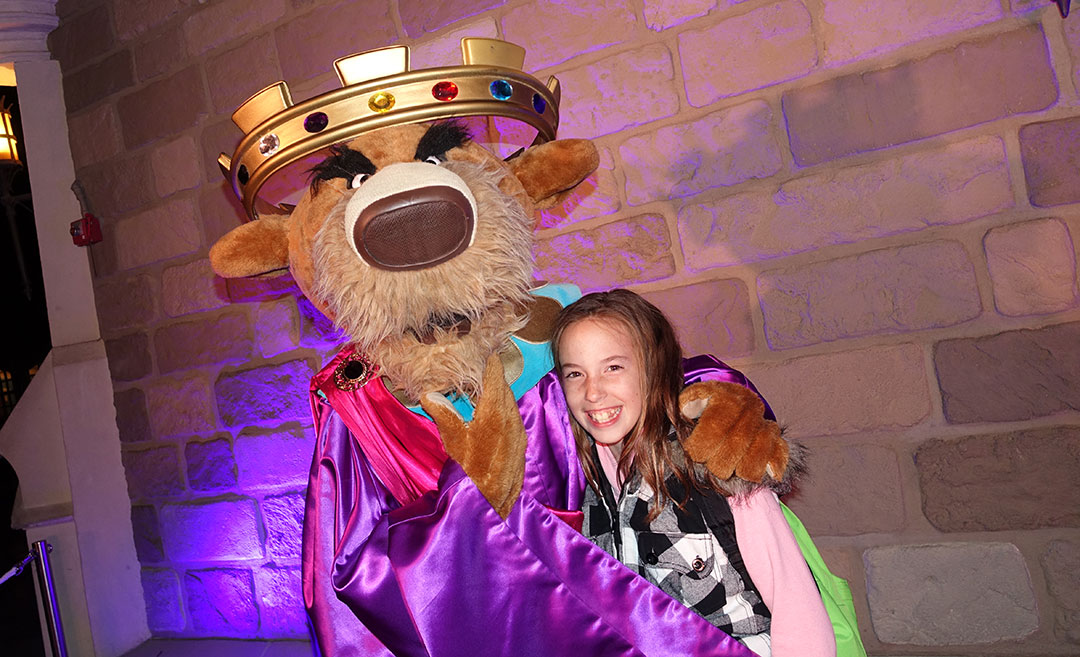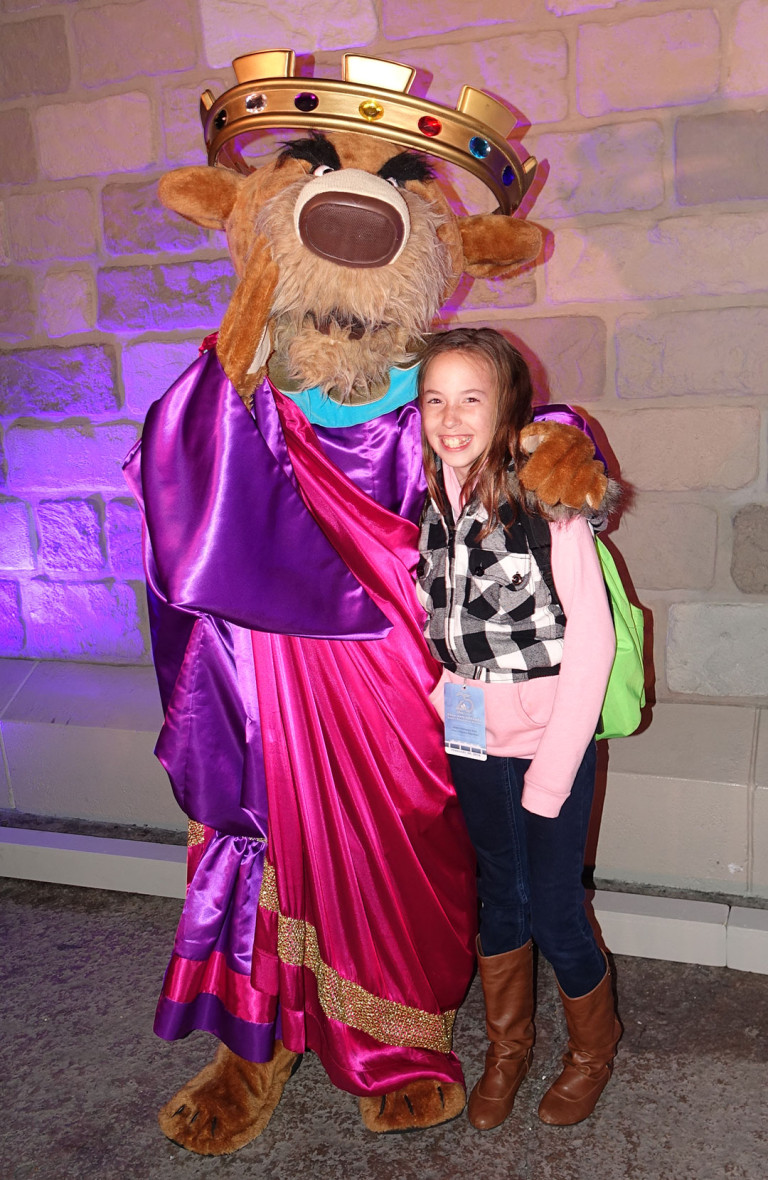 He let the Friar join.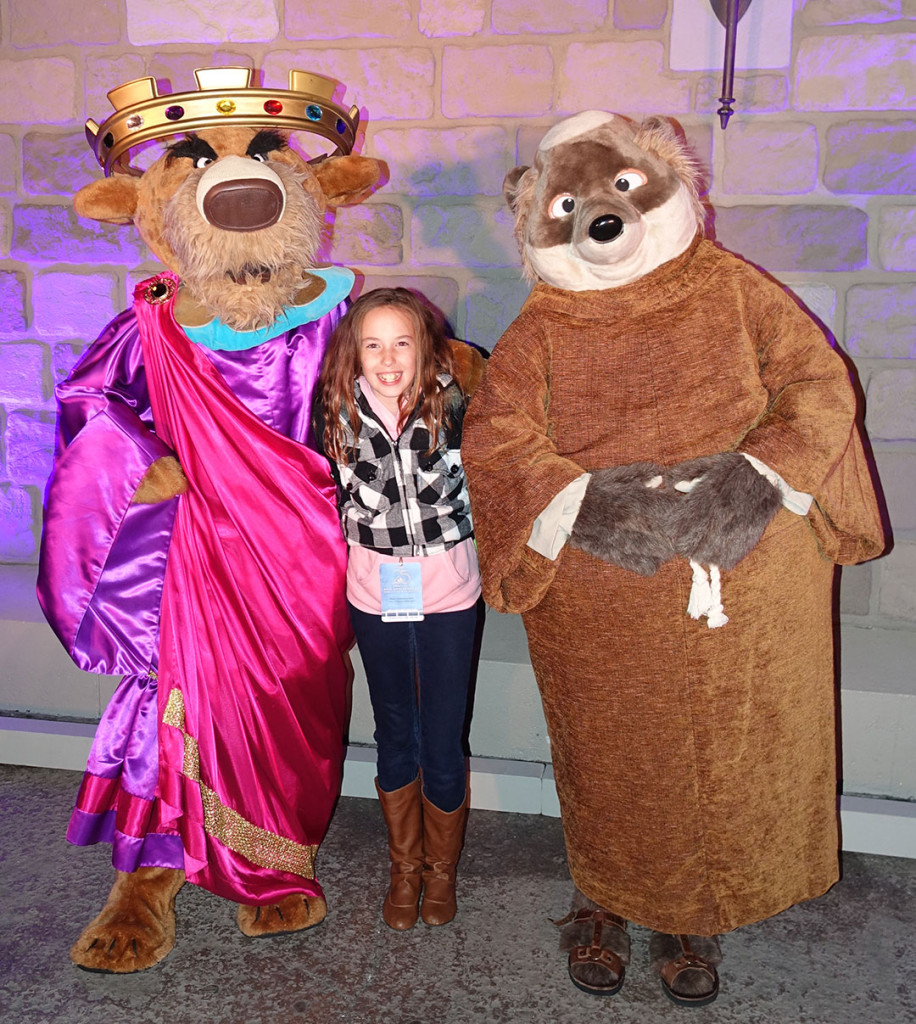 Finally we talked Robin Hood into joining the gang.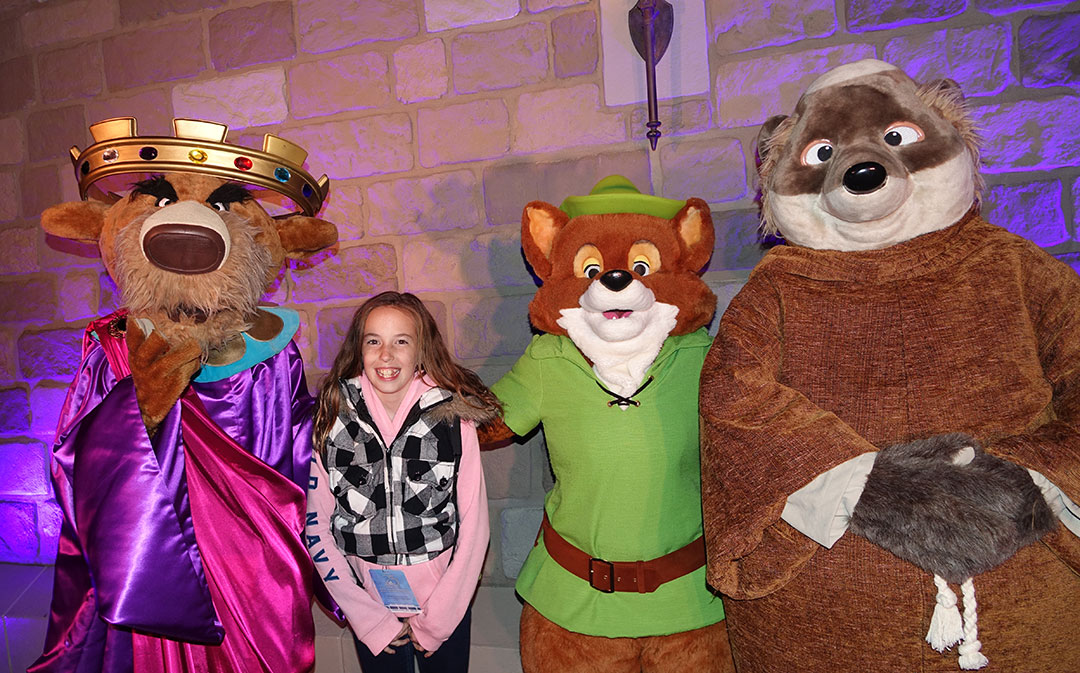 We had to choose between the tomorrowland dance party, Aladdin & Jasmine, Baymax meet in tomorrowland and riding 7 Dwarfs mine train.  I guess you know which the princess chose.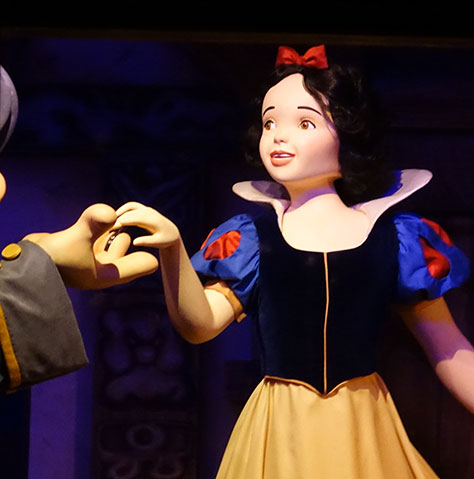 Minnie and Mickey were saying farewell to guests as they departed around midnight.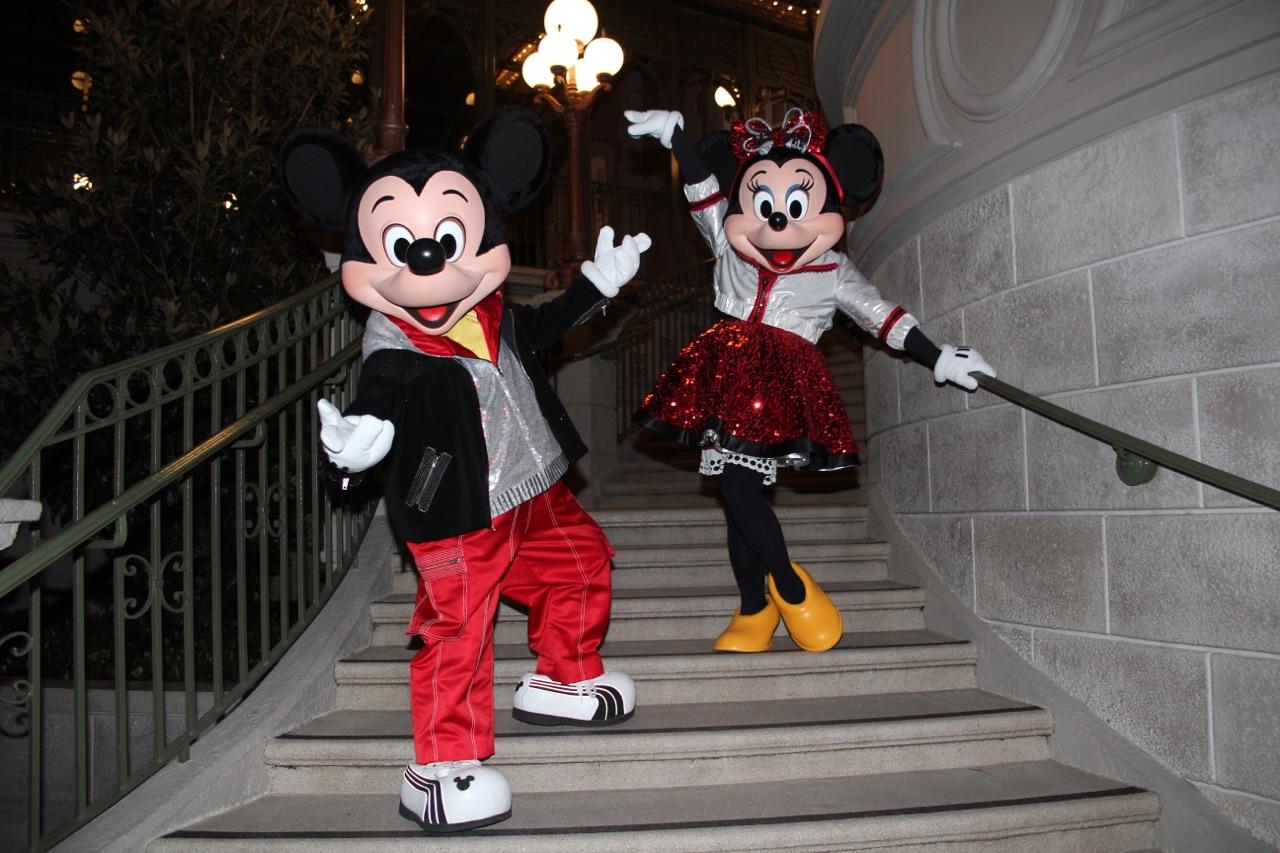 Disney Parks blog, Disney Vacation Club and Disney Entertainment Group threw an amazing party and we were able to meet a lot of rare characters in only 2 1/2 hours.  Great job on #dvc25 everyone!  I sure wish we could have Annual Passholder events like these from time to time.  I'd even pay more to have them.
Here's the characters we saw at some point:
Darkwing Duck – Casey Jr
Launchpad McQuack – Barnstormer exit
Ralph and Vanellope – Storybook Circus entrance
Belle – Gaston's tavern
Louis the Alligator – Philharmagic exit
Daisy de la Cruz – Haunted Mansion
Cadaver Dans – Haunted Mansion
Cinderella & Charming / Phillip & Aurora – Fairytale hall
Naveen & tiana / Flynn & Rapunzl – Fairytale hall
Robin hood group – Fantasyland wall
Aladdin & Jasmine – Fantasyland wall 2
Baymax – tomorrowland