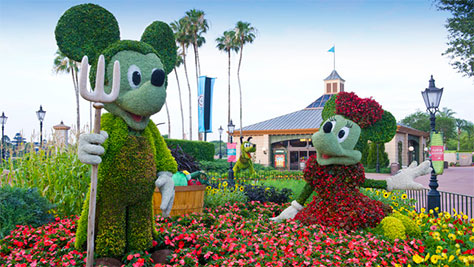 Epcot's Flower and Garden Festival will offer additional Outdoor Kitchens, new Disney topiaries and a new musical play garden for 2016 which runs from March 2 through May 30, which is an increase of 15 days.
New Outdoor Kitchens
La Isla Fresca will expose guests to Caribbean flavors like Jamaican Braised Beef with Pigeon-Pea Rice and Jerk-Spiced Grouper or Chicken with Mango Salsa.
 Cider House will feature a Field Greens salad with greens harvested from The Land pavilion, heirloom apples, Stilton cheese, and dried blueberries
11 other Outdoor Kitchens will include: Bauernmarkt, Fleur de Lys, Florida Fresh, Hanami, Jardin de Fiestas, Lotus House, Pineapple Promenade, Primavera Kitchen, Taste of Marrakesh, THE SMOKEHOUSE: Barbecue and Brews, and Urban Farm Eats.
New topiaries
Huey, Dewey and Louie will join Donald and Daisy at the front entrance for a presentation that will be called the "Victory Garden," which is inspired by a 1943 comic book of the same name.
Minnie Mouse and Pluto will be featured on the back side of Spaceship Earth with a Floral Sun garden with yellow sunbursts.
Ranger Mickey topiary garden in Future World celebrate the 100th anniversary of the National Parks Service
Many other classic topiaries will return including Anna and Elsa moving to the Norway pavilion.
Harmony Gardens
The new hands-on Harmony Gardens musical playground will offer new Fab Five topiaries of "band leader" Mickey Mouse plus Minnie Mouse, Goofy, Pluto and Donald Duck.  The playground will offer interactive drums, chimes and xylophones where children can create their own music.  Safe net structures will allow for interactive play time and the popular Lightning and Mater topiaries will return with the Cactus Road Rally.
New Musical Acts
Bad Company is said to be coming to join the Garden Rocks concert series presented on weekends, but no date has been announced at this time.  Four weekends still haven't been confirmed for the official concert lineup.
Edible Flower Garden
A new edible flower garden presented by The Land pavilion will offer petals with flavor.
Flower towers
Many flower towers reaching 8 to 9 feet in the air will add color will more than 70,000 bedding plans in Future World alone.  One the Future World lakes more than 200 floating gardens will spruce up the area.
Butterfly Garden
The always popular walk-through Butterfly Garden will return with hundreds of wonderful butterflies among many plants and flowers.  Children love this feature.
The festival, including all gardening programs and exhibits, is included in regular Epcot admission.  I'll be on hand to provide many great photos of the beauty that is the Flower and Garden Festival, so follow along when it begins!