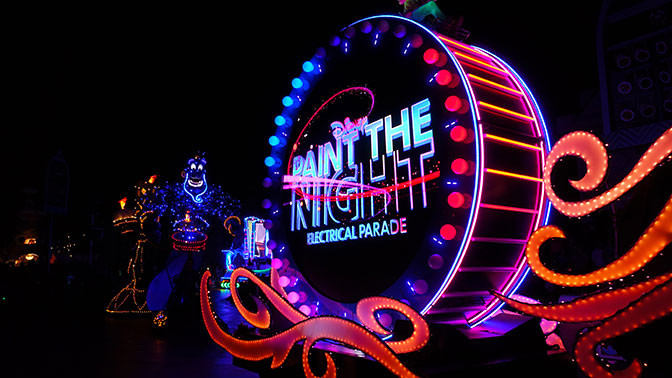 Paint the Night is the best parade I've ever seen. It may seem like exaggeration, but the floats are amazing, the music is catchy and there's a great character selection!
Over 1 million lights twinkle, sparkle and dance in Disney's brightest parade ever. Mickey and friends show you how to use your imagination to Paint the Night with brilliant, vibrant color. If you are a fan of Main St. Electrical Parade or Spectromagic, you'll going to love the nods to those popular parades.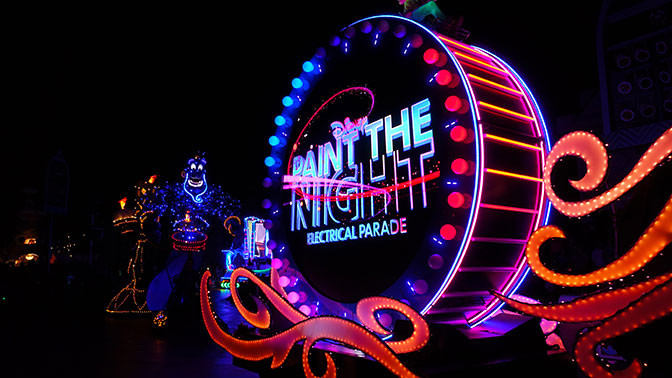 Paint the Night takes about 20 minutes to fully pass your location. Excellent viewing areas are along the it's a small world promenade and down Main Street.
Line up at least ONE HOUR early as this is VERY popular!
Some of the Characters you can expect to see include:
Tinker Bell & Peter Pan
Genie & Lumiere
Mike & Sulley
Lightning McQueen, DJ & Mack
Ariel with King triton
Nemo & Marlin
Slinky Dog with Buzz & Woody and Green Aliens
Belle, Rapunzel, Cinderella
Anna & Elsa with Olaf
Goofy, Donald & Minnie
Mickey Mouse
Featuring cutting-edge special effects and high-energy music, the Disney Paint the Night Parade is a dazzling after-dark experience beyond anything you've ever imagined!
Check out my video, but this is even better live!
Paint the Night Parade Tips:
What to Bring
A blanket – Use the blanket to reserve your spot (but at least one person must remain with it), then use it to sit upon or use it to stay warm during cooler weather. Claim a good front row spot early! If one adult is holding down the spot, another adult could take the children on some nearby rides.
Snacks – bring some popcorn, chips, drinks and such or pick up dinner at Village Haus and bring it with you to your spot.
Glowies – Kids love glow in the dark items and Disneyland sells several of them, but you could save some money by bringing them with you. Paint the Night light up paint brush is really popular and makes a good souvenir too! Bubbles are also fun and you might bring along some small games.
Where does it start?
Paint the Night begins at it's a small world and travels down through the hub and along Main Street. If there are 2 parades in a single night, the second parade will begin on Main Street and end at it's a small world. If there are 2 parades, the second will be less congested, but still very popular. Some people will stay put and watch it again.
Is there a break in the parade to cross the parade route?
Yes, but there's only one break point. Cast Members will allow you to cross the parade route at designated locations immediately following the Ariel float.
What's your favorite locations?
I really love the location at the Fantasyland restrooms behind Alice in Wonderland. Guests can only sit along one side of the path here, so the characters commit all there attention to the kids in this area.
Other areas that I like are the bend at it's a small world and the hub and the Flag Pole area facing up Main Street. You can see the floats coming toward you and then see the side view as well. It makes great photos too! Cast Members do not allow you to immediately follow the parade from it's a small world to the hub. Usually there is a 10 to 15 minute delay, so you'll need to cut through Frontierland to view the fireworks or watch in front of it's a small world, which also offers projections like the Castle.
Photography tips
You'll need a quality camera to get good snapshots. I prefer not to use the flash because it ruins the effect of all the beautiful lights. You can use your smartphone, but most of your photos will come out blurry from the low light and constant movement.
All these photos were shot with a Sony RX-10m2 camera and were shot while filming the video above at the same time.  I only cropped some of the photos and did no other edits, so you can see what the camera is capable of doing.