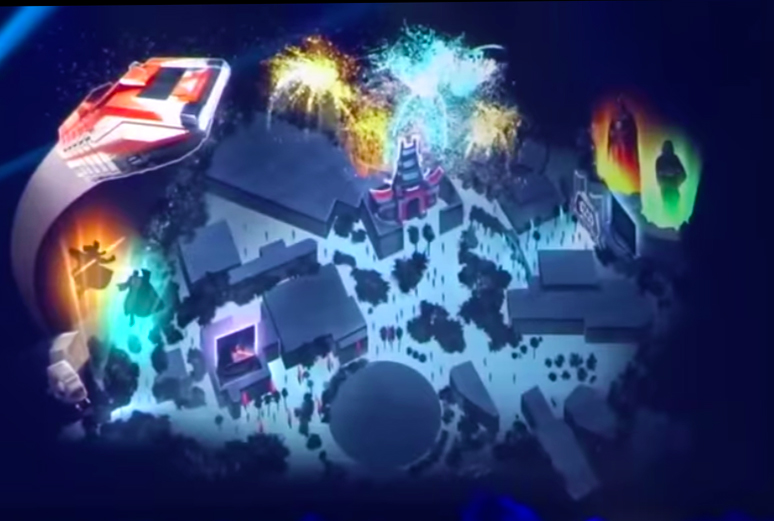 Within the announcement of the new Star Wars Land coming to Hollywood Studios and Disneyland, were some great Easter Eggs.  Here's a few: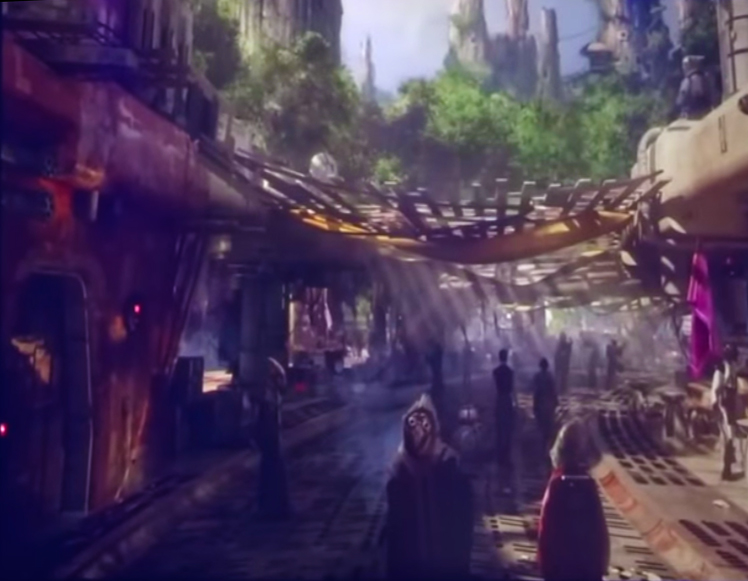 We were told that we'll be visiting a "gateway planet located on the outer rim full of characters both familiar and not-so-familiar."  Won't it be fun to actually be immersed into the Star Wars environment, instead of just riding a ride?  I believe we have a certain boy wizard down the street to thank for this type of detail!  Theme park wars are great because all the parks are forced to constantly improve themselves.
The Season of the Force discussion, which didn't provide many details outside of it being inspired by Star Wars Weekends and having a new fireworks show,  (Couldn't we get an upgrade to Rock n  Roller Coaster?)  did provide this little glimmer of something that most people missed.  See that glowing image on the far right?  It's where the Magic of Disney Animation was located.  Well, that is the new location for the Star Wars Launch Bay!  There's no other place to put the thing and open it by "later this year."  It also appears there is a show in the ABC Theater.  Jedi Training Academy (Live?) looks to be in the same outdoor location.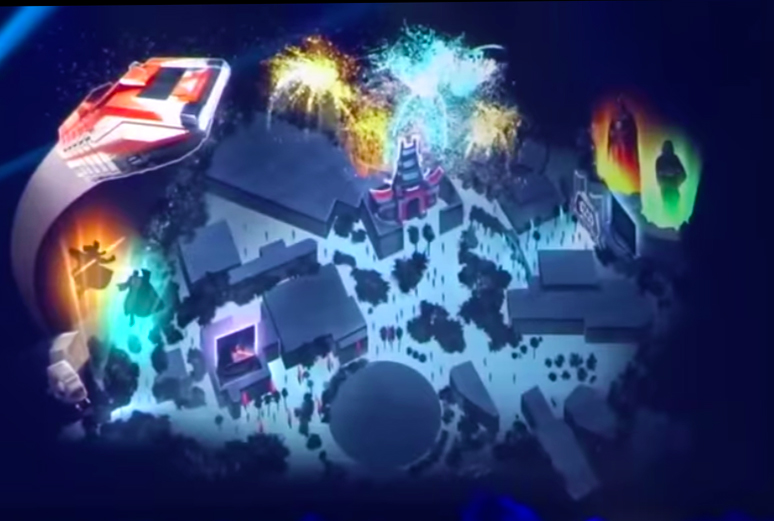 The launch bay is said to include fun play areas, the latest Star Wars games, props, artwork and characters.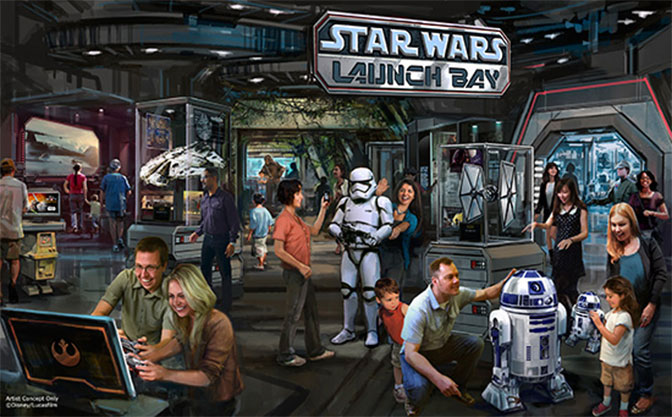 One image flashed on the screen briefly also showed this. The left side shows an overlay of an eating area and the right side is a Chewbacca meet and greet.  I'd love to see Chewie and other Star Wars characters in the parks all the time!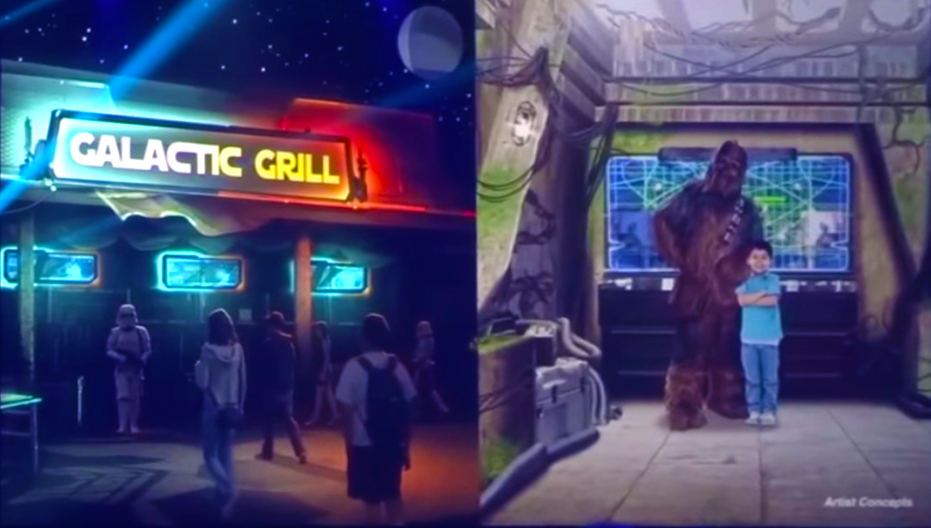 Another little gem of the future (probably VERY future) Star Wars Land will be the Mos Eisley Cantina.  How fun would it be to have a snack or dinner and listen to live performances.  This seems to take a nod from Diagon Alley as well with the constant entertainment that goes on the stage there.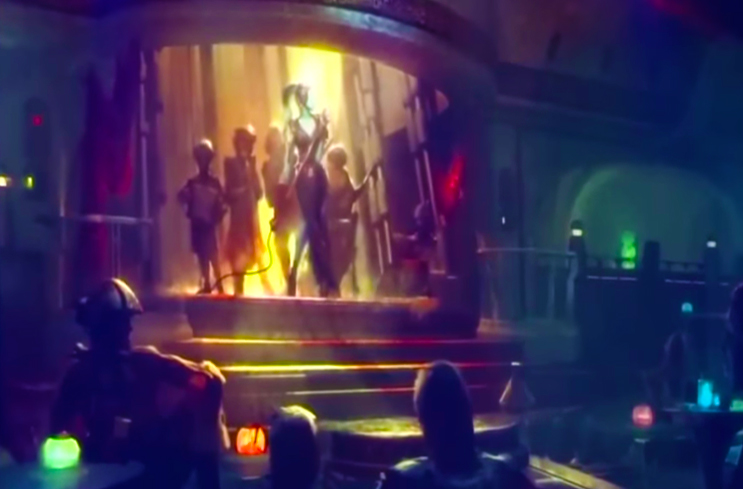 Almost looks like Cyclops :)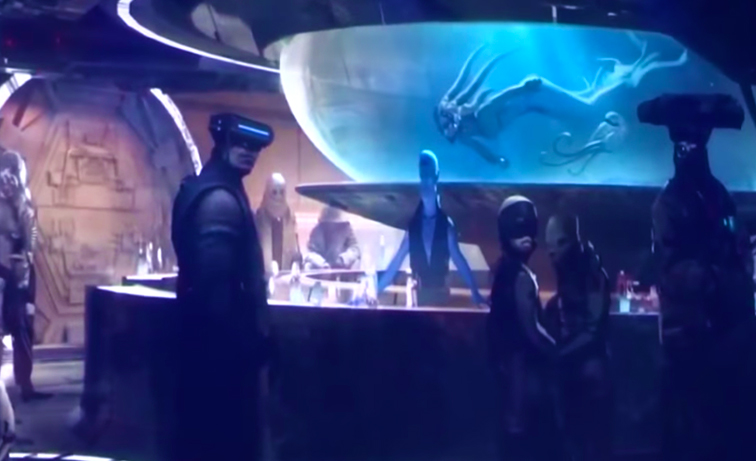 People are asking me to guess when Star Wars Land will be completed.  I'm going to throw out the year 2021 as my guess in preparation for Disney World's 50th Anniversary.  This land will be huge, it will be immersive and it will involve a lot of the famous (overly used?) Disney rock work that takes forever to build.  I'd guess that Toy Story Land opens within 3 years though.  It will be fun and detailed, but won't have all that concrete rock work, and it will offer an open air coaster and a ride they already use with a new theme.
Star Wars Launch Bay should open by Christmas, if projections are accurate, and Seasons of the Force seems like a January-February type deal to boost attendance during slow seasons.
What do YOU think?