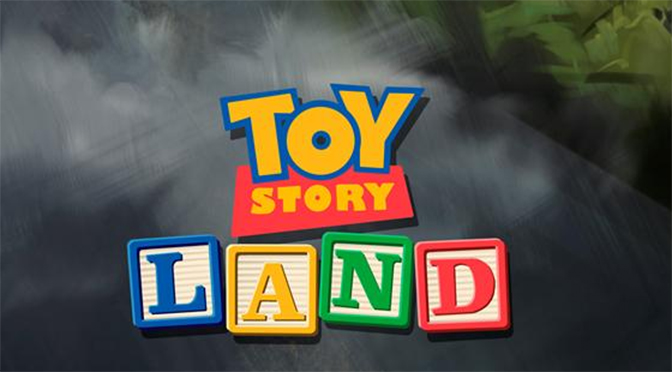 After taking in all the amazing information about attractions coming to Hollywood Studios, I started studying the concept art to see if there were any little hidden Easter eggs.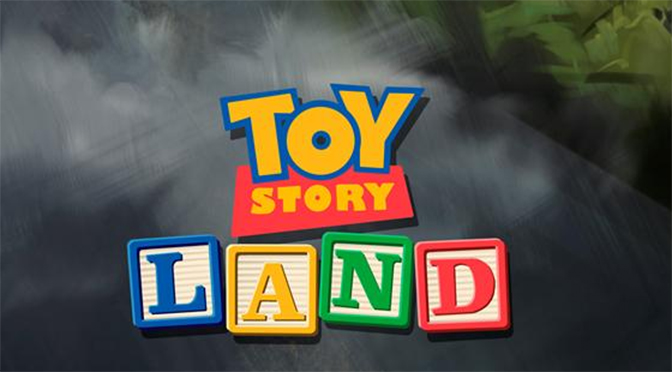 Green Alien Claw Ride
The green alien ride at the top of the picture below will be a covered, but open air ride tucked in the back corner of Toy Story Land.  It will offer double of the same experience.  I'd assume to keep the wait times as low as possible.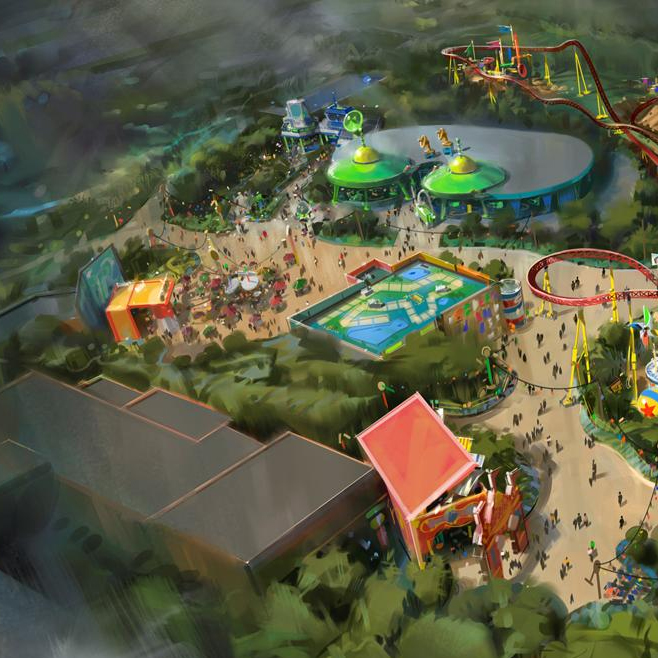 The Disney representative, Kathy Mangum,  referred to Toy Story Land as having "2 all new rides," but the Green Alien ride doesn't look to be a new ride vehicle, just a new experience!  You can see from the image below that it looks like a Mater's Junkyard Jamboree type experience.  Mangum stated, "Little green aliens will pull you around for a spin on your own flying saucer.  The aliens are the little purple part and the guests are on the green part.   I hope the "saucers" aren't as boxy as they appear in the concept art.  "The claw" appears to be in the center reaching down toward guests.  Hollywood Studios is in dire need of child friendly experiences, so this is an easy and quick attempt to correct that issue.
Using the same frame of the artwork above, we'll notice 3 additional details.
 There's a restaurant represented in Orange with red trim.  It appears to have open air seating with umbrellas.
 There's a large building in the center that doesn't tip off its purpose.  Could this be the new location for Pizza Planet or some other dining location?  Pizza Planet as it currently stands will likely be demolished for Star Wars Land, so they could easily move it over here.

 The main entrance to Toy Story Midway Mania may get relocated.  The large gray building in the lower left is obviously the show building for Toy Story Midway Mania.  It appears to have a new themed entrance to accommodate all 3 tracks.  It would make sense to place the entrance within the new Land and not have to leave to board the ride.  It also appears the trees will block the current entrance to Pixar Place.
Slinky Dog Roller Coaster
Slinky Dog roller coaster will be a big ride.  It will be a "family coaster." So the height limit likely won't exceed 40″.  Seven Dwarfs Mine Train weighs in at 38″.  This looks to be a much longer ride track than 7DMT, which is often maligned for being too short.  The queue for the ride will be indoors or covered, but the ride takes place all over Andy's backyard.    This looks like a fun ride with Slinky taking us on a great journey.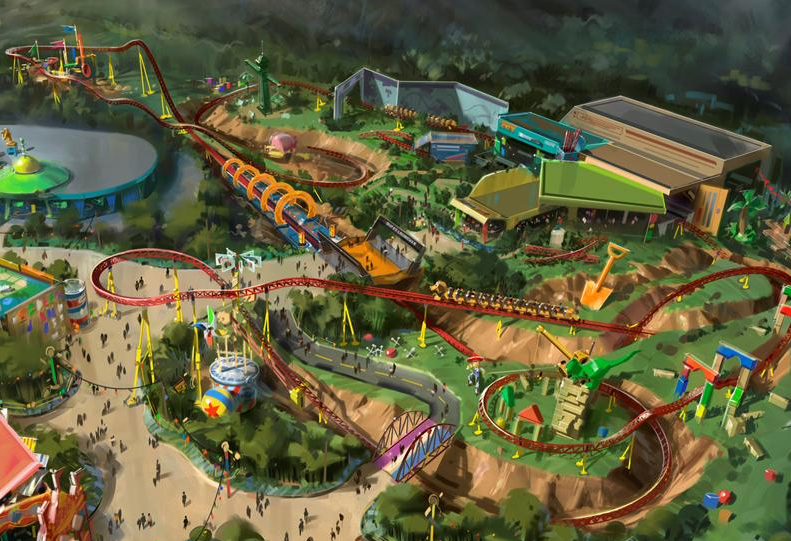 Woody's Round Up
In the lower right of the original artwork, we find a Woody's Round Up area.  This will serve as the main entrance for the area with a statue of Woody riding Bullseye.  We find Al's Toy Barn below.  This could be a toy store or it could be the meet and greet area for the land.  Woody, Jessie and Buzz used to meet in front of an Al's Toy Barn facade.  There also appears to be several western facades along the right hand side.  Should we guess that these could be used for games like the ones in Paradise Pier in California Adventure.  Given the location of this area, it does appear that the currently empty show building and Walt Disney: One Man's Dream appear to be in the way of construction.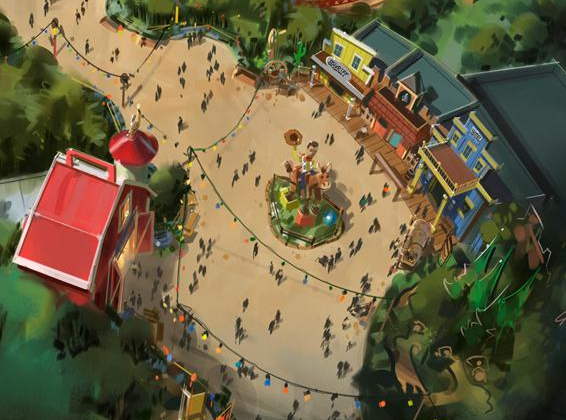 Photo of Woody, Jessie and Buzz meeting together at the old Al's Toy Barn back in 2004. This location is currently being used for the Phineas and Ferb meet and greet.  My daughter begins college this week :)
Some of this is obviously speculation based on concept artwork that could easily change before it becomes reality, but it's fun to think about what the area could entail.  What are YOUR thoughts?