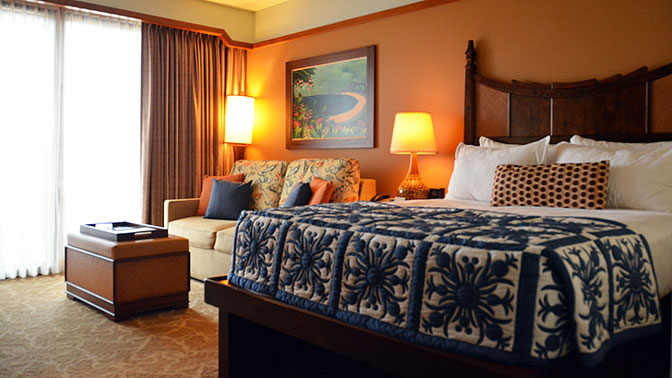 During our recent visit to Oahu, Hawaii, we had the opportunity to spend one night at Disney's Aulani resort in Ko Olina along the West Coast.  We stayed in a Disney Vacation Club Studio Villa.  So here's my review.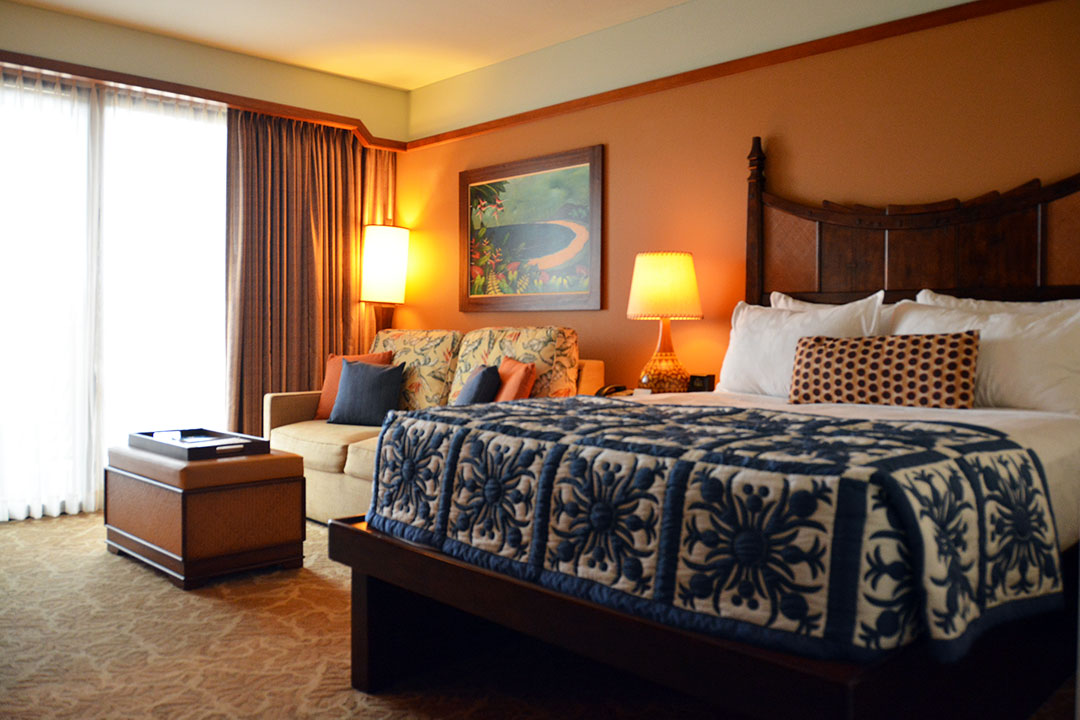 I'll begin by stating that I'll more fully cover the resort outside the room later, but the resort does have the Disney touches that one would expect, right down to the bedspread.  You'll see the pineapple along with some hidden Mickey's.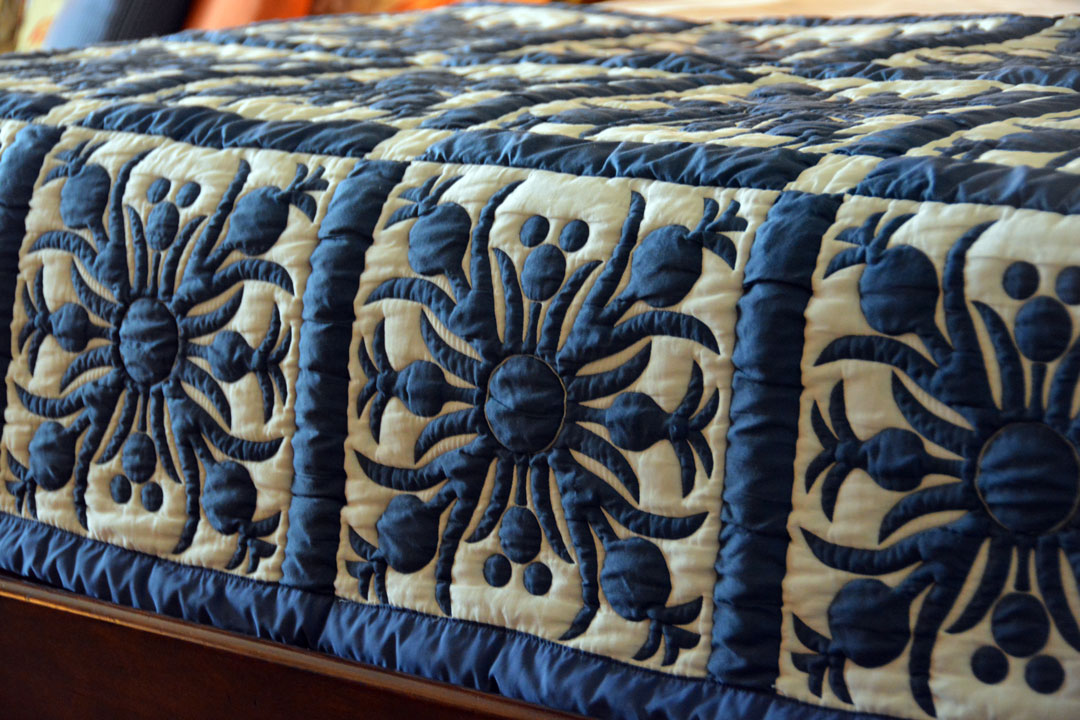 The Studio Villa is much smaller than you'd expect from a Disney Vacation Club room at only 356 square feet and features a Queen bed and Queen sleeper sofa and some gentle Hawaiian touches.   The room sleeps 4, but I'm not sure that a family of four would feel very comfy in this Studio.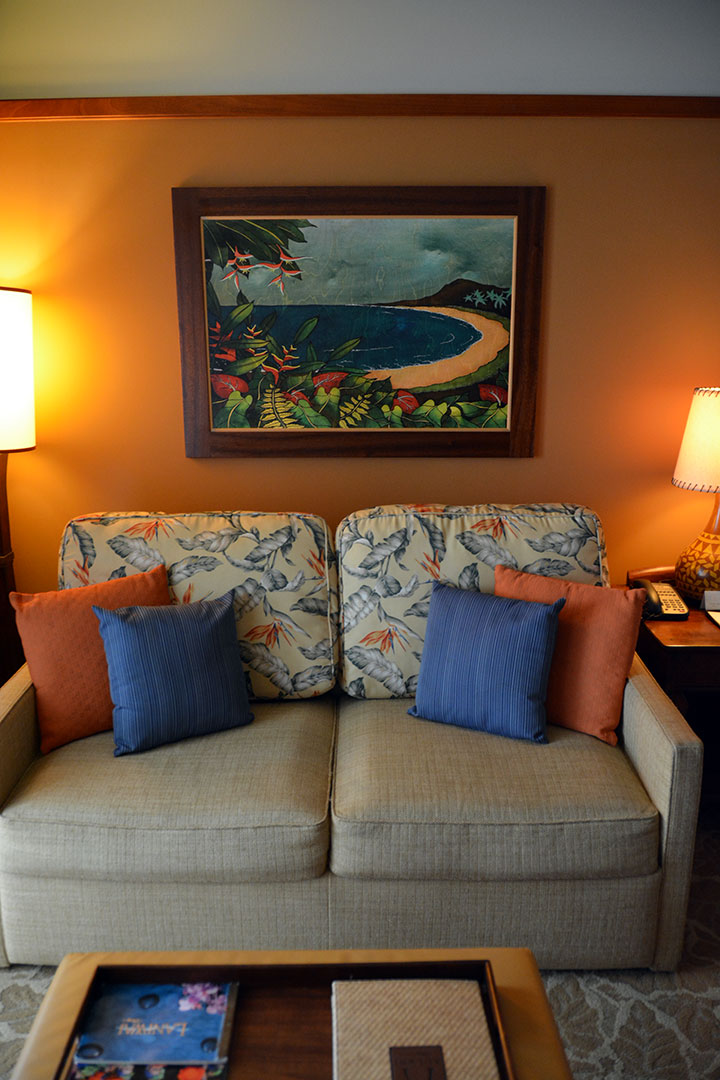 There's a table area with 2 chairs that you could use for meals or to plug in your laptop and do some work.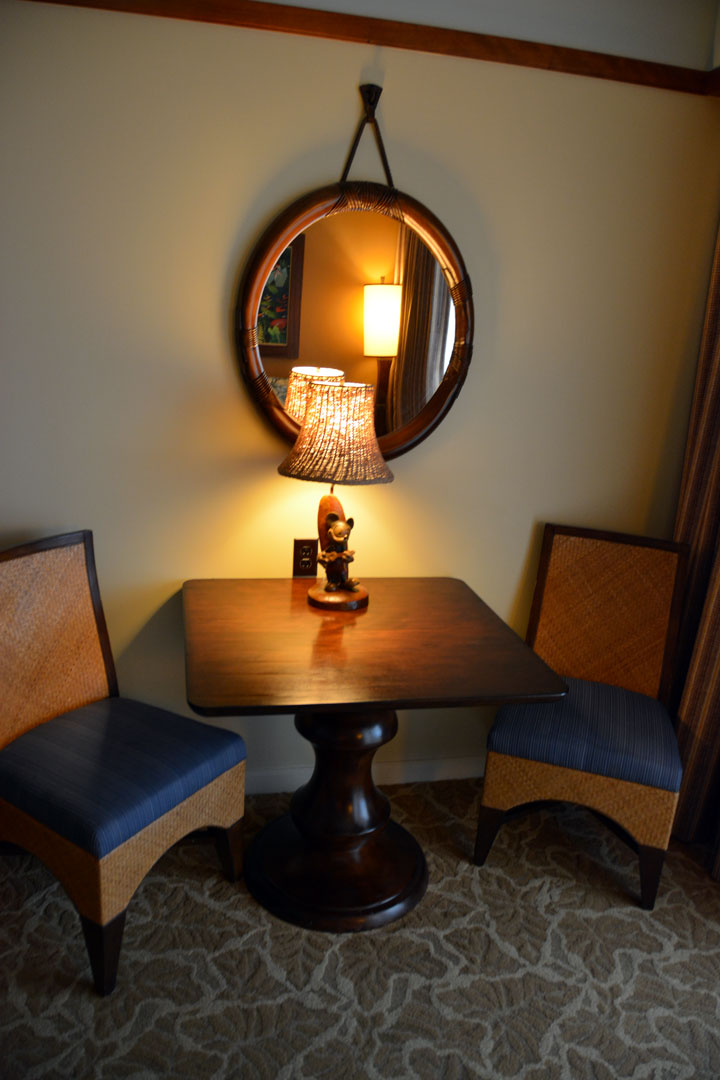 I think this Mickey lamp with his Ukelele is awesome.  I asked if it is for sale at the resort and was told it isn't.  I wonder how many people have taken the lamp and found the cost on their bill later.  No worries on our part, Mickey was still there when we left, but it is pretty awesome isn't it?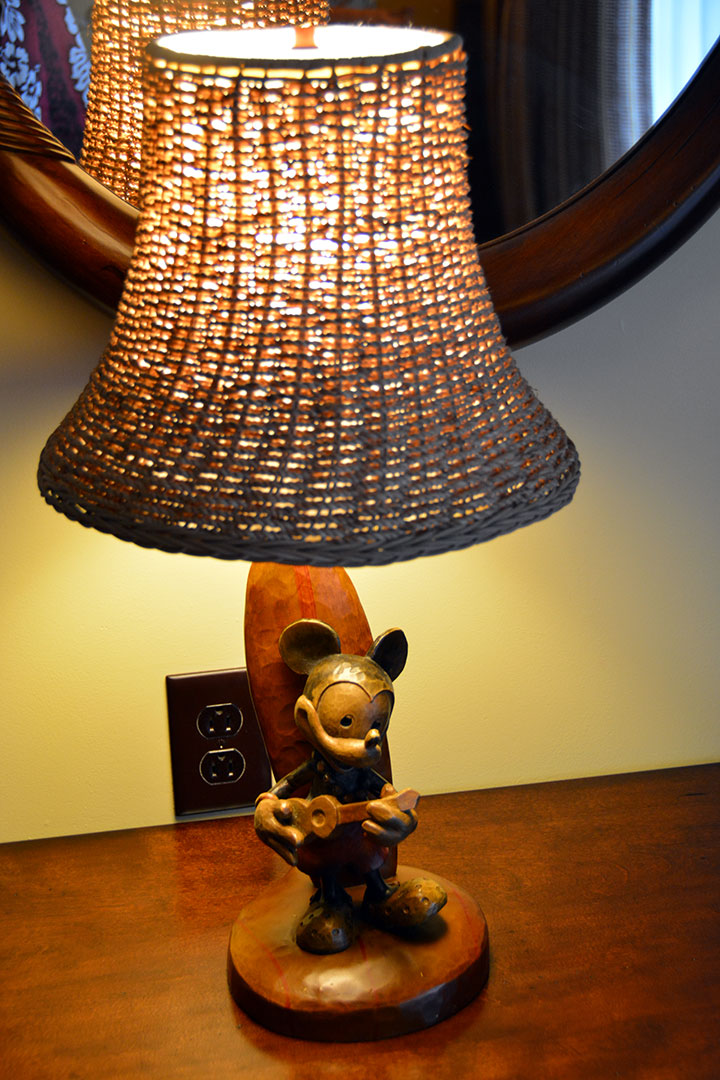 There's a wide screen HDTV with some storage drawers opposite the couch and bed.  It has an overview of the resort.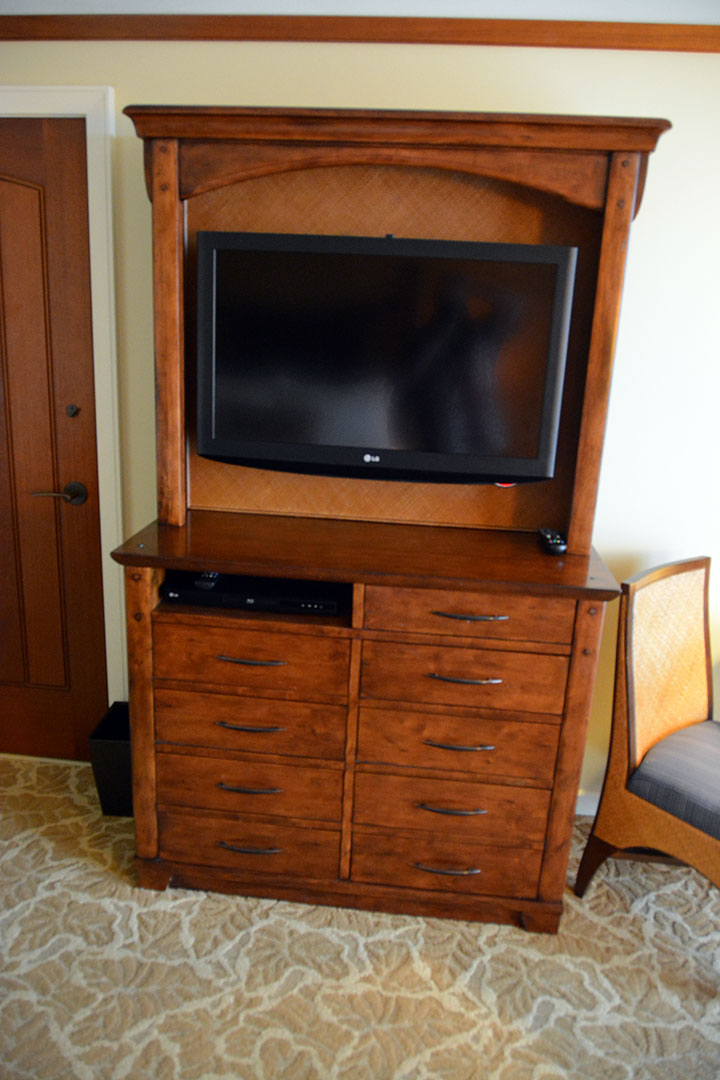 Here's a view of the Queen bed with lamps and such.  One note here.  See that phone to the left?  I punched in a time for a wake up call expecting Mickey or Stitch to wake me up, but it only said, "This is your wake up call."  Boring!  If you travel to Walt Disney World, the kids usually fight over who will get to hear a Disney character wake them up.  Oh well, we were in paradise, so we overlooked this detail and moved along.  The bed was comfy and I slept well.  My daughter had no issues with the sleeper sofa.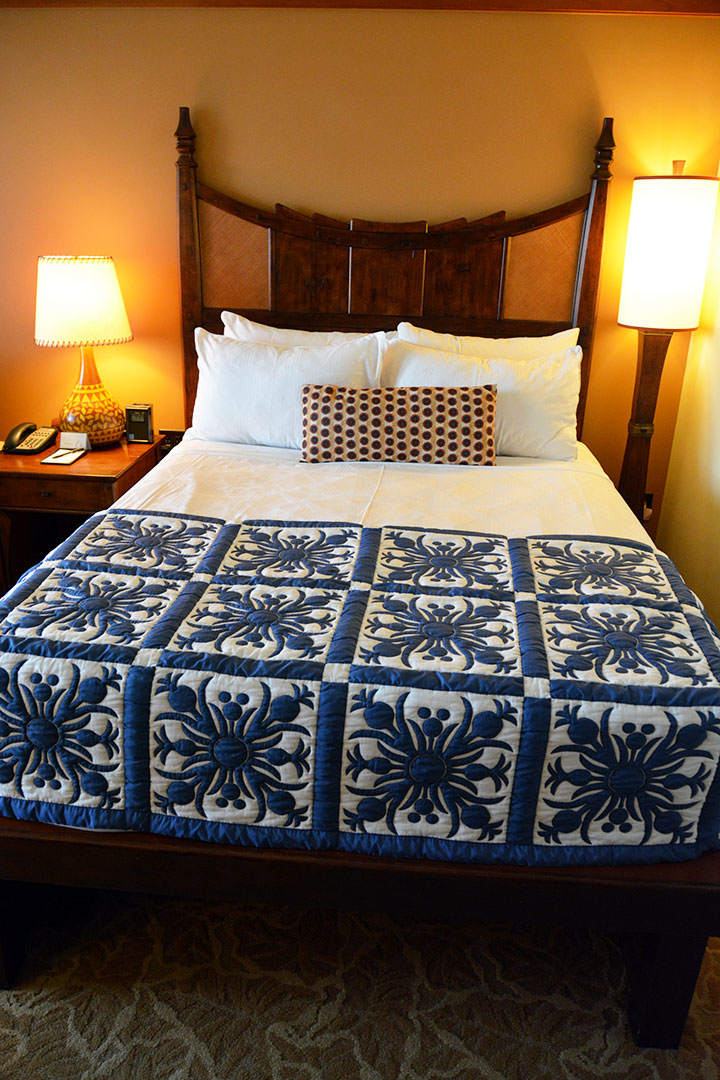 There are separate shower/dressing and toilet areas, but only one mirror and sink area.  It offers the typical H2O branded soap, shampoo and such that you'd find in other Disney resorts.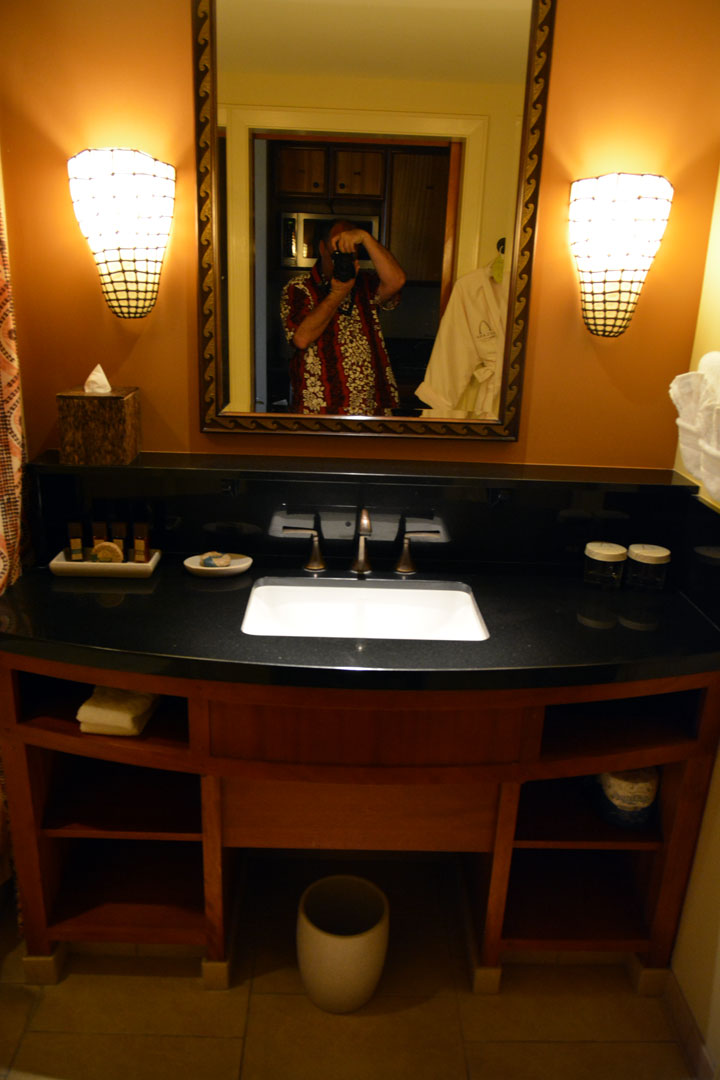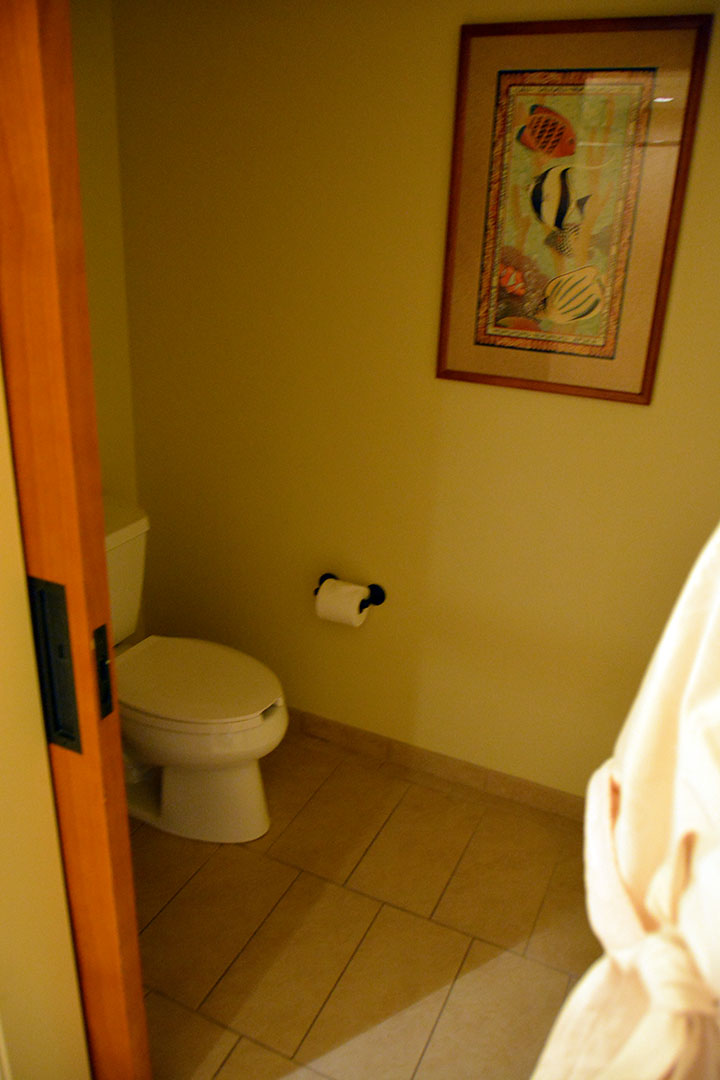 There are 2 bathrobes available for use and you can purchase them as well.  But I wanted to buy the lamp!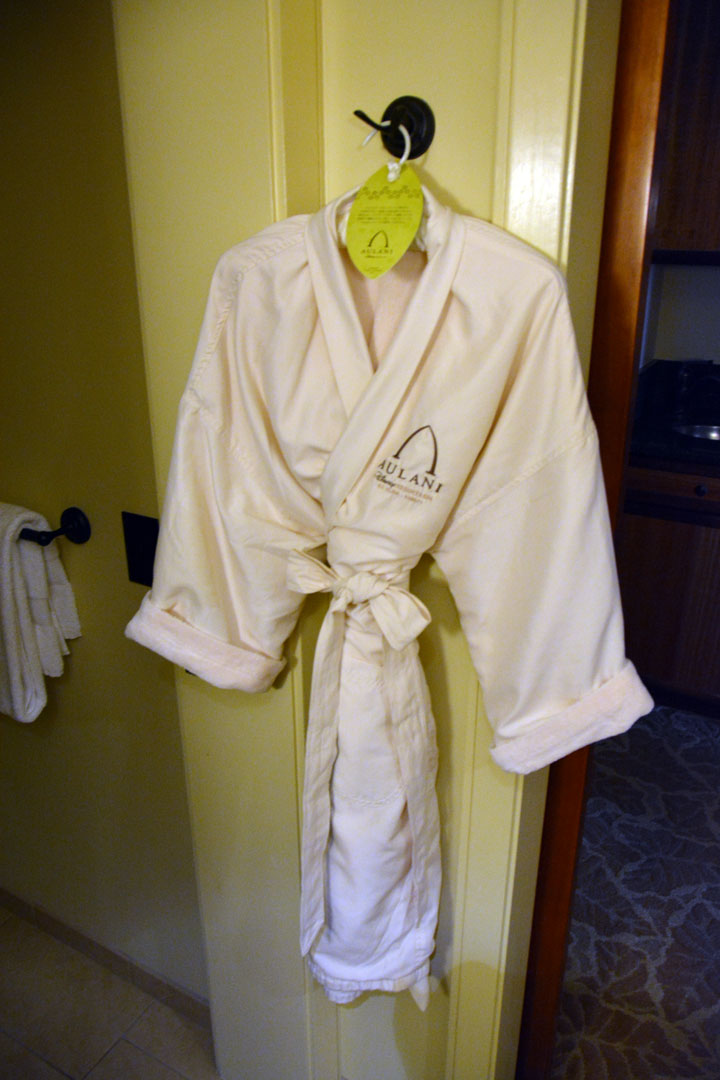 The Pack n Play crib is located in one of the closets along with a few hangers, an iron, ironing board and safe.  The Studio Villa does NOT offer a washer and dryer, but the 1 bedroom and higher Villans do.

There's a nice tiled rainfall shower area.  You can change the setting from forward facing shower to overhead.  There was ample hot water.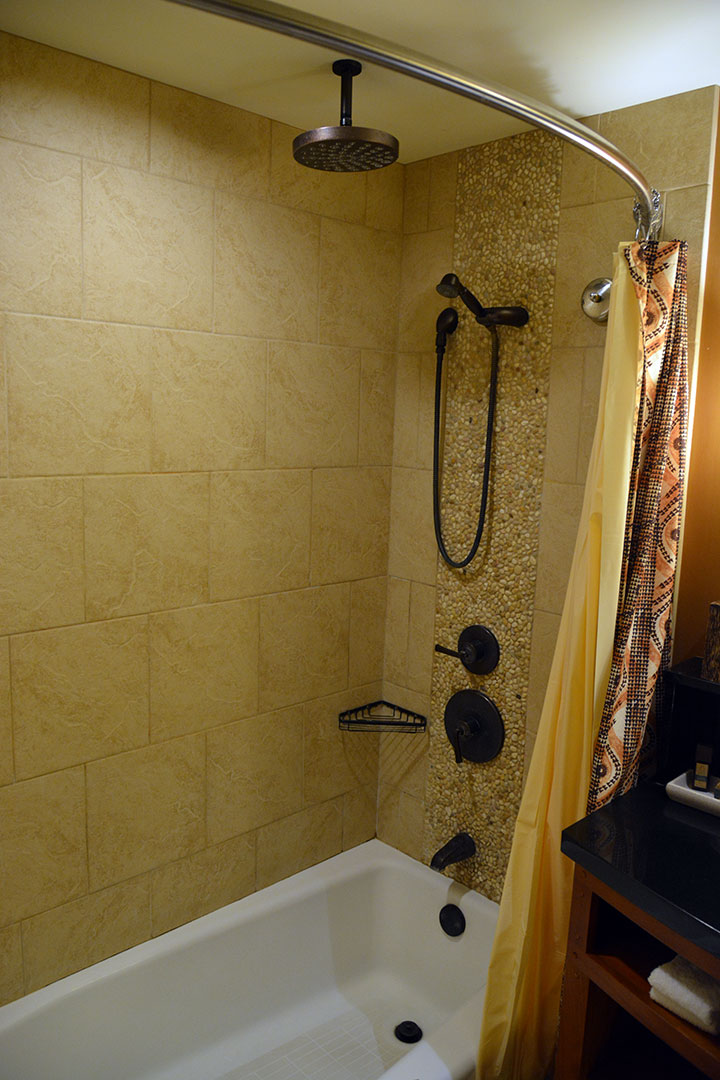 All the DVC units offer some version of kitchen or kithenette.  Our Studio room had a microwave, some dishes, a coffee pot with coffees and teas and a small refrigerator with small sink.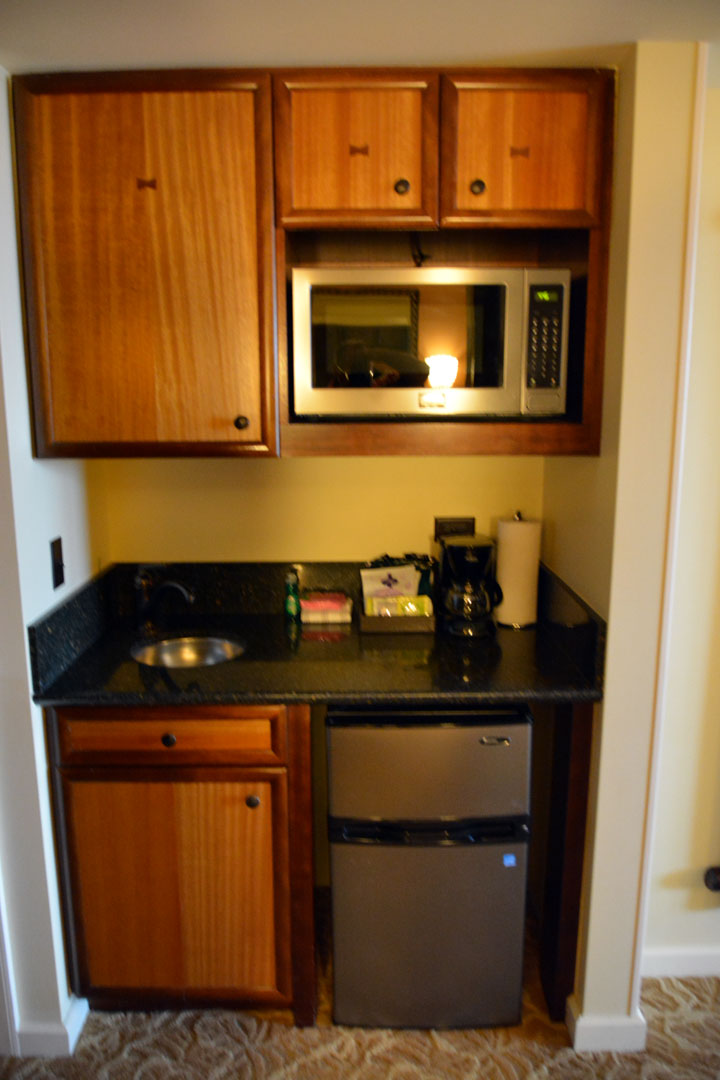 This was our "Standard" view.  We were overlooking a courtyard.  The roof below needs a little work :)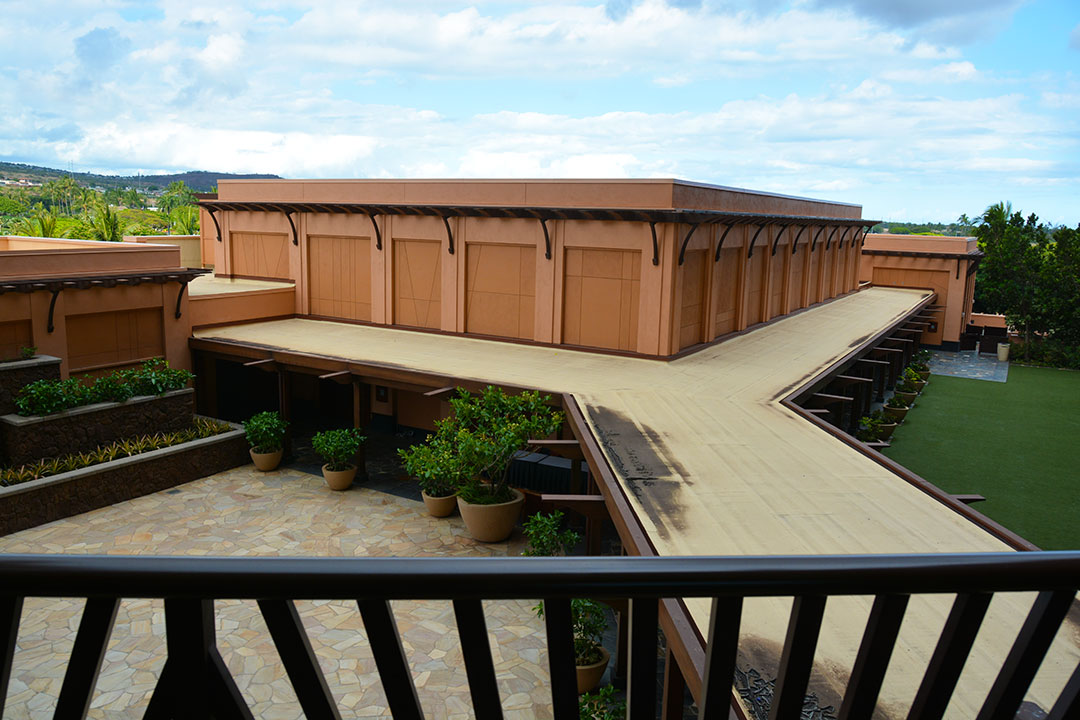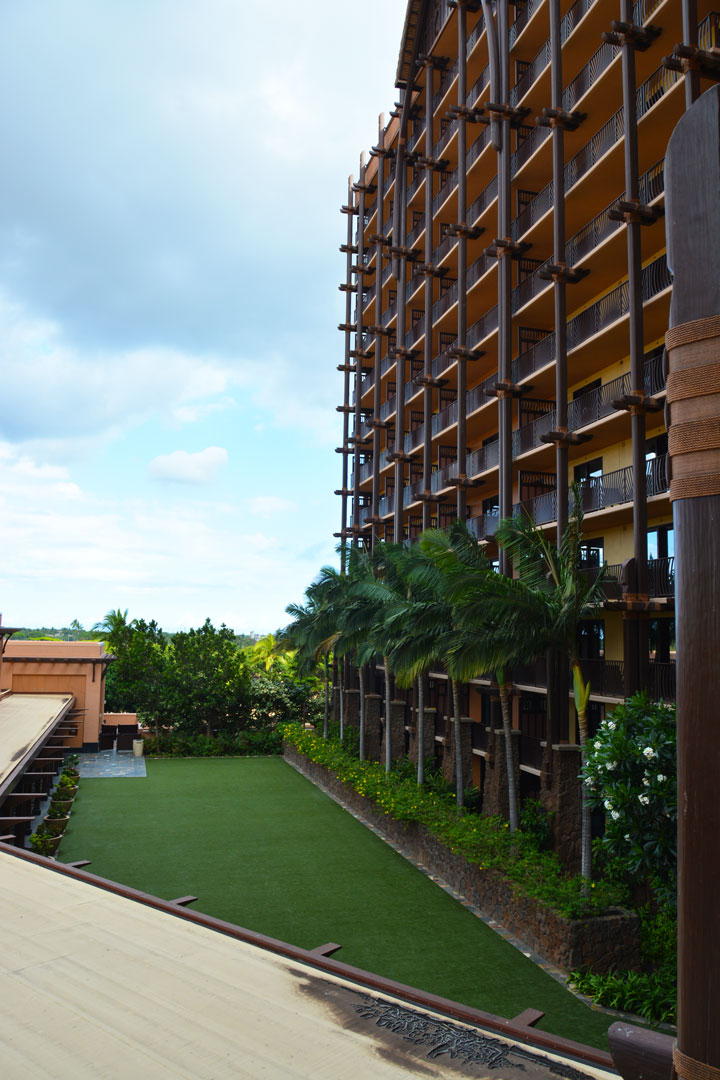 Off to the left we had a view of the foothills of the mountain.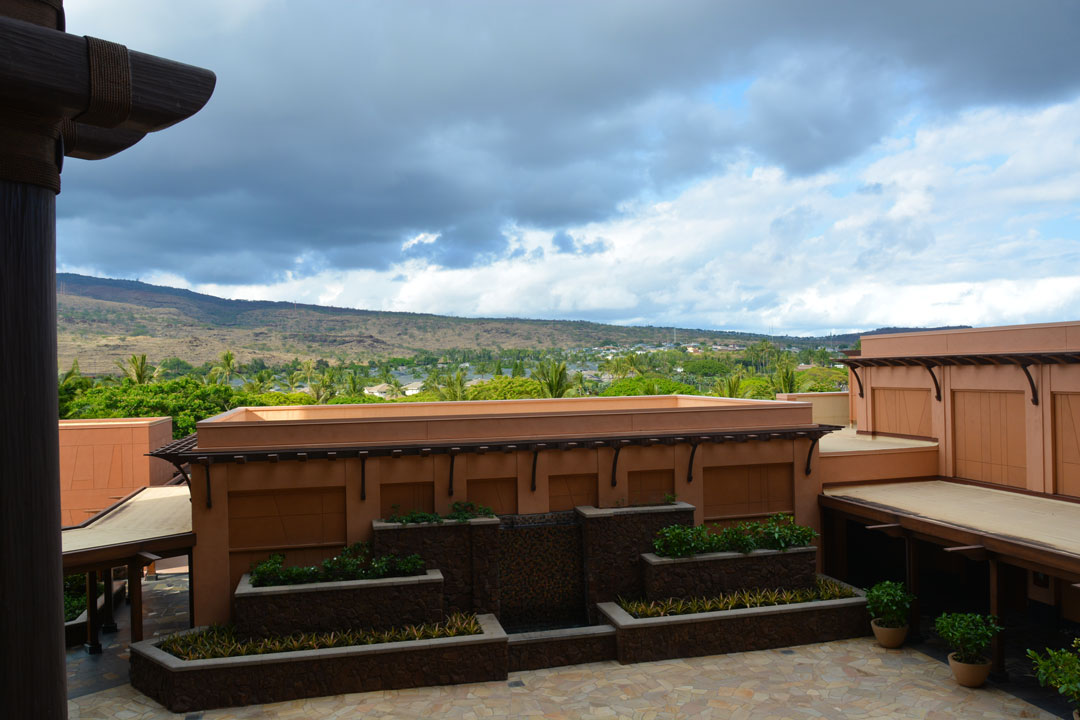 The Wifi service was very strong in the room and varied around the resort.  The closer you get to the shore, the more spotty the service becomes.  If the view is important to you, be sure to book the view you desire.  We spent all our time out playing, so the view wasn't important to us.  If you are traveling with a family, I would look at the 1 bedroom and higher Villa suites and I recommend renting DVC points to save some money for your trip as well.  Book far in advance because rooms at Aulani book quickly during travel seasons.