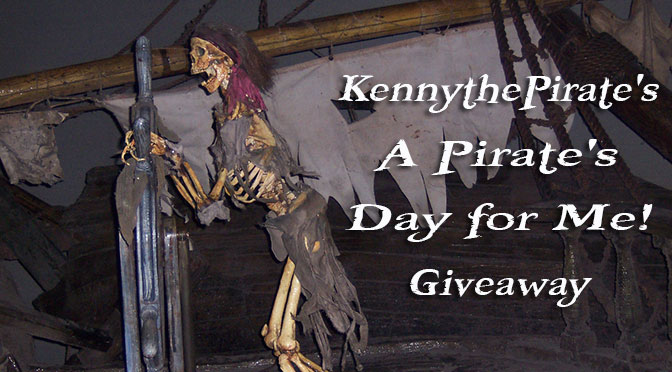 "A Pirate's Day for Me" – Spend a Day with KennythePirate Giveaway
Update:  The winner has been selected for the giveaway.  I'll be spending the day with Kerry D on May 16 at Star Wars Weekends.
Many guests of this website have asked if I'm available to meet up during their vacation.  I'd love to be available to each one of you for each trip, but job, family and other commitments hinder me from being in every place at once :)  With that said, I've decided to do a fun contest.  Win a day with KtP!
The grand prize for the sweepstakes will include spending up to 6 hours together meeting characters, riding rides, watching shows or eating a meal with you and your family.  What we do during our time in the park will be up to you!  You can choose the attractions and I'll maximize the order to have the best time possible.  I'll even bring along my camera to document our fun day together.
Will we ride Pirates of the Caribbean or Tower of Terror?  Will we catch a great parade or watch fireworks?  Will we meet Gaston or Peter Pan?  Perhaps you'll see my awesome dance moves at a dance party?
How to enter:
 You must subscribe to my email updates above or on the sides of the website.  (Note for maximizing the subscription:  After receiving your first email update, click on "Manage subscription" at the bottom of the post.

 You must leave a comment below using the same email as the subscription  (Your email address is always kept private and only I can view your email address).  Don't leave your email address as the commment :)

Multiple members of the same family or touring group may participate as long as they are 18 years or older and have a valid email address.
Winner must be 18 years or older.  Enter between March 2 and March 30, 2015 and the prize must be fulfilled in the year of 2015 with advance notice to KtP.  It's that easy!  Feel free to share with friends who may be visiting as well.
I will contact the winner via email and begin setting up the fun day together.   Winner and family will be required to have valid park admission and there is no financial value for this prize.