We'll begin today with an overall wait time average for all four parks for February 22 through 28, 2015 during peak times at each park.  You'll notice this week that the wait times for Saturday were much lower.  They were lower because we experienced a major thunderstorm and rain that lasted most of the day which greatly deflated the wait times versus what they should have been.
We are beginning to see the start of Spring Breaks for colleges, high schools and even foreign countries like Canada which affects the attendance at the parks.  It also affects the wait times and will affect how difficult it can become to score last minute Fastpasses and which Fastpass+ is available at the in-park kiosks.
You'll notice from this chart that Hollywood Studios has the highest average waits, mostly due to Tower of Terror, which we'll discuss later.  It also offers the popular Toy Story Midway Mania and Rock n Roller Coaster attractions.  It seems to me that WDW would focus on building great attractions at parks not named Magic Kingdom.


Animal Kingdom
One thing you'll notice about Disney's Animal Kingdom is that no one seems to go there.  Lately, it's one giant construction wall.  However, I will state that I still really enjoy this park for it's few great attractions and especially the animals.  It's always great seeing beautiful animals.  Wait times are really low at headliners in this park versus other parks where you'll find headliner wait times exceed 45 to 60 minutes, even on slow weeks.  It's easier to find Fastpass+ here, but the Mickey and Minnie meet and Kilimajaro Safaris are the priorities.  Kali River wait times will surge as the weather warms up.  It regularly averages more than 60 minutes in warmer weather.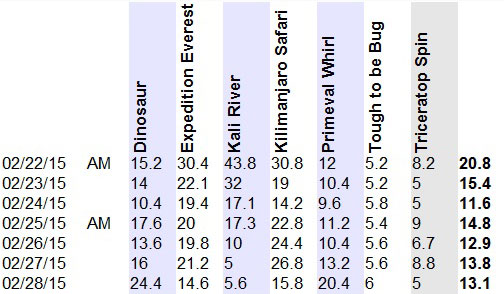 EPCOT
Epcot continues to demonstrate that there are two really dominant rides, both tier 1 Fastpasses, and the other rides are close to being walk-on during slow and moderate weeks.  If you aren't using a Fastpass at Spaceship Earth, just visit later in the afternoon for no wait.  Don't EVER bother with a Captain EO Fastpass+!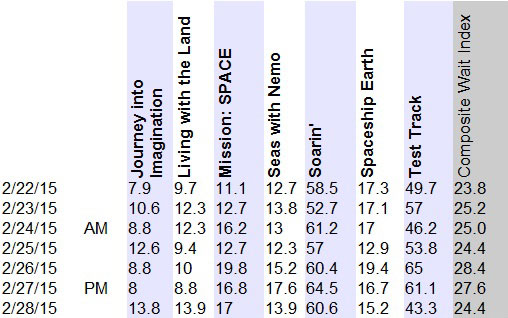 Hollywood Studios
Tower of Terror continues to experience higher than average wait times due to the constant ride stops and using only one shaft for operation.  It's also difficult to find several Fastpasses for a group together on the day of a visit.  Tower of Terror has become a higher priority than Rock n Roller Coaster in terms of Fastpass.  The wait times for Tower of Terror were the highest of any attraction in Walt Disney World this week.  Another attraction that isn't mentioned here is the For the First Time in Forever: Frozen Sing-a-long.  I would schedule Tower of Terror and the Sing-a-long and either Toy Story Mania or Rock n Roller Coaster for a visit.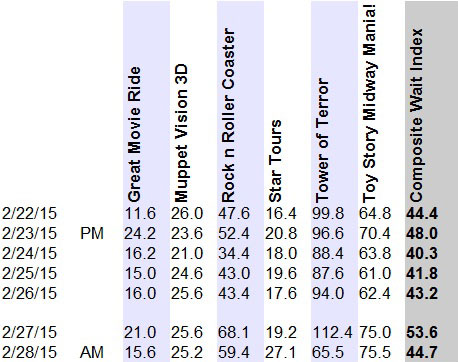 Magic Kingdom
The priorities at the Magic Kingdom continue to be Anna & Elsa, the Seven Dwarfs Mine Train and Peter Pan's Flight.  Other high choices are Space Mountain, Meet Cinderella and Meet Mickey Mouse.  Under the Sea was closed this week due to refurbishment and Pirates was closed briefly.

Anna and Elsa Wait Times
Someone asked if I could provide a demonstration of the posted wait times for the Anna and Elsa meet and greet.  This little chart will demonstrate that my advise to do one of these things is spot on:
 Secure Fastpass+ 60 days in advance for onsite guests
Be among the very first guests to meet them a park opening
Go shortly before they end their day.
If you fail to follow that advice, you should expect a wait time that will wait a really long time in a really boring line.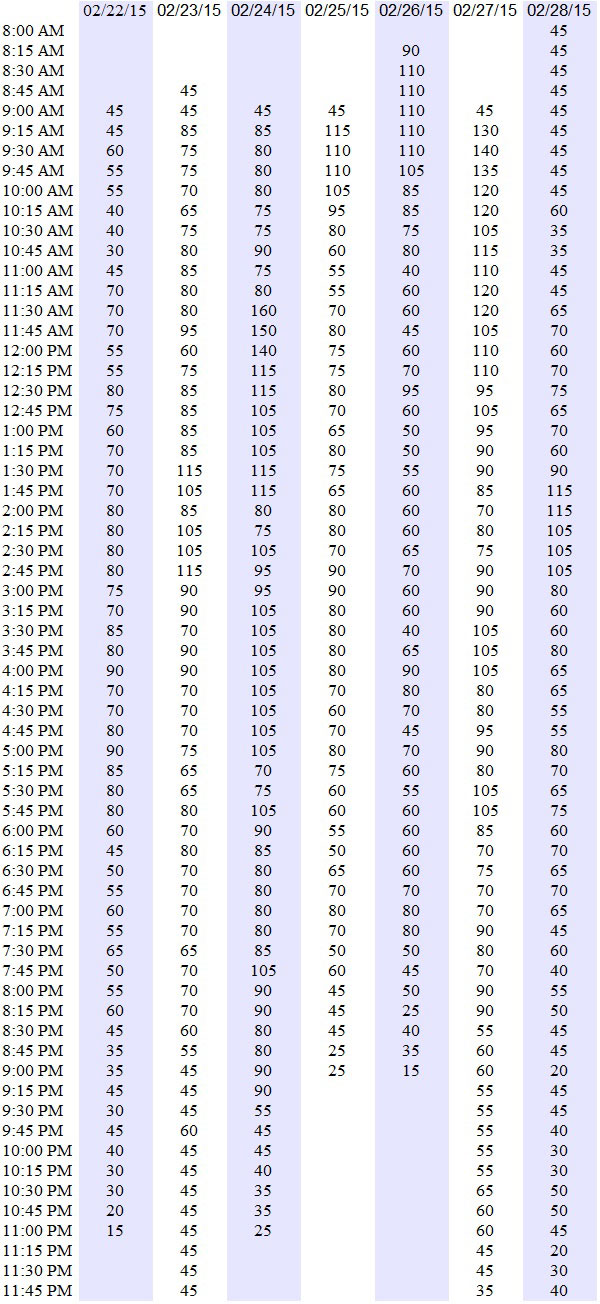 I never wait in lines, even on ultimate tours, so follow the advice I give in my Touring Plans and my Fastpass+ advice and you'll have a great trip with little or no waiting in lines!