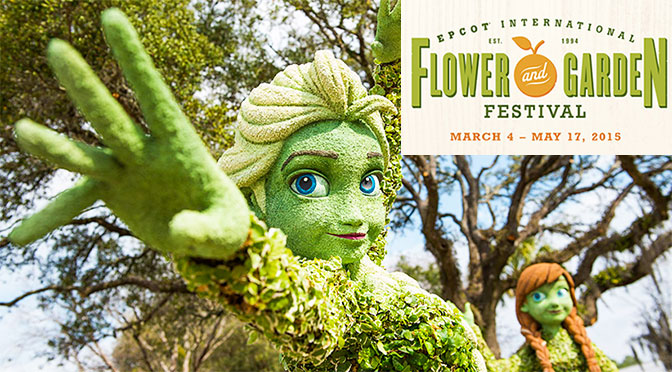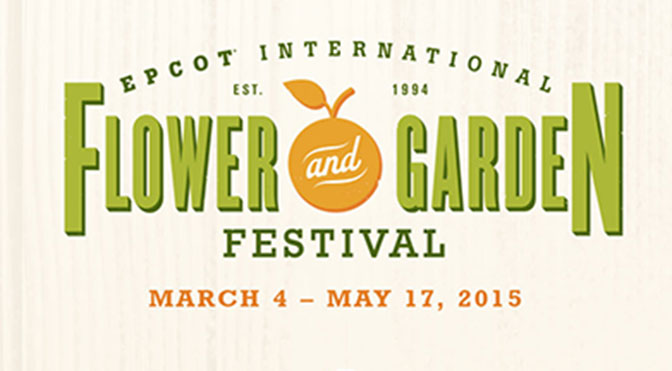 KennthePirate's Complete Guide to Epcot's Flower and Garden Festival 2015
Epcot's Flower and Garden Festival is an opportunity to see some beautiful flowers, check out some great Disney themed topiaries, grab a few sampler bites, listen to some classic music and receive advice on gardening from professionals.  The event takes place from March 4 through May 17, 2015 at Disney World's Epcot theme park and is included with park admission (food and drink items and some seminars are offered at an additional cost).
Flower and Garden Festival Park Map
For 2015 Epcot has combined it's regular park map with all the information for the Flower and Garden Festival, including topiary locations and food kiosks with menu overviews.


Times Guide
Each weekend the Flower and Garden Festival will feature a special Times Guide with various activities and show times, be sure to pick one up as you enter the park!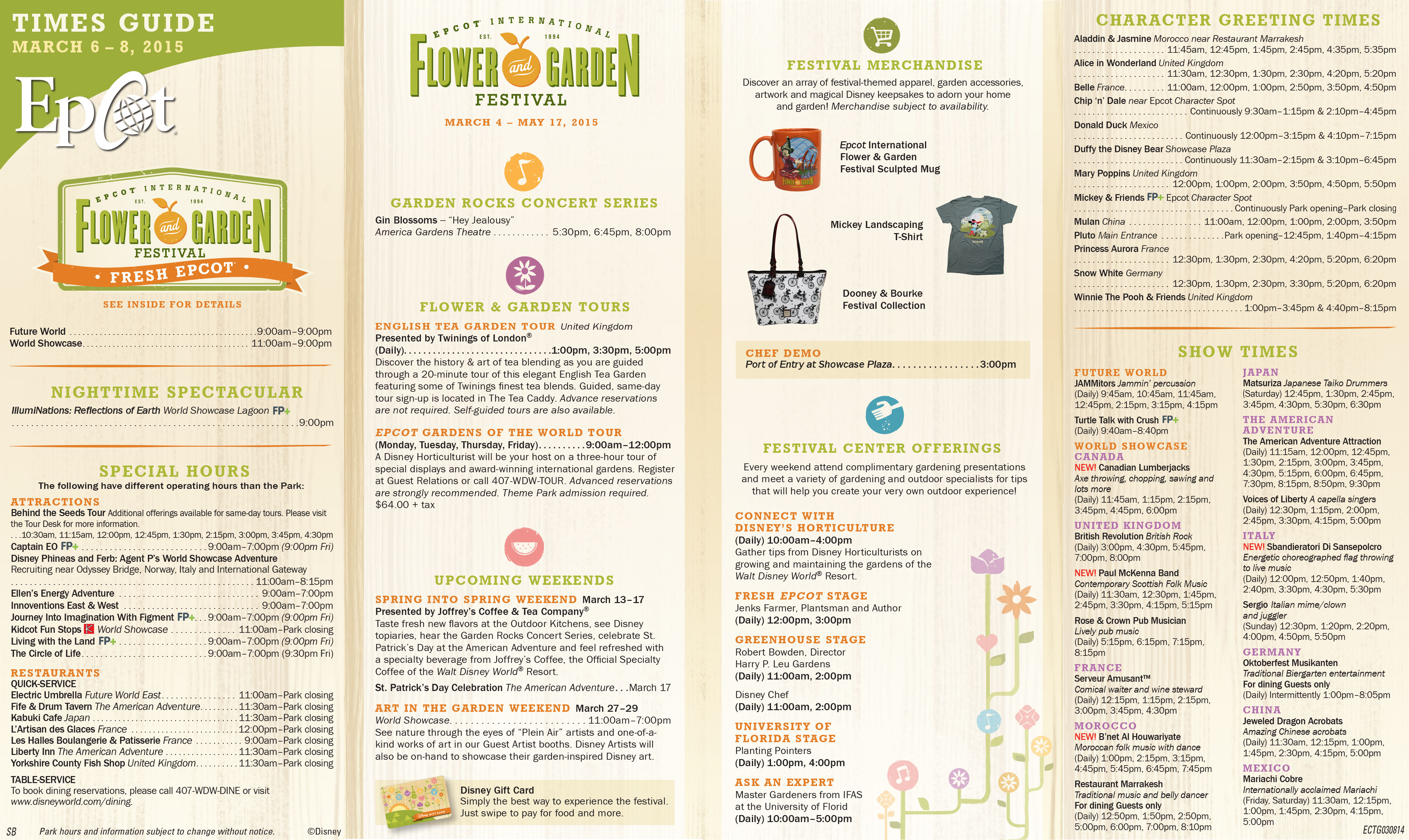 What can I do at the Flower and Garden Festival?
Gardening seminars
The gardening seminars are always located in the Festival Center which is hidden between Ellens' Energy Adventure and Mission:  Space.  A variety of professionals give expert advice on gardening and landscaping.  The Festival Center will only be open on weekends during park operating hours.
Enjoy complimentary gardening demonstrations and meet a variety of horticulture specialists for tops to create your very own outdoor experience!
Connect with Disney's Horticulture – 10:00am to 4:00pm.
Garden Theatre 10:00am to 5:00pm
Heritage of Disney Horticulture – 10:00am to 5:00pm
Greenhouse Stage – 11:00am and 2:00pm
Fresh Epcot Stage – 12:00pm and 3:00pm
Topiaries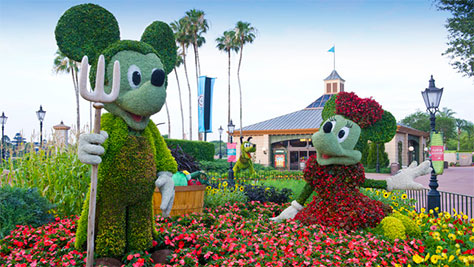 Disney offers more than 100 special themed topiary sculptures for this event.  You can find Anna & Elsa, Mater and Lighting, Belle and Beast and much more.  They are clearly identified on the park map.
Anna and Elsa – NEW!
Located at World Showcase Plaza
Goofy About Spring – NEW!
Featuring Goofy, Chip 'n Dale and friends
Located near the Main Entrance
Miss Piggy & Tour de Fleurs Garden – NEW!
Located at the Italy Pavilion
Spring Is in the Air!
Featuring Butterfly Topiaries
Located behind Spaceship Earth
Disney•Pixar Buzz Lightyear
Located near Mission Space
Cactus Road Rally
Play area featuring Mater and Lightning McQueen topiaries
Located at the Test Track Walkway
Fantasia
Located at West Future World
Phineas and Ferb
Located at the Odyssey Bridge
Farmer Mickey & Minnie
Located between Future World and World Showcase
Bambi & Friends
Featuring Bambi, Flower and Thumper
Located at the Canada Pavilion
Peter Pan, Captain Hook & Tick Toc Crock
Located at the United Kingdom Pavilion
Aurora & Prince Phillip
Located between the International Gateway and France Pavilion
Beauty and the Beast
Located at the France Pavilion
Disney•Pixar Woody
Located at The American Adventure
Snow White and the Seven Dwarfs
Located at the Germany Pavilion
Lady and the Tramp
Located at the Italy Pavilion
The Lion King
Featuring Mufasa, Pumbaa, Rafiki, Sarabi, Simba and Timon
Located at The Outpost between the Germany and China Pavilion
Cinderella & Prince Charming
Located at the France Pavilion
Year of the Ram
Located at the China Pavilion
Troll
Located at the Norway Pavilion
Children's Play Areas and Gardens
Hummingbirds at Home – what's more fun that seeing hummingbirds float in the air, dancing backwards and forwards.
Butterflies on the Go – children love walking through this beautiful plant and butterfly filled area.  Discover the story of the Monarch butterfly in Future World as its epic journey across the continent is detailed! From day till dusk, see butterflies emerge from their chrysalis… and find a few fun surprises for the entire family too.
Mike and Sulley's Monstrous Garden – this is a great place for kids to burn off some steam while playing, climbing and swinging.
Illuminated Gardens: As the sun bids the day adieu, select Disney topiaries and Festival playgrounds all across Epcot will glow with light as the Flower & Garden fun continues into the night!
"Outdoor Kitchens" Food Kiosks
Savor a taste of spring from around the World!  There are 11 opportunities to enjoy food samplings from around the world during the Flower and Garden Festival in 2015.  Botanas Botanico is new for 2015 and the other kiosks offer some new items as well.  Many of the items can be purchased using your Disney Dining Plan Snack Credits, but alcohol is not included in the DDP.
Here's the menus for 2015
[ezcol_1half]
Botanas Botànico Seafood Ceviche (New for 2015) – Located between France and Morocco
Cachapa con Queso
White Corn Arepa
Coconut Tres Leches
Polar Beer
La Tizana
Monte
Paschoal Reserve Tannat
Monte Paschoal Natural Brut White Sparkling Wine
Urban Farm Eats – Imagination Walkway (near the Port of Entry shop)
Kale Salad
Quinoa Vegetable "naanwich"
Ghost Pepper dusted Tilapia
Cucumber Lemon Spa Water with a sprig of fresh Mint
Hess Shirtail Creek Vineyard, Chardonnay
King Estate Acrobat Pinot Noir
Urban Mary
Crispin Blackberry Pear Cider
Pineapple Promenade – World Showcase Promenade, Canada side
Spicy Hot Dog with Pineapple Chutney
Pineapple Soft-Serve with Sammy's Beach Bar Red Head Macadamia Nut Flavored Rum
or Parrot Bay Coconut Rum
Frozen Desert Violet Lemonade
Berry Tea Cocktail with Twinings Cold-Brewed Mixed Berry Tea
Sparkling Pineapple Wine
Ace Pineapple Hard Cider
Jardin de Fiestas – Mexico
Achiote marinated pork taco
Veggie Quesadilla
Mexican Chocolate Custard
Blueberry/Pomegranate Margarita
Tecate with Patrón Citrónge
Mexican Sangria
Tequila Flight
Lotus House – China
Kung Pao Chicken Bun
Beijing Style Candied Strawberries
Vegetable Spring Roll
Oolong Peach Bubble Tea
Kung Fu Punch
South Sea Storm
Honey Mango Wine Cooler
Tsingtao Beer
Plum Wine
Florida Fresh – next to Germany
Watermelon Salad
Shrimp and Stone Ground Grits
Florida Blueberry and Lemon Curd Tart
Watermelon Passion Fruit Slush
Key Lime Sparkling Wine
Blonde Ale
Channel Marker Red Ale
Feast of Flowers Farmhouse Ale (Festival exclusive)
Jai Alai
Beer Flight
[/ezcol_1half] [ezcol_1half_end]
Primavera Kitchen – Italy
Pinwheel of Mozzarella
Prosciutto, Ciabatta Bread
Cheese Manicotti
Lemon Custard with Raspberries
Pinot Grigio
Chianti
Prosecco
Corbinello
Moscato
Bellini
Rossini
Frozen Italian Primavera
Moretti Lager and La Rossa
Espresso, Coffee and Pastries at The American Adventure
Chocolate Stout latte featuring Monin chocolate, caramel and hazelnut with milk and espresso
Iced Bailey's latte featuring Bailey's Irish Cream liqueur with milk and espresso over ice
THE SMOKEHOUSE: Barbecue and Brews – American Adventure Courtyard
Pulled Pig Slider
Beef Brisket Burnt Ends Hash
Smoked Debreziner Sausage
"Piggylicious" Bacon Cupcake
Floridian Hefeweizen
Category 3 IPA
Maple Bacon Stout
Billy's Chilies
Beer Flight
The Original Rib Shack Red Wine
Frozen Lemonade
Frozen Lemonade with Palm Ridge Reserve Whiskey
R.C. Sweet Tea made with Twinings Cold-Brewed English Classic Tea
Hanami – Japan
Frushi
Teriyaki Curry Bun
Salmon Sushi
Kirin Draft
Yuzu Plum
Wine Slush
Strawberry Nigori
Karatamba Sake
Taste of Marrakesh – Morocco
Harissa Chicken Kebab
Falafel Pocket with cucumber tomato salad and Tahini Sauce
Pistachio Baklava
Desert Rose
White Sangria
Guerrouane Red
Mint Iced Tea
Fleur de Lys – France
Parisian style dumpling with vegetables and mushrooms
Pulled Duck confit, with garlic and parsley potatoes
Large Strawberry marshmallow macaron
Ice Pop Peach Grand Marnier Cocktail
La Vie en Rose St-Germain Vodka Slush
Kir Imperial with Sparkling Wine and Chambord Liquor
Beer Kronenbourg Blanc 1664
[/ezcol_1half_end]
Garden Rocks Concert Series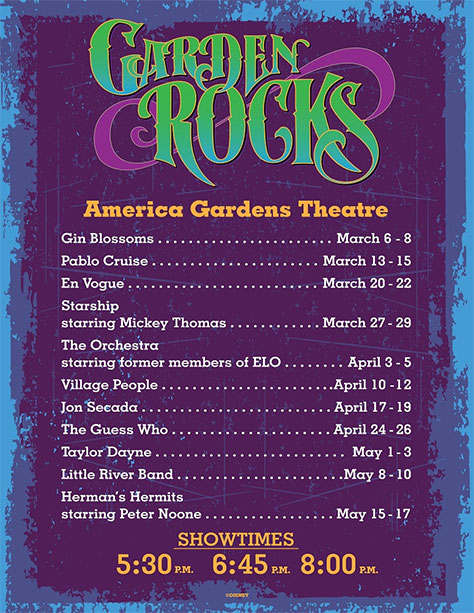 Special retro concerts are offered on the weekends only of the Flower and Garden Festival and each concert is free to all guests.  Each concert takes place at 5:30, 6:45 and 8:00pm Friday, Saturday Sundays only.  Every concert is held in the American Gardens Theater outside the American Adventure pavilion.  These are the actual artists.
March 6 – 8 Gin Blossoms
March 13 – 15 Pablo Cruise (New for 2015)
March 20 – 22 En Vogue
March 27 – 29 Starship
April 3 – 5  The Orchestra featuring members of ELO
April 10 – 12 Village People
April 17 – 19 Jon Secada
April 24 – 26 The Guess Who
May 1 – 3 Taylor Dayne
May 8 – 10 Little River Band (New for 2015)
May 15 – 17 Herman's Hermits Starring Peter Noone
Flower & Garden Passport
This year's Passport is available at the Festival Center, Flower & Garden merchandise locations and all Outdoor Kitchens.
Tours
Epcot Gardens of the World Tour – 3 hour tour led by a Disney horticulturist. These are offered on Mondays, Tuesdays, Thursdays and Fridays, from 9:00 AM to noon and cost $64.00, plus tax. You have to be 16-years-old or older to attend. (407) WDW-TOUR.
English Tea Garden Presented by Twinings of London Tea – this a free tour that lasts 20 minutes and takes place in the United Kingdom pavilion. Guests should register by signing up in The Tea Caddy in the UK pavilion.