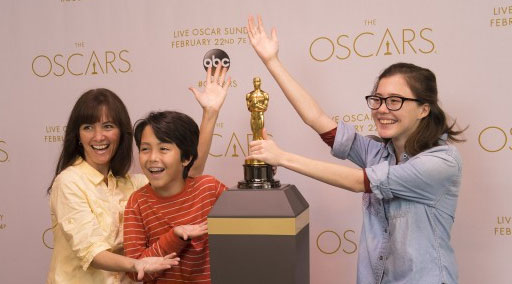 The "My Oscar Moment" photo opp will take place inside The Magic of Disney Animation building during regular park hours through Sunday, February 22. Here, guests can walk the red carpet and pose in front of a backdrop similar to the one that winning celebrities will use.  This has caused Minnie Mouse to take a new temporary location.
Minnie Mouse has moved out in front of the Chinese Theater / Sorcerer's Hat removal area along with the other classic Disney characters.  I've updated www.characterlocator.com with the map.   Expect her to follow the same schedule as Donald/Daisy for this week.  Minnie Mouse is scheduled to return to her regular room inside the Magic of Disney Animation on Monday, February 23.
LAKE BUENA VISTA, Fla. (Feb. 13, 2015) – In an awards season first, an Oscar® statuette takes center stage at Disney's Hollywood Studios the week leading up to The Oscars®.
Feb.16 to 22, Walt Disney World Resort guests have a once-in-a-lifetime opportunity to pose for a photo with the Oscar® statuette as part of festivities leading up to The 87th Oscars®, hosted by Neil Patrick Harris, live on the ABC Television Network on Sunday, Feb. 22 at 7p.m. ET/4 p.m. PT.
The first ever "My Oscar Moment" at Disney's Hollywood Studios, the Walt Disney World theme park awash in the glitz and glamour of Hollywood's Golden Age, will take place during regular park hours inside The Magic of Disney Animation building.
Guests visiting "My Oscar Moment" inside the theme park will be immersed in all of the star-studded backstage excitement as they walk the red carpet to pose with the Oscar® against a signature backdrop similar to the one used with A-list stars on the big night.
The statuette represents the pinnacle of entertainment awards honoring cinematic achievements in film.
This exclusive photo opportunity is the first to give Oscars® fans and movie buffs the chance to pose with an Oscar® and snap a photo since 2012, during the "Meet the Oscar®" event in New York.