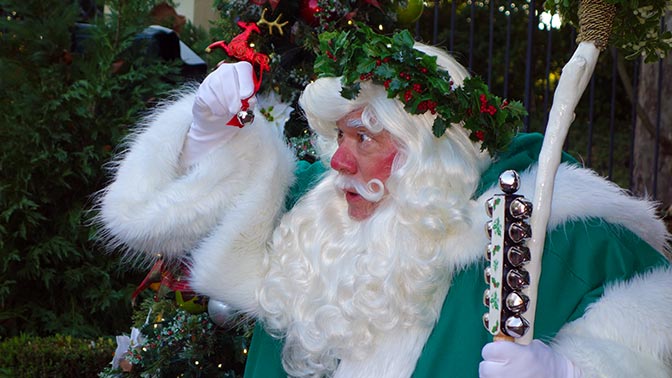 From November 28 through December 30, 2014, China, Mexico and Morocco will be offering new Holidays Around the World celebrations at Epcot.  Traditionally each country in the World Showcase presented a little storyteller show that presents that country's cultural holiday traditions.  In 2014, Epcot will make some additional changes to the guest offerings.
China will remove the historical Monkey King storyteller and provide a celebration of the Lunar New Year and Lantern Festival that features a Chinese Lion Dance.  Epcot briefly tested a performance of this type a few years back before settling on the current show offered during the day.
Mexico will offer a new "Fiesta de Navidad" celebration featuring an upbeat mariachi band with festive dancers and Morocco will feature a new storyteller show.  Epcot offered a new Canadian Holiday Voyageurs for 2013 and that show will return along with the storytellers from France (Pere Noel), Germany (Helga and the Nutcracker), Italy (La Befana), Japan (Daruma vendor), Norway (Julenissen and Sigrid) and the United Kingdom (Father Christmas).
In the America pavilion guests will be invited to meet Santa and Mrs. Claus until Christmas eve, learn about Hanukah and Kwanzaa and listen to the dulcet tones of the Voices of Liberty as they perform traditional Christmas carols.
Epcot will also return the popular group known as "Joyful – A Gospel Celebration" at the Fountain Stage in Future World.
I hope to have the full schedule for the performances and build a new Touring Strategy next week.
Some of the special tasting areas that allow guests to sample flavors from around the world will include:
World Showcase Promenade:  Turkey waffle (a sweet potato waffle with roast turkey and green bean casserole)
Canada Pavilion:  Pecan-maple bark
United Kingdom Pavilion:  Hot applejack cider with whiskey and a blend of seasonal spices
France Pavilion:  Bûche de noël au chocolate (chocolate cake shaped like a log) from Les Halles Boulangerie Patisserie and gingerbread ice cream from L'Artisan des Glaces.
Morocco Pavilion: Honey walnut baklava from the Morocco Juice Bar
American Adventure Pavilion:   Gingerbread man, chocolate chunk cookies and sugar cookies, hot chocolate, hot apple cider and peppermint bark
Italy Pavilion:   Panettone a type of sweet bread loaf, moscato wine, and ciocolata calda (hot chocolate)
Germany Pavilion:  Stollen fruit cake and sip glühwein (hot spiced wine)
China Pavilion: Kaikouxiao (happy face fried cake) from The Joy of Tea kiosk
Norway Pavilion:  Rice cream from Kringla Bakeri Og Kafe
Mexico Pavilion:   Sweet tamales at La Catina de San Angel
Illuminations will continue to feature the very popular holiday.
Here's the performance schedule for the Candlelight Processional (subject to change without notice).  The Processional is performed at 5:00 pm, 6:45 pm and 8:15 pm nightly.
November 28 – 29: Jodi Benson
November 30 – December 2: Neil Patrick Harris
December 3 – 4: Jonathan Groff (NEW!) 
December 5 – 6: Whoopi Goldberg
December 7 – 9: Levar Burton
December 10 – 11: Edward James Olmos
December 12 – 14: Joe Morton
December 15 – 17: Chita Rivera
December 18 – 20: Ana Gasteyer (NEW!)
December 21 – 23: Marlee Matlin
December 24 – 25: Isabella Rossellini
December 26 – 27: Blair Underwood
December 28 – 30: Steven Curtis Chapman