[quads id="1″]
STEP 2: ASSESS DIFFICULTY
The hardest restaurants to "get" are the signature dining locations and the character meals. But there are some restaurants within that elite list that are just downright impossible to get. These include:
Cinderella's Royal Table (Cinderella's Castle)
Be Our Guest Restaurant (Belle's Castle)
The California Grill 
Hoop De Doo Review 
Mickey's Backyard BBQ 
Chef Mickey's
La Cellier
Victoria and Alberts 
Fireworks Viewing Locations (Rose and Crown, California Grill, Tomorrowland Terrace, etc.)
I make a new spreadsheet with just the dining locations, dates, and "ideal" times. Any restaurants on the above list then gets tagged with a #1 by them. All other character dining or signature dining get a #2. Everything else gets a #3.
Remember, this ranking isn't about how much YOU want to go to the restaurant OR where it falls in your trip chronologically, but rather how hard it is to book.
Finally, I sort the list by the priority ranking. Easy, right? You'll notice that there are very fancy meals that aren't on the priority 1 list, like Ohana or the Perfectly Princess Tea Party—- though these are really awesome experiences, they don't book up like Cinderella's Castle does, so even if they're high on your to do list they still get a #2.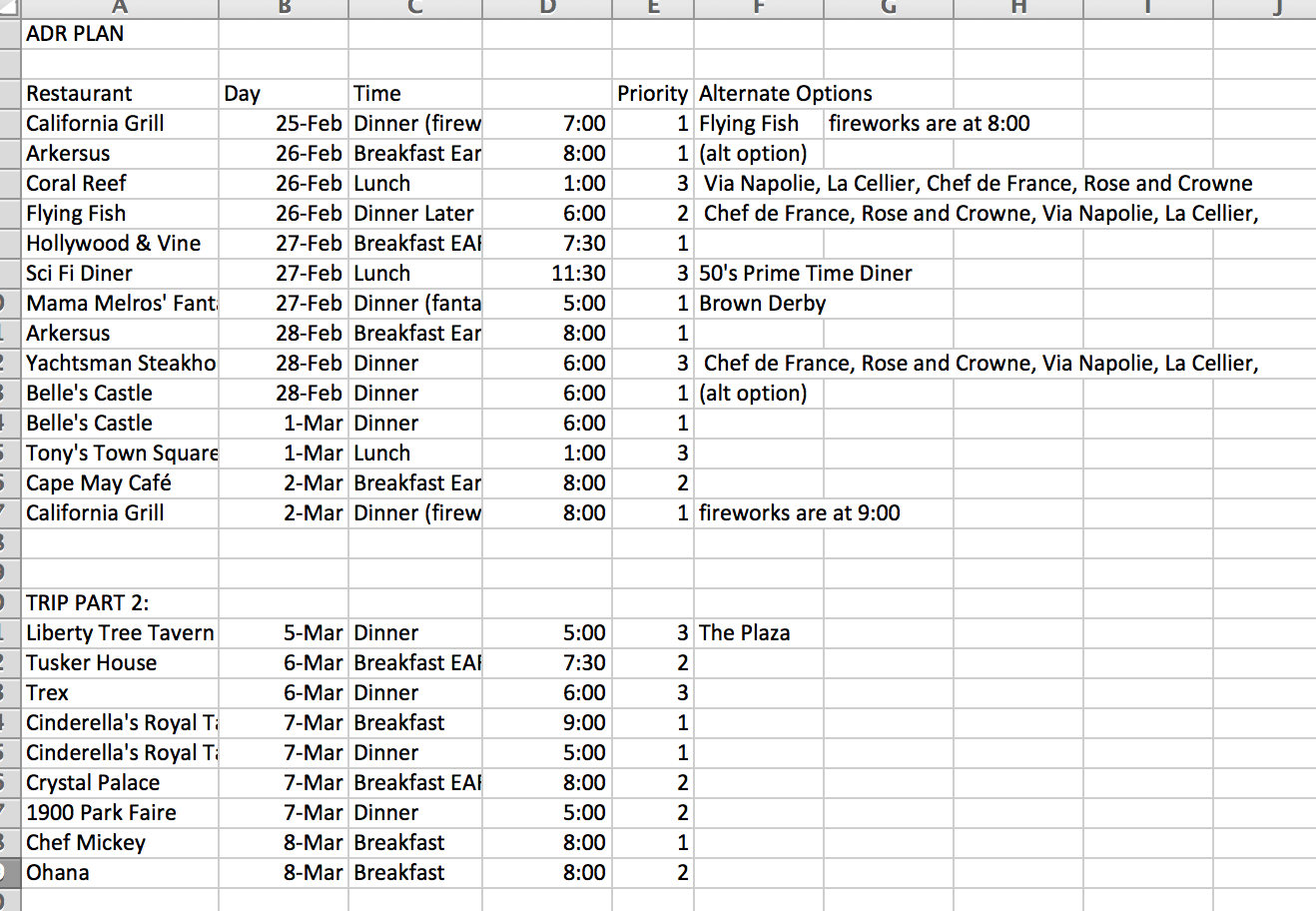 I'll put notes next to certain reservations, for instance if the meal HAS to be at a particular time, or if there are alternate dining options that would be OK, or if it is contingent on another experience we have planned for the day. This minimizes the amount of thinking on my feet that I have to do at 6AM. If what I want is booked up, I can check out my notes for alternates and snag one of those real quick so I'm not completely shut out.
A note about duplicate reservations: Disney's system is set up to kick out reservations for two restaurants at the same time. They did this because people were booking a couple restaurants so that they'd have choices on the day of their trip. This is a great change to ensure everyone has a fair chance to experience Table Service dining. BUT if you're in a situation like I was in 2013 where you are making reservations for a large group of people, you might wind up needing to make two dinners for the same time slot. (For instance, the first night of our stay my family wanted to eat at TREX and my cousins' family wanted to eat at Ohana, so we planned to go our separate ways, but because we were staying in a suite with the same reservation # it made making those reservations really hard.) What we found was that you can schedule any number of reservations so long as they're an hour apart— so you can schedule a dinner reservation for 5pm and another for 6, but you can't schedule two dinners for 5 pm.  Make sense?
NOTE: when you call up and speak to a representative they can sometimes over ride the system for you, but that takes time and as you will see shortly when making your ADRs every minute counts.
Continue to page 3 below!