[quads id="1″]
STEP 3: DIVIDE AND CONQUER AND PREPARE
How many adults are in your group?  Divide your dining list up by that many. In my case, there is myself, my mom, and my husband. Each person gets a #1 priority reservation that it is their responsibility to book, then we divide up the #2s and #3s.  If there are competing #1's and #2's I will at this point put them in sub-order of what we want to do most.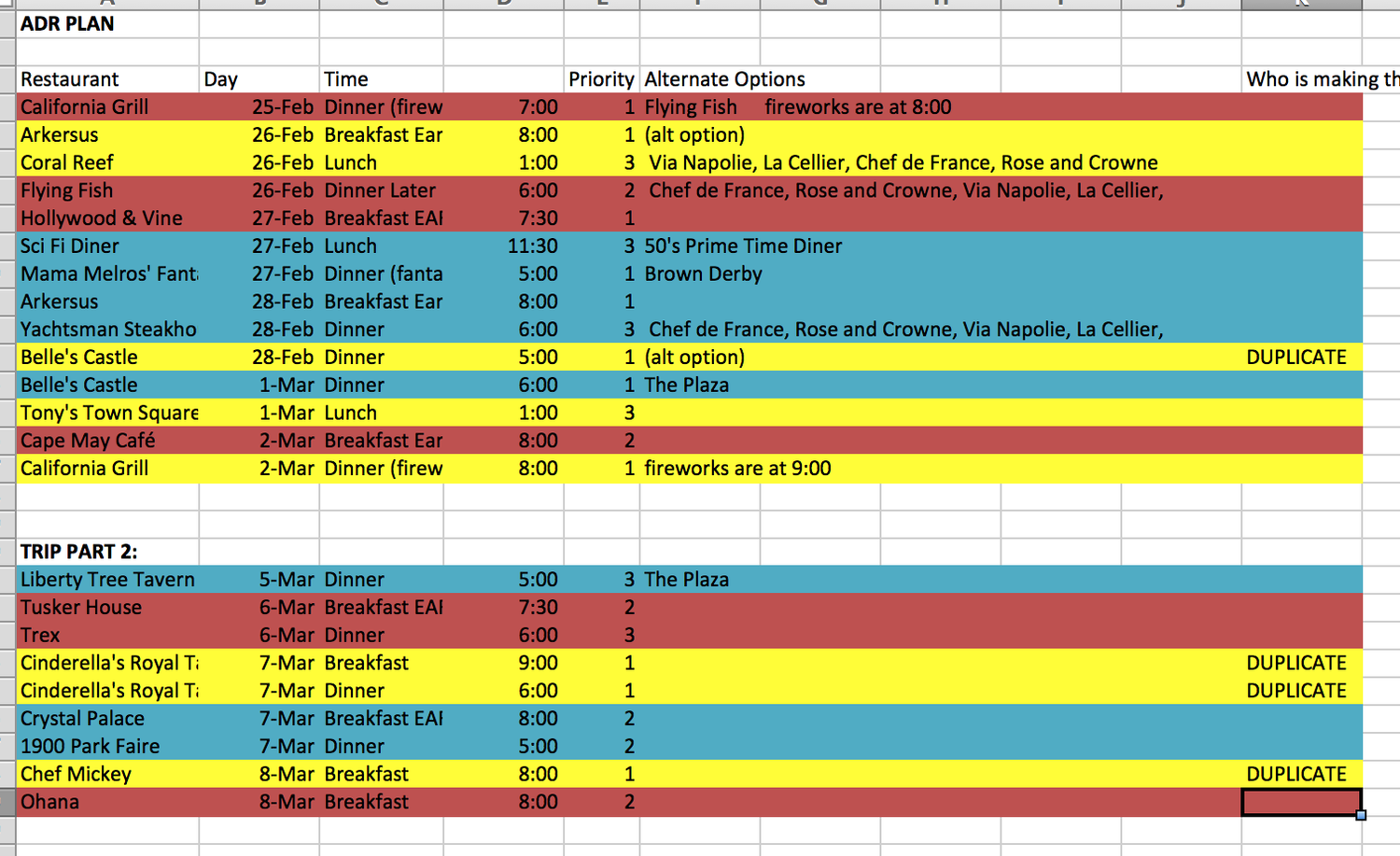 Each person making reservations needs to have their own Disney.com account (login/password). Before reservation day I make sure that each person logs in and practices making a reservation— you can cancel it right afterwards— to make sure we are all aware of what the steps and process are, and to pre-fill in the credit card information. This saves crucial time the morning when you're trying to get those priority #1 reservations. (I'm not going to do a tutorial of the Dining Reservation system here because it could change, suffice to say that you need to get in there and play around with it yourself until you are confident that you know all the steps involved, what/where/when to click, and can make reservations quickly.) Remember to save a credit card to your account ahead of time because the system requires a credit card # to secure the reservation and you don't want to be held up by having to type in the number on the morning of!
Make sure you remember to link your Disney.com account to your hotel reservation (if you haven't already), or you won't be able to book those all important 180+10 dates. You do this by going under "My Reservations" and entering your reservation number.
My reservation assignments: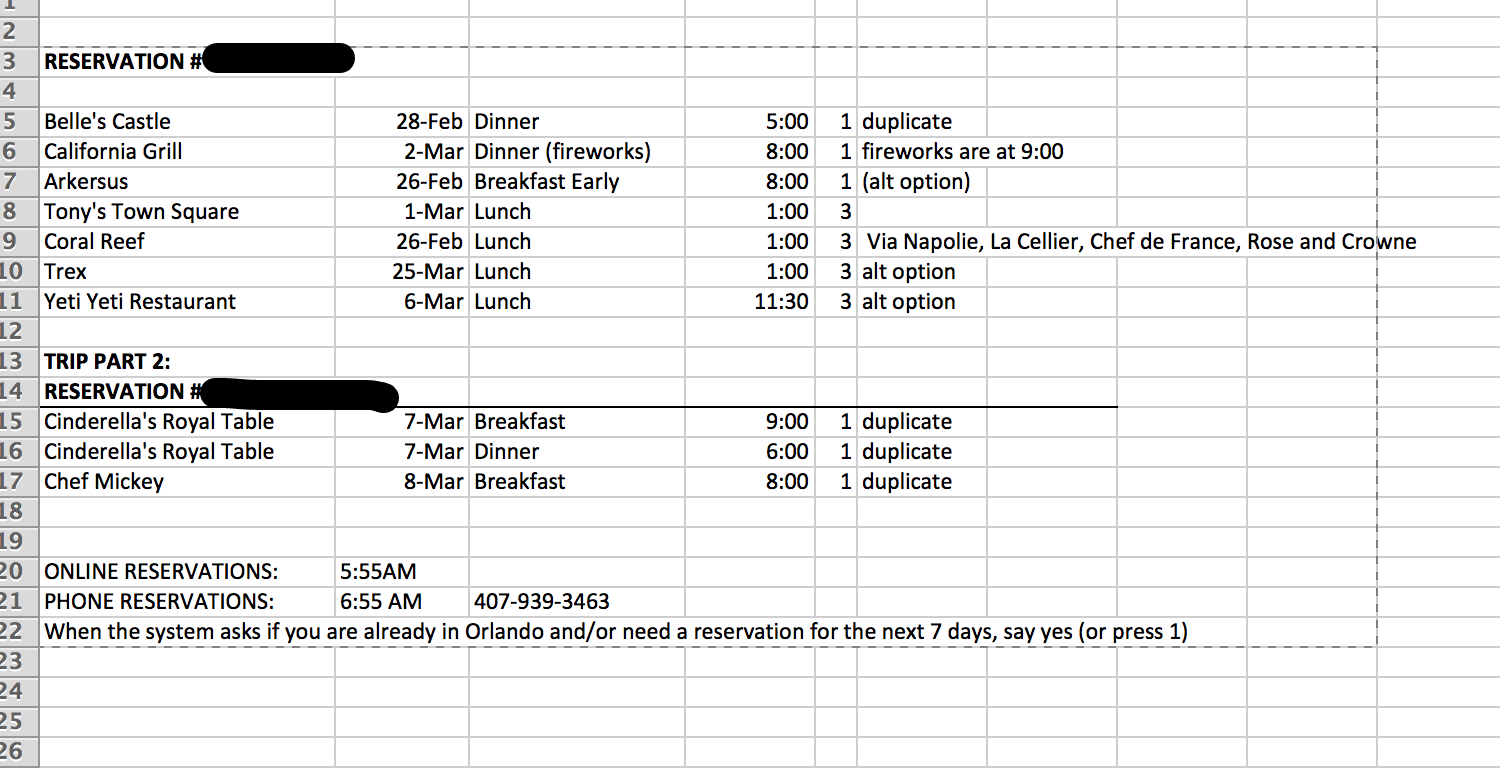 My husband's reservation assignments: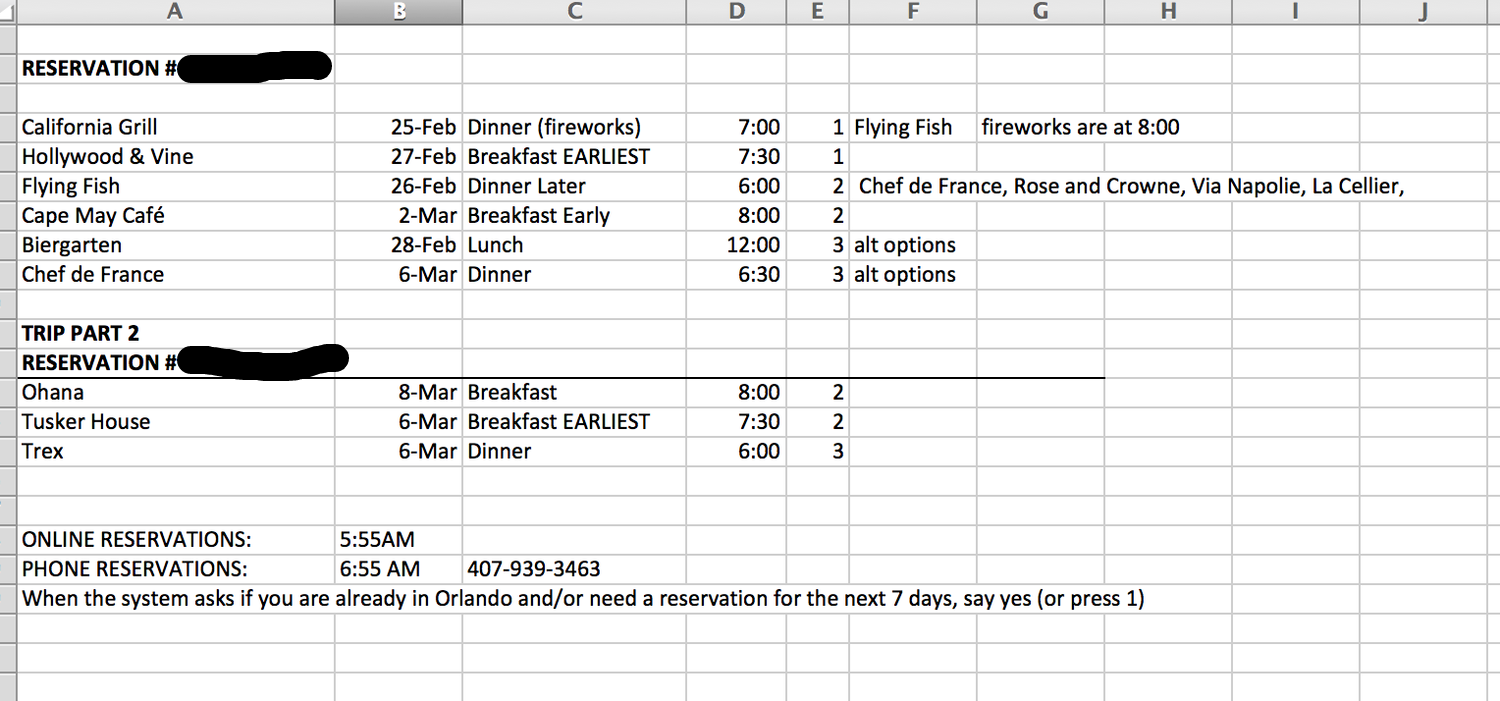 Here's and extra little tip I discovered this time around: in the Disney website there is a "wish list" function. If you add the restaurants you will be making reservations at to this wish list it acts as a quick links when you are making the reservations, shaving crucial seconds off your booking time. You laugh, but those seconds can make the difference between getting Cinderella's Castle AND Belle's Castle or just Cinderella's Castle—- seriously! You could also use your web browser to bookmark the pages for the restaurants you want. Anything that makes it easier for you to get to the next restaurant on your list.
Continue to page 4 below!