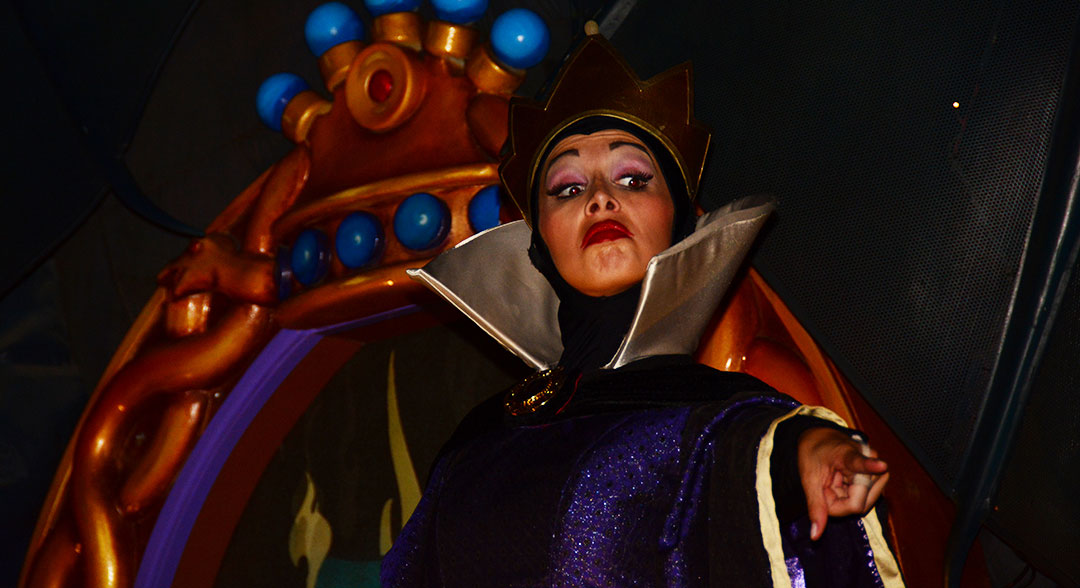 Got your Double Espresso Mocha Latte Cappuccino ready?  There's over 135 (mostly high quality) photos plus videos in this review.  I'll forgive you if you have to favorite it and return later.
Be sure to check out my full Mickey's Not So Scary Halloween Party event guide too!
(Click on any pic for a larger view.)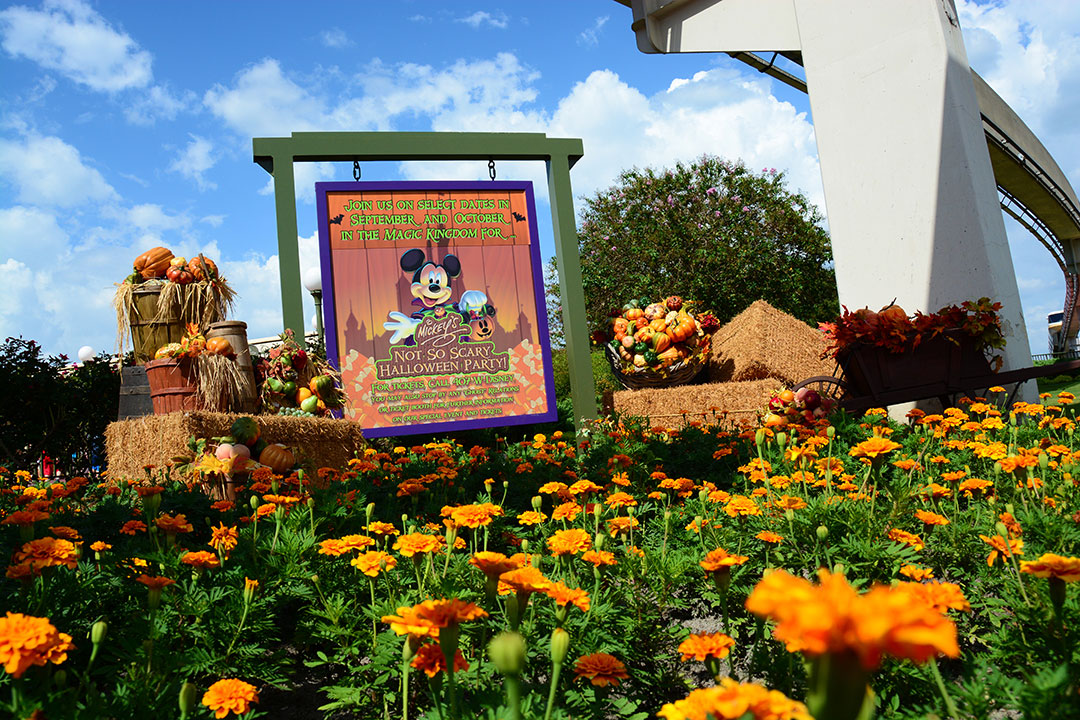 Walt Disney World has never offered a Mickey's Not So Scary Halloween Party this early in the season.  It seemed really premature to be offering everyone a "Happy Halloween" while we were pouring sweat all night long on Labor Day.  I suppose the goal was to sell more…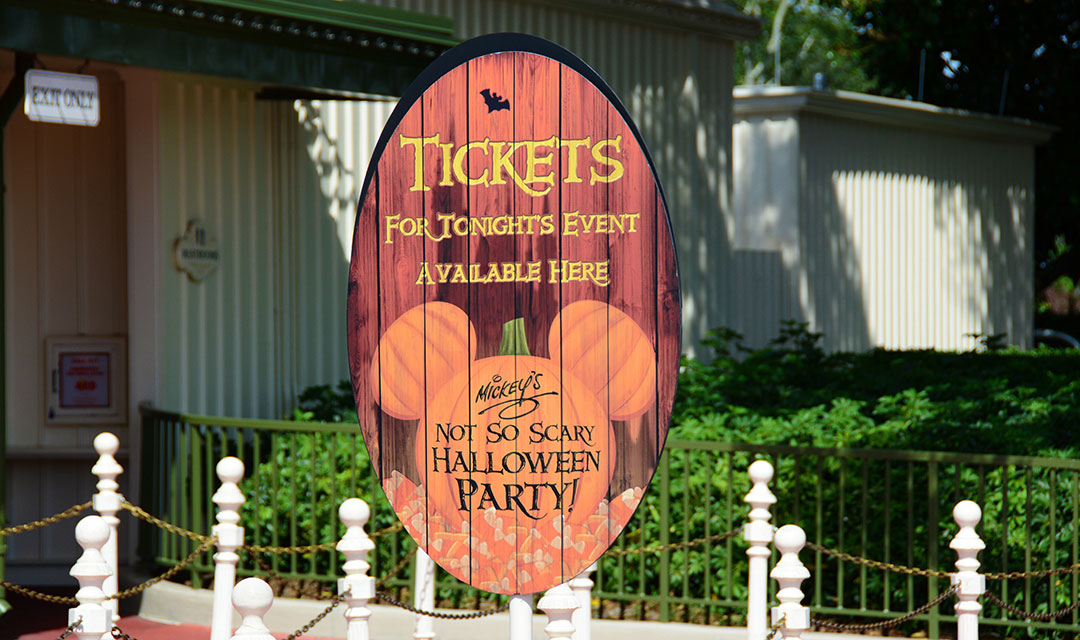 With the lowest crowds of the year being around Labor Day, it was a foregone conclusion that this party wouldn't sell out and it was VERY lightly attended.  There were times when we felt almost lonely in the park due to the low crowds.  I'm not complaining, just saying the place was pretty empty compared to other parties.  Turn right to enter pardner.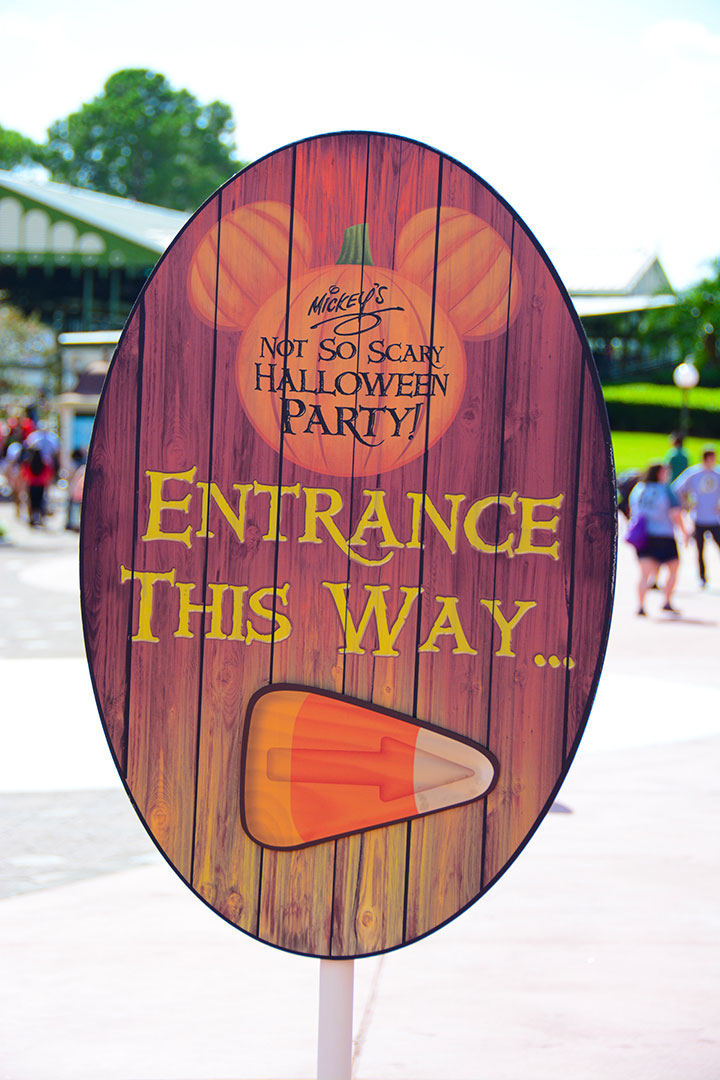 All the festive banners, pumpkins and candy corn is out to celebrate the national holiday that is the first Monday in September.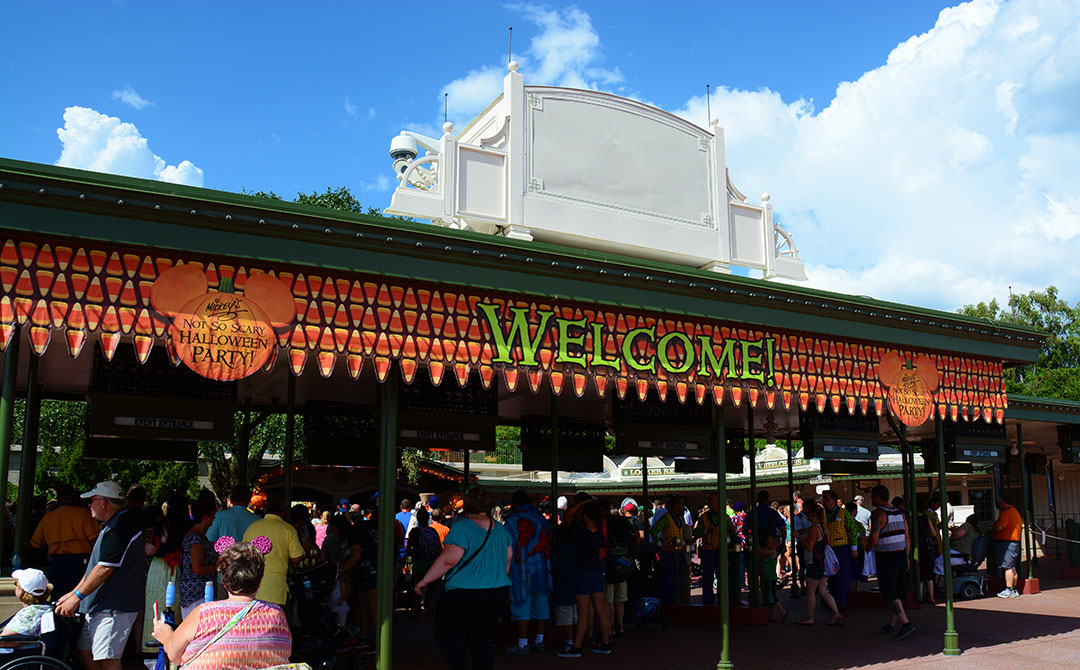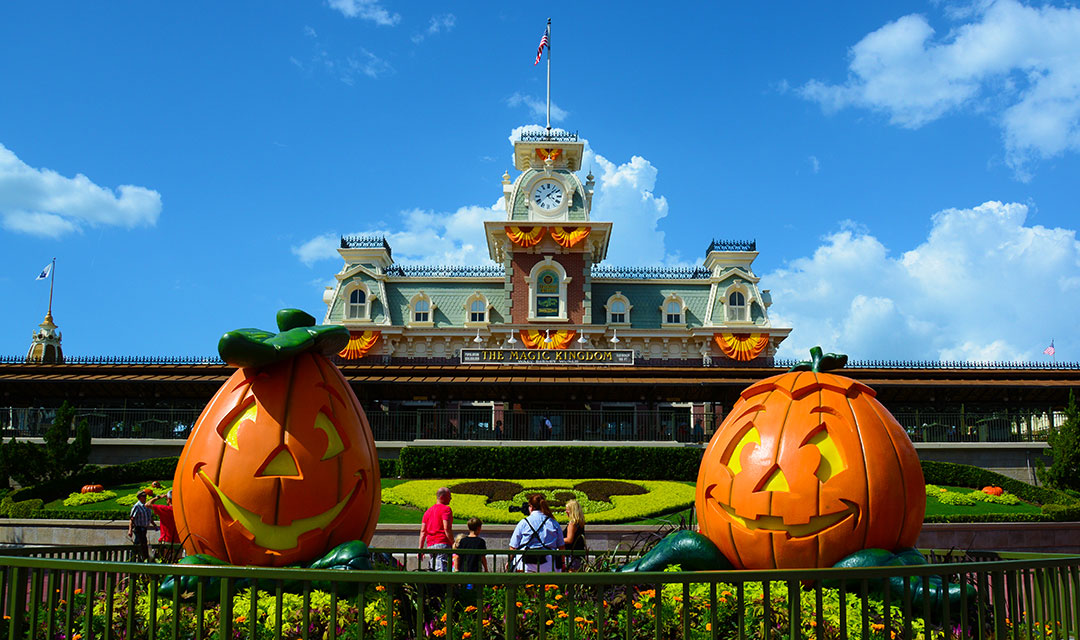 Purdy huh?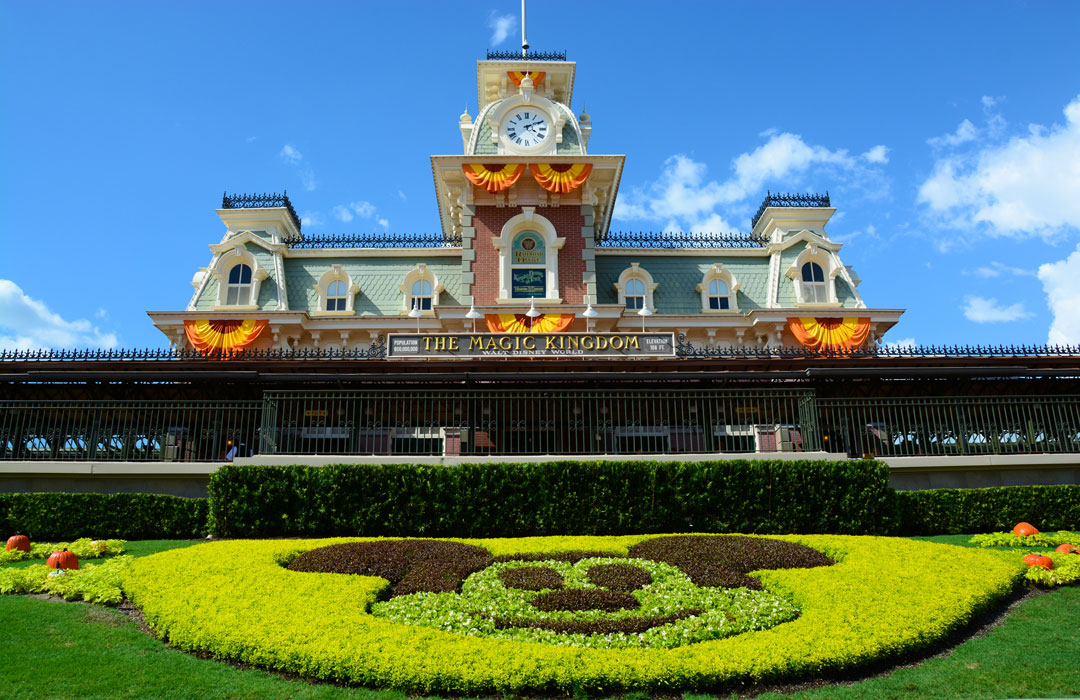 As we entered the park, they gave us maps (didn't need them, mine was better :)  and candy collecting bags.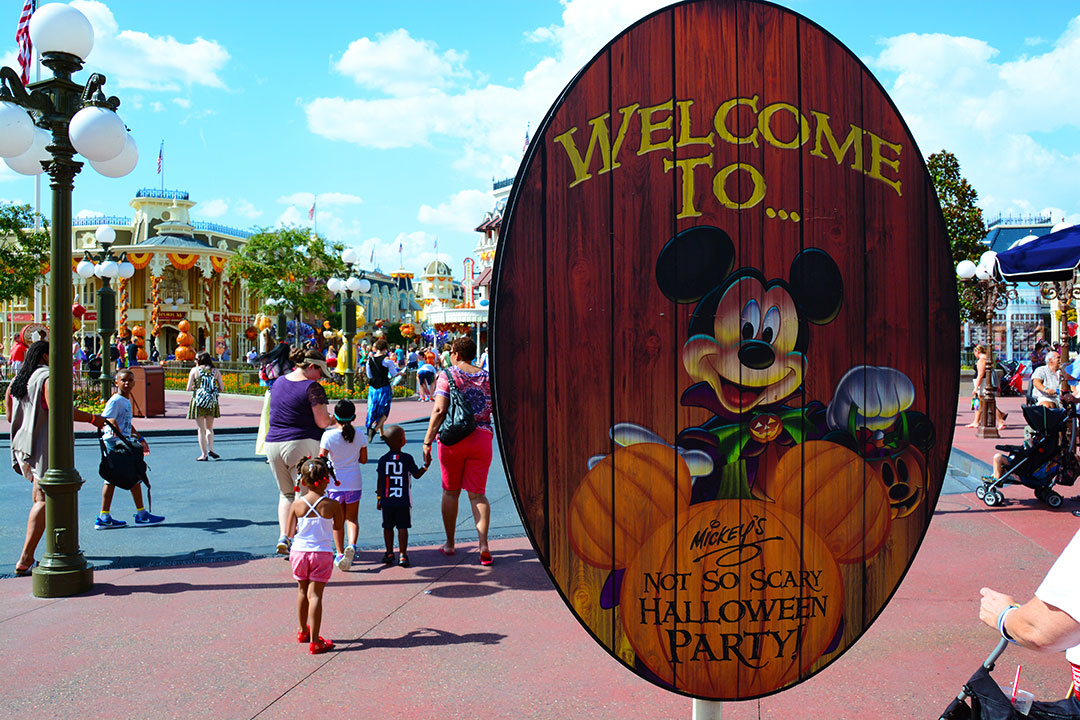 Even in early September, these guys bring a smile to your face while wiping the sweat away.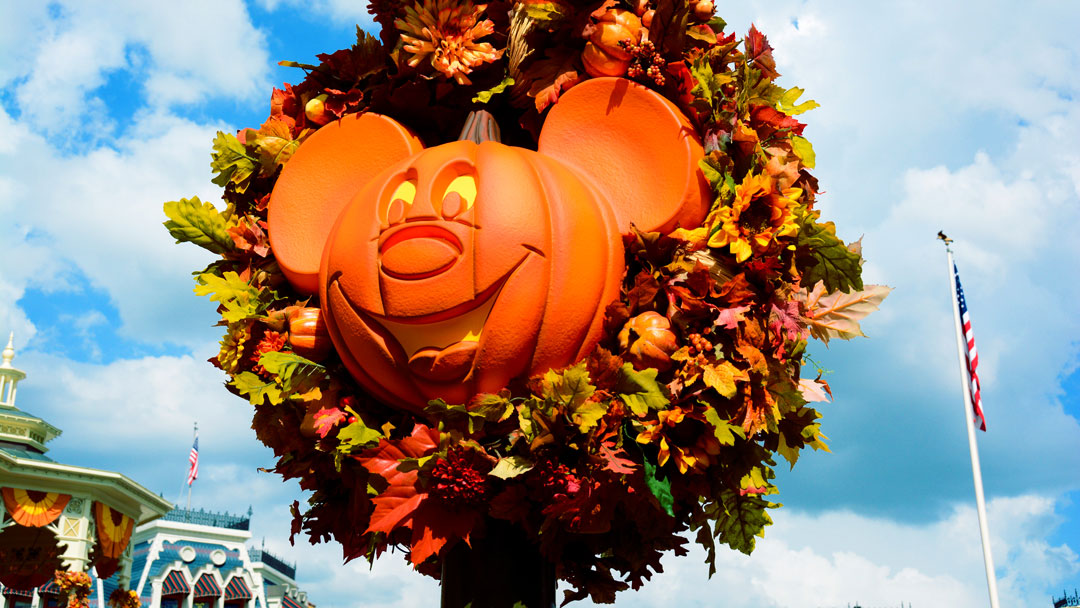 They really want you to feel welcomed!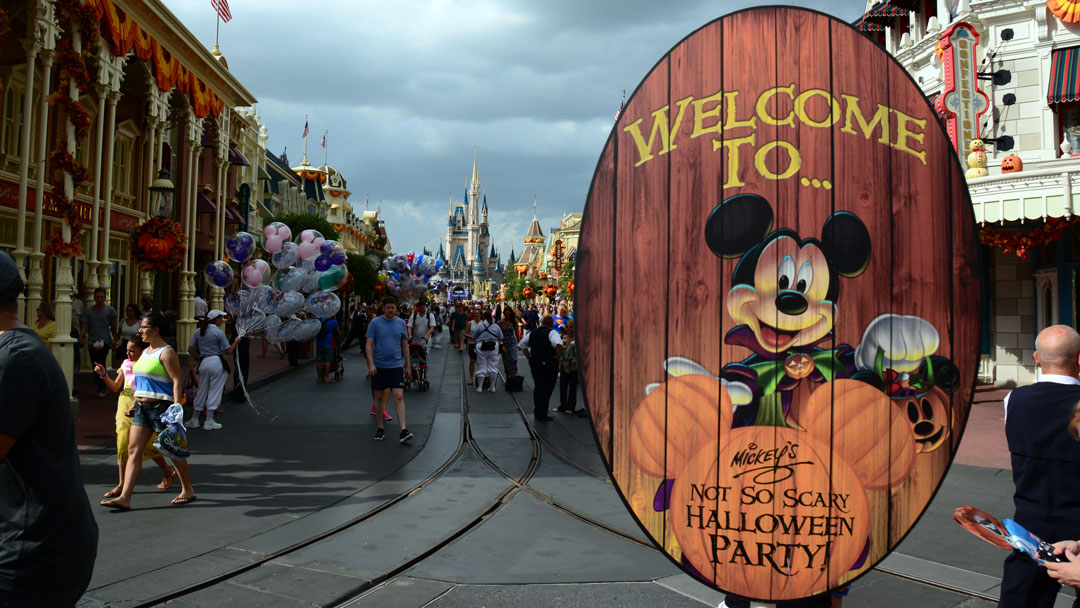 We had stopped by Will Call to pick up our tickets that we pre-purchased with annual pass discount and looked around a bit.   When then proceeded to the Fire Station to pick up our FREE special Mickey's Not So Scary Sorcerers of the Magic Kingdom party exclusive card.  (Phone pic)
We had Fastpass+ for Tinker Bell and Mickey already arranged.  You can use your party ticket to book FP+ between 4:00 & 7:00pm, but there is NO FP+ of any type during the party and yes, that includes meet and greets.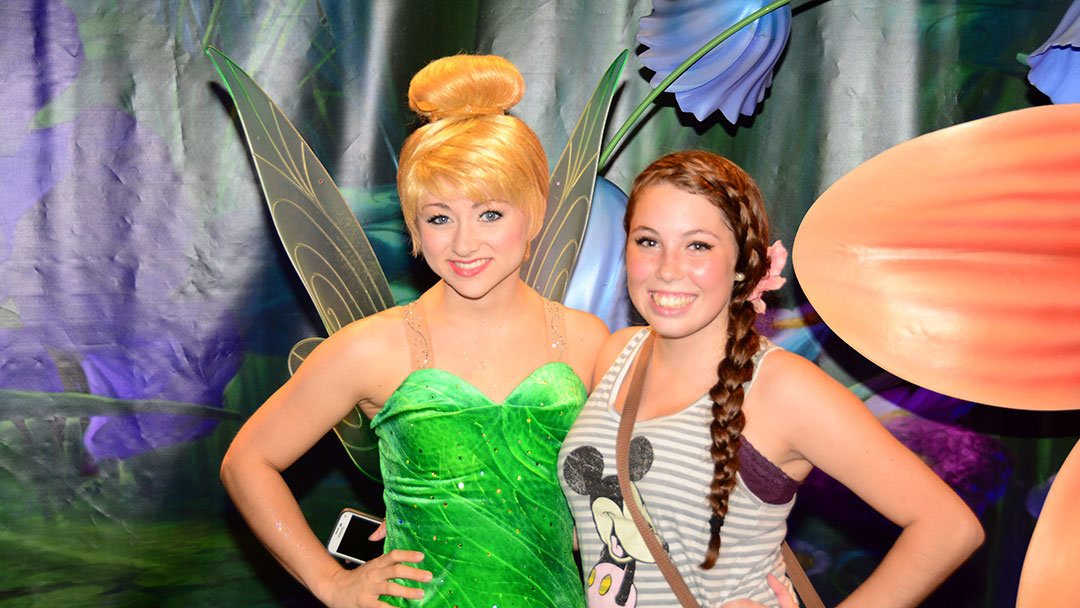 Smile and say queso!  Jordyn was a bit disappointed that Mickey only asked if she wanted a photo.  She had hoped for a more full conversation.  My money was on Hitchhiking Ghosts because I seem to always get that spiel.  We later learned that Mickey was meeting in a special costume in Town Square and later in Town Square Theater during the party.  We've seen him in it before, so we didn't circle back.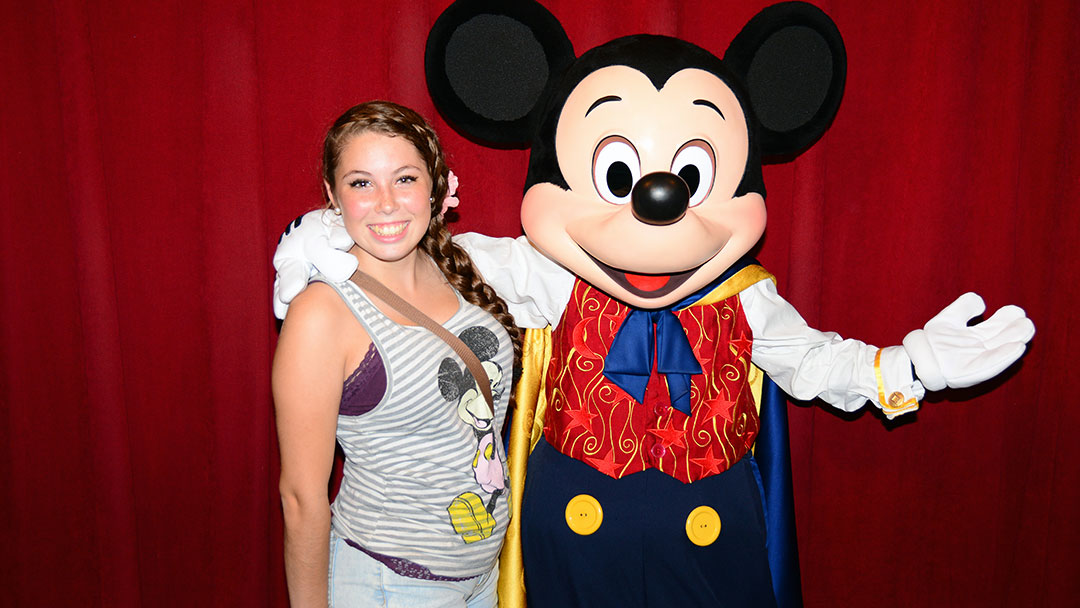 Jordyn held down our spot for Jack and Sally in the shade while I went to explore and post photos and info to Twitter and Facebook.  Here's the line that had formed for this couple around 5:30pm.   (Phone pic)
The posted wait for Anna and Elsa was 50 minutes at 5:38pm and dropped to 30 minutes shortly before the party began.  Most guests were reporting waits of about 20 minutes during the party.  (Phone pic)
Here's the line for Seven Dwarfs meet and greet at 5:40pm.  About a half dozen brave souls.  (Phone pic)
The queue was really full by 6:30pm
Because attendance was low, I mean really low, we could have returned late at night for no wait, but we wanted the full party for fun and didn't want to take a chance as this was her #1 meet for the night.   Dwarfs line began to fill out about 6:00pm and was cut before the night ended.
I returned to meet Jordyn at 6:40pm and this was the line for Jack and Sally in Town Square.
Jack and Sally seem to be really in love, in a scarred and sewn up sort of way.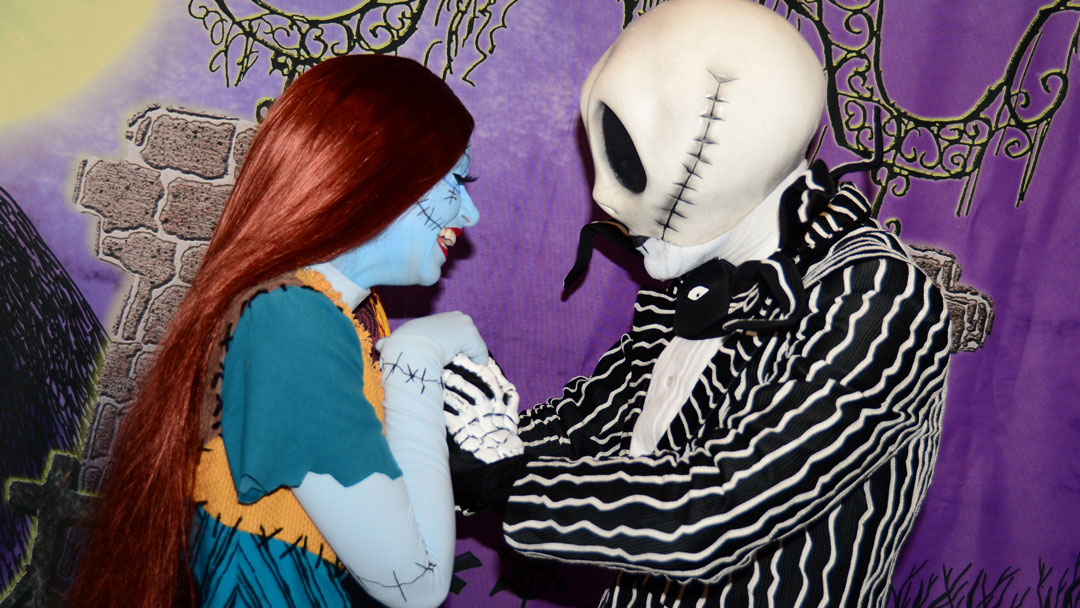 Jack asked if I wore orange in honor of him and pumpkins.  I told him we'd go with that.  He was already pouring sweat just like me and had only been out a few minutes.  Did I tell you it was hot?   "It's like a sauna up in here."  Jack said it's hot like the bad place and pointed downward.  I think he meant Six Flags.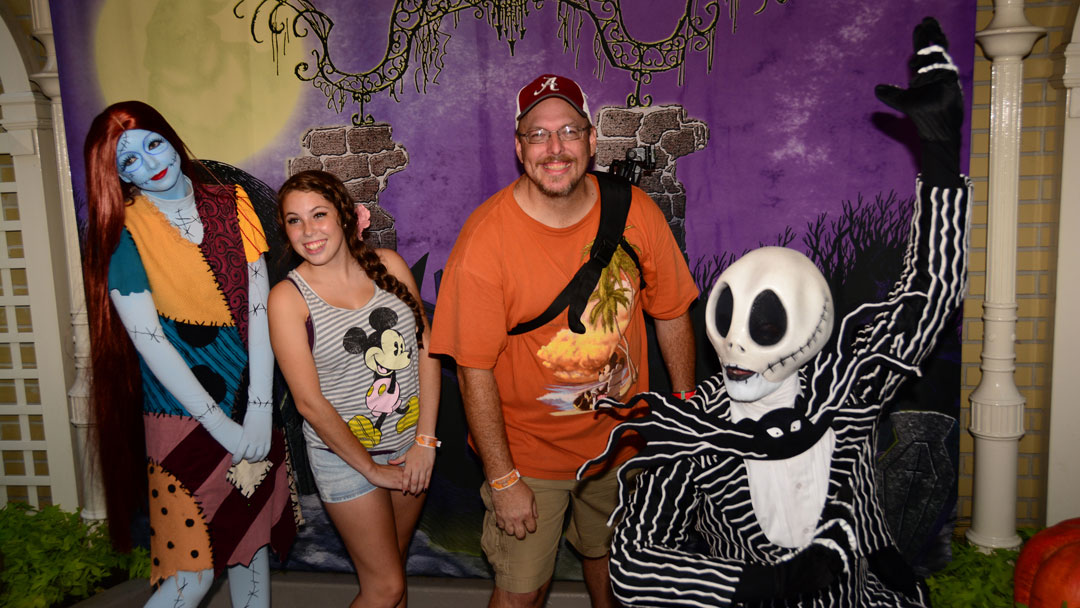 We then dropped into the Emporium to pick up 3 pins for Jordyn's collection.  She tries to get a pin for different special occasions and has a special pin board in her room full of Disney Parks memories.
From there we lined up to meet Tarzan, Jane and Terk.  If you catch the overlap correctly, you can get all 3 at once.  Their schedules and all others are on my app www.characterlocator.com.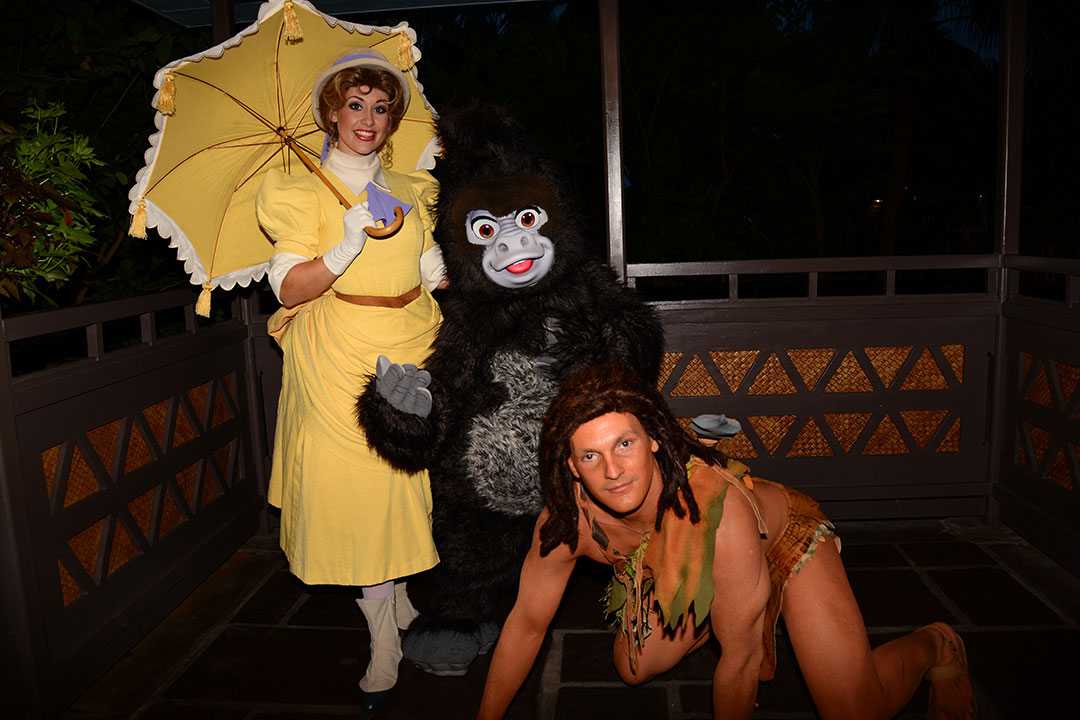 Tarzan and I discussed my love for elephants (Alabama football) and he is particular to tigers in the same color as Jane's dress.  He carries a spear, so I relented that tigers are okay sometimes too, as long as they aren't present with elephants.  It's always a pleasure to see Jane, she is so sweet.  We waited from 7:27 to 7:59pm.  Tarzan would remain 15 more minutes before the scramble back and forth would commence.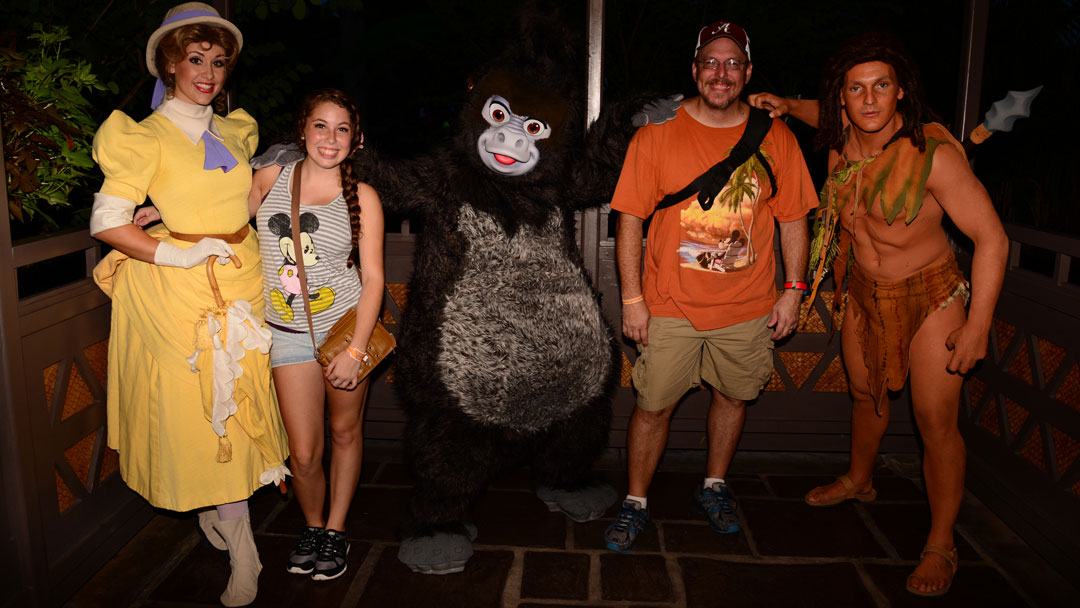 We had to do a bit of hunting to find the Aladdin group.  They are hidden between Aloha Isle and the bathrooms in a little room with a tiny sign.  We waited 18 minutes, from 8:02 to 8:20 because we had arrived right as they were rotating with Jasmine and Genie.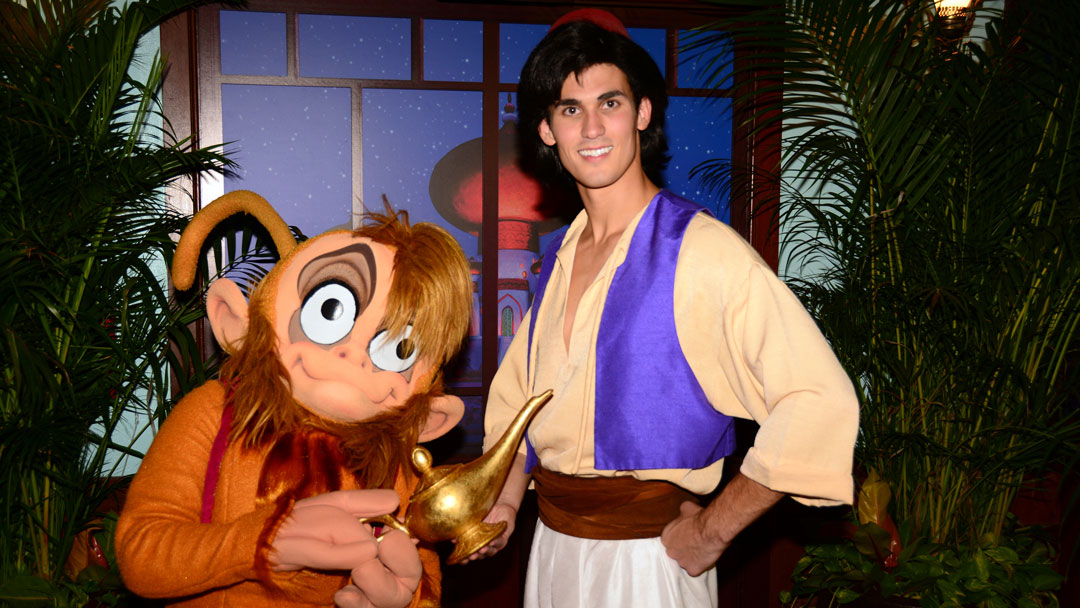 The lamp is a nice touch.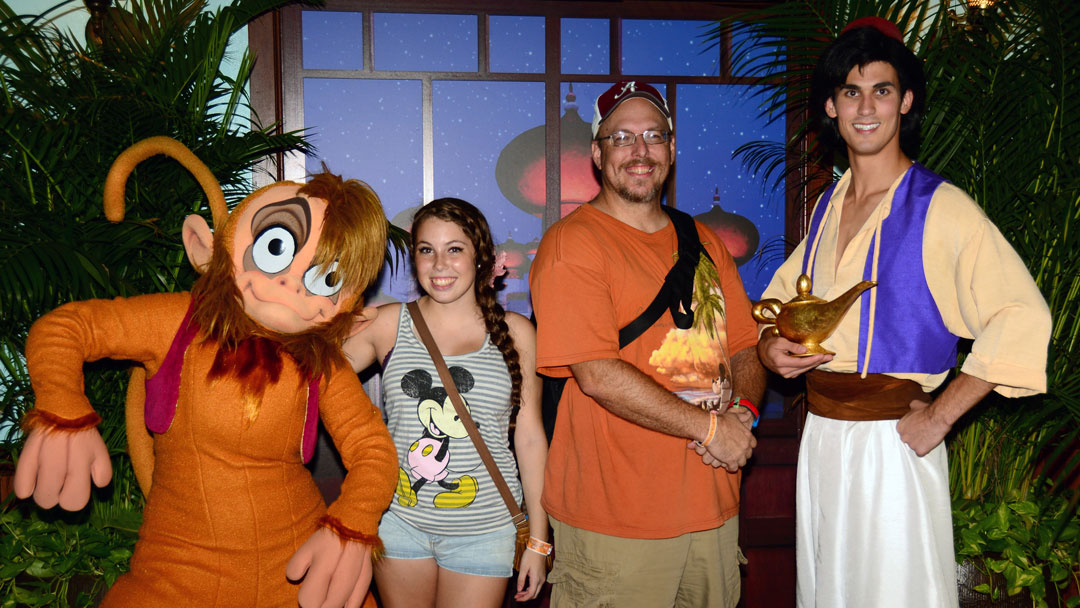 It was beginning to get nice a dark and Adventureland was EMPTY. Most people refuse to listen to my advice and still attend the first parade.  Fine with me.  I'll go meet Jack Sparrow with very little waiting!  I've said this before, but bears repeating.  Be sure to get a mid-day nap on a party night or your little ones will either throw a fit (that's tantrum for non-southerners) or fall asleep in the stroller and you'll have to carry them to the resort.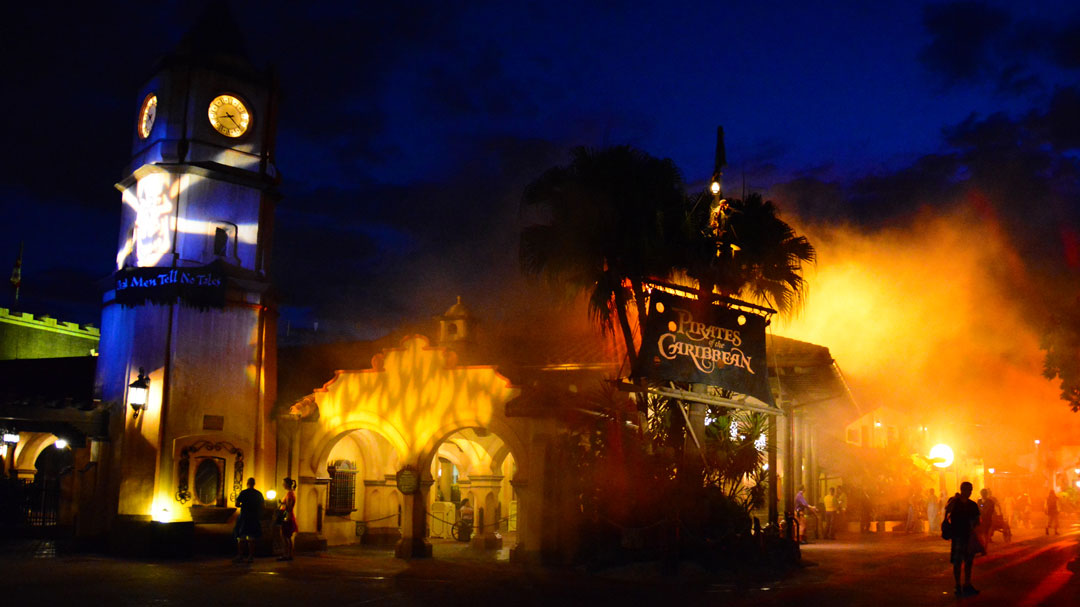 I tried to capture this one with the moonlight, but eh…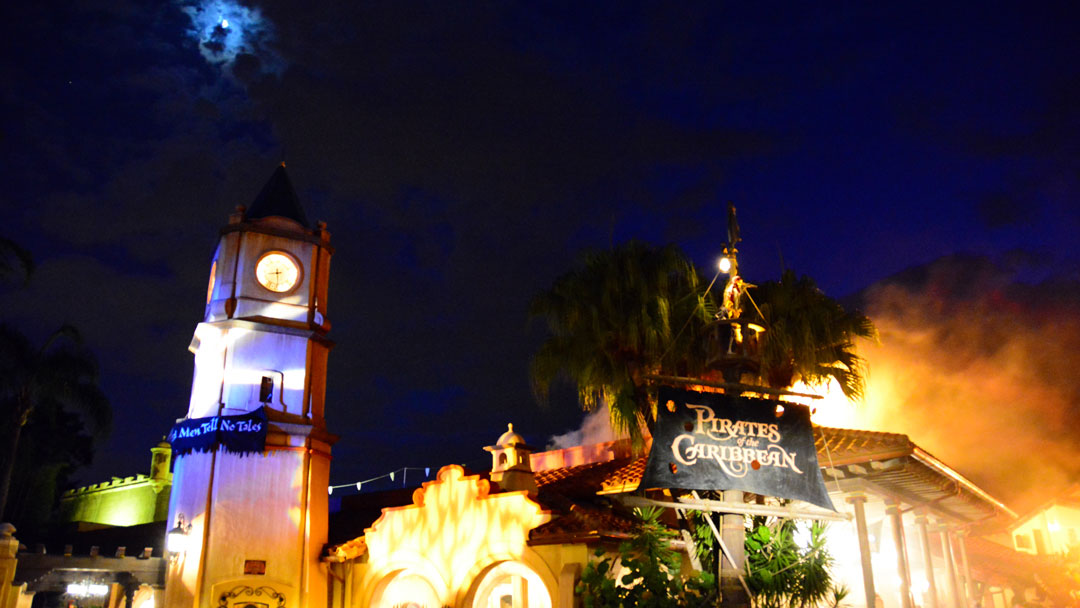 Initially the lady told us we wouldn't make this set and we'd have to wait until the 9:00pm meet, but the line moved pretty quickly and we made it in with 7 minutes to spare.  we waited from 8:25  to 8:38pm.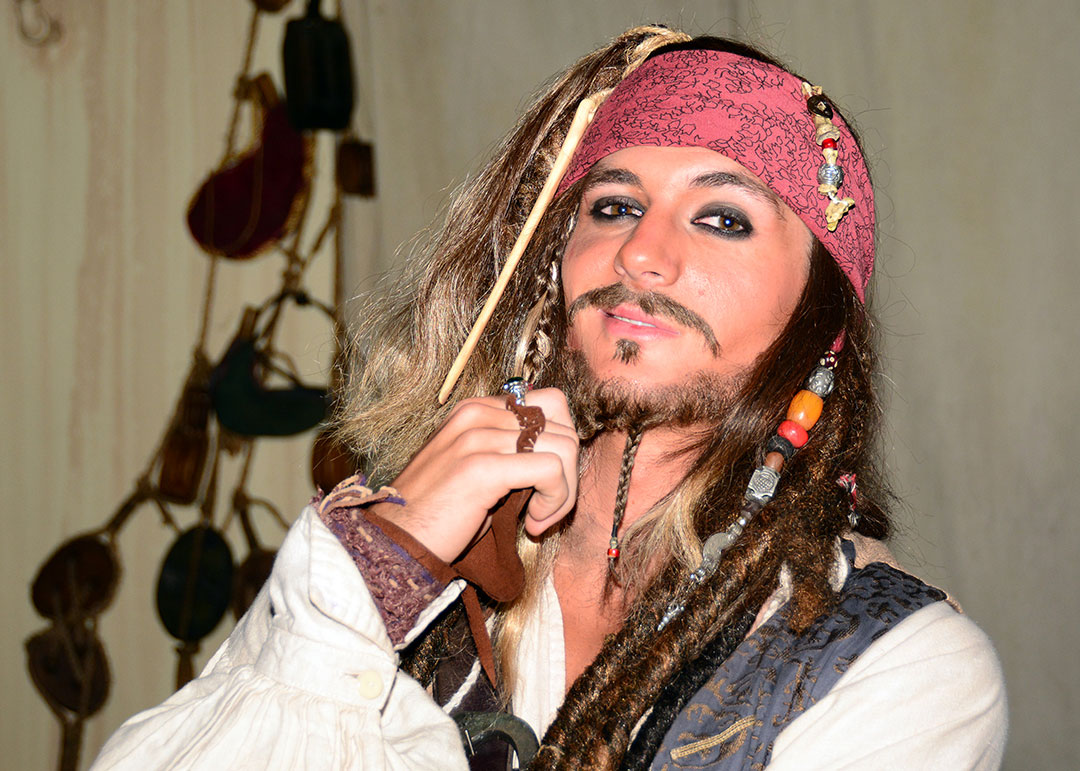 When we greeted him with "Hi Jack!" he reminded us that it's CAPTAIN Jack.  Doesn't understand why everyone forgets that.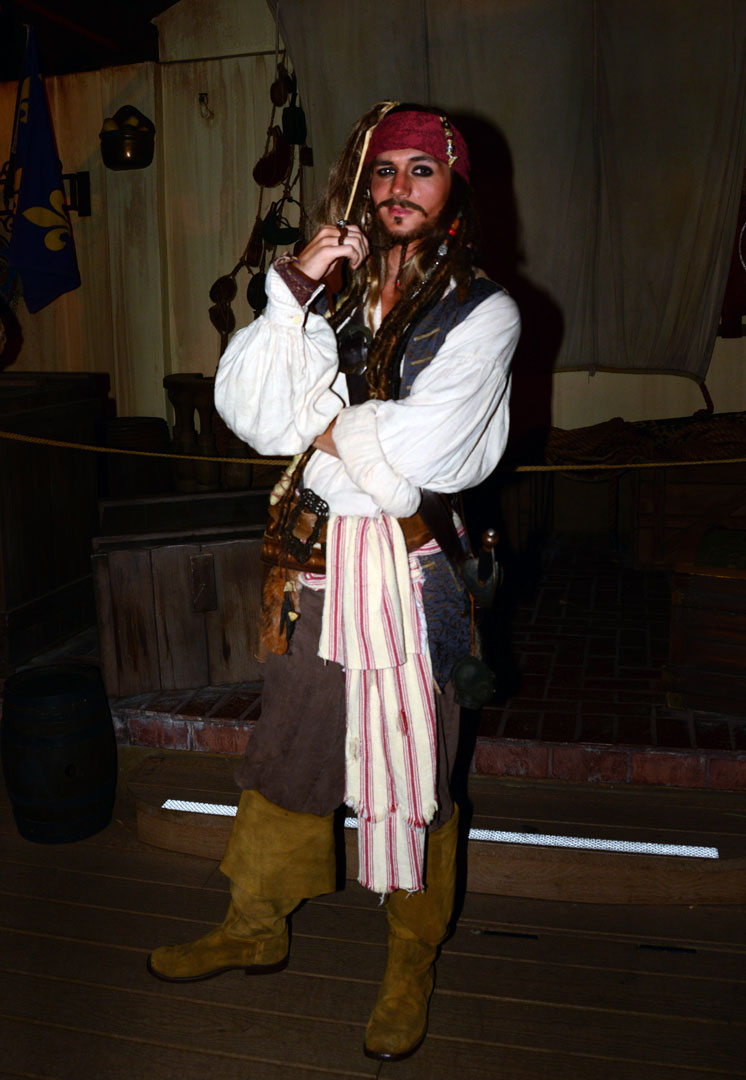 We talked about how we had recently met his nemesis.  He asked "Which one.  I have so many."  We told him that Barbossa basically messed up our camera.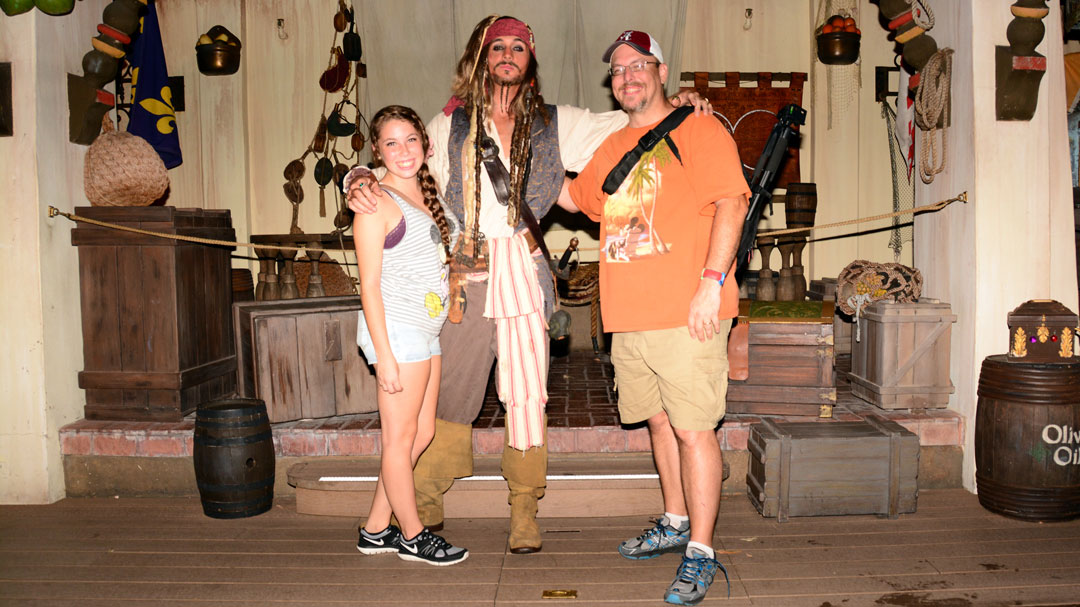 We were unsure what to expect with character lines, so Jordyn held down the spot for Jafar to return at 9:00pm and I ventured on for a few minutes.
I found the Cadaver Dans in Frontierland across from the Country Bears Jamboree.  They are easy to spot and they have amplified sound in the area.  They also appear closer to Liberty Square.  Their schedule and all show schedules are in my app found here.
Talk about a headache!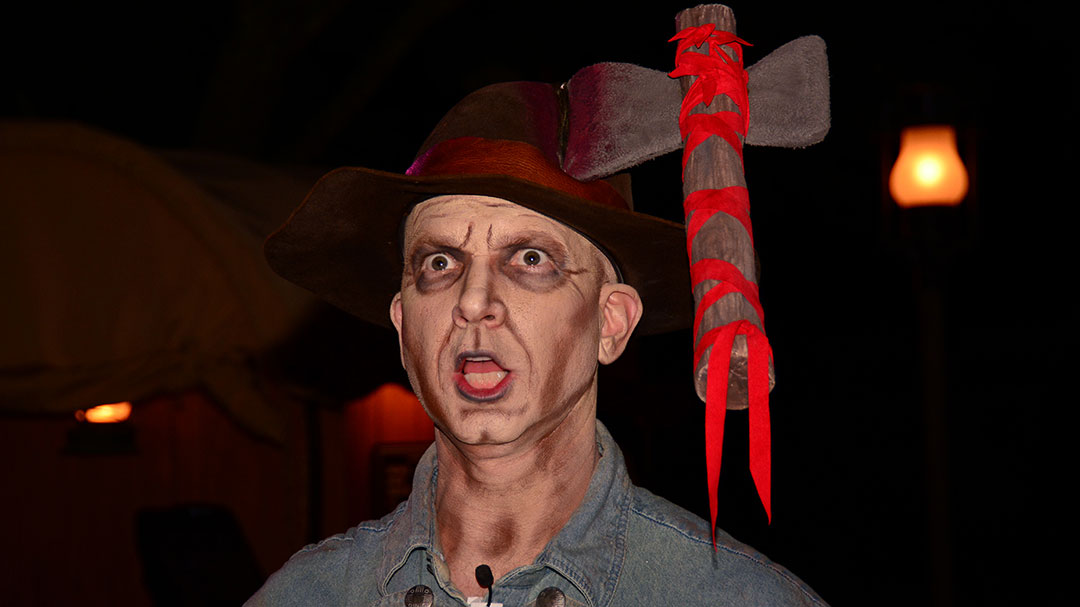 Here's a video I recorded of their performance while singing "Grim Grinning Ghosts."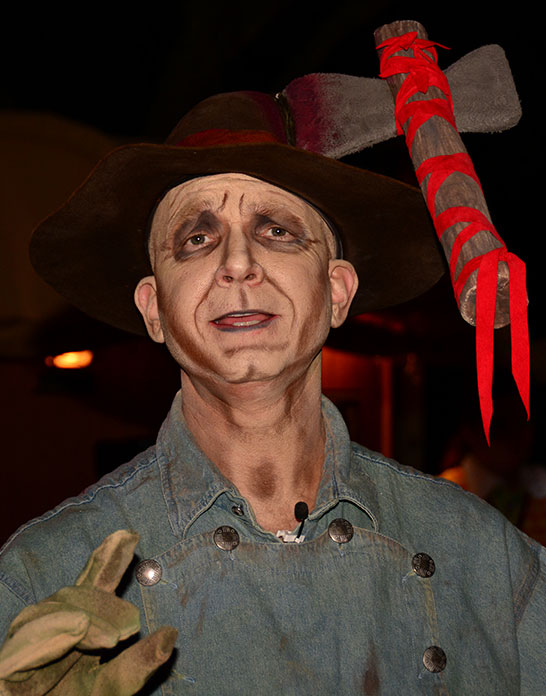 He told us to raise our hands for a pledge, but there's always that one guy.
Yeh, you.  I caught you.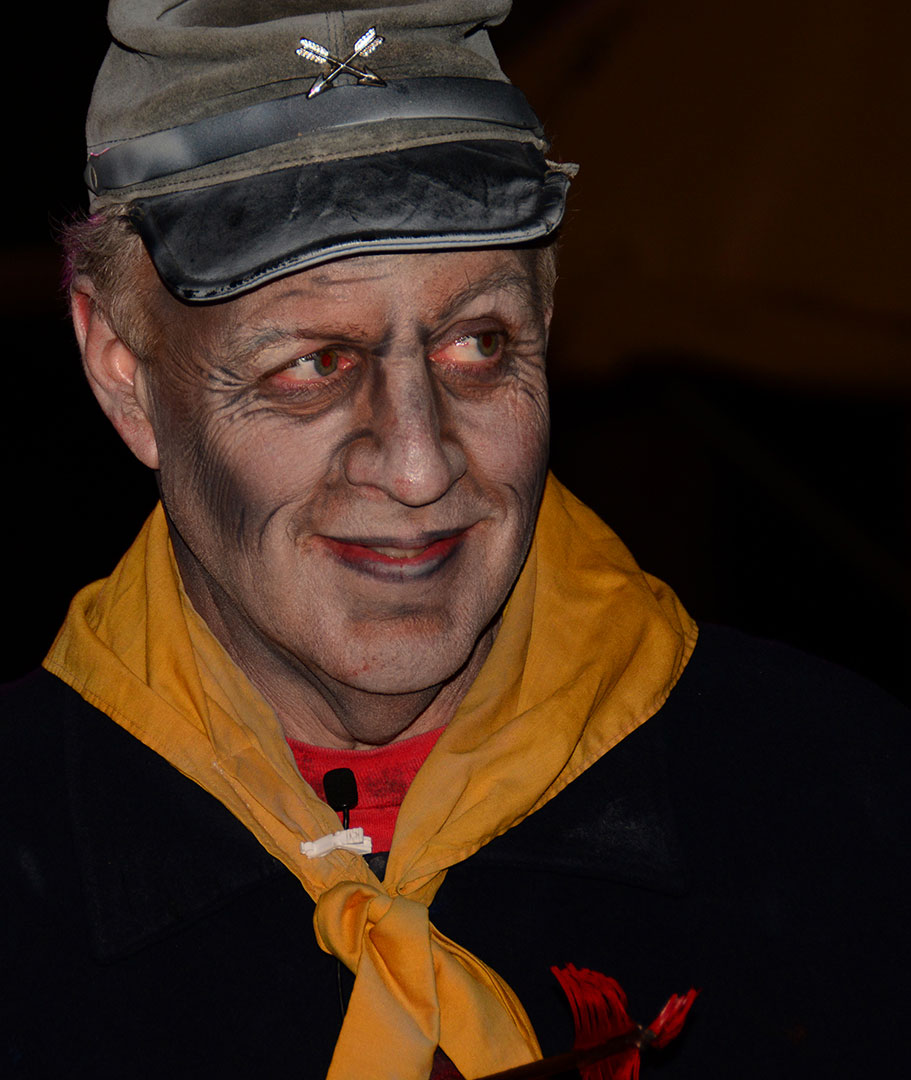 After enjoying the Cadavers I made my way over to Club Villain to see who would be there.  It takes place in the Diamond Horseshoe Saloon.  The inside is well themed, but they forgot a Club Villain sign outside!  I was a slacker and didn't take a video.  It's modern pop/dance tunes and villains dance with you, you get the idea.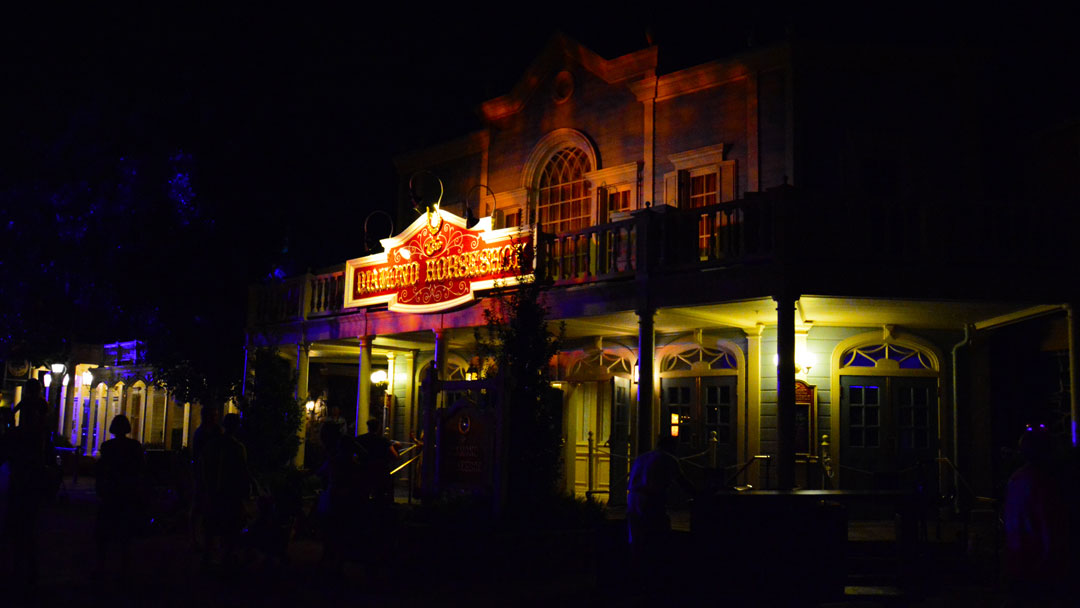 Cruella is such an awesome character and good choice for a dance party, but I'd prefer the meet and greet!  I saw a LOT of selfies being taken with characters at dance parties.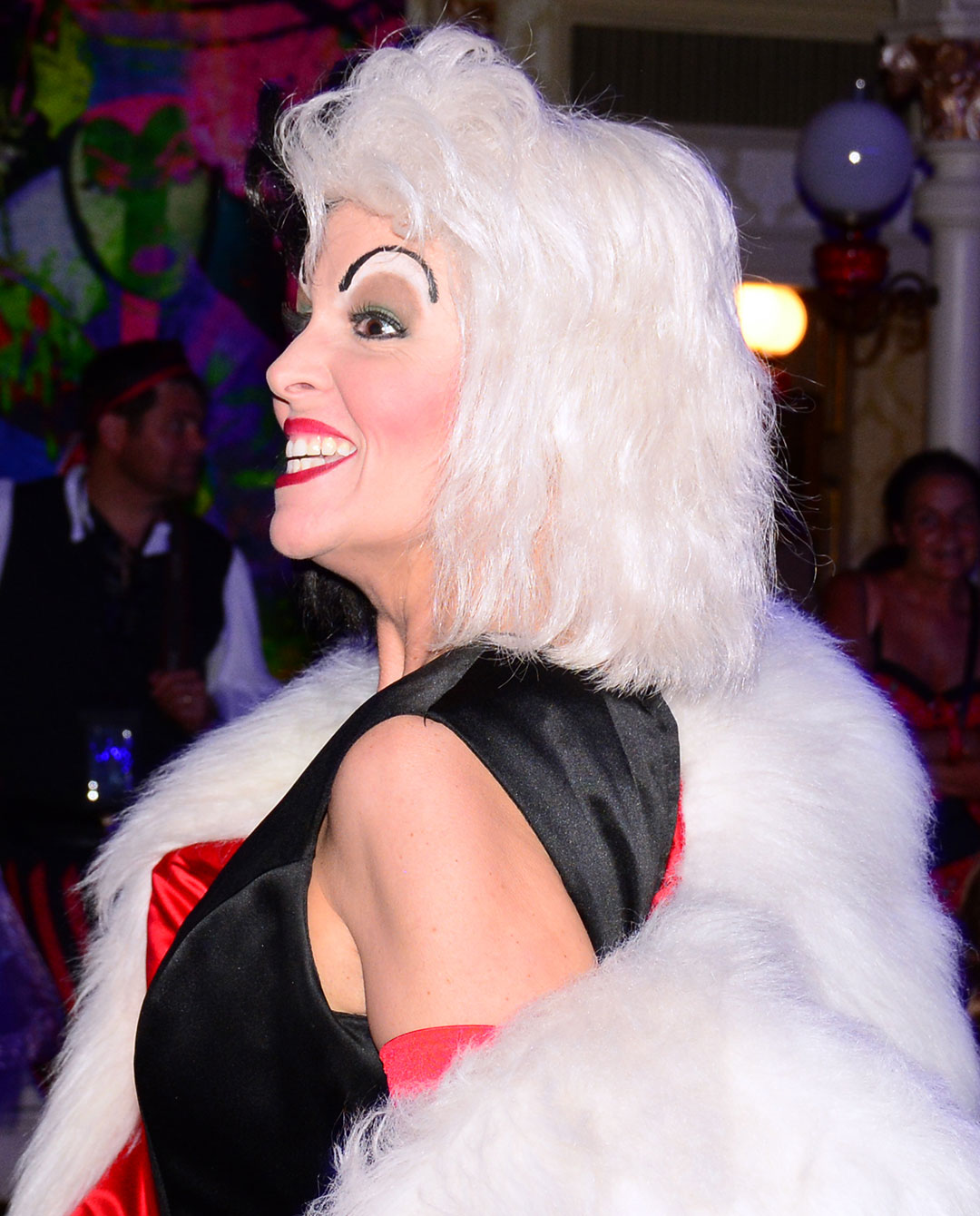 Lady Tremaine poses for the press.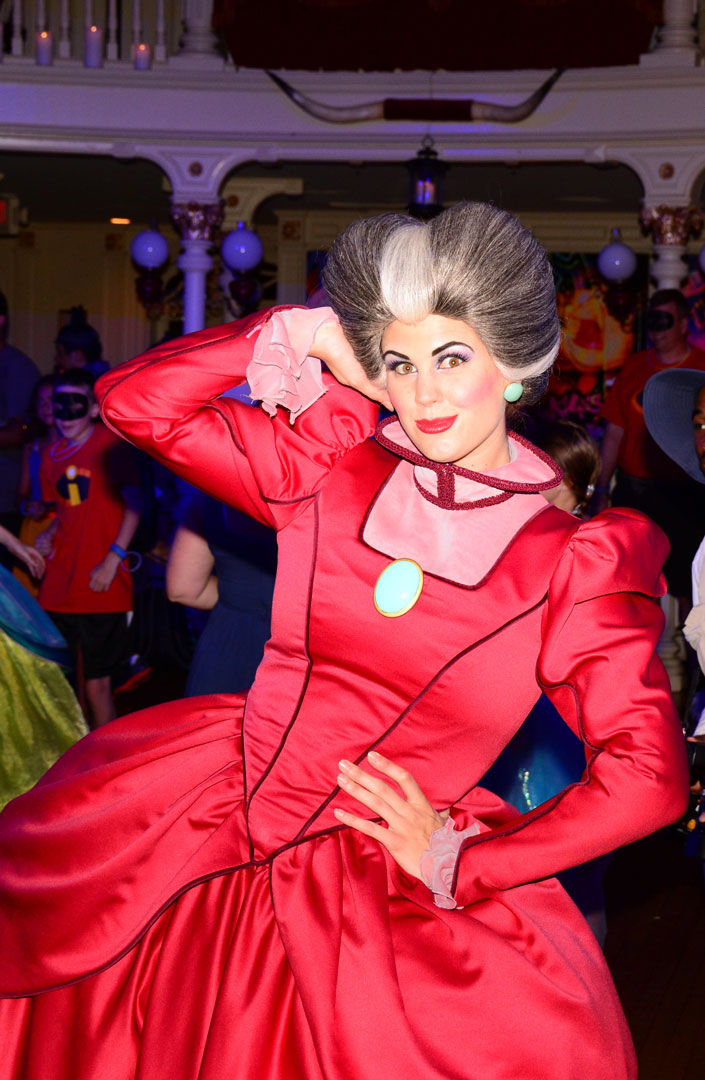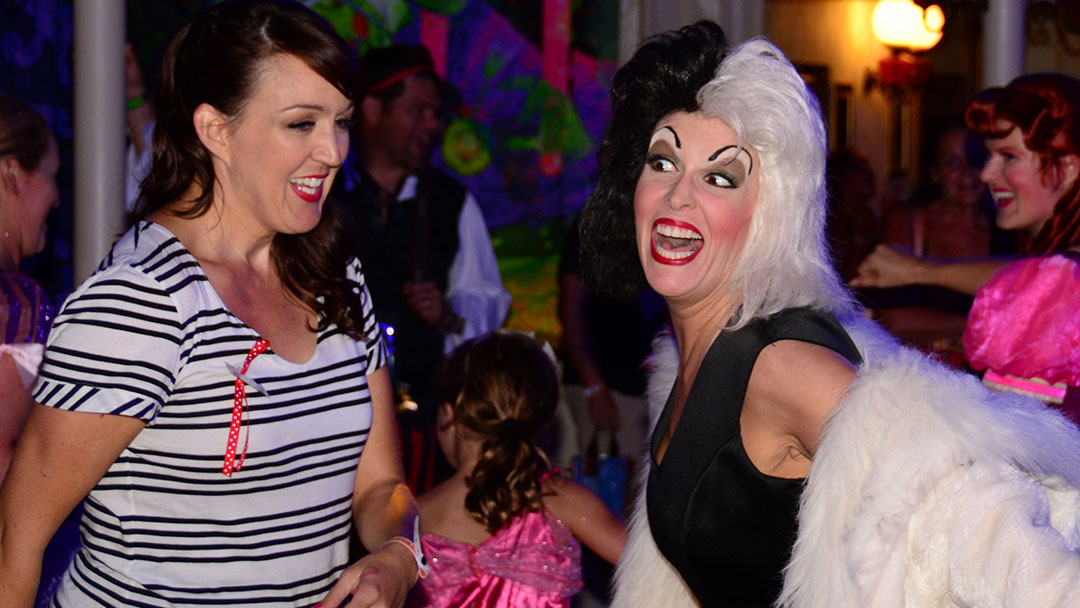 I think she was asking why the girl didn't dress in "Poopie."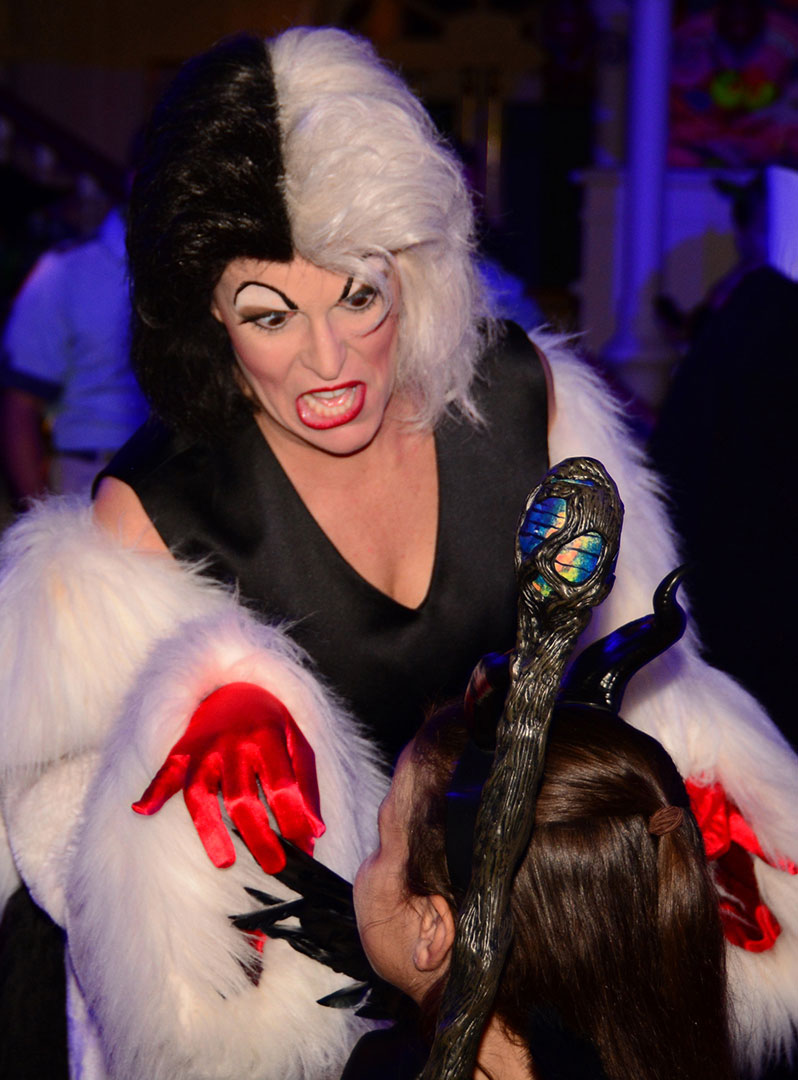 Anastasia and Drizella were there too.  Sorry D, the photo looked terrible due to the smoke in the room.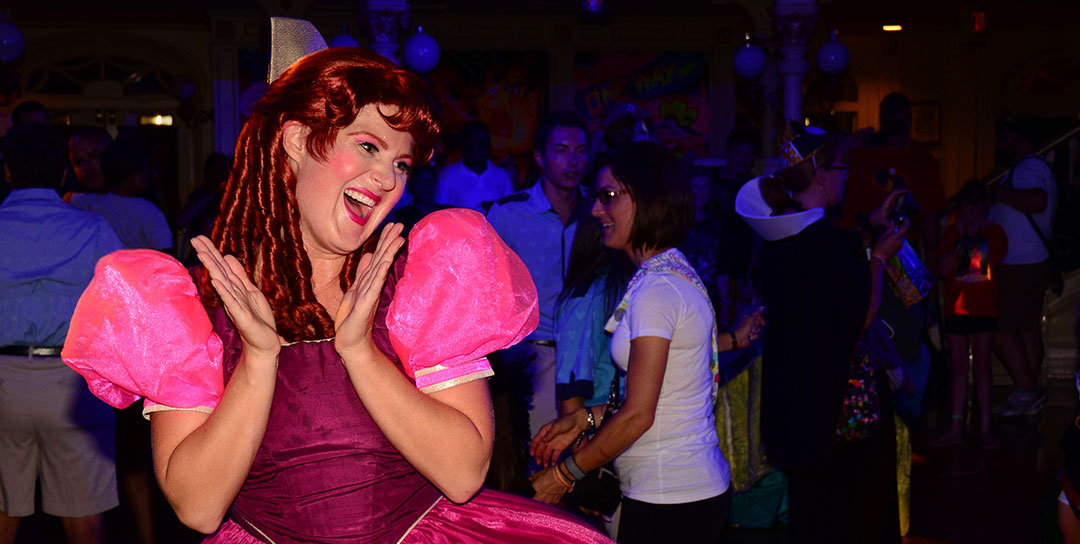 Gratuitious Disney DJ booth photo bomb.  Those things pop up everywhere.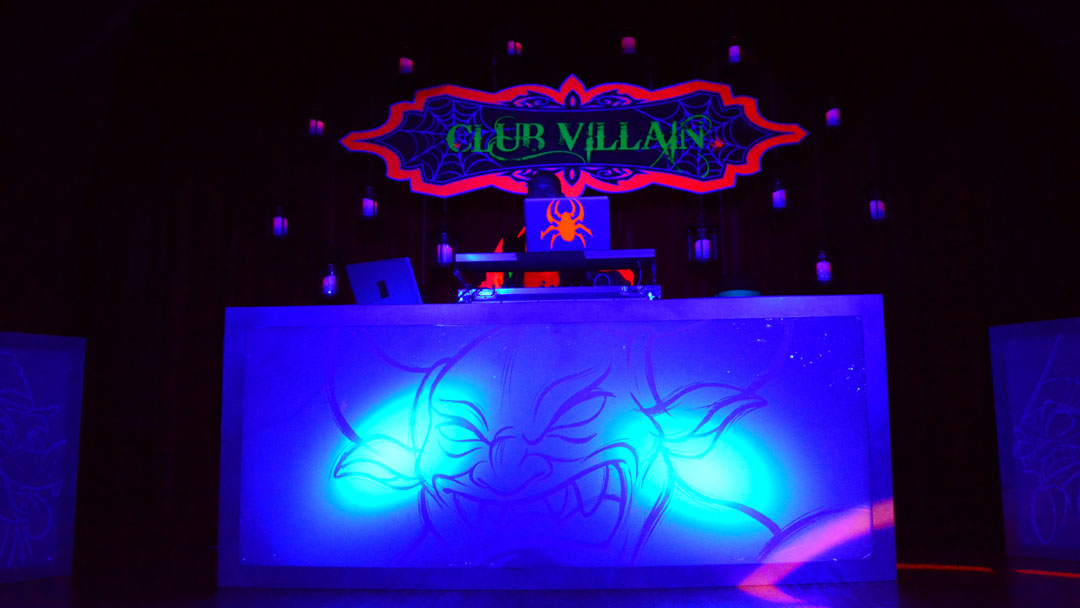 The artwork on the walls was top notch and really looked great under the black lights.  Well done there.
No, Pete doesn't appear in any of the Disney theme parks before you ask.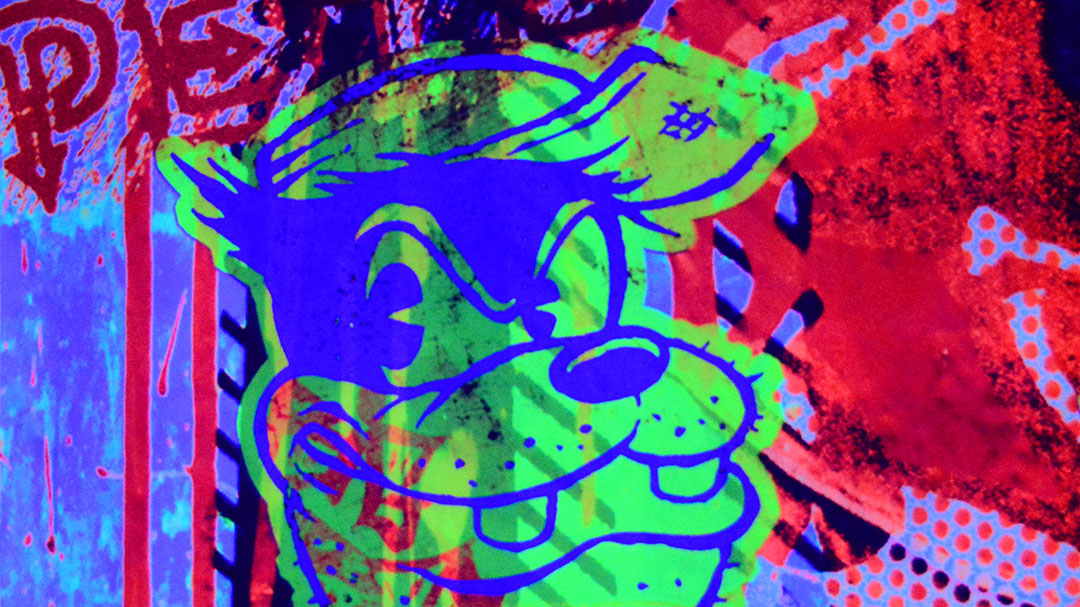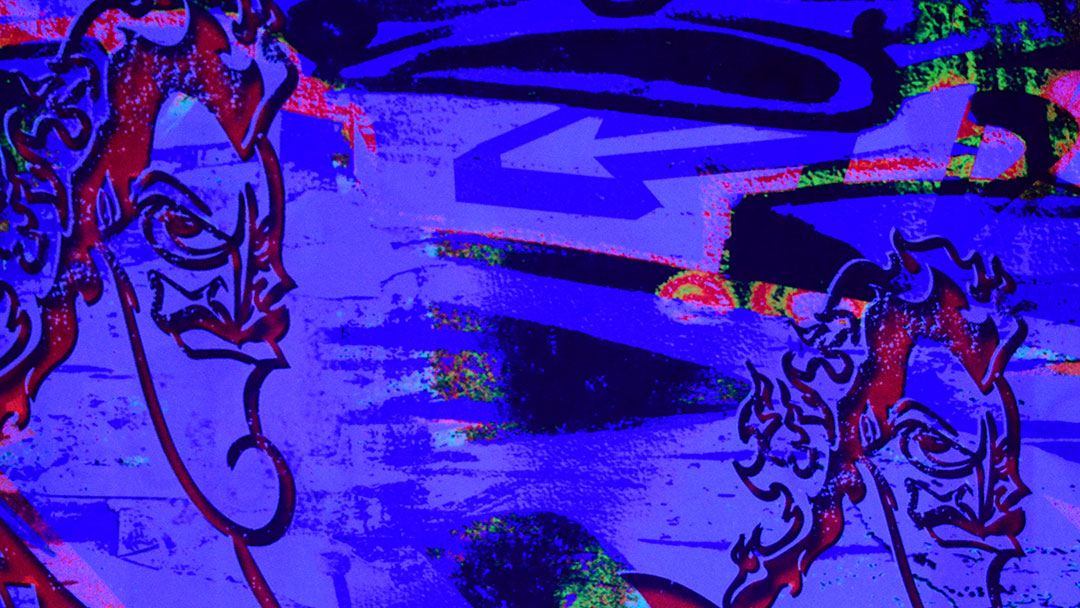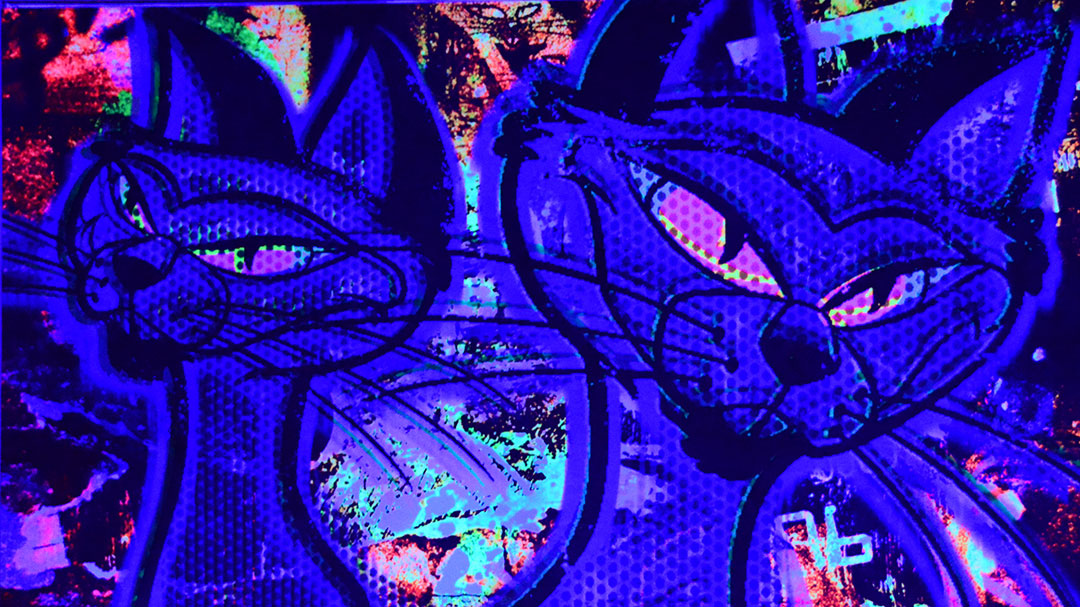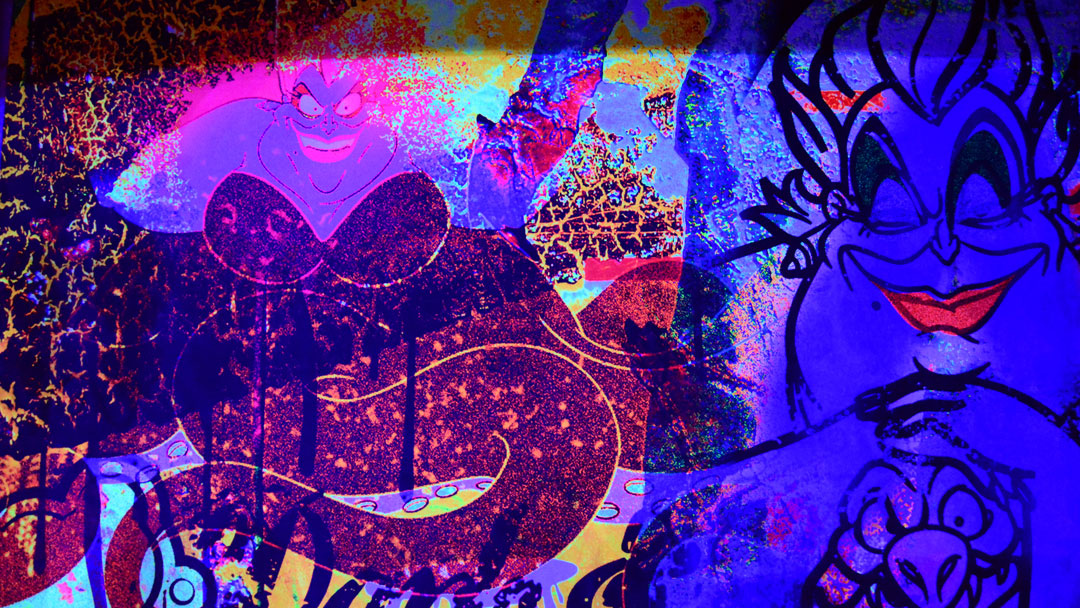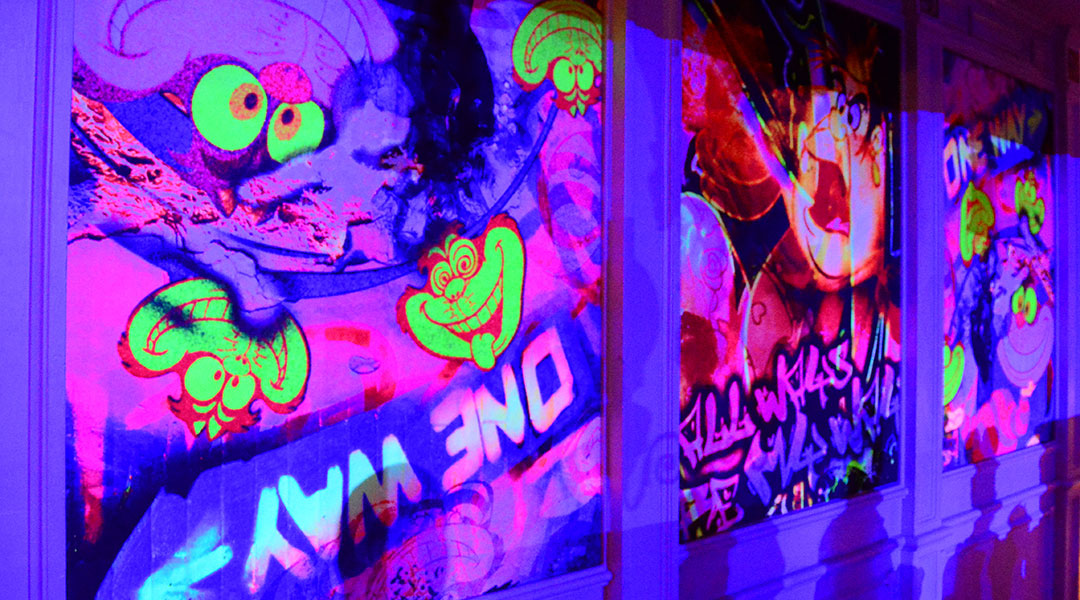 So at 9:00pm promptly Jafar returned from parade duties and began his meets.  Jordyn said it was a real waste of time to arrive more than 5 minutes early.  This is the type of quality research we provide at KtP.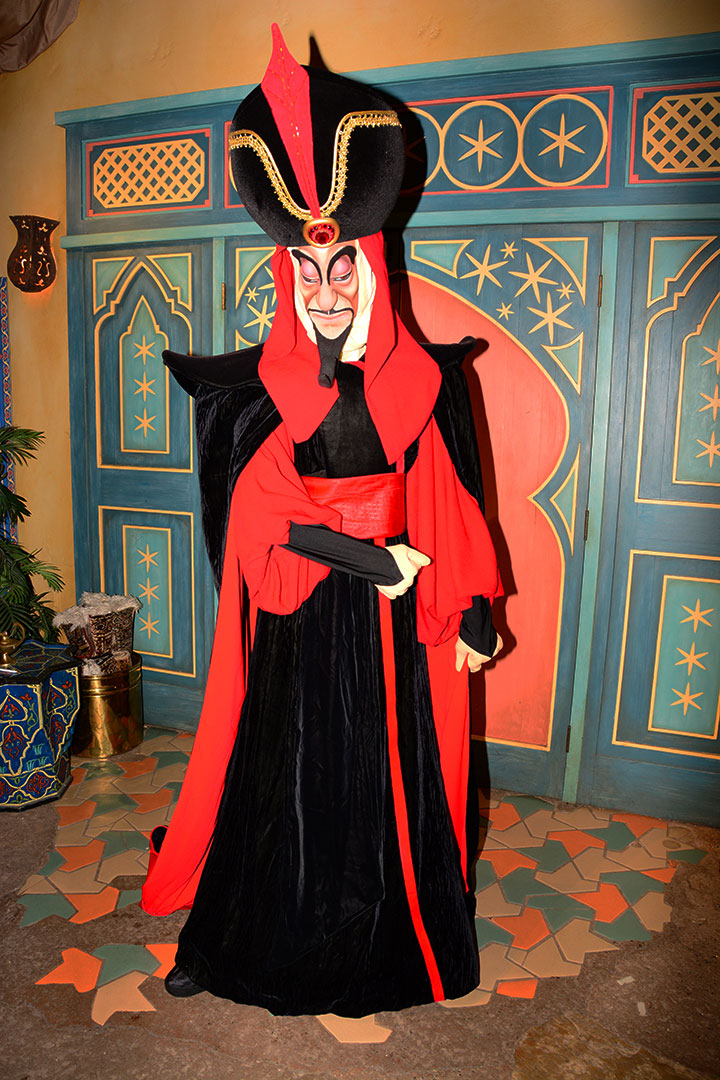 Come join me young princess!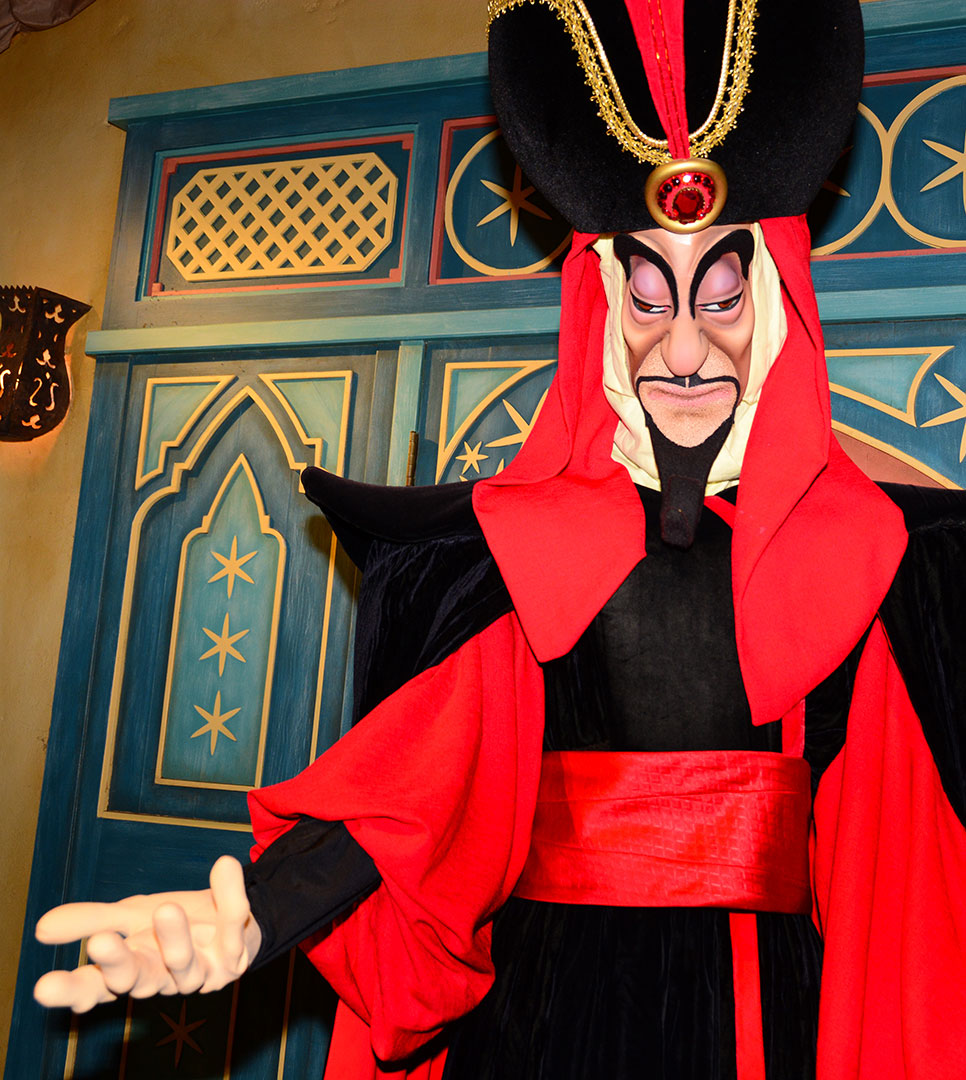 Photo taken while I blinked.  I wasn't asleep at 9:00pm.  We hung around a few extra minutes because someone asked me to join their family for a photo. I had the opportunity to meet a bunch of great people who follow this little blog and use my "web based mobile site application."  Super nice folks!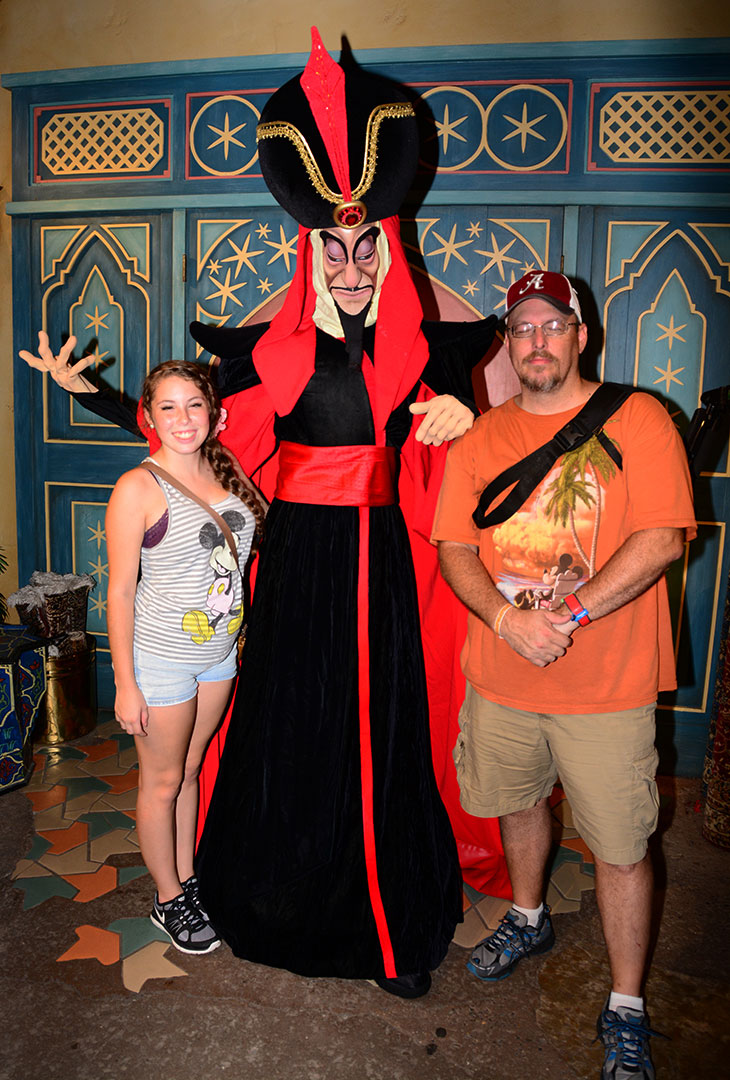 From there we made out way to Main Street to find a place to view Celebrate the Magic:  Villains Edition and Wishes.  Each of these are only performed once per night.  We got a great spot between Casey Corner and the hub.  We were just in front of a bunch of bloggers who had the street blocked off.  Sorry about the guy with the kid on his shoulders who stood in front of a camera on a tripod for the first few seconds.
The full Happy Hallowishes fireworks show.  I need to study my video a bit so I can take some cool photos for my next review.
After viewing those shows, we made our way forward so we could view the final Villains Mix and Mingle:  Live on Stage!  Okay, if you want to choose a dumb name, leave the word "Mingle" into something that is merely a show.  Bring back the villains meets or call it Villains Castle Show like I do.
We moved in right behind all the people who paid $99 each for the Villains Soiree and left saying the "Fireworks were too close to the Castle."  Hehe, sounds like my review of the Star Wars Premium Package.  The viewing area that we got free of charge for the Villains Caslte Show and second parade is across from the castle in the hub.  Primo view for parade, but too close for fireworks ;)
Here's the viewing area for the parade and fireworks if you pay $99 for the Soiree.  I got this for FREE right after the fireworks show.
A super nice Photopass lady asked if we had gotten our Magic Shot yet and took this photo for us.
Where to find the Mickey's Not So Scary Halloween Party Photopass Magic Shots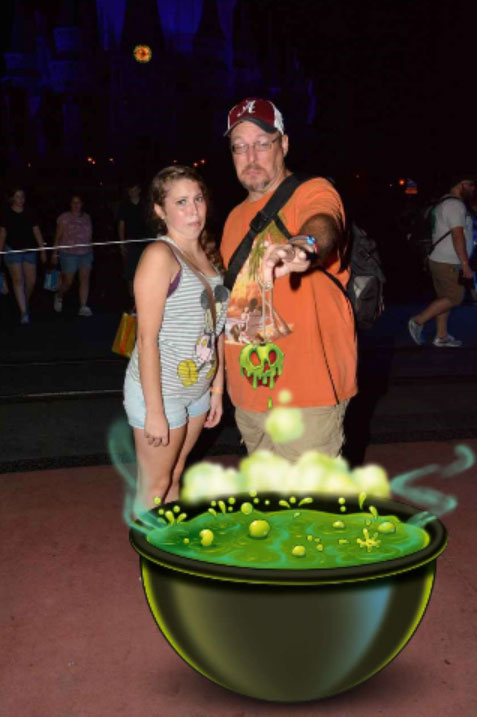 If you click the little play button, it will present moving pictures and sound from the Villains Show!
That's Cinderella Castle right behind the Headless Horseman.  They did something a little different with the Horseman.  They held him at the bridge, then played a little audio bit.  He walks more since they had those dangerous falls in the past.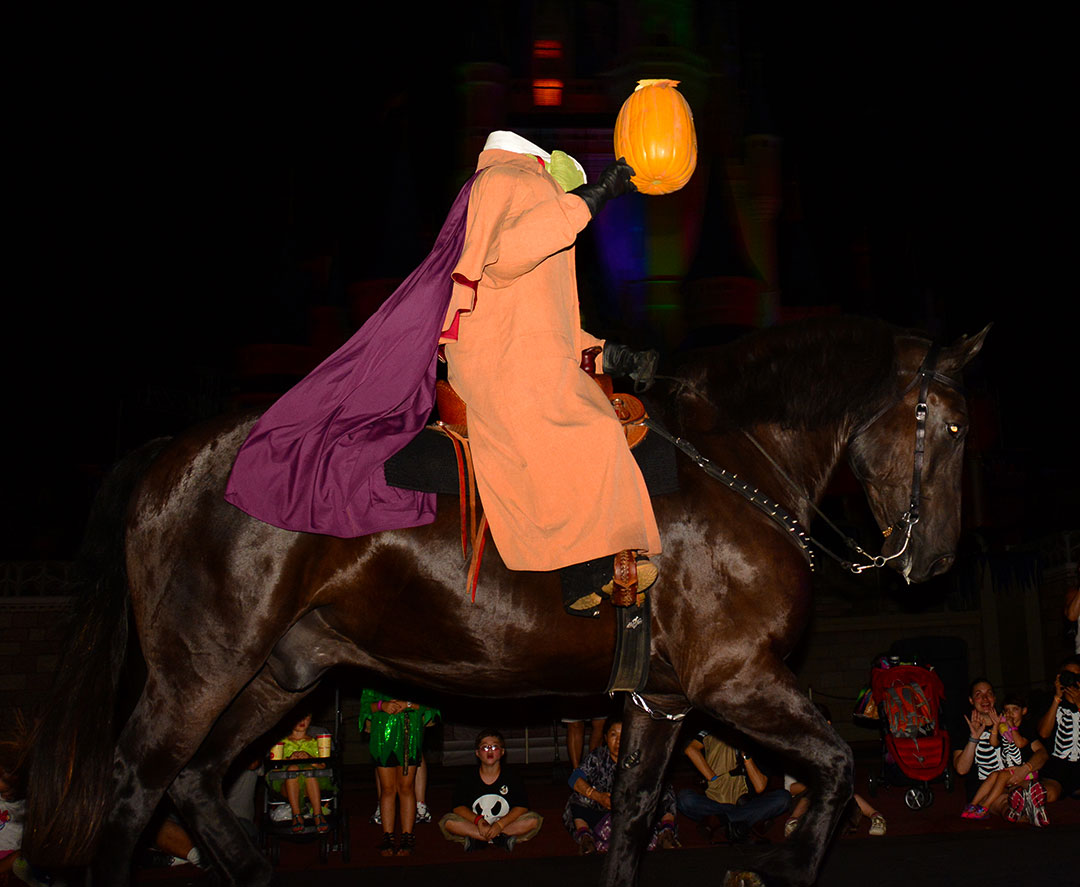 The best view of the Horseman is still the one my buddy Rob recommended last year in front of the Barber Show in Town Square.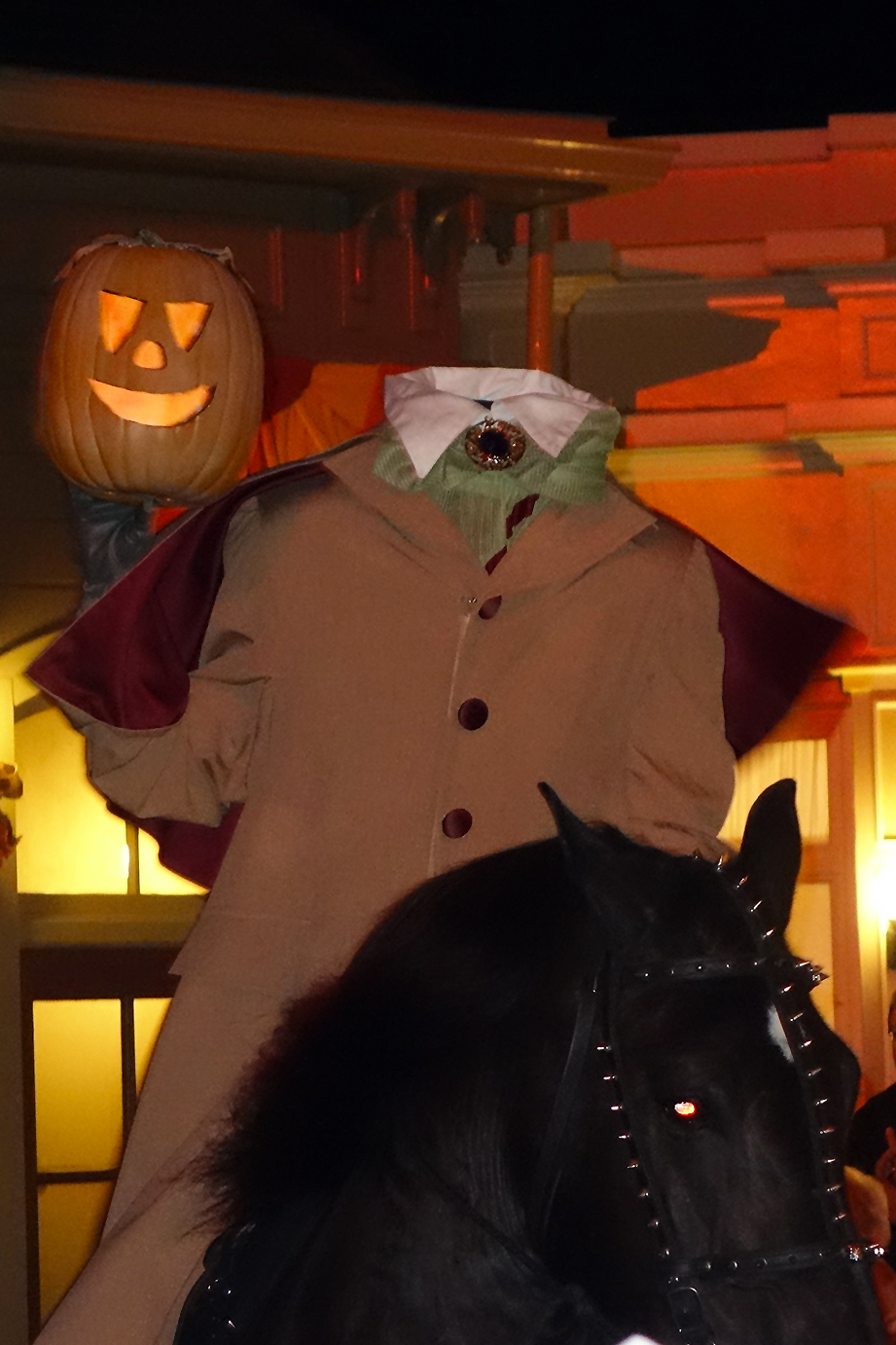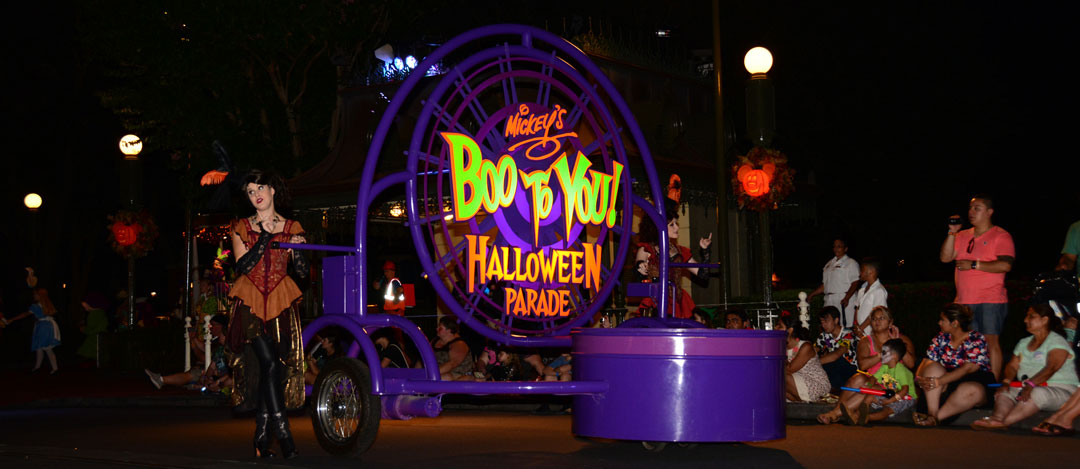 Pretty Disney smile to begin the parade.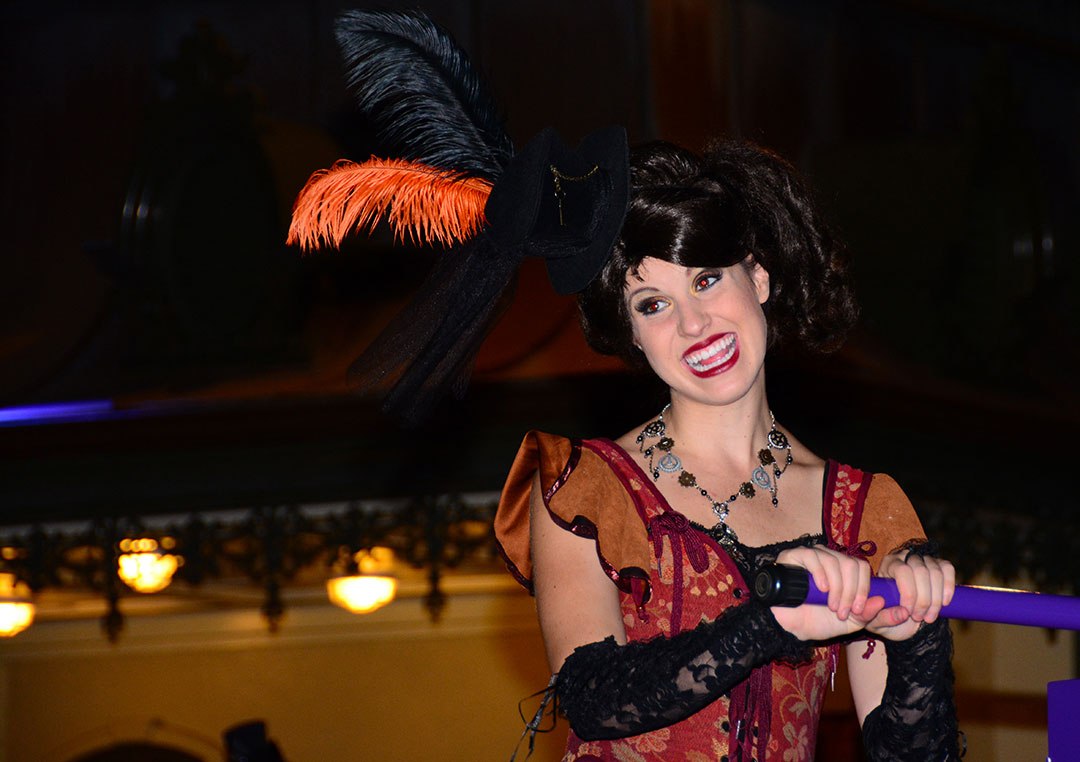 Who is there?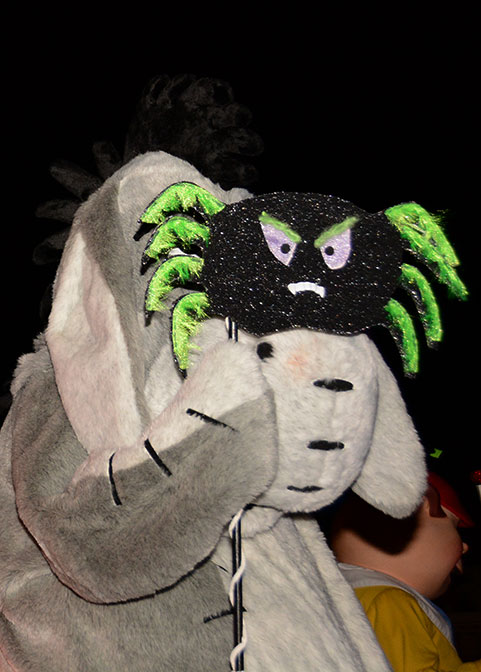 Piglet, you don't have your costume on!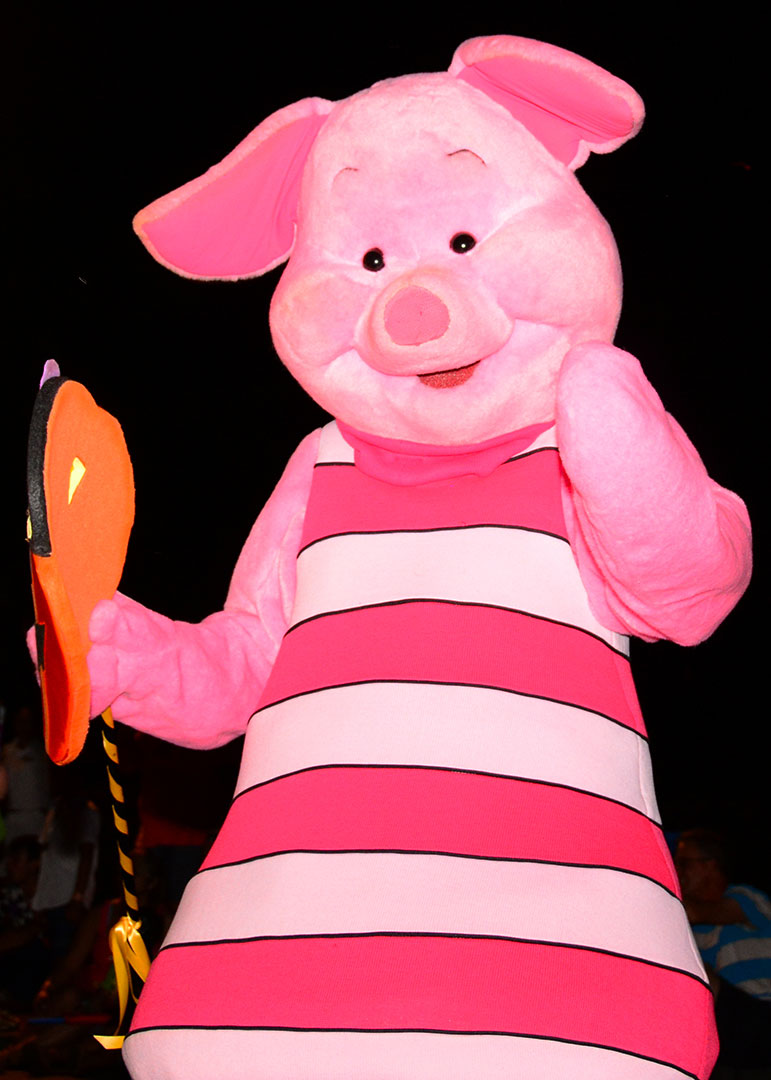 Jordyn said, "If I was that Jasmine, I'd love to have this photo."  My daughter is too sweet and compliments my terrible photography and editing skills.  Is she sponging for a car?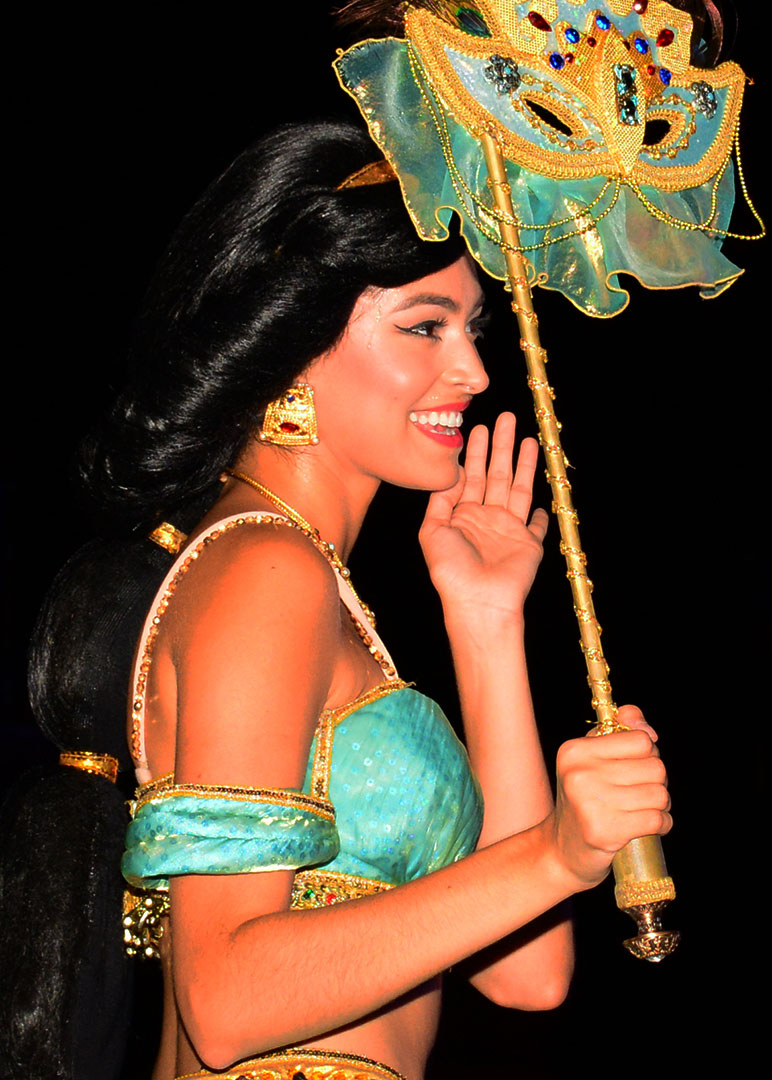 Jasmine and some other guy.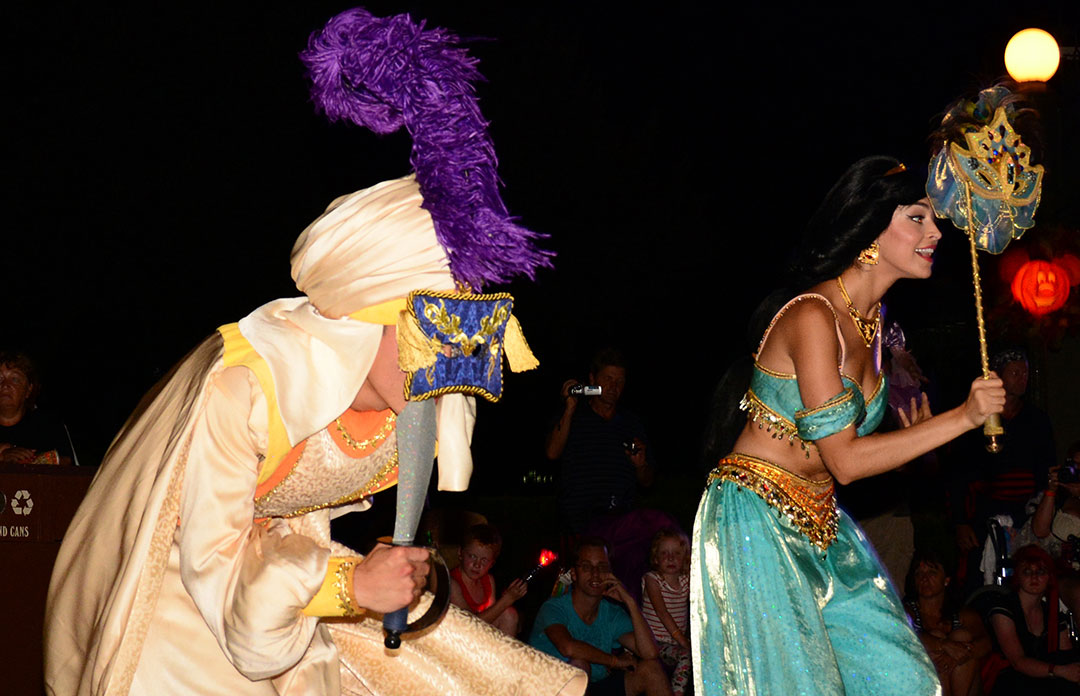 Donald Duck and Daisy on the other side.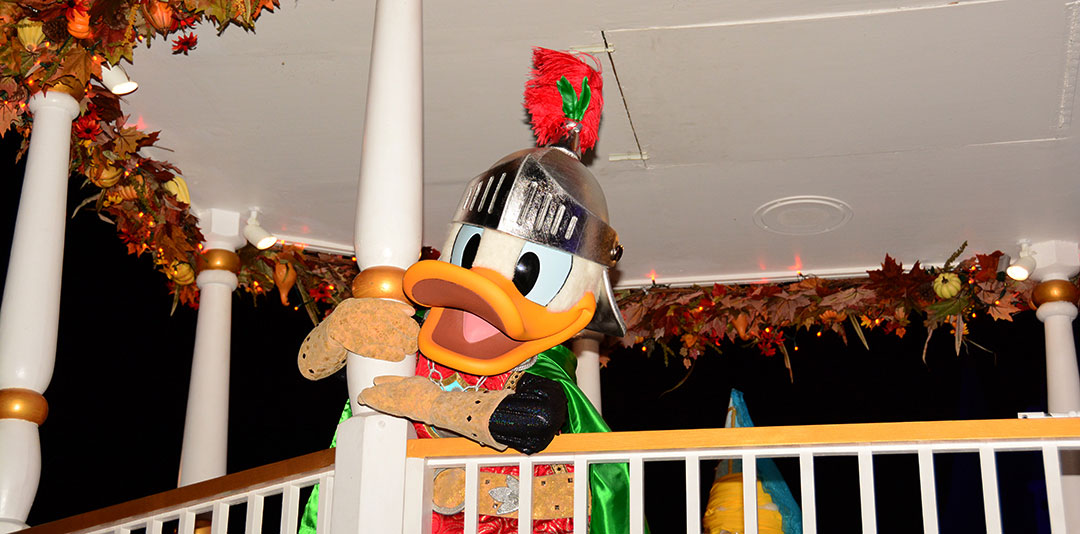 Wendy, the lost boys, Mr. Smee and Peter Pan join Captain Hook on the pirate ship.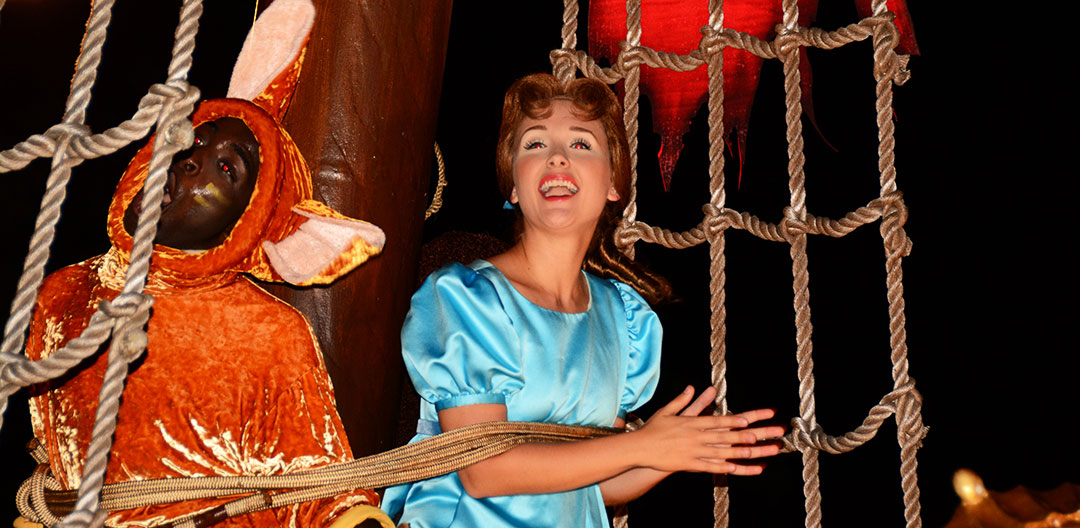 He seemed nervous about all the character cuts that occurred for 2014 Halloween Party.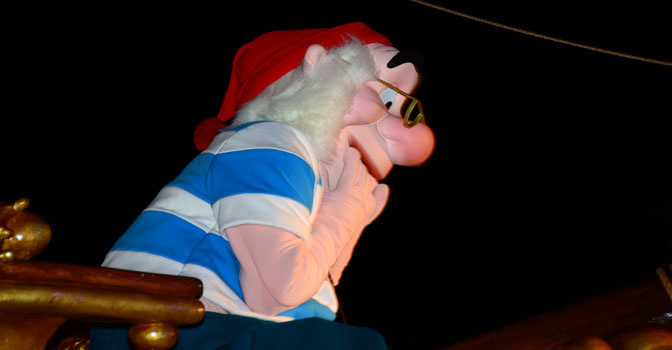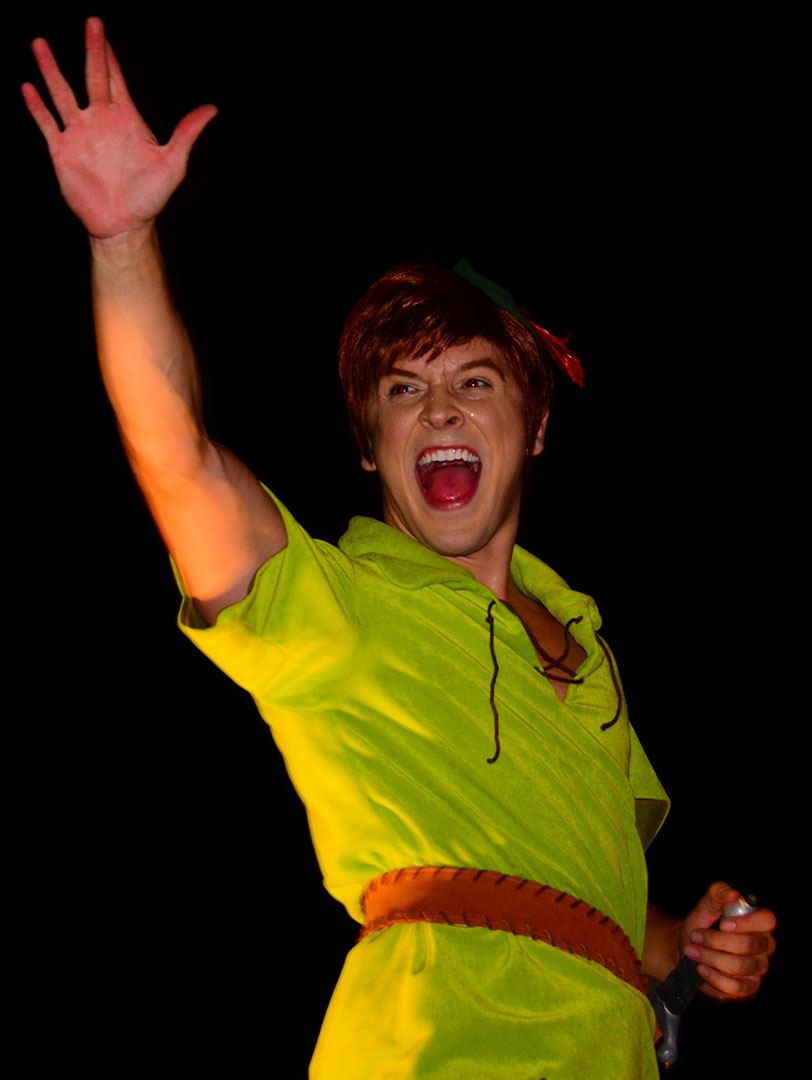 Hook is searching for all the missing villains.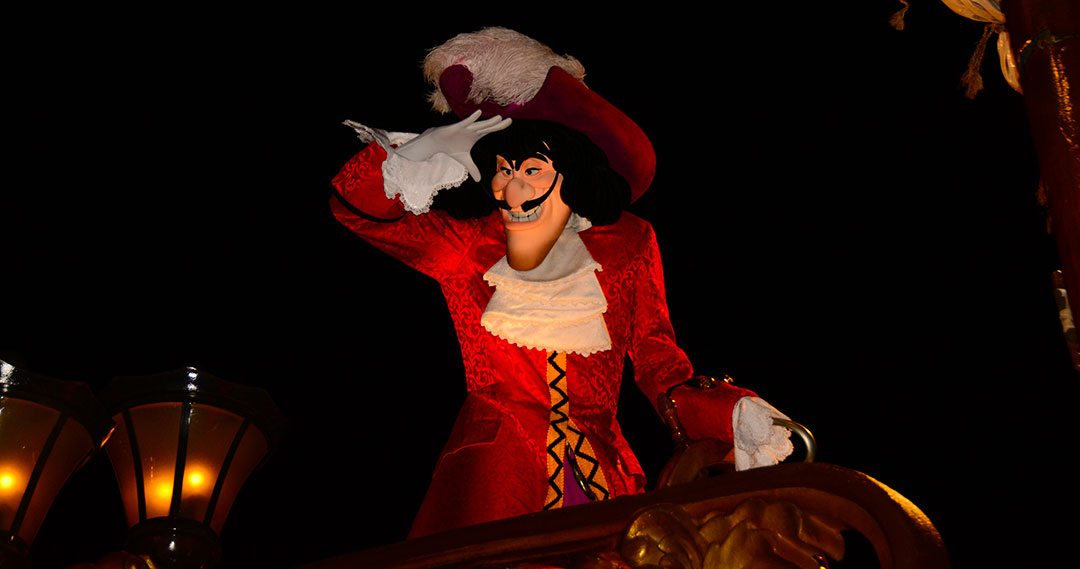 Nothing says "Pirate" like waving a flag, right?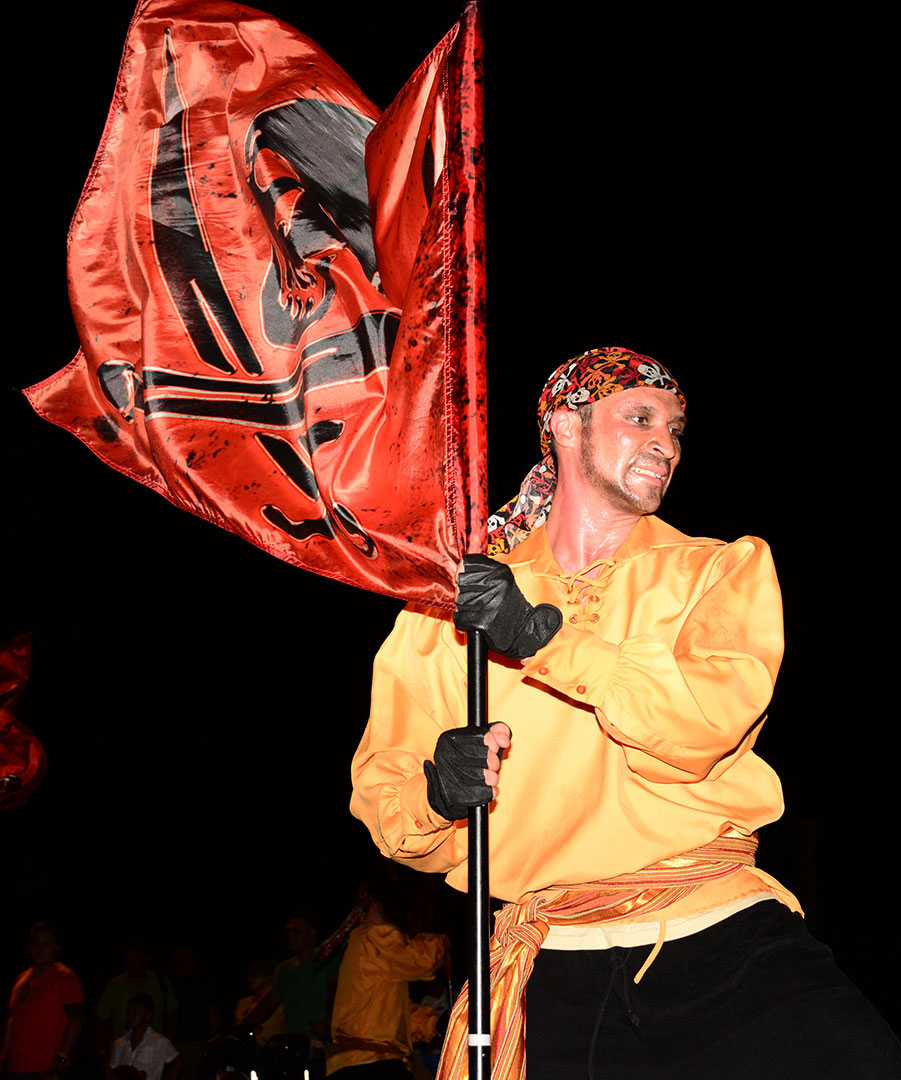 How about a tasty apple?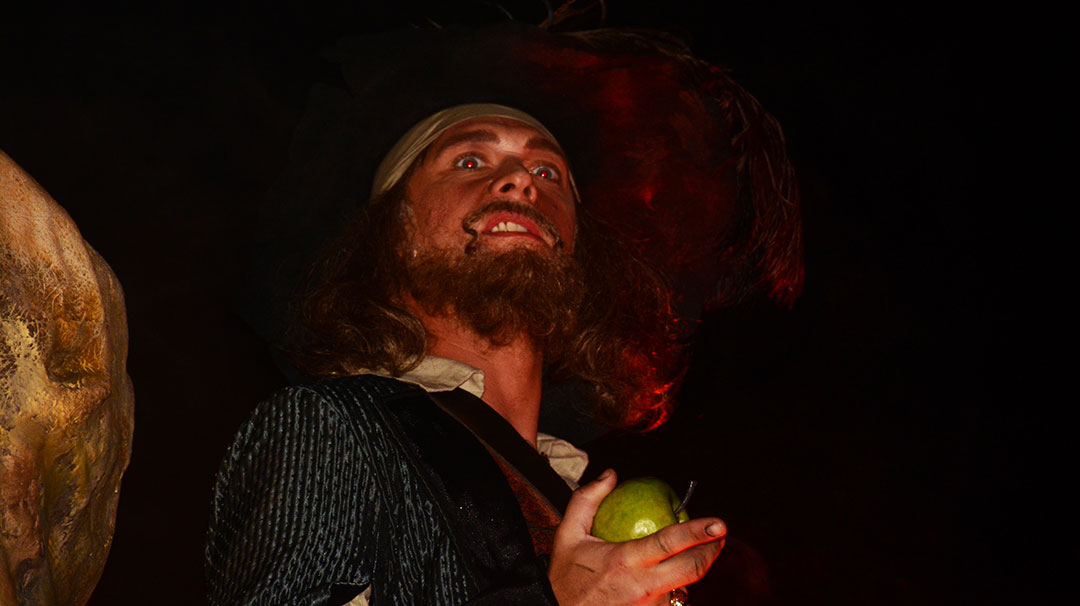 Rum, why did it have to be the rum?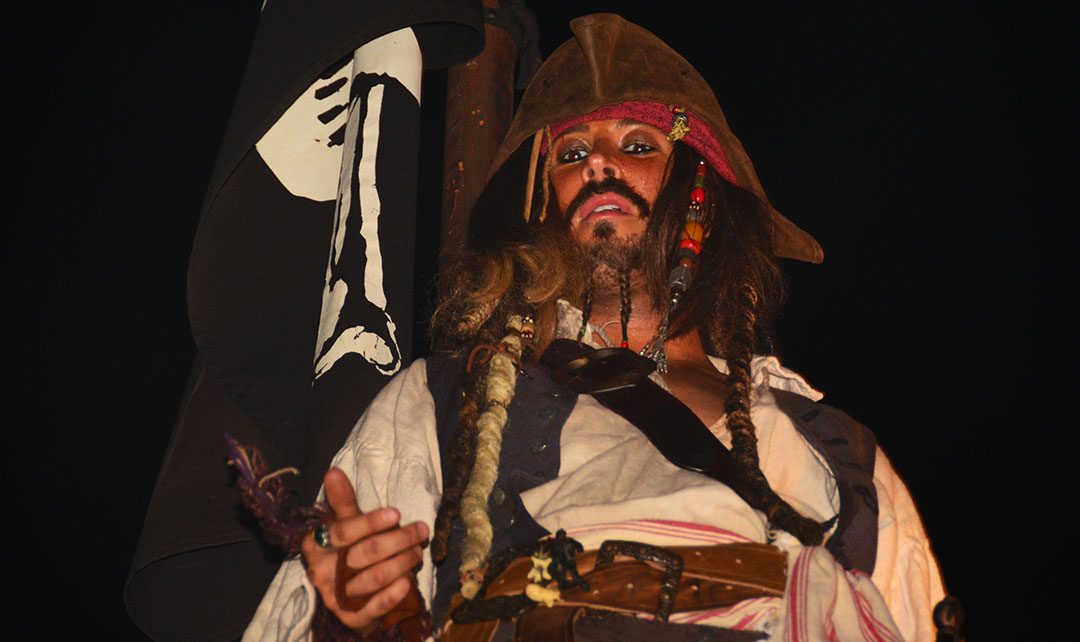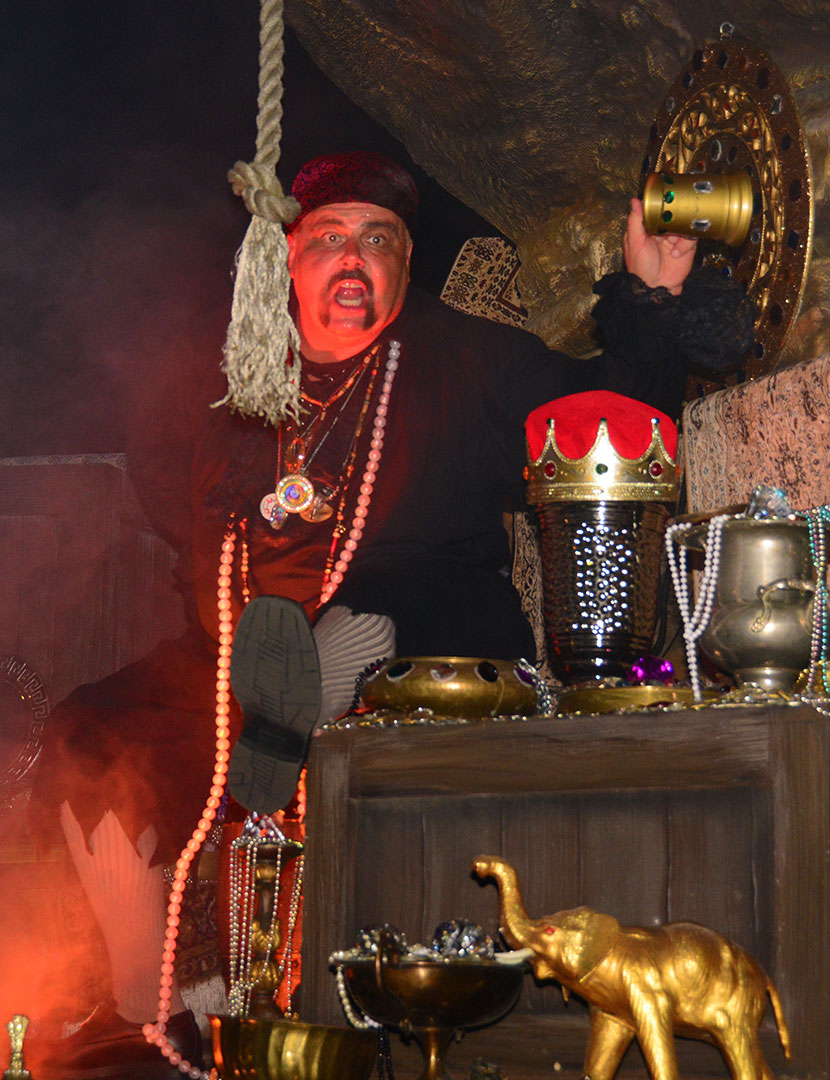 I finally got this guy to turn for a photo and the dog decided to turn away.  Uggh.  I guess I'll need to throw down another $58 and return. Maybe these guys should be at the Soiree?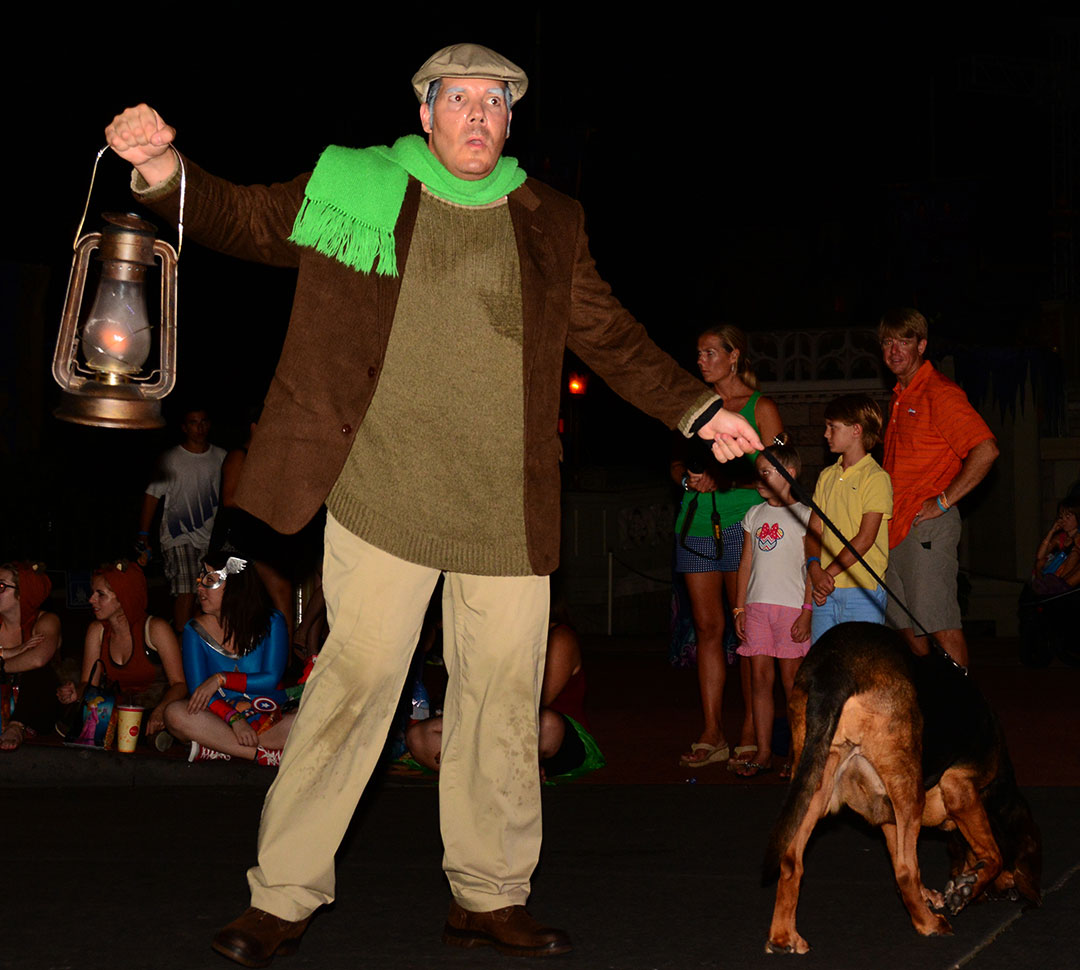 Hey dude, that's pavement!  You can't use a shovel on pavement.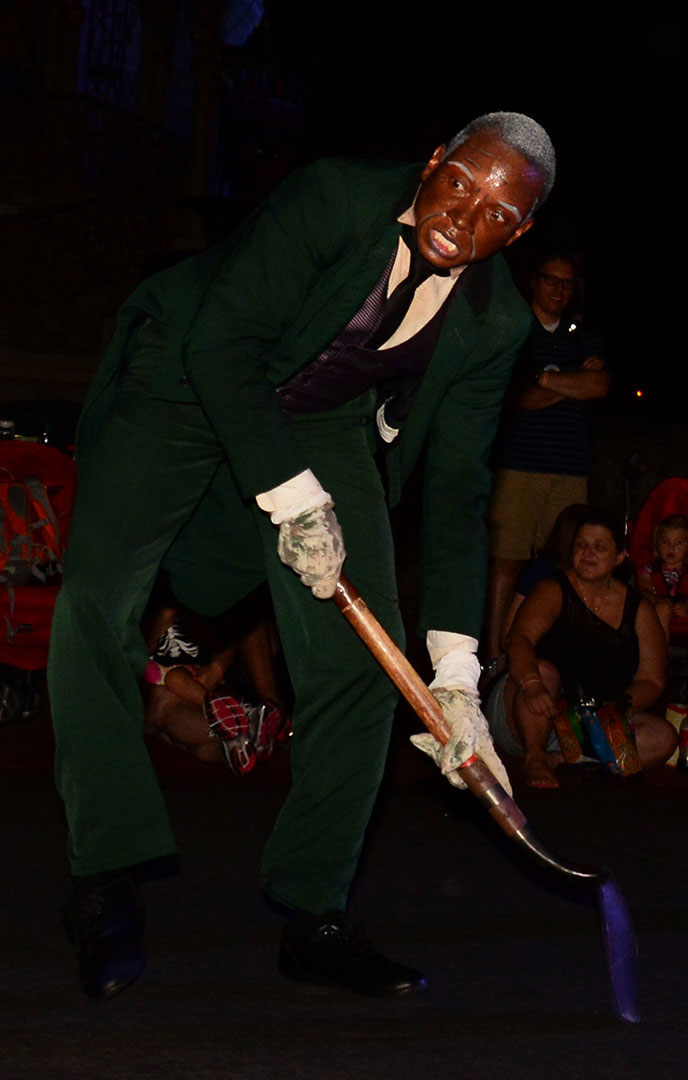 Fewer character meets, but more dancers!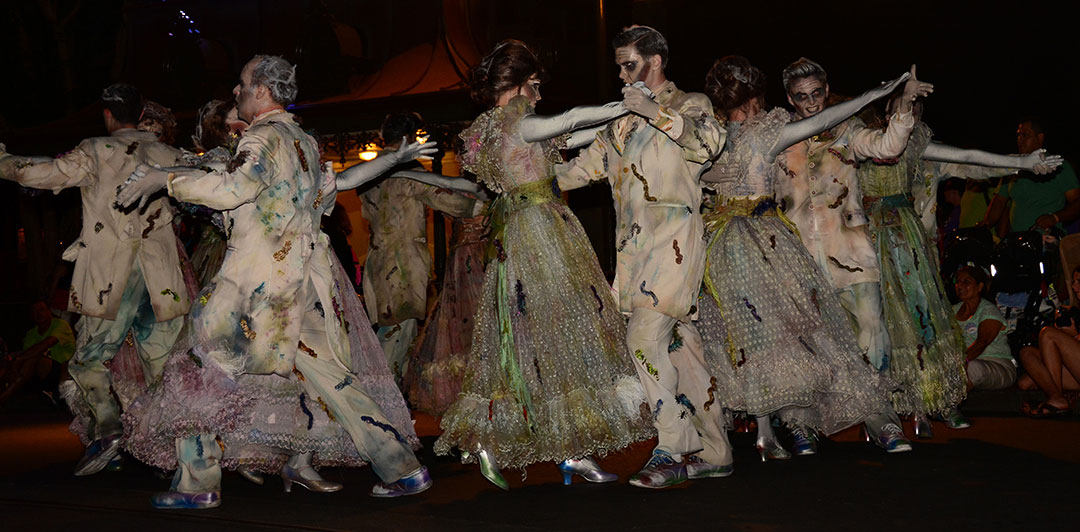 You got a problem with dancers pirate guy?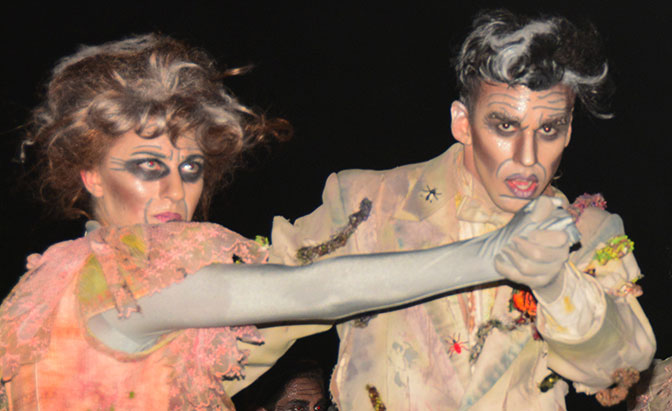 Nah.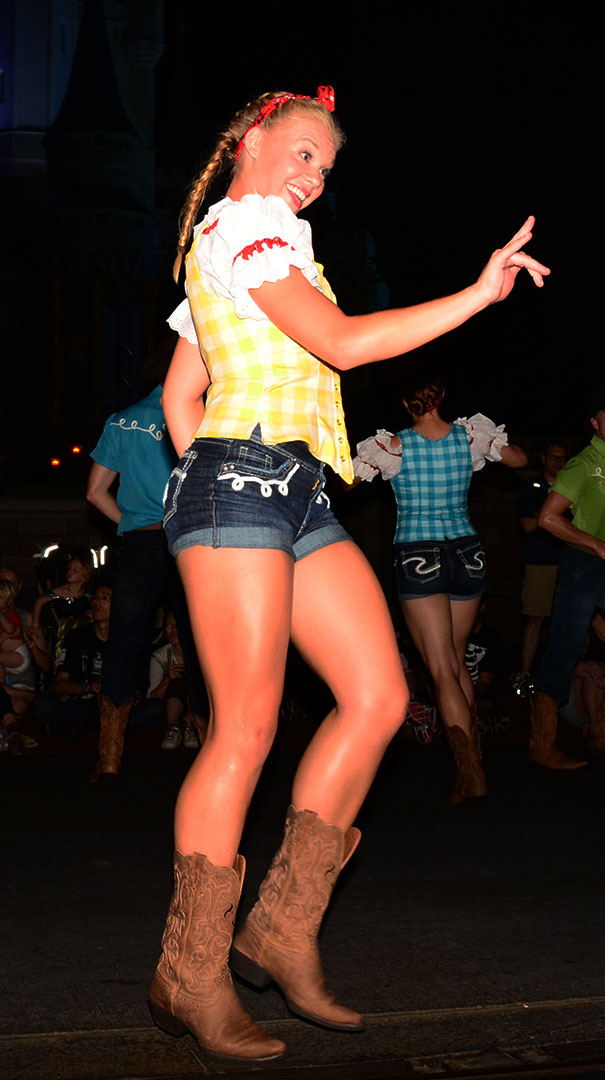 Clarabelle cruising the Castle Hub in style.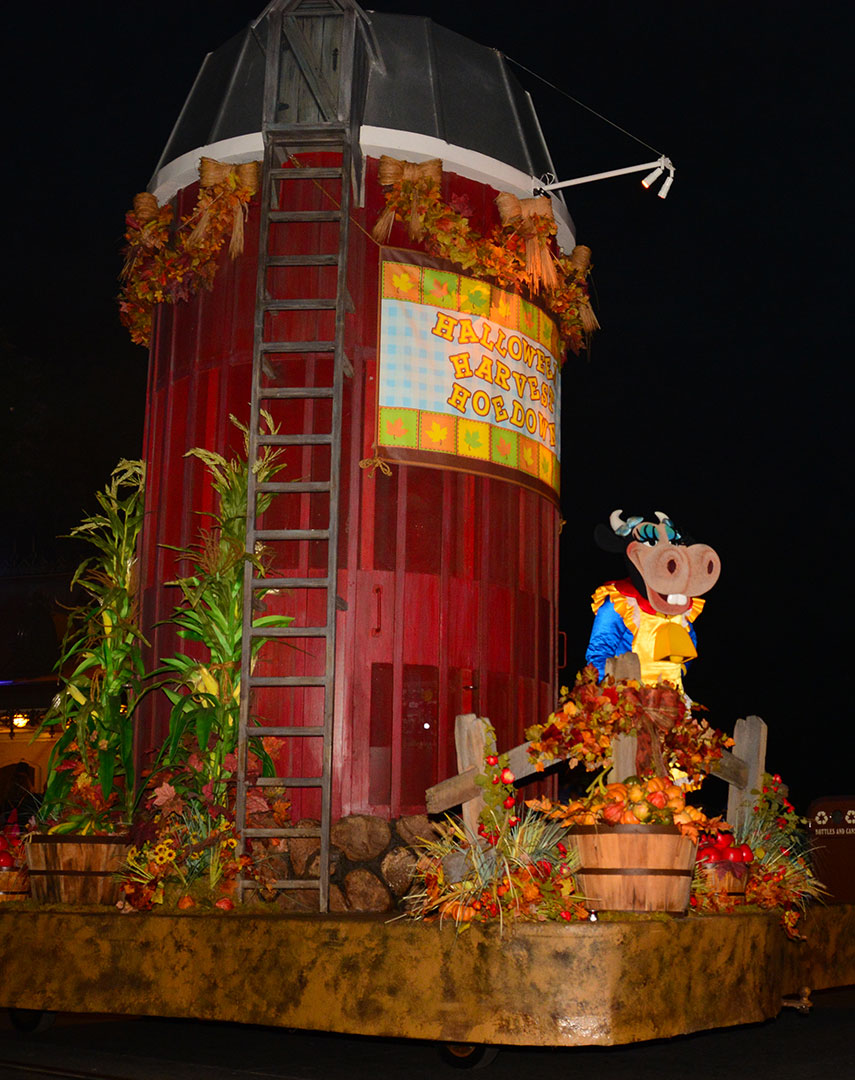 Clara Cluck follows closely behind in her hen house.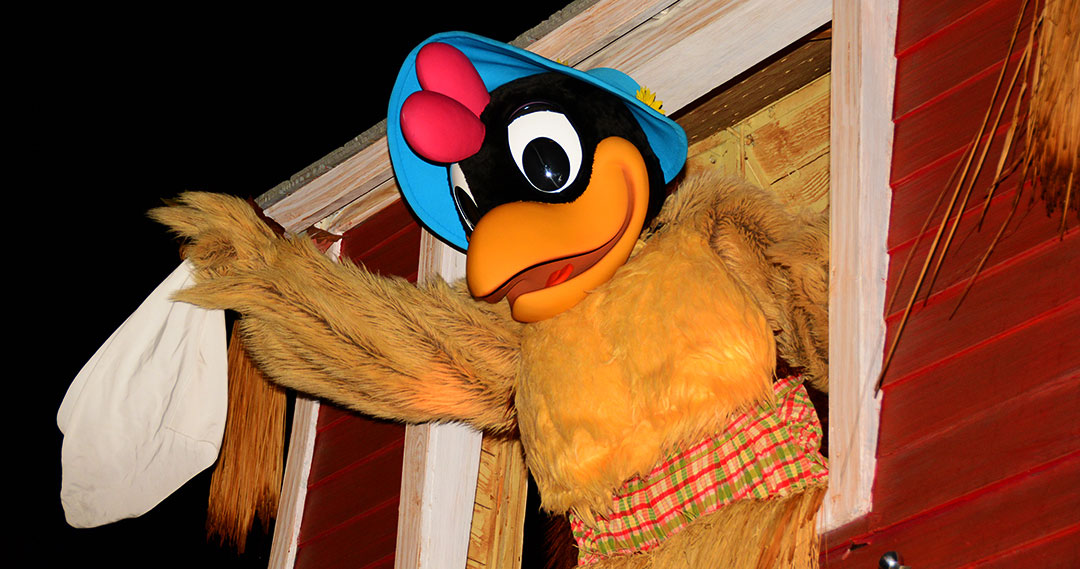 New to the parade this year are Vanellope and Wreck-it Ralph.  My little girl is excited to see them parade past and most of the kids around were too.
Well, they were excited until they realized that Goofy got chintzy and took away the suckers that he handed out for the last several years!
Maybe Ed ate them?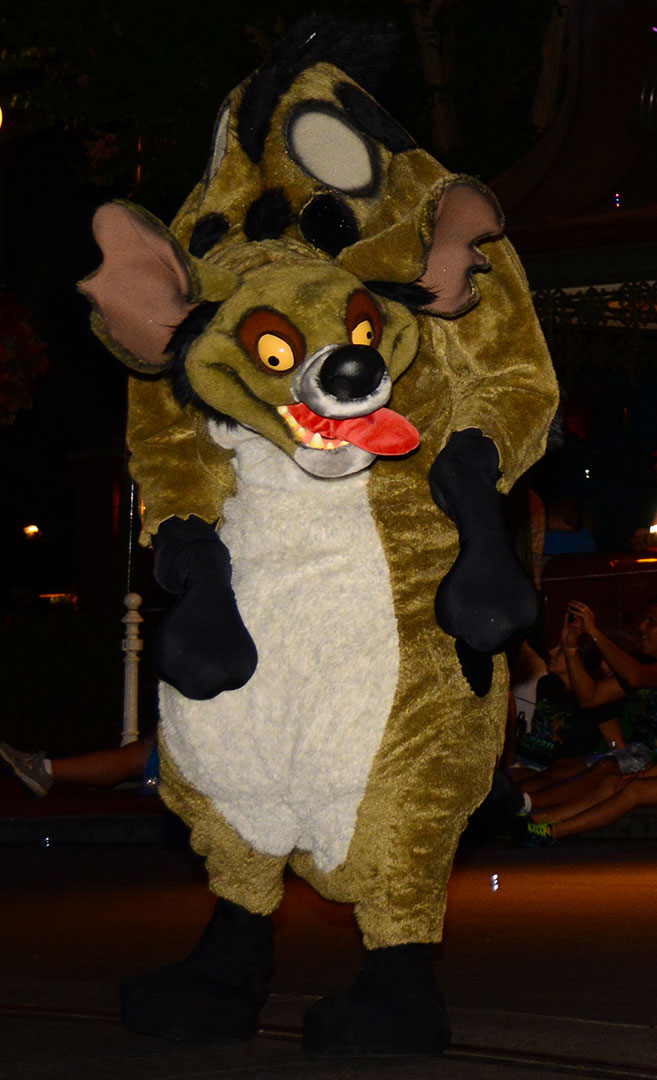 Always nice to have a quality rock band.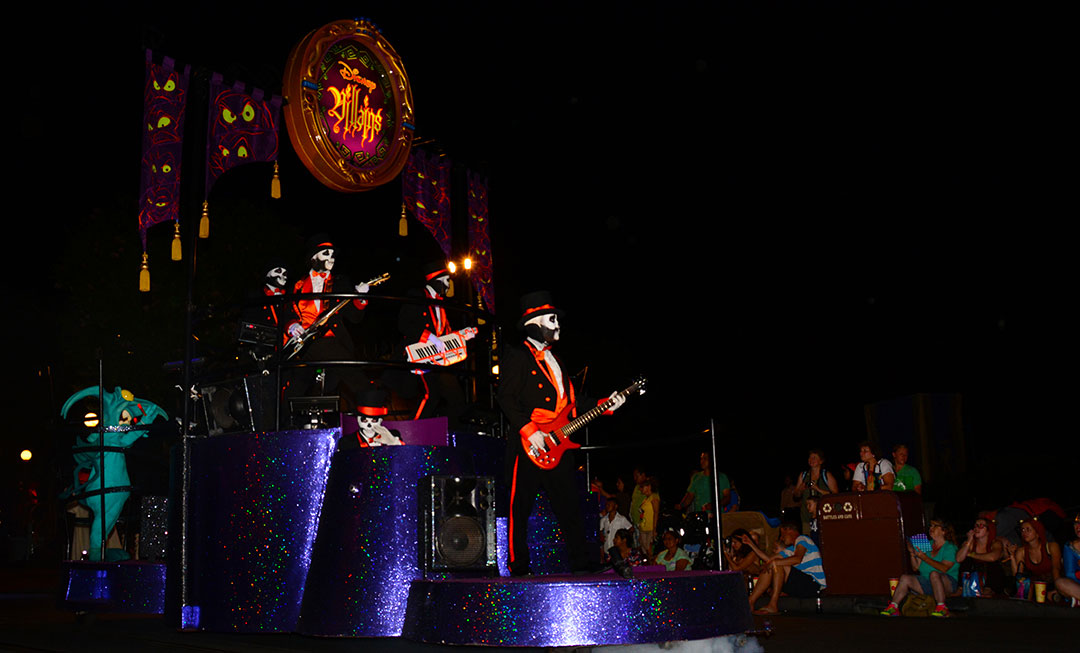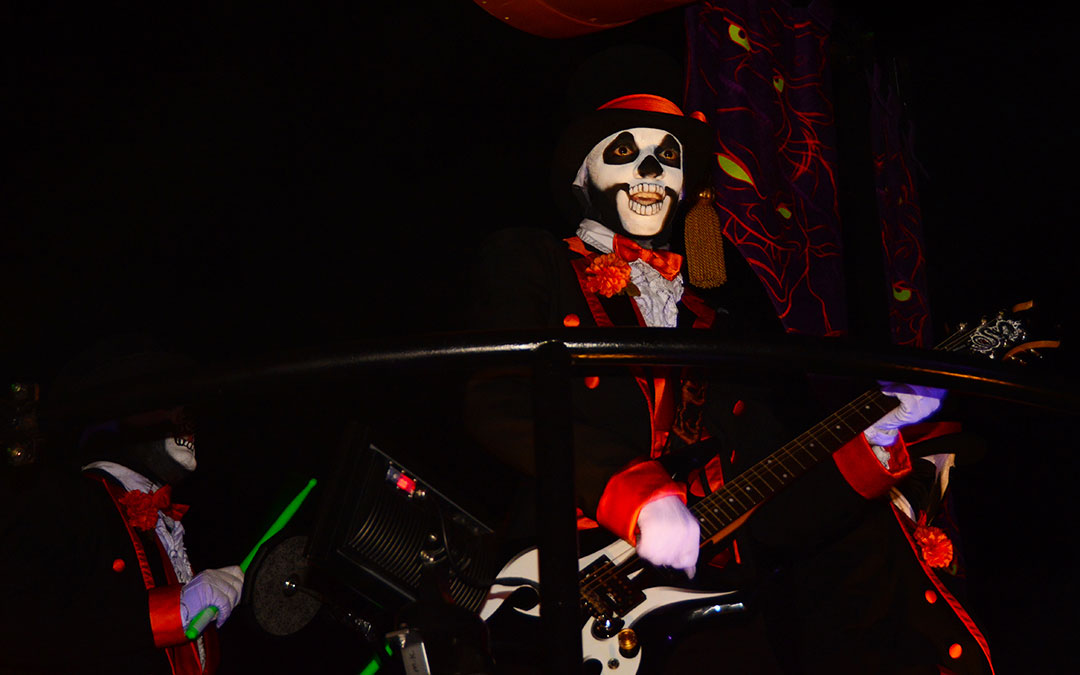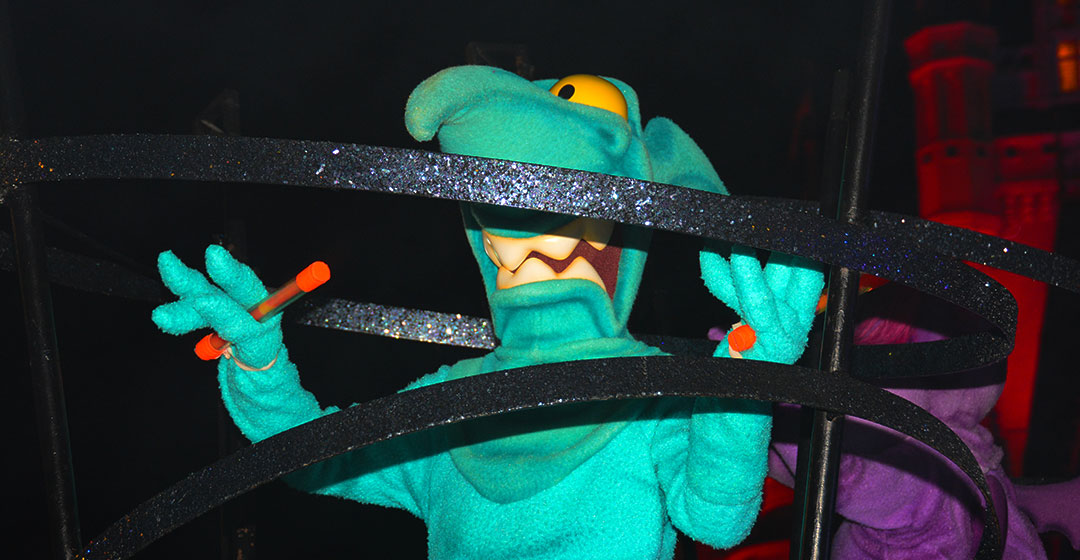 We never had Bowler Hat around until last year and now he's joined the parade and seemed excited about it!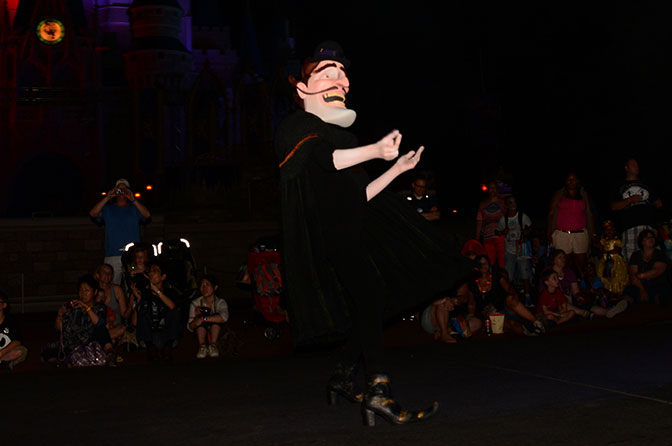 Judge Claude Frollo says, "Dude, relax with all the talk about cuts in the Halloween Party or every party will have this light attendance!"
Found the money that they made on the Villains Soiree.  Not sure you can trust that treasurer.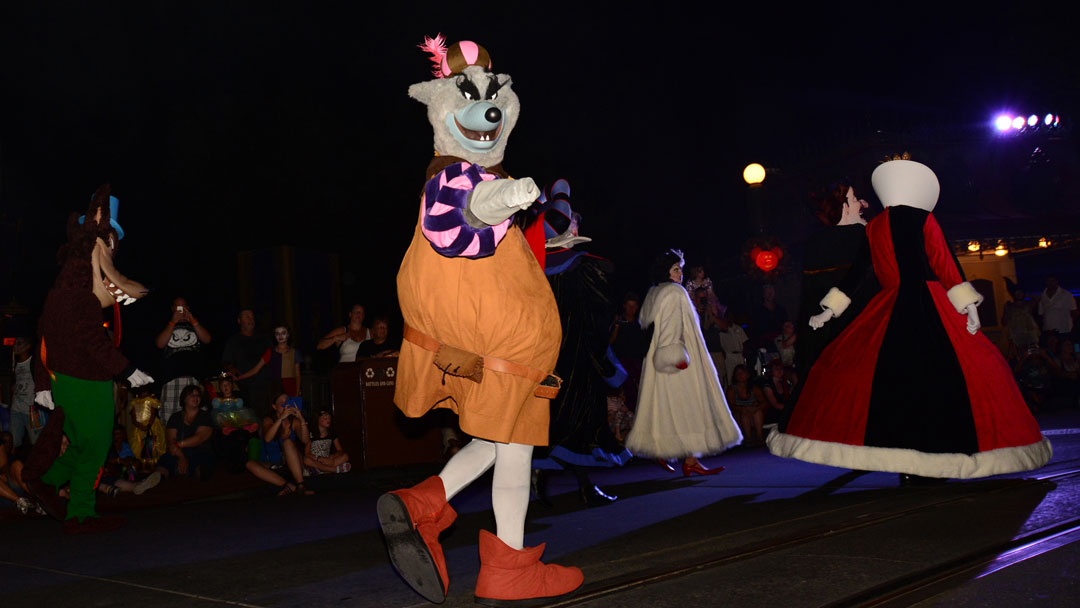 Let's get contentious.  She's always worn orange in the parade, looks great in dark light.  I used flash.  Makeup could be more dramatic though.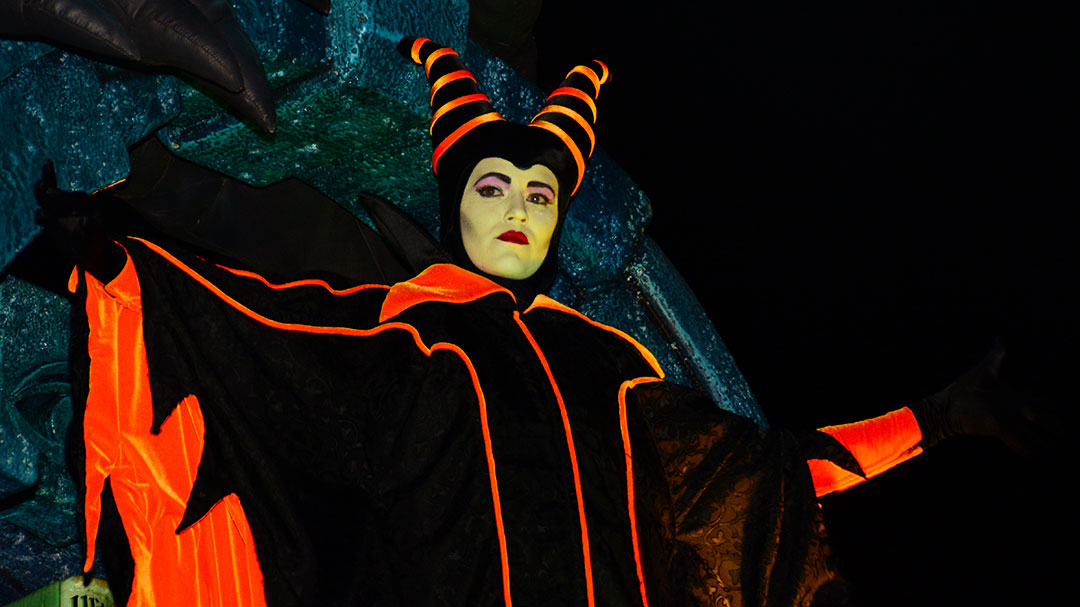 Want to know how to make people mad on Facebook?  Show a photo of Maleficent smiling.  Remember, I caught her about to laugh villainously and villains do smile too.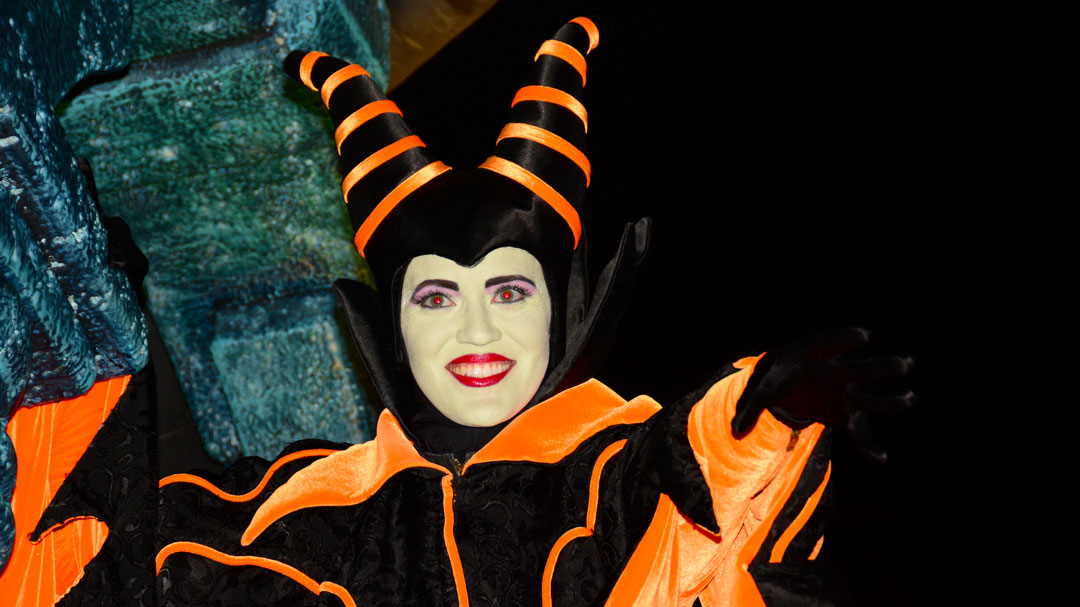 Villains smile, but she doesn't!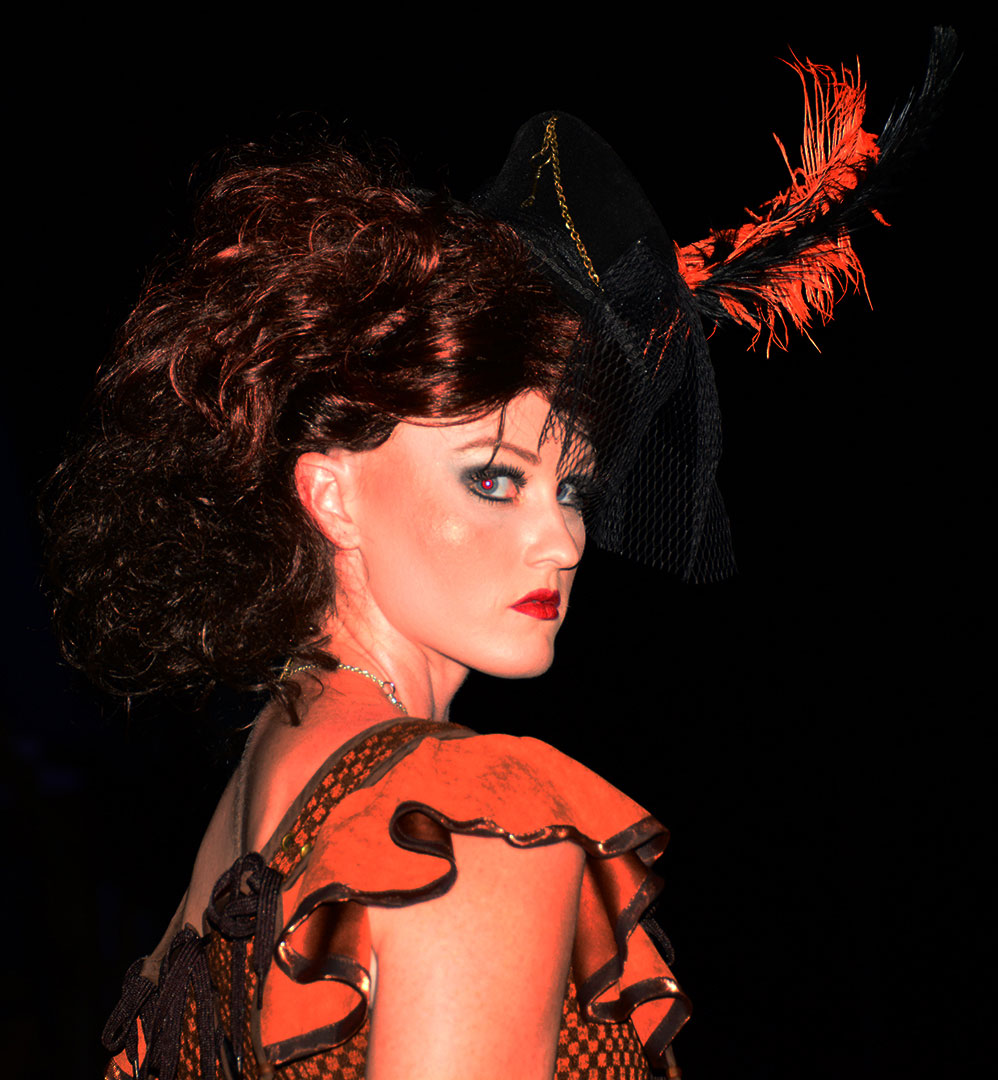 Stop smiling!  Stop it I say!  It gives you wrinkles.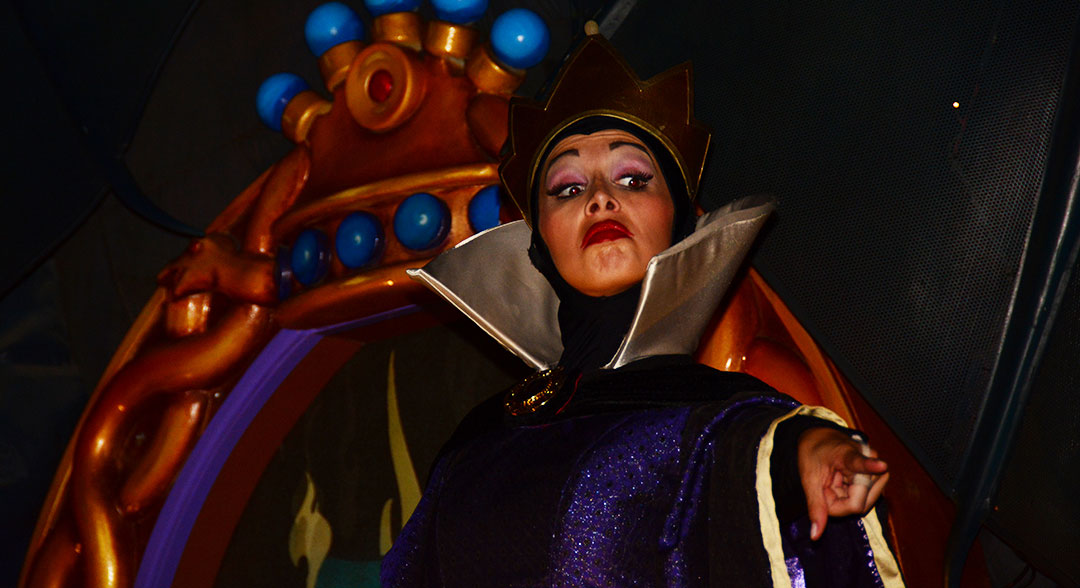 After the parade we made our way around and did a bit of the "blogger fly by" that is a popular way to document events.  Tiana was NOT meeting with Naveen.  Do that on a non-party day.
No princes, no villains after Castle Show this year.  And you can only meet Maleficent, Snow Queen and Captain Hook at Soiree too.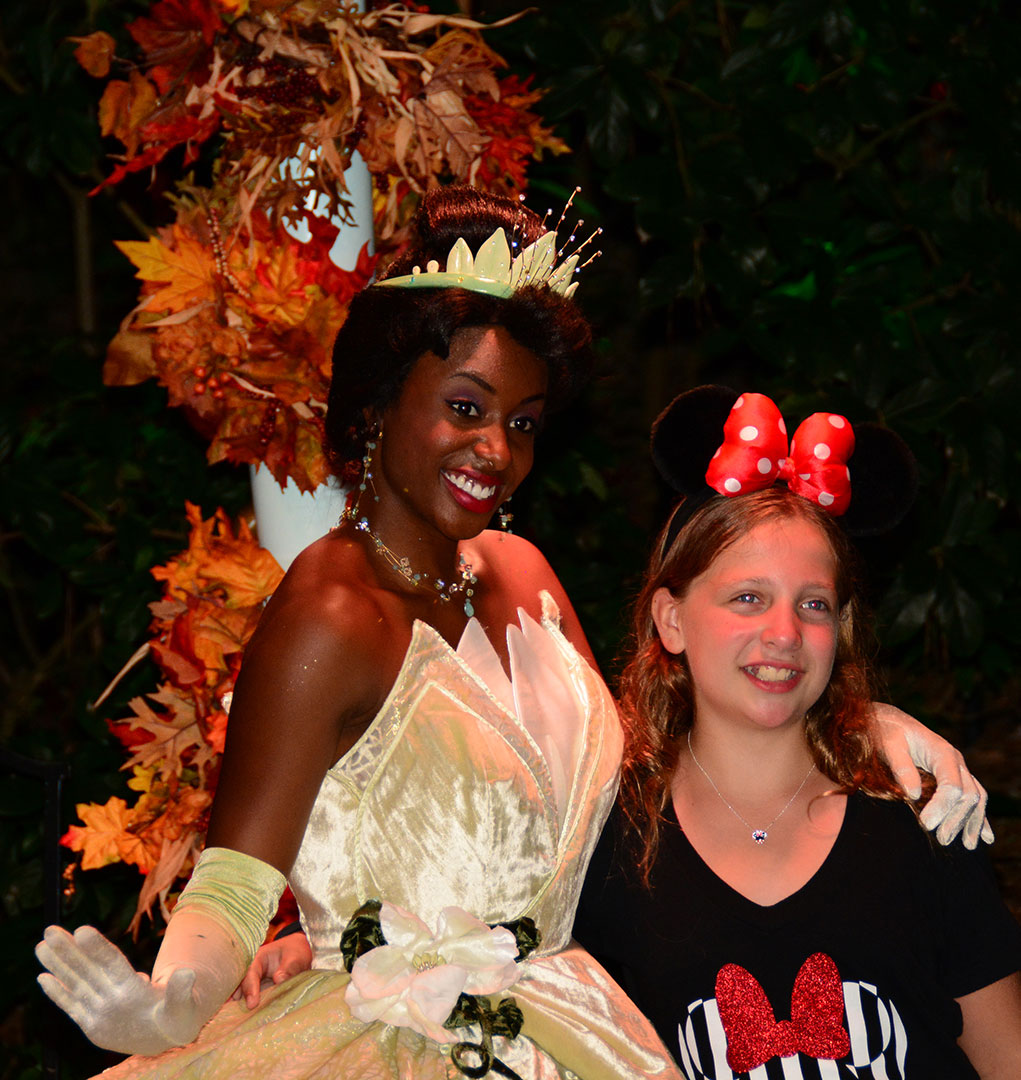 Kenny, all we really care about is the wait time for Anna and Elsa!  Please tell us that people walked right in.  Well, they did at the end of the night.  Posted wait seemed to be stuck on 40 all night.  I don't trust those signs anyway.  People reported 20 minute waits.  Hey, if they cut the Princes, we should have really low waits.  Cinderella and Rapunzel were 10 minutes or less all night.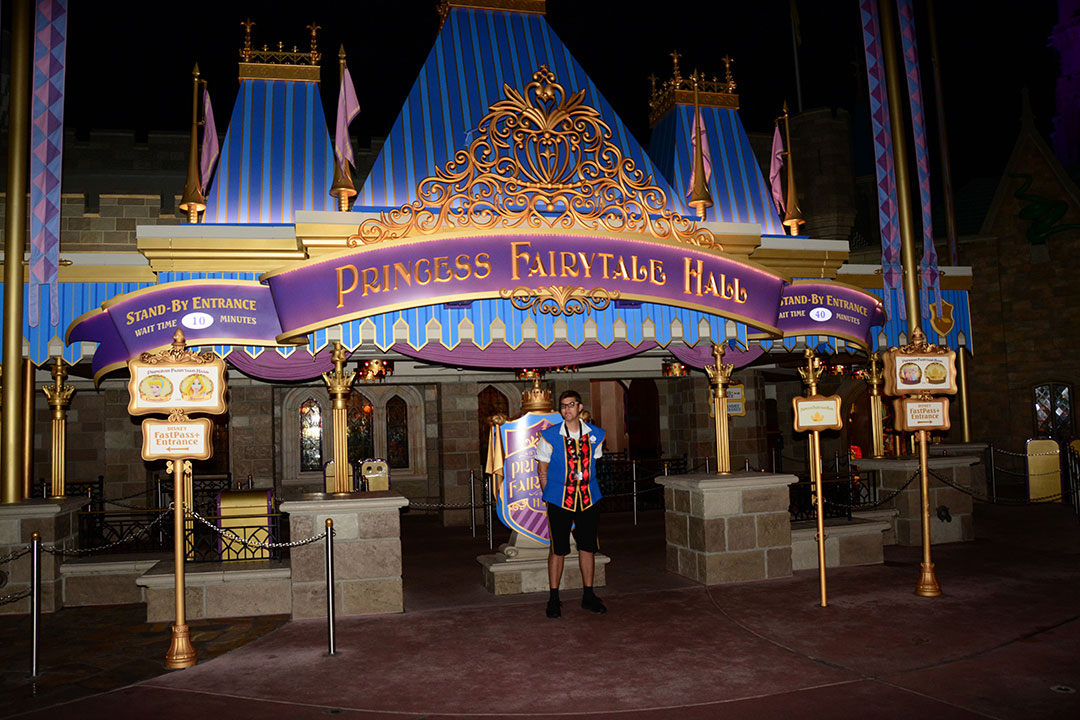 Snow White and Aurora meet near the new Castle wall on the right side when looking toward the Seven Dwarfs Mine Train.  They had a short wait and can be met at Magic Kingdom during the day or at Epcot.  Don't waste party time on daytime characters!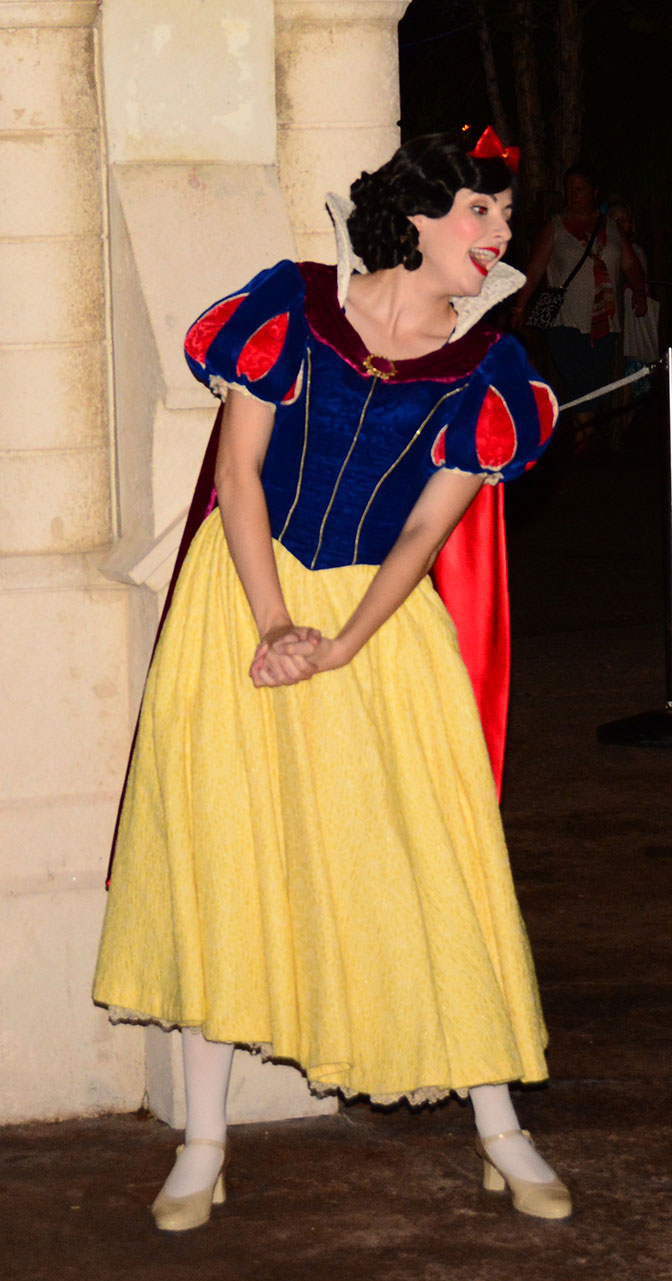 Our destination was to meet the Witch.  We met her at Villains Unleashed and the lines were LOOONNNGG.  Tonight we waited 2 minutes at 11:10pm.

Would you like a lovely apple?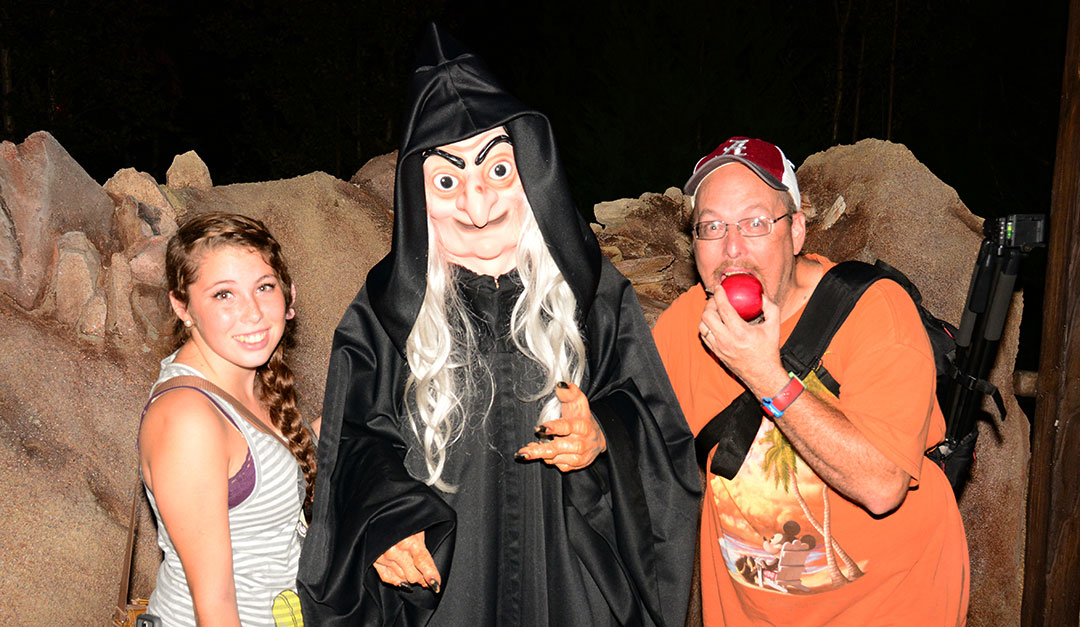 We then made our way around to meet the Queen of Hearts, Alice and Mad Hatter.  Queen was ending her set at 11:20pm and Mad Hatter was on his way out for his final set of the night.  We only waited because we wanted to meet Mad Hatter when he returned.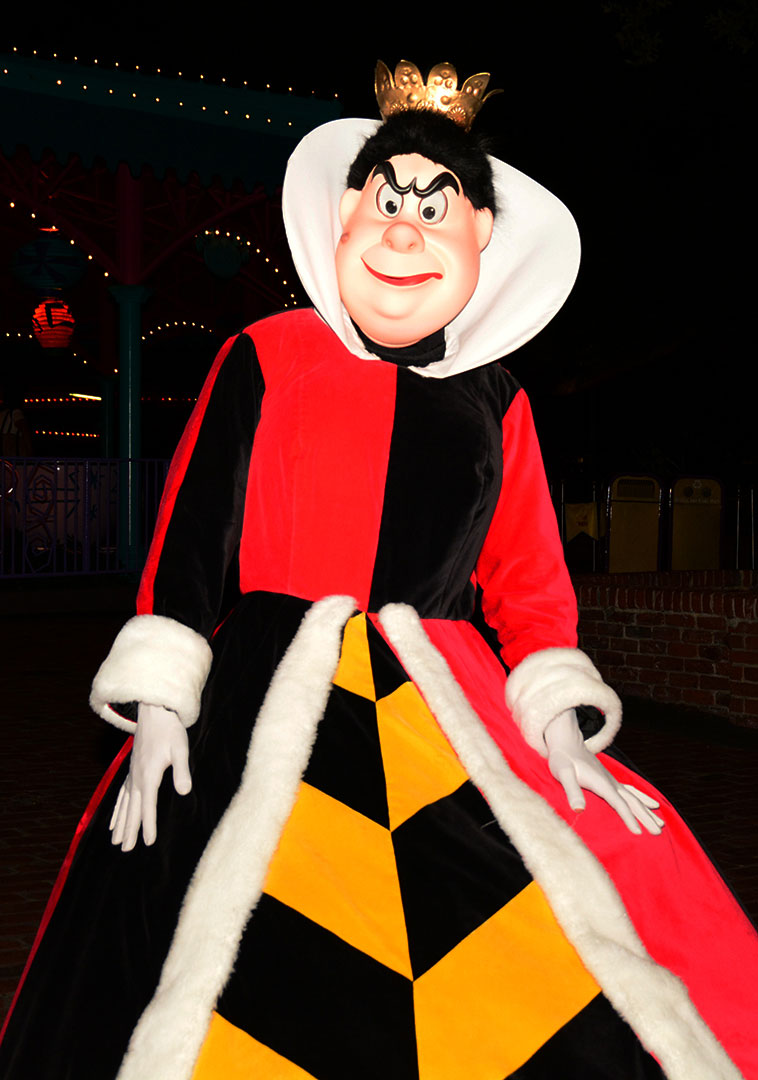 The Mad Hatter is such a great fun character.  He really keeps an interaction going and is on par with Gaston and Tremaines for fun.  Be sure to meet him.  You might catch the Queen of Hearts at Character Palooza (weather permitting)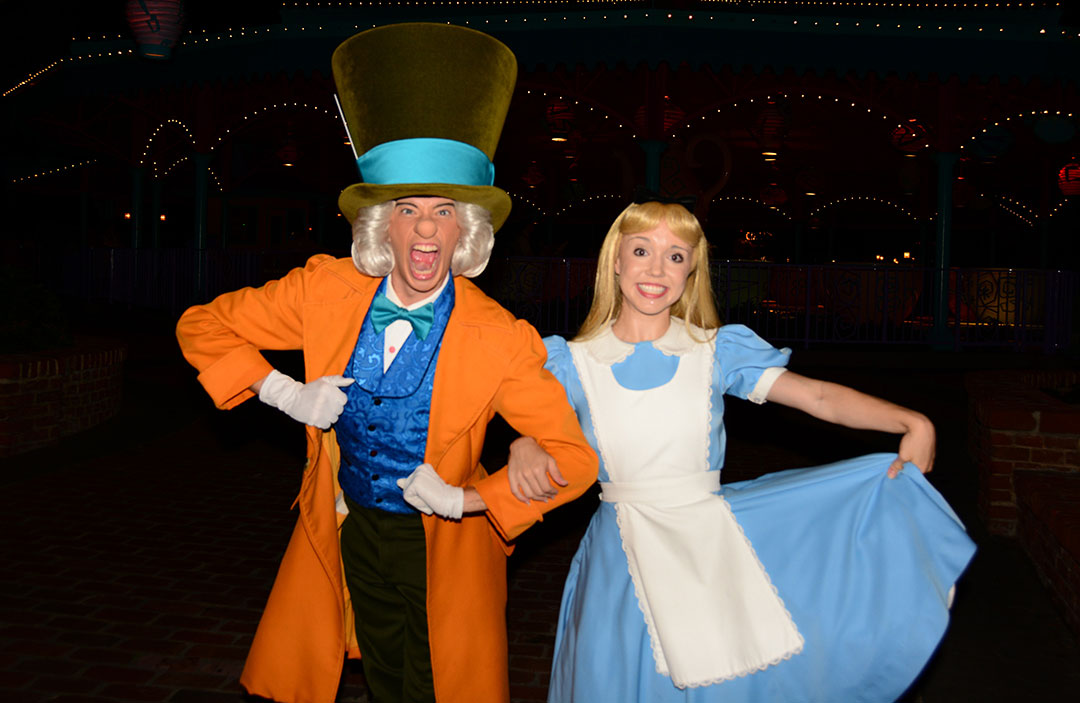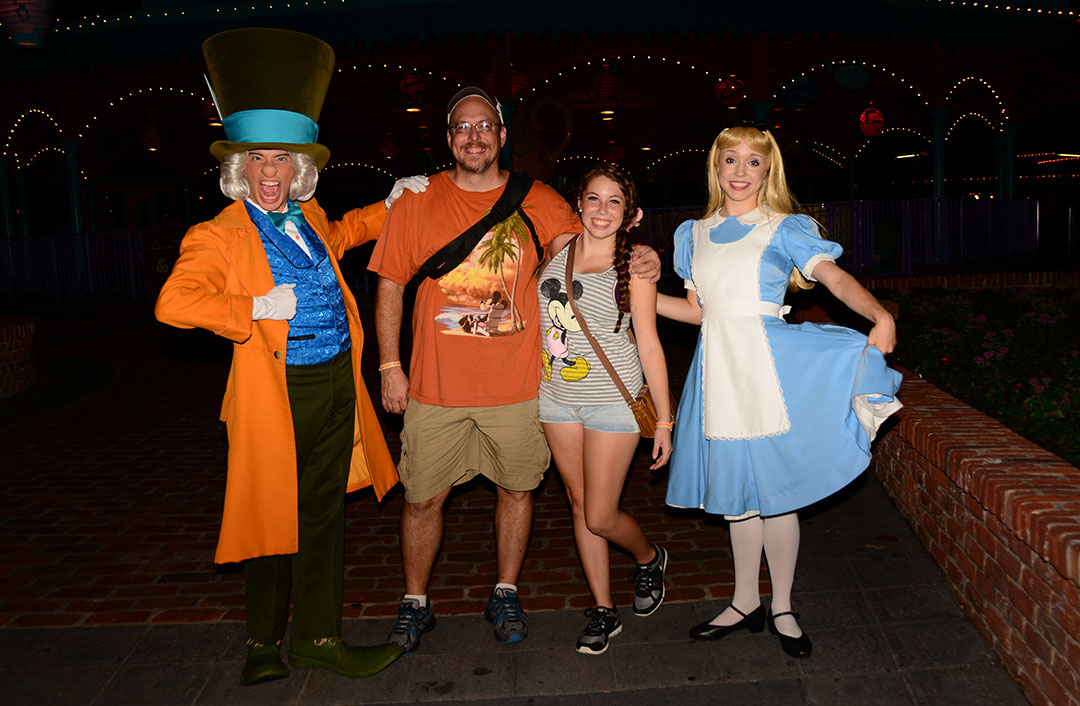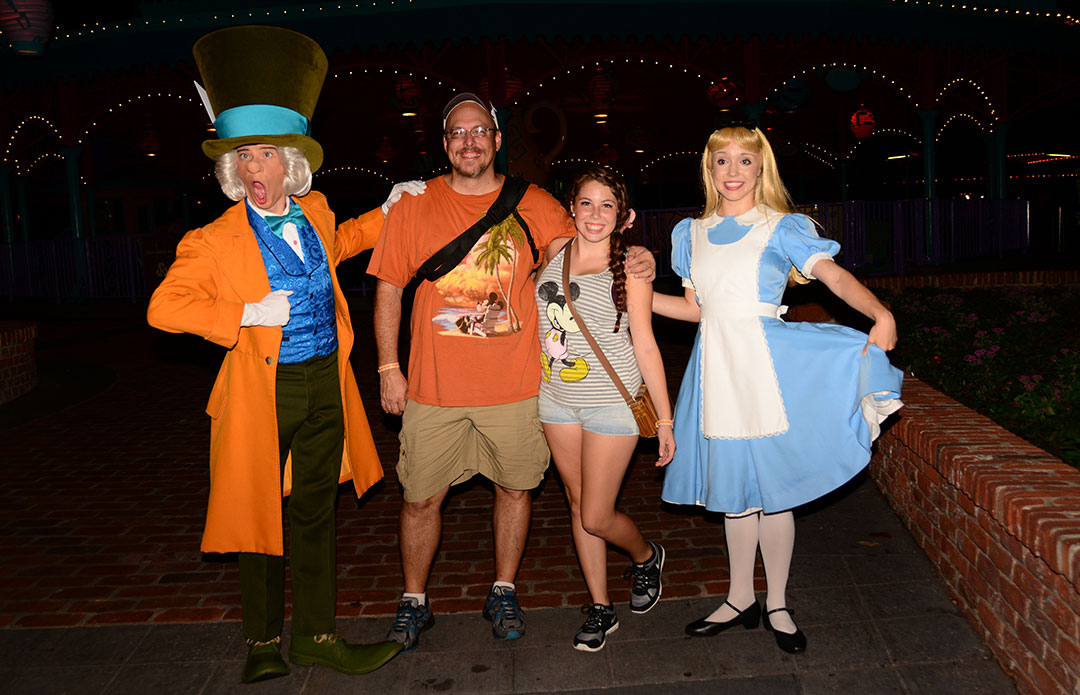 We then stopped by the Monstrous Dance Party in Tomorrowland to see Mike, Sulley, Boo, Needleman and George Sanderson.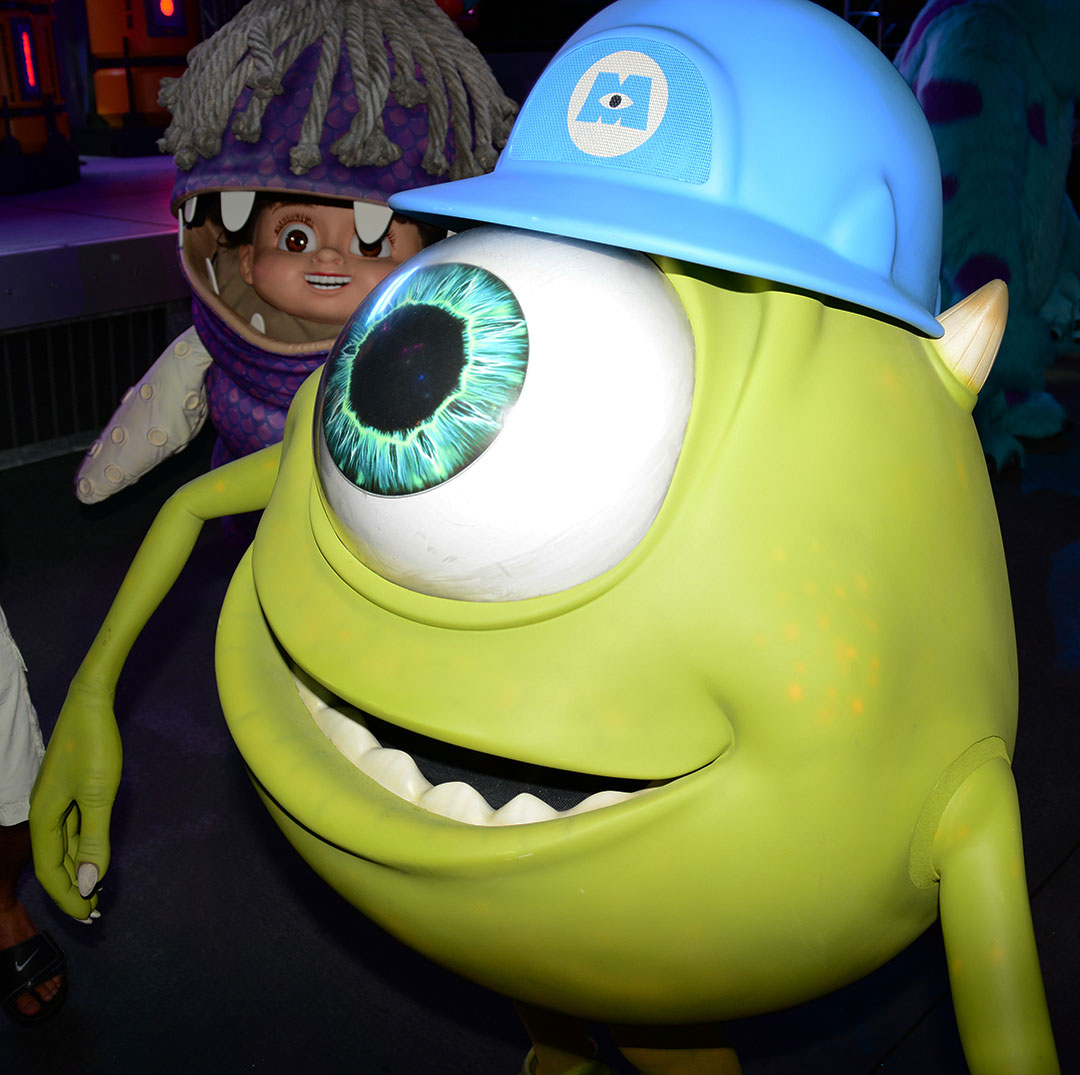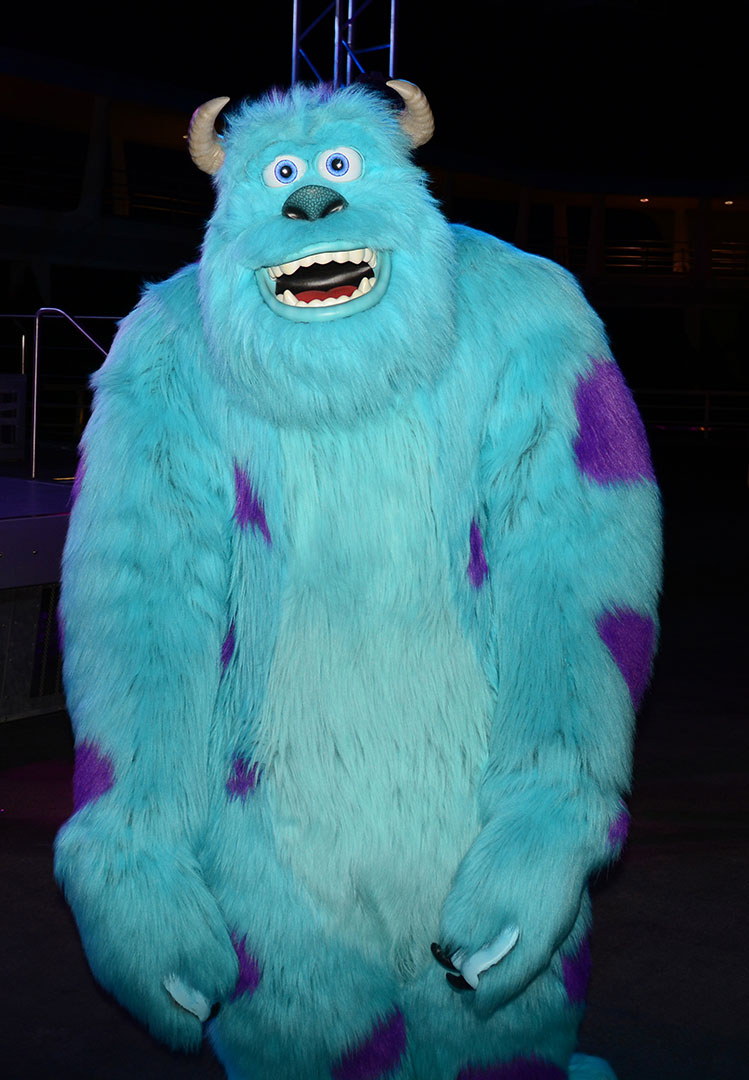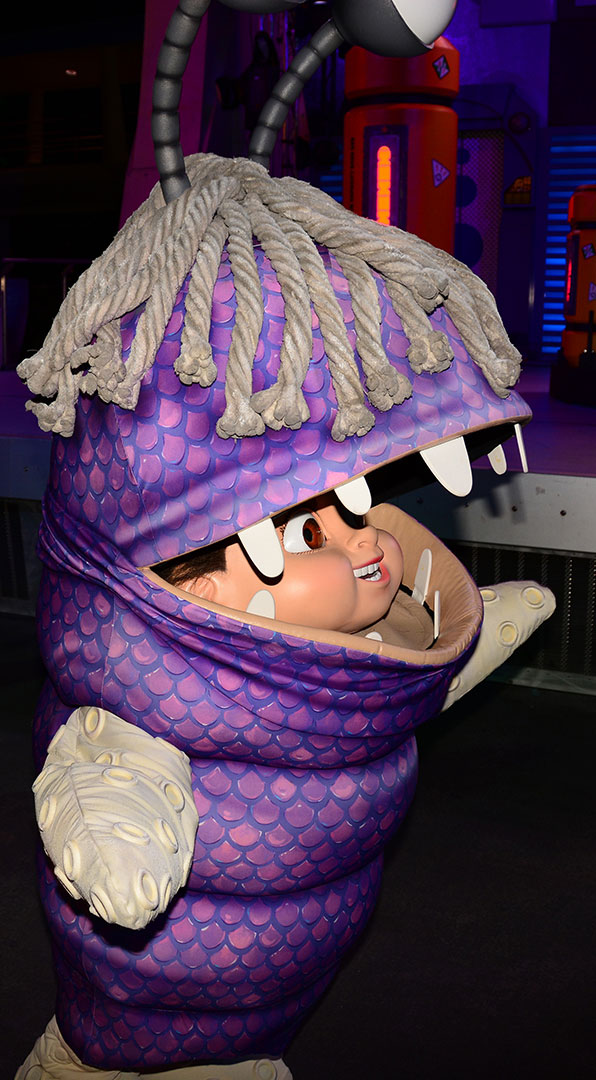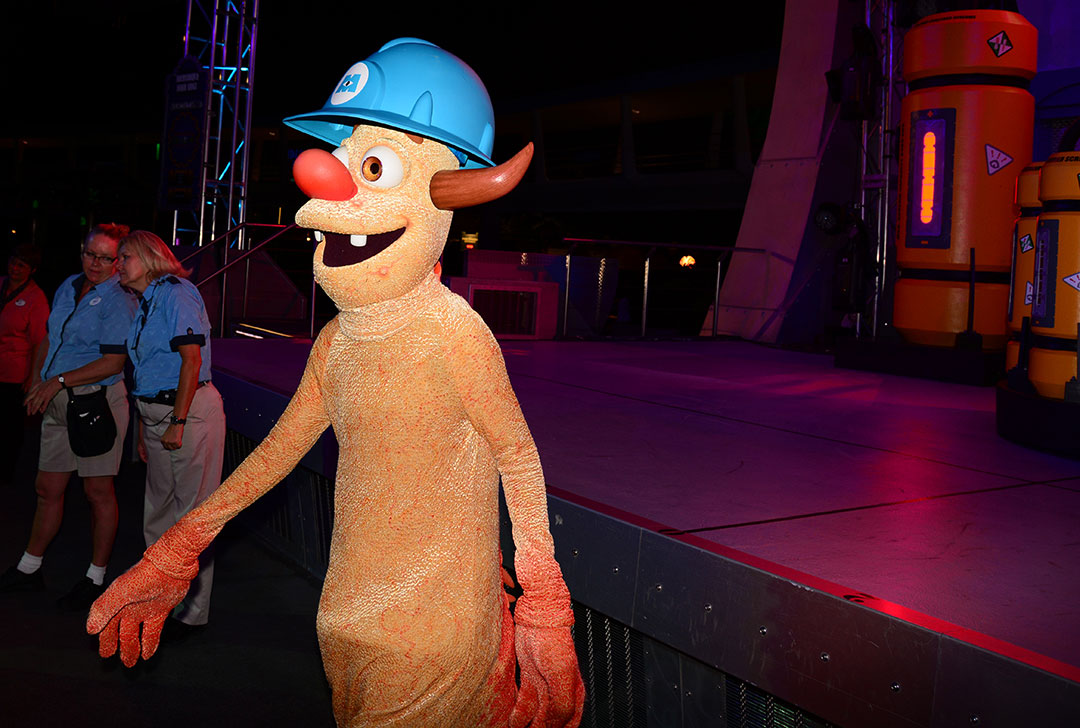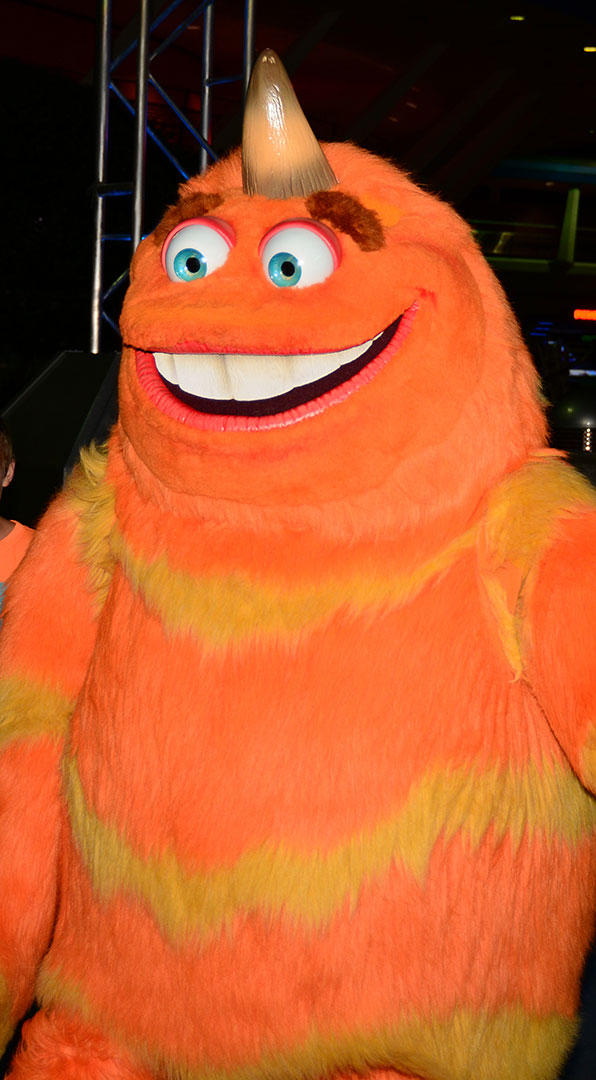 Lotso and Buzz share a single meet and greet line, but have separate meet stations.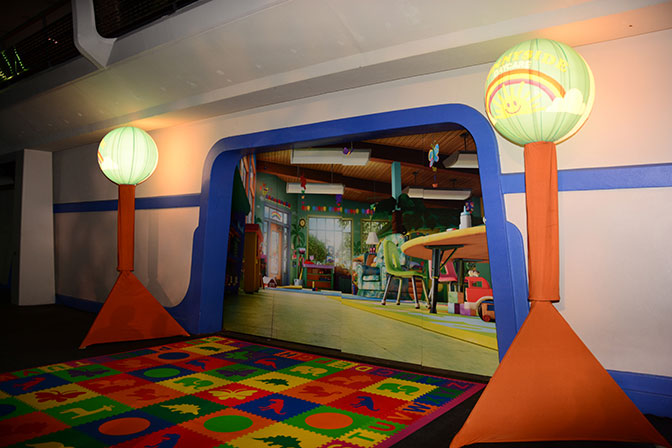 Smells like strawberries, but don't let the smile fool you!  Most of the night the wait was 20 minutes or less.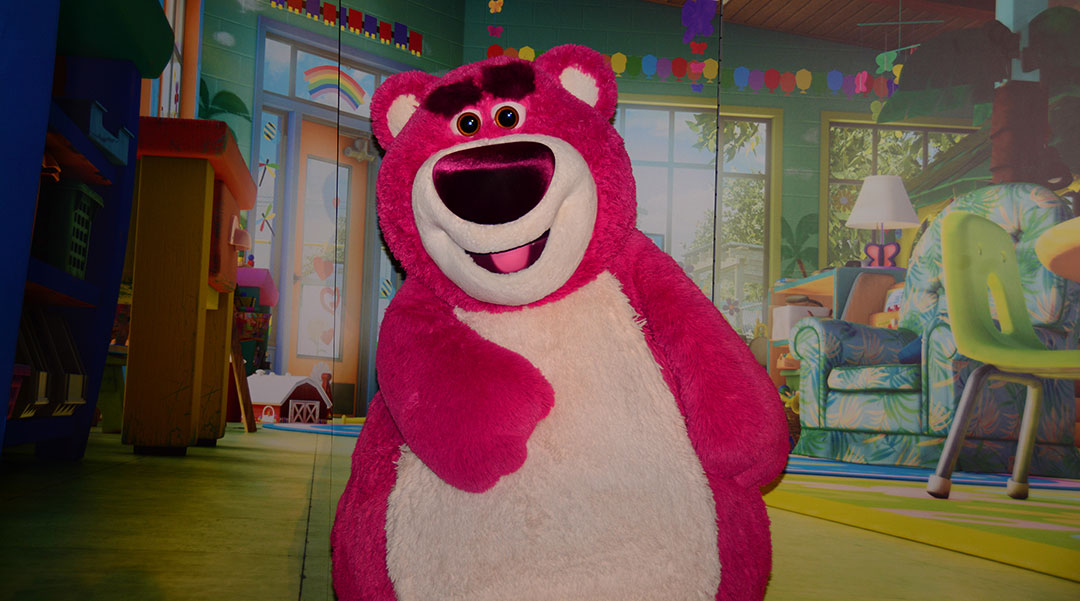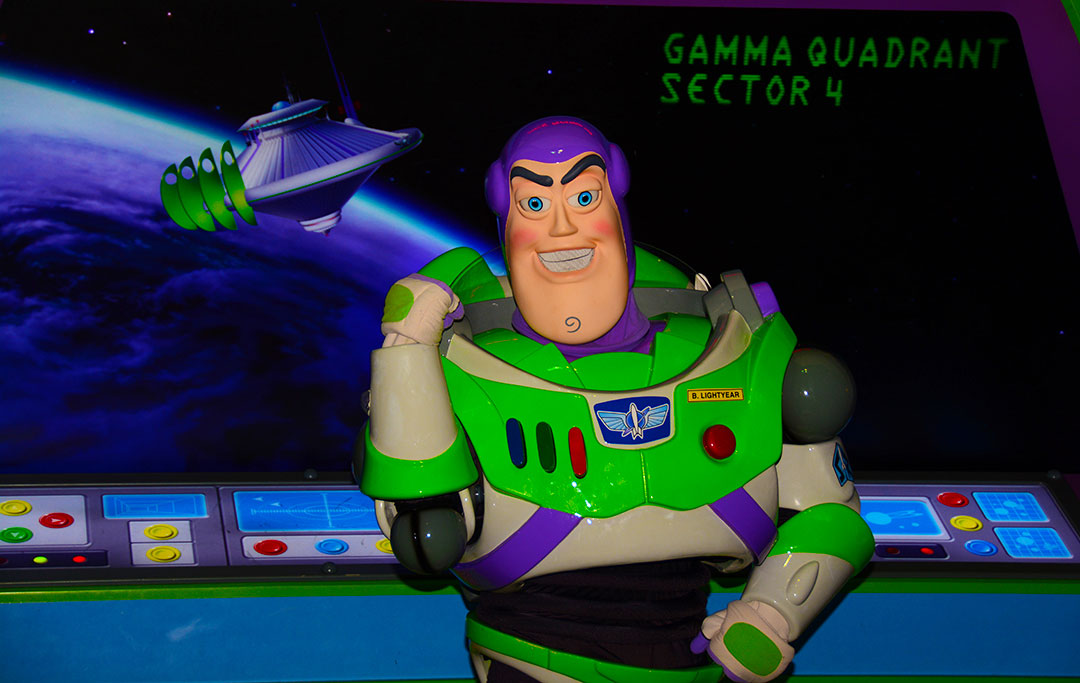 Minnie and Daisy were meeting together at Storybook Circus entrance and had a 15-20 minute line most of the night.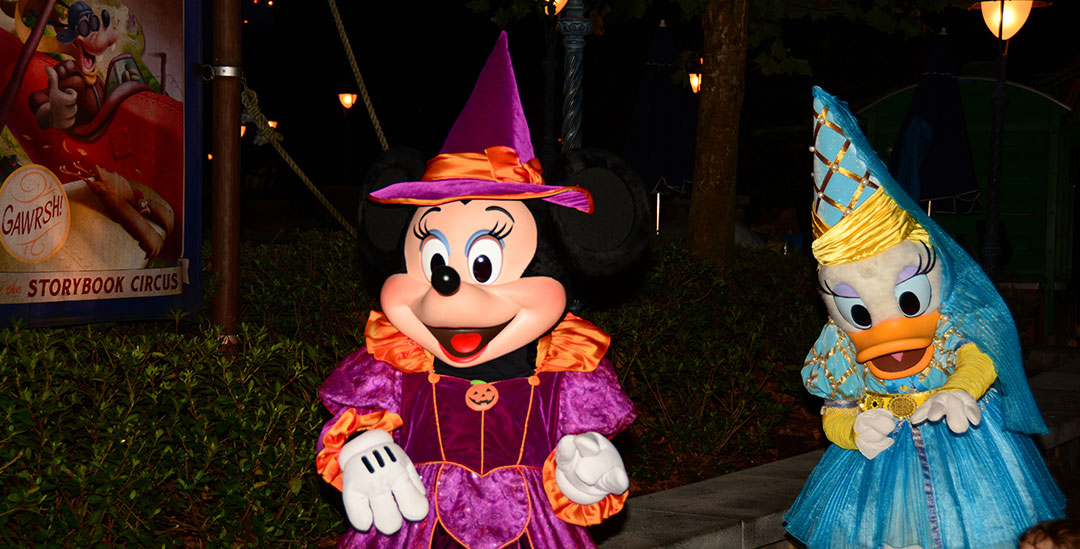 I missed the Donald and Goofy meet and greet.  I know, I'm terrible at this blogging stuff!  I can tell you that Donald was wearing this Pumpkin costume again this year.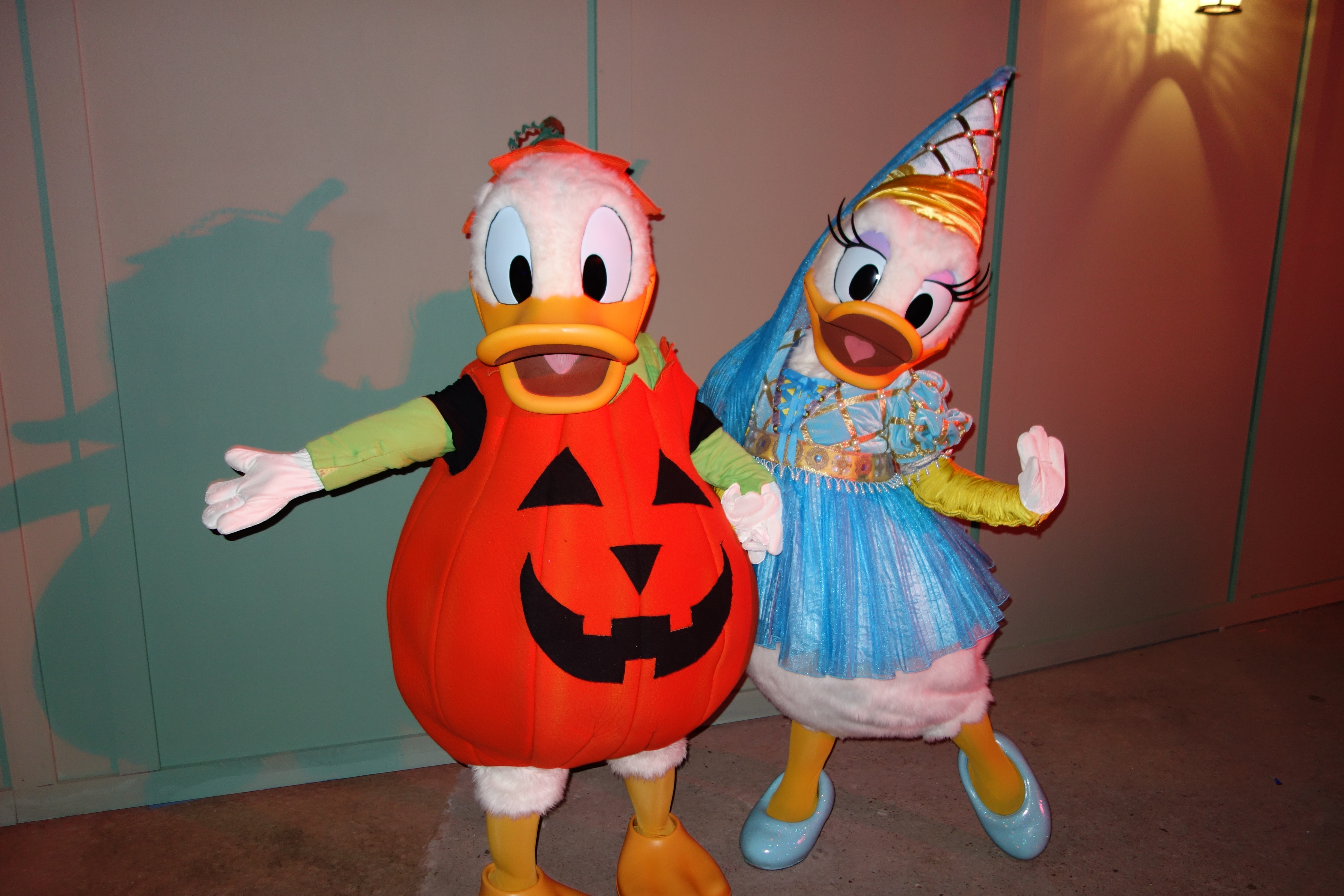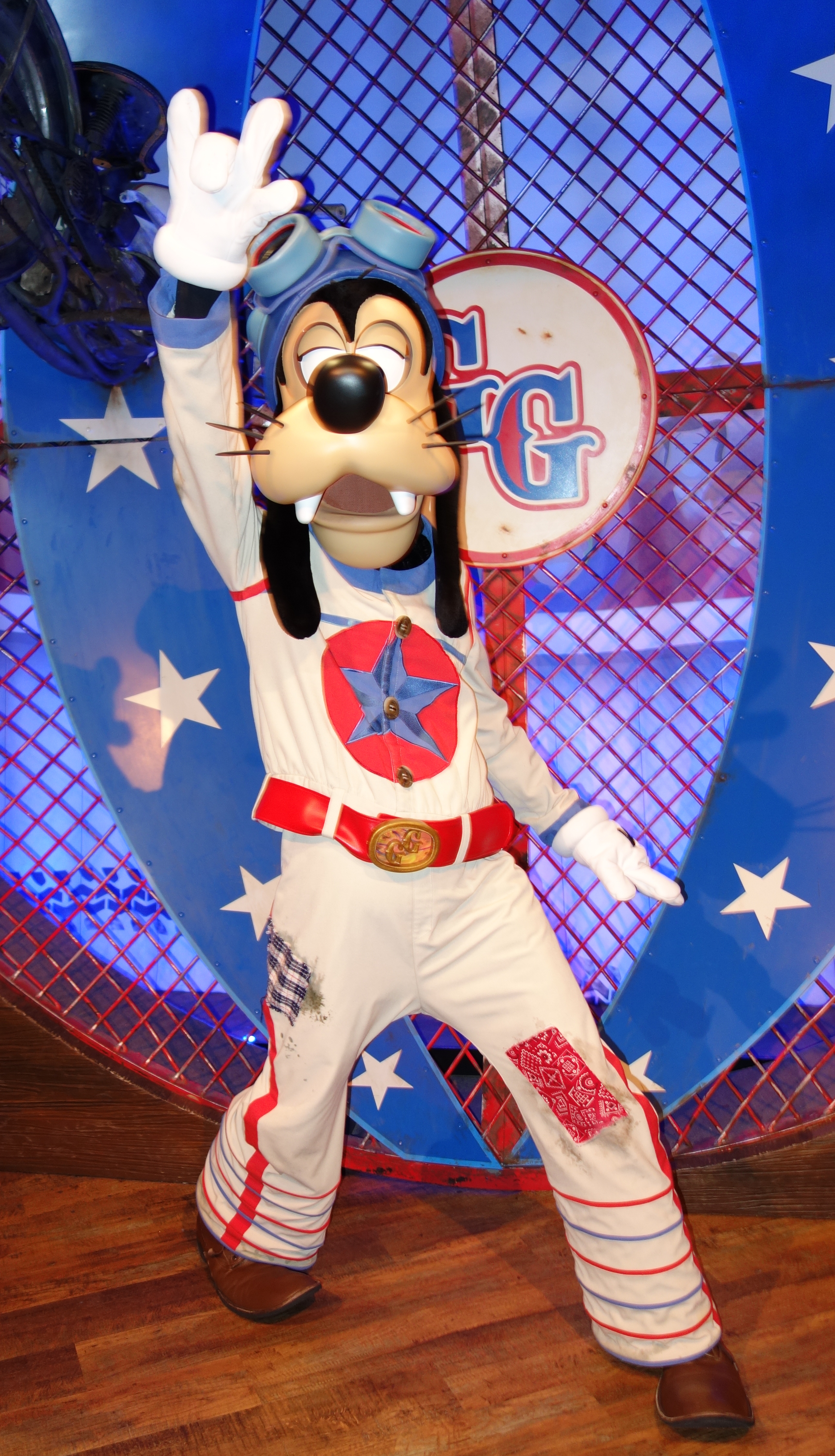 Pooh and the Gang is always a popular meet so arrive at least 15 minutes before their set time.  With 4 characters, the meet moves kind of slowly.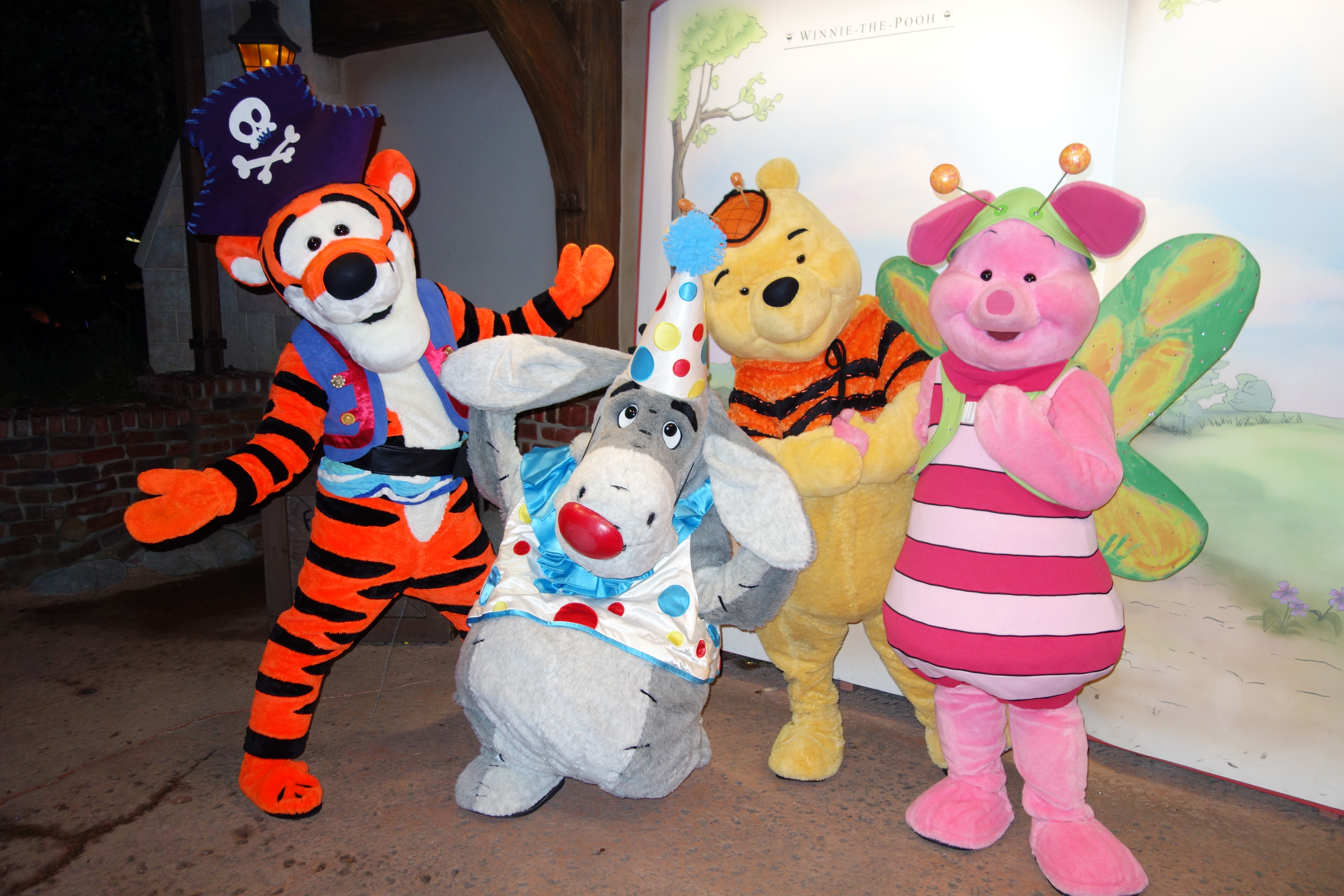 The Dwarfs remained until really late, but they had already cut the line when we checked the final time at 11:50pm.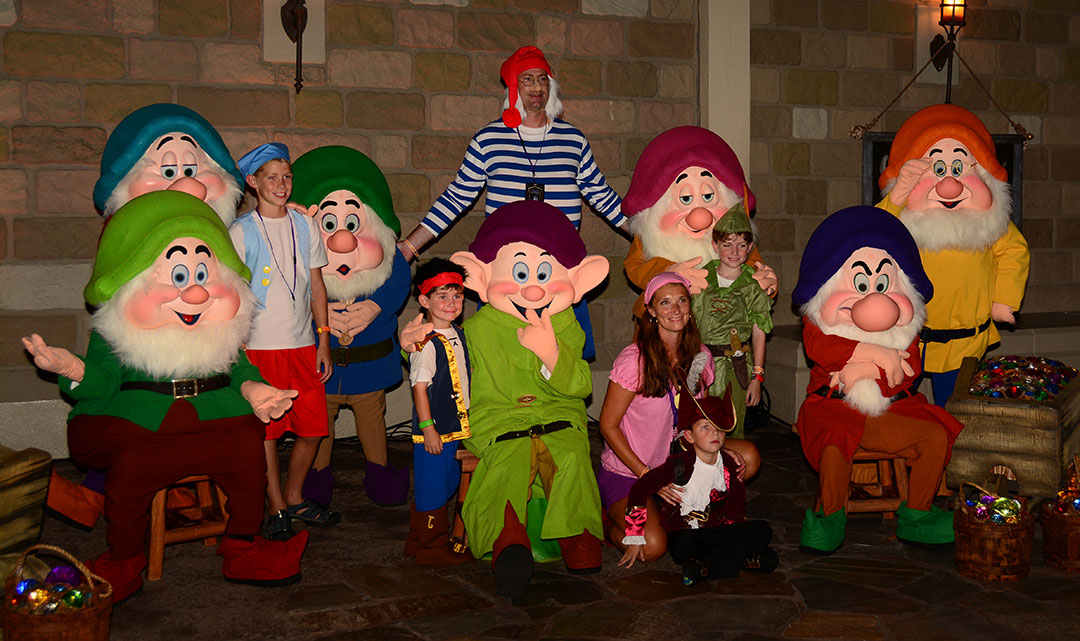 We got our Hitchhiking Ghost Photopass Magic Shot before moving to the Haunted Mansion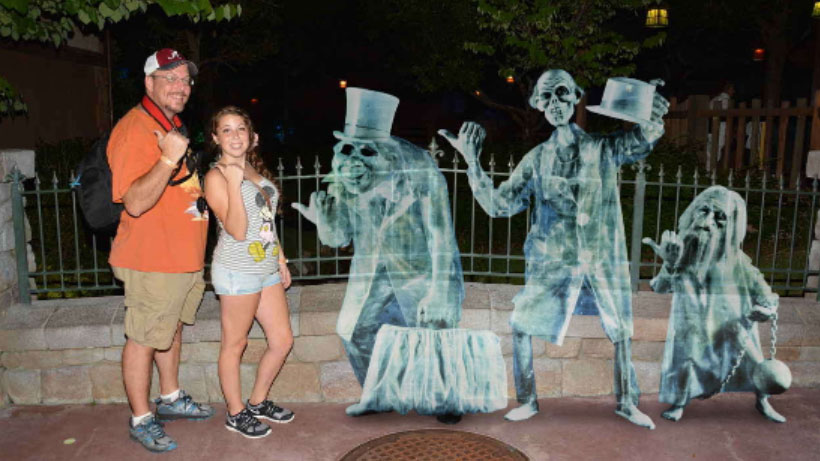 We had a couple minutes to spare before the Mansion closed, so we took in the final Magic Shot of the night.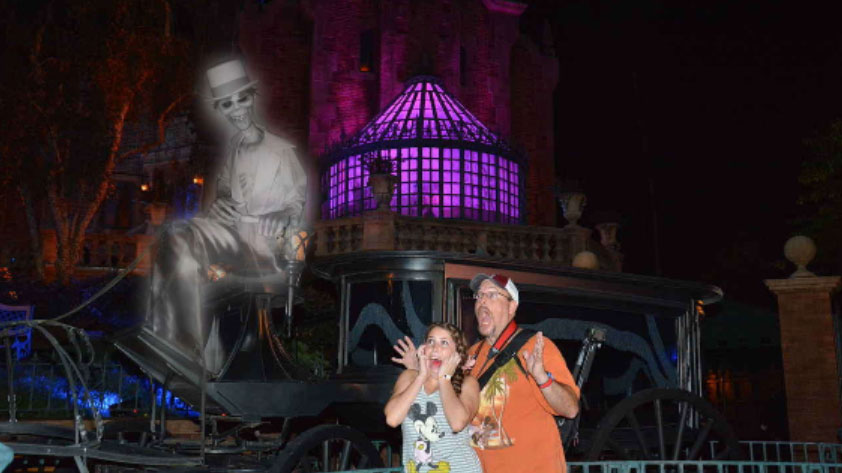 .This guy loves his job.  Just look at that enthusiasm.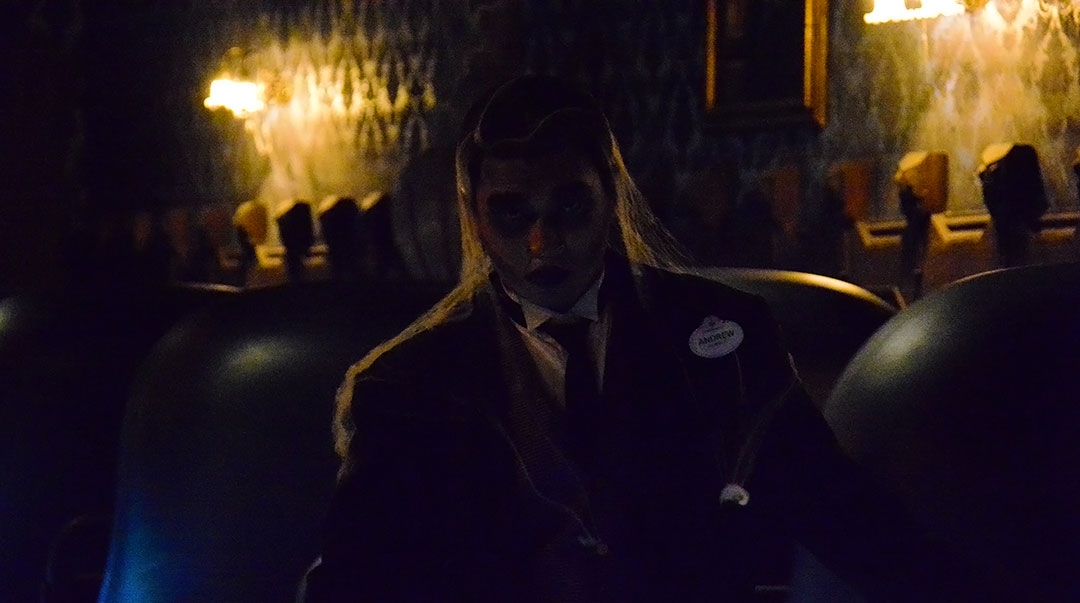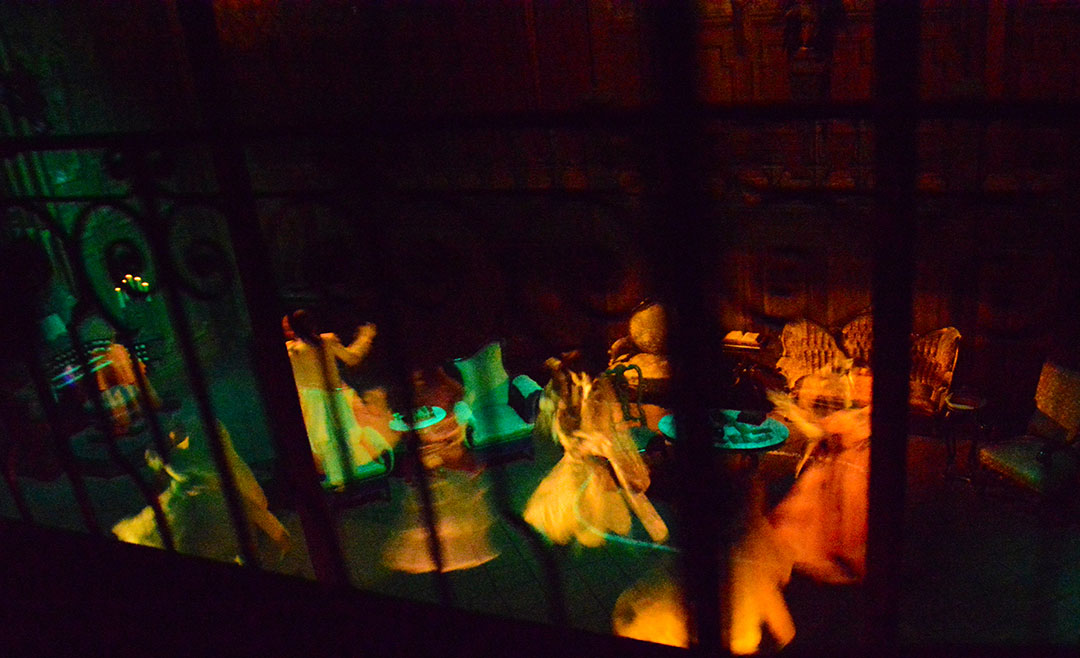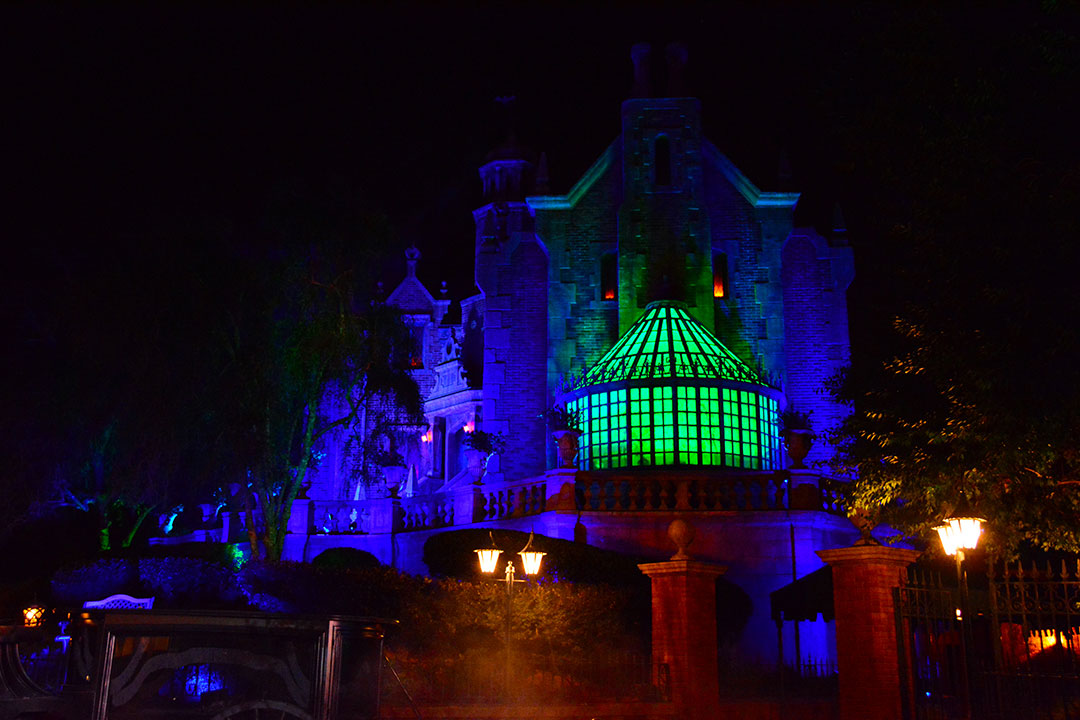 We'll end the night with various photos of the the decor.  We only collected a little candy on two stops, but my favorite is the chewy caramels at Pinocchio Village Haus!
MY THOUGHTS:  I hate that they made so many cuts to this party.  It's always been the most fun we've had at Disney with the special characters, parade, villains show and fireworks.  We had a great time this night as well, but seemed a little empty without the Princes and most of the villains.
I'm being sponsored to try the Villains Soiree and create a Princess plan for the September 12th party.  If you'd like to meet up, we'll be in the Dwarfs line around 6:00pm.  I'll write a full review of the events that night.