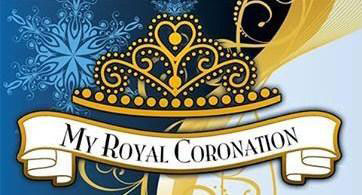 Many of my readers clamor for an opportunity to meet Anna and Elsa at Walt Disney World.  The Frozen sisters offer Fastpass+ that are quickly absorbed by onsite guests 60 days in advance at midnight on their booking day.  Many have asked if Anna and Elsa are available for a character meal.  Disney doesn't currently offer a character meal for Anna and Elsa, but a few travel agency owners gathered together to provide just such an opportunity.  They plan to offer a high quality experience with beautiful decor and delicious food.
In addition to a special meet and greet with Anna and Elsa and photo opportunity, you'll receive a delicious breakfast an opportunity to purchase a beautiful crown.  The crowns bring about the title My Royal Coronation.  This is NOT the official Disney coronation of Anna and Elsa that we expect to take place later in the fall.  My little girl and I will be attending this special breakfast and would love to meet you there as well!  Be sure to get your tickets now as sales are limited.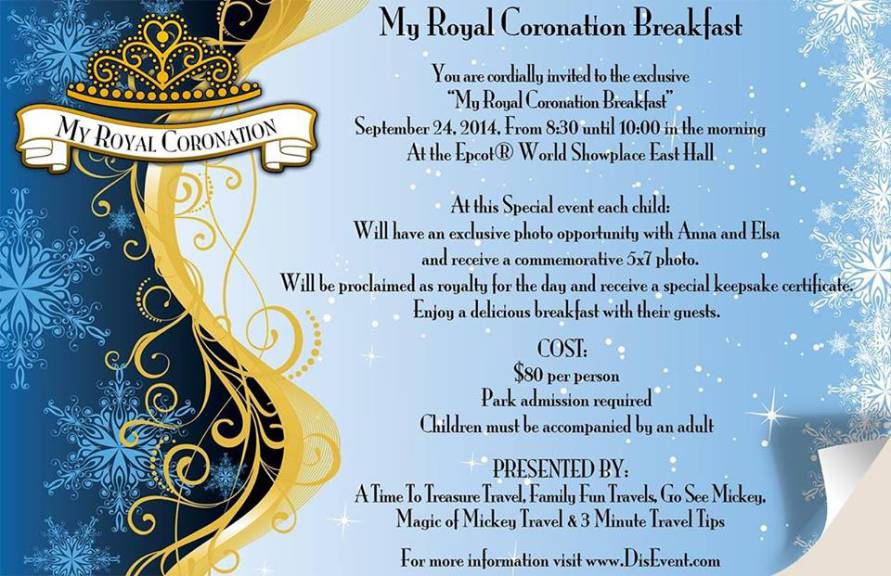 When and Where will this event take place?
Walt Disney World® – Epcot® – World Showplace East Hall
Wednesday, September 24, 2014 from 8:30 AM to 10:00 AM (EDT)
My Royal Coronation Event Details:
This event will include:  
An Exclusive Photo Opportunity with Anna and Elsa
A Complimentary 5 x 7 Commemorative Photo of your experience with the Frozen sisters
A Special Keepsake Certificate
An opportunity to purchase a beautiful crown.
A Delicious Breakfast Buffet with a menu that includes: Seasonal Fruit, Mickey Waffles w/ Maple Syrup, Scrambled Eggs, Smoked Bacon, Hash Brown Gratin, Chilled Fruit Juices, Coffee, Decaffeinated Coffee, & Tea.
RESTRICTION/REQUIREMENTS:
All Guests are required to have Theme Park Admission to enter Epcot® in addition to the special event ticket.
Bring your Confirmation Email/Receipt to the Early Admission Entrance Gate on the day of the Event.
Please Arrive by

8:25 AM

to be admitted into Epcot® for this Event.
Pricing includes all Taxes/Gratuities. Disney Dining Plans are NOT Accepted. Allow up to 1-1/2 (or 1.5) hours to travel to your destination when traveling within WDW Property. Characters/Venue Location/Hours/Menu are subject to change without notice and will be at the discretion of Disney Destinations-Convention Services. Please note: This is an Indoor Venue.
DIETARY RESTRICTIONS:
If you or a guest have dietary needs, please email this group at least 7-Days in advance of Event with your requests so we can notify the venue.
Refunds/Cancellation Policy:
All Event Ticket Sales are Final & Non-Refundable.
This event is being presented by the following sponsors:
A Time to Treasure Travel, LLC
Family Fun Travels, LLC
Go See Mickey
Magic of Mickey Travel, LLC
What does this event cost?
By puchasing your ticket(s) through this special link, you'll be afforded a 10% discount.  The regular cost before discounts is $80.00 per person plus a $5.39 transaction fee per person.
Be sure to click "Enter Promotional Code" and use the keyword PIRATE when purchasing to receive a discounted rate of $72.00 plus a $4.95 processing fee per person!