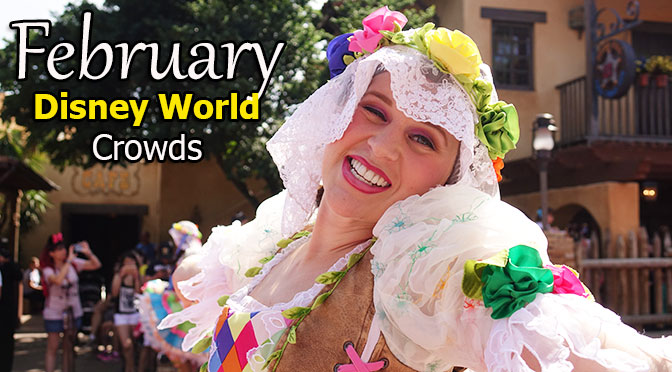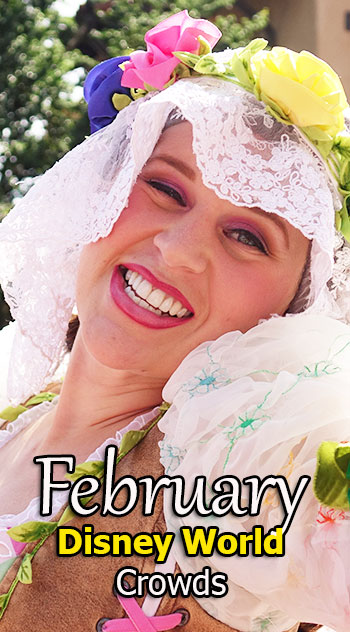 My Disney World Crowd Calendar for February 2020 will be a mostly moderate crowd month, except President's Week and the Princess Half Marathon Weekend, when the crowds can become quite substantial.  The only event scheduled is the Epcot Festival of the Arts, so we might find a few attractions down for refurbishment.   Those refurbishments are typically listed a few months before hand.  Water rides may be closed.  Check my Attraction Refurbishment page closer to your date.
While President's Week is typically insanely busy, you can manage them with good touring plans and Fastpass+ usage.   If you are staying at a Walt Disney World resort, rise early on your Magic Kingdom day and take advantage of the early opening of the Magic Kingdom.   When visiting the parks, I recommend that you avoid the Extra Magic Hour parks as they will draw in more guests.
What will the weather be like during your February trip?
Average high temperature:  73°F
Average low temperature:  50°F
Mean temperature:  62°F
Record high temperature:  89°F (1988)
Record low temperature:  17°F (2000)
Average Precipitation:  2.71 in.
The weather in February is quite cool and typically doesn't rain as much.  Wear layers because 75 degrees with the sun shining on you in Florida feels hot and at night the damp air can feel pretty bitter with a light wind.  Be sure to bring a jacket and hat.
Should I use Extra Magic Hours privilege?
Avoid the trap of visiting a park on its longest hours day.  More people will be there and the wait times can be 30% to 100% higher than other days.
If you are planning to use Extra Magic Hours, use the morning ones, they are a great benefit, if you leave after lunch or parade time.  Avoid the parks that offer evening Extra Magic Hours because they have large crowds at night and many rides have long lines (Hollywood Studios and Epcot).  The exception would be the Magic Kingdom late at night because most guests won't stay up from 1am to 3am in the morning.  If you choose a Late Extra Magic Hour park, you should plan to sleep in the next day.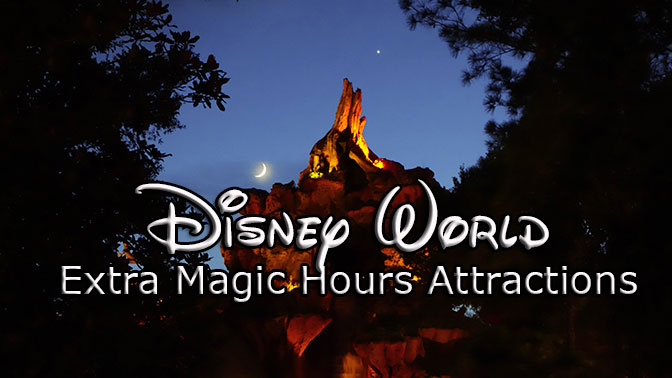 A note on Fastpass+ Booking
Fastpass+ can be booked 60 days in advance for ONSITE guests and 30 days in advance for OFFSITE guests and Annual Passholders.  You can begin booking them at 7am Eastern Time.  The booking dates are included on my Disney Crowd Calendar below.
Special February Events at Walt Disney World
Festival of the Arts – All Month
To read the crowd level, follow the DATE at the top!  The best park each day is marked in GREEN.
Lowest Crowds
Low Crowds / Best Park
Moderate Crowds / Median Park
Busy Crowds
Insane Crowds / Worst Park
Weekly view includes all entertainment options, weather and Fastpass/Dining booking dates!
Be sure to print in landscape mode with background image turned on!
If you are viewing on a desktop/laptop, you will see a week at a time with all the full details.  It is printable.  If you are on mobile, it will show in mobile format that will stream down the page.  You must subscribe to Character Locator in order to see full details in mobile view


My Crowd Calendar includes park hours, Extra Magic Hours, special entertainment options, 180 Days Dining Window, 60 and 30 Day Fastpass+ Booking Windows!
February 2020 Disney World Crowd Calendar
Historic Disney World Park Hours