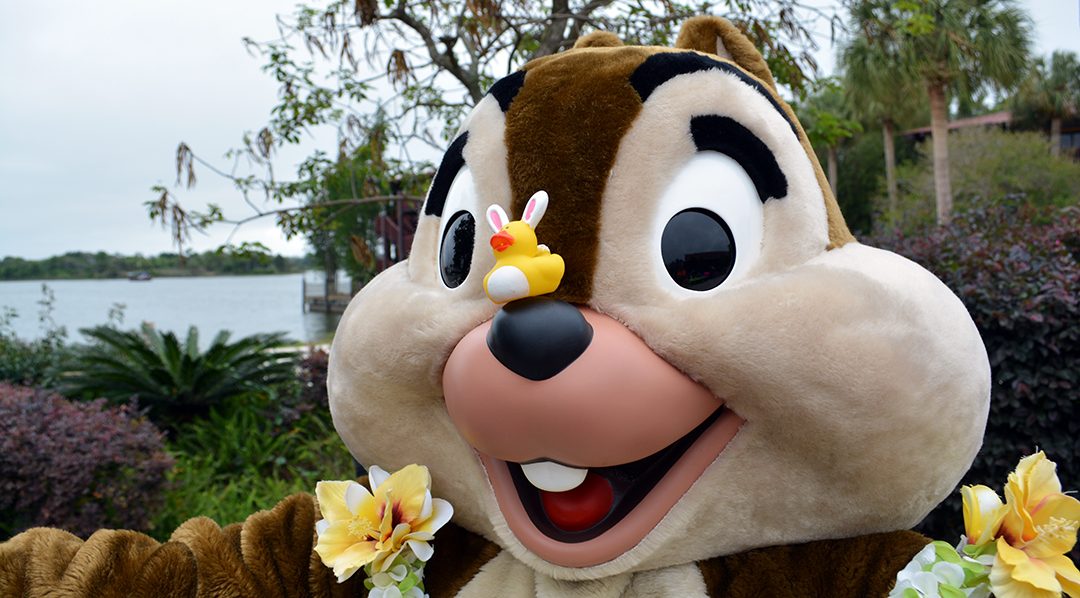 We left the Contemporary Resort and jumped on the monorail again and headed off two stops down the run to the Polynesian.  When we stopped there, a lady asked, "Is this Downtown Disney?"  Umm, not quite.  No monorails to Downtown Disney.  It's hard enough to find a bus there, so they should consider it.  They would sell more tacos and stuffed Stitch dolls and Vinylmaters or whatever they are called.
We arrived at the Polynesian and began looking for the "Luau Lawn."  No one at the Polynesian had a clue where that was, so we followed the signs to "Luau Cove," which sounded close enough.  One guy tried to send us to 'Ohana for breakfast.  I was willing to go, but he didn't have a reservation and didn't want to pay.  How rude!  
We arrived right as Mrs. Easter Bunny was finishing up for the day, but she was willing to meet us because Debbie had that candy ready for her gift.  I guess the pirate is teaching the kid bribery?  We were excited to meet Mrs. Bunny, because we hadn't met her previously either.  A new friend asked me today what my character meet and greet count was.  I don't really know, just know it's way over 200, probably like 275 different ones.  I'm not sure how many thousands of meets we've made and we still ride the rides and watch the shows too.  That's why my Touring Plans are more awesomer than anything you'll find on the interwebs.  The Easter Bunnies joined the gang of characters today!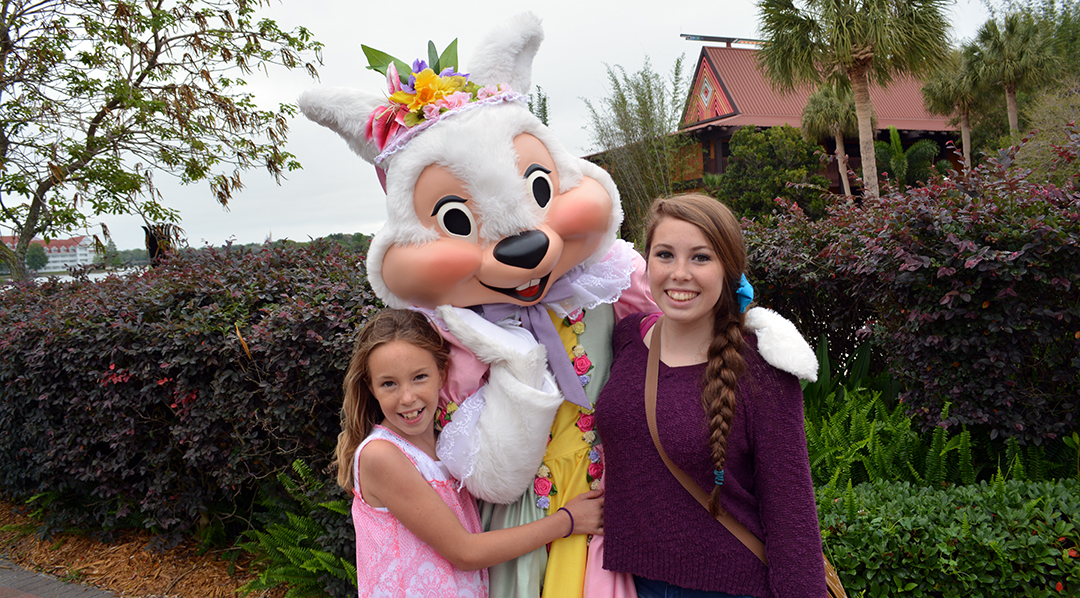 She's purdy kewt!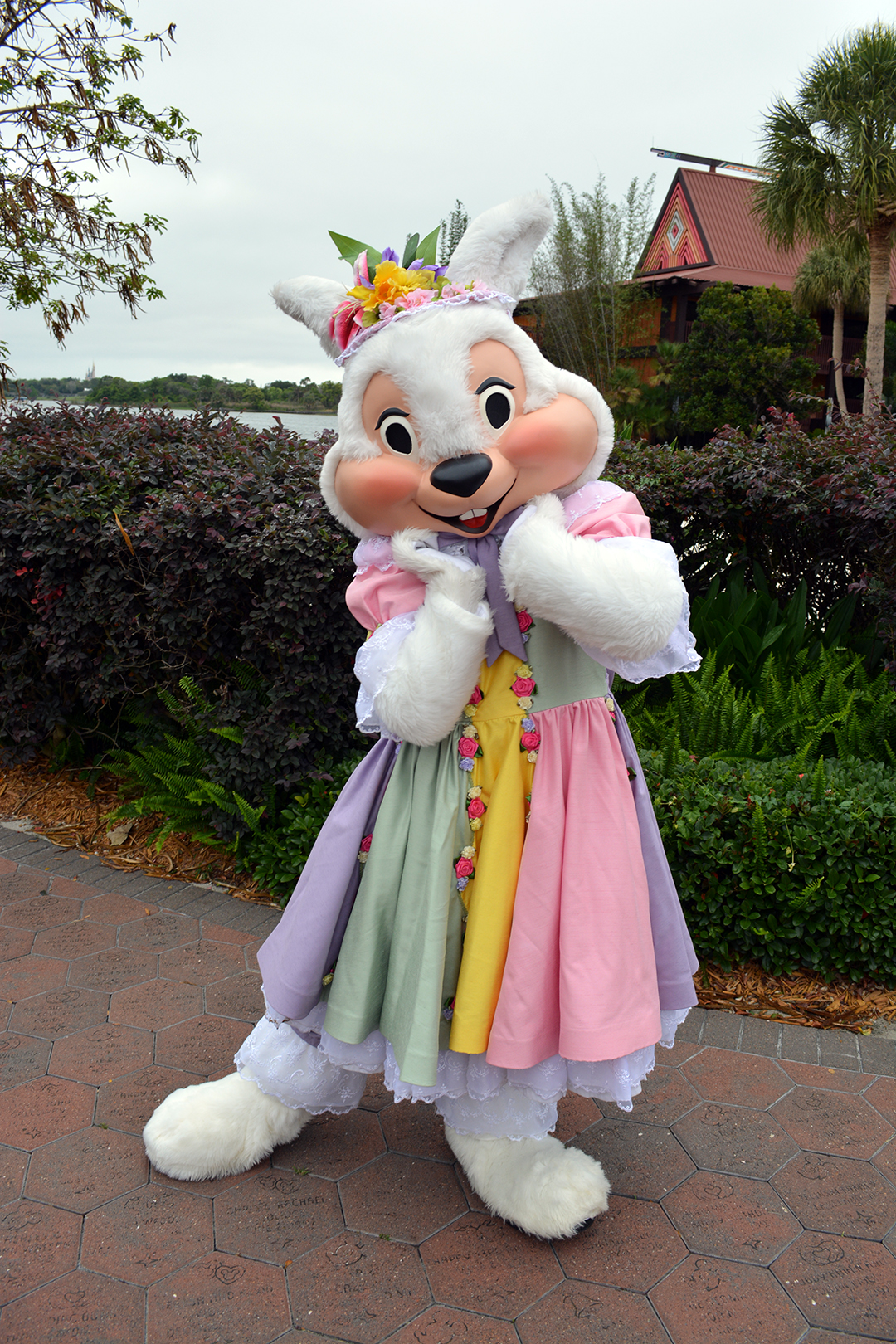 Debbie already had a full bag of candy and an Easter basket at home that was stuffed, but felt the need to collect more candy. There was soooo much competition in the candy collecting at the Polynesian around 10:00am that she really had to fight for some space to move on the lawn.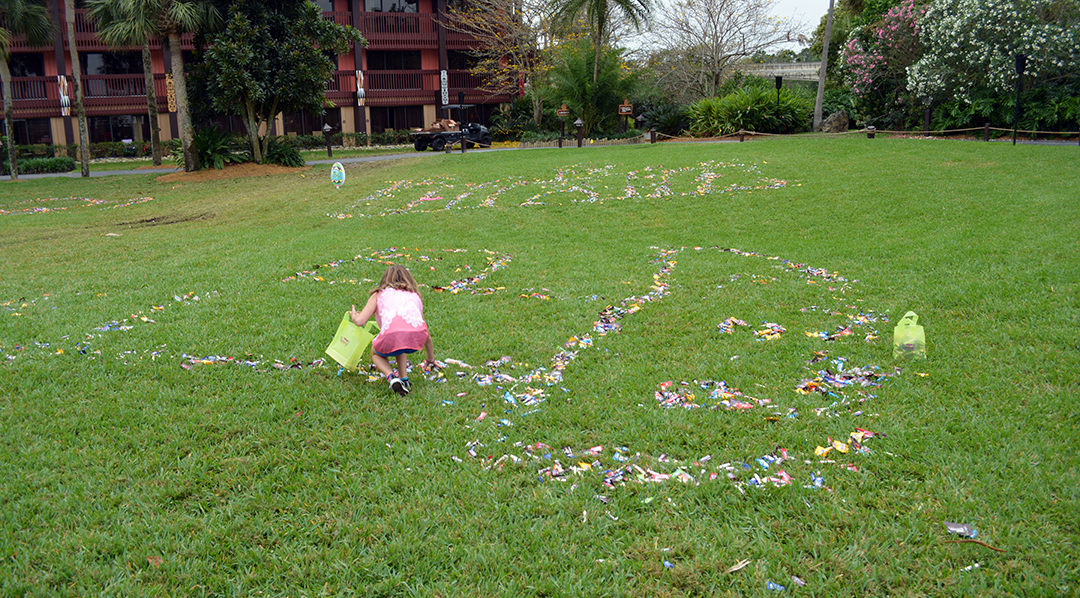 She filled another bag, then a Cast Member presented her with a third bag of candy.  We had to haul all this candy around the resort, on the monorail, around the Magic Kingdom, on the monorail again and walk it to the car.  Exhausting!  My son said if he had attended, he would have maxed out at least 5 more.
This is where the chaos ensues.  Chip n Dale showed up and proceeded to compete for our attention.  There was a dance contest, a fashion/modeling show and a display of balancing prowess.  I've had a lot of fun meet and greets over the years, but the kids and I laughed for a solid 10 minutes while they hammed it up.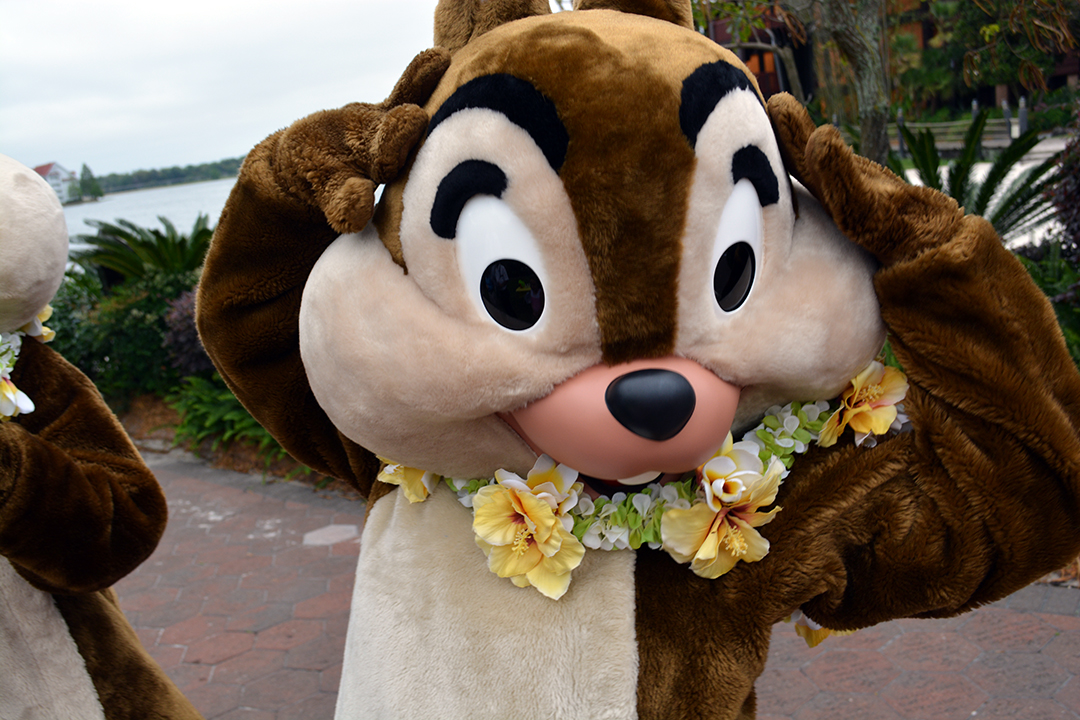 Work it Chip!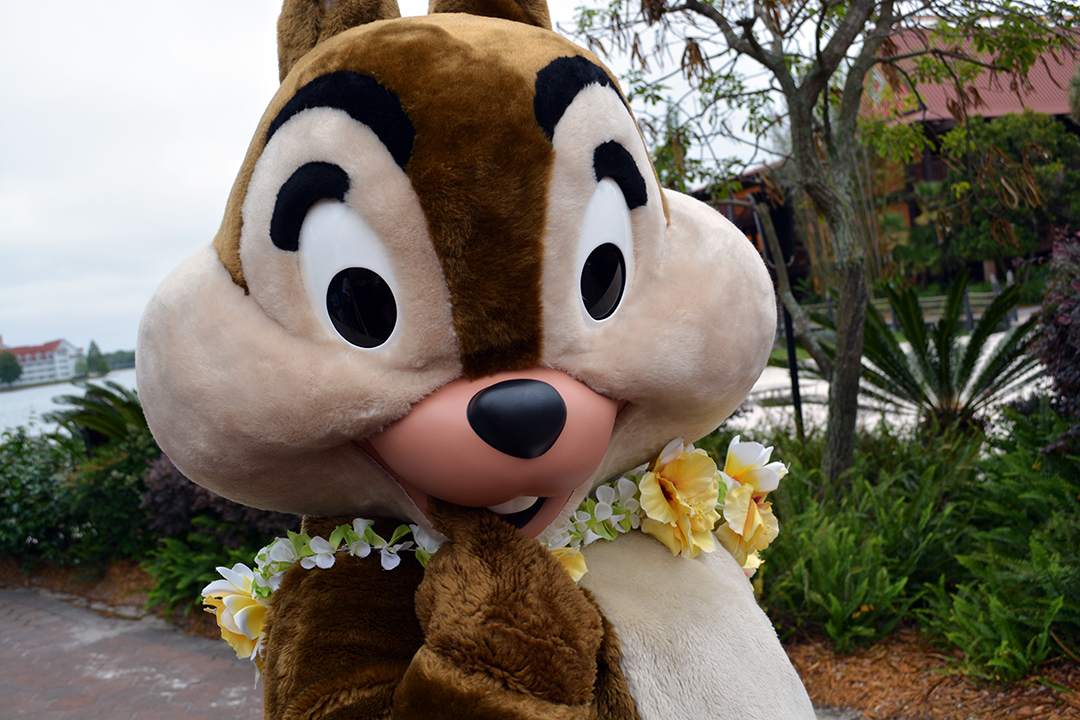 At this point the little duckie joined the chaos and became the center of the balancing contest.  He begins with Debbie's head.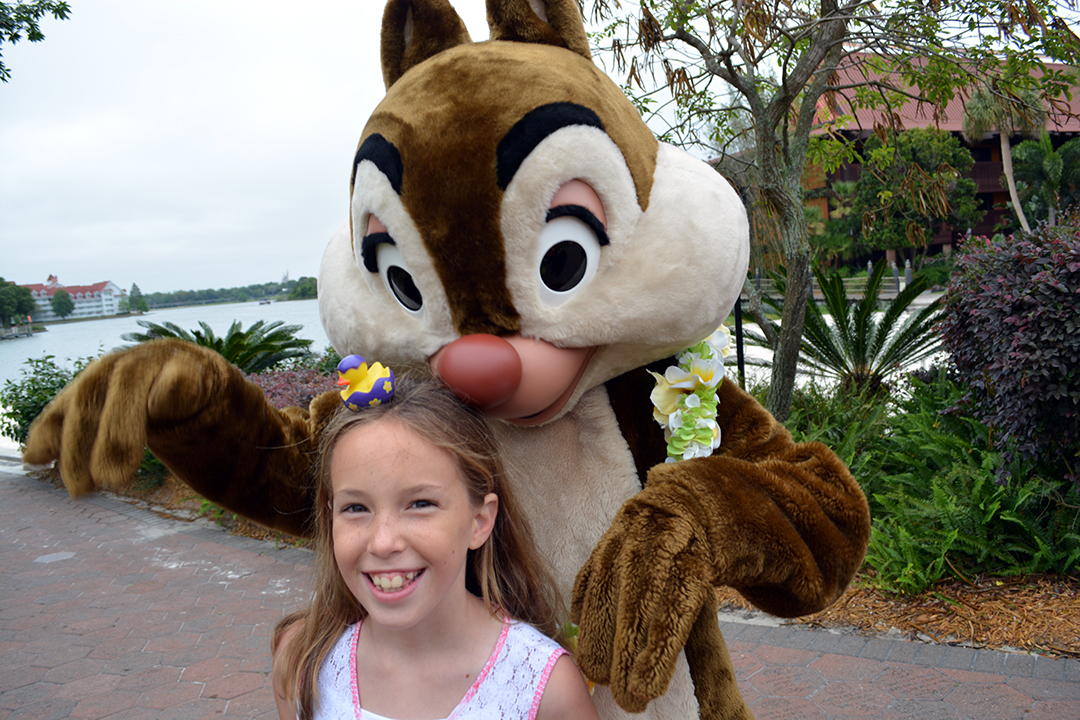 Then moved to Dale's nose.  Don't worry, it's the top part, not the runny side.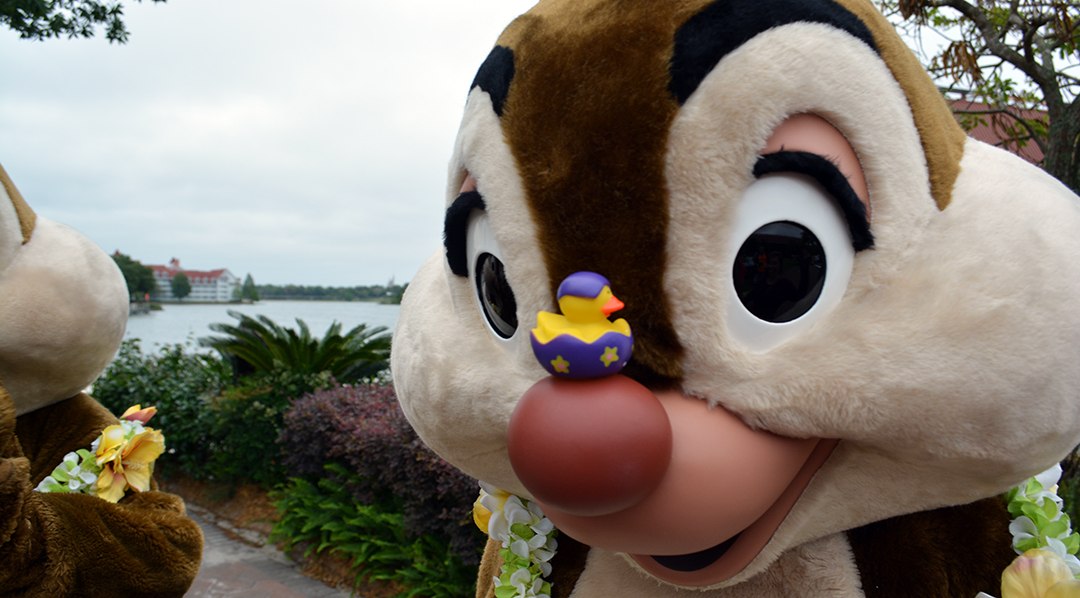 Dale then combined the dance moves with the duckie and the balancing prowess.  I think he tried to mime that he was trying out for Frozen on Broadway or he wants a frozen microwavable dinner.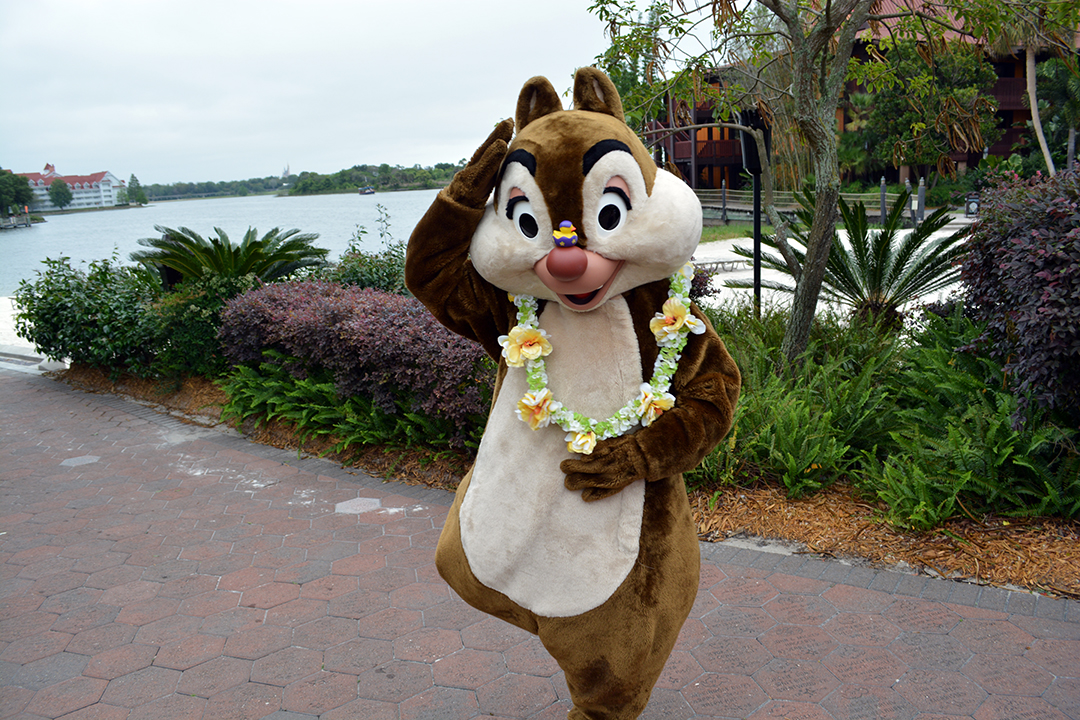 Coolest duckie in the World is now on Chip's nose.  I think he was jelly.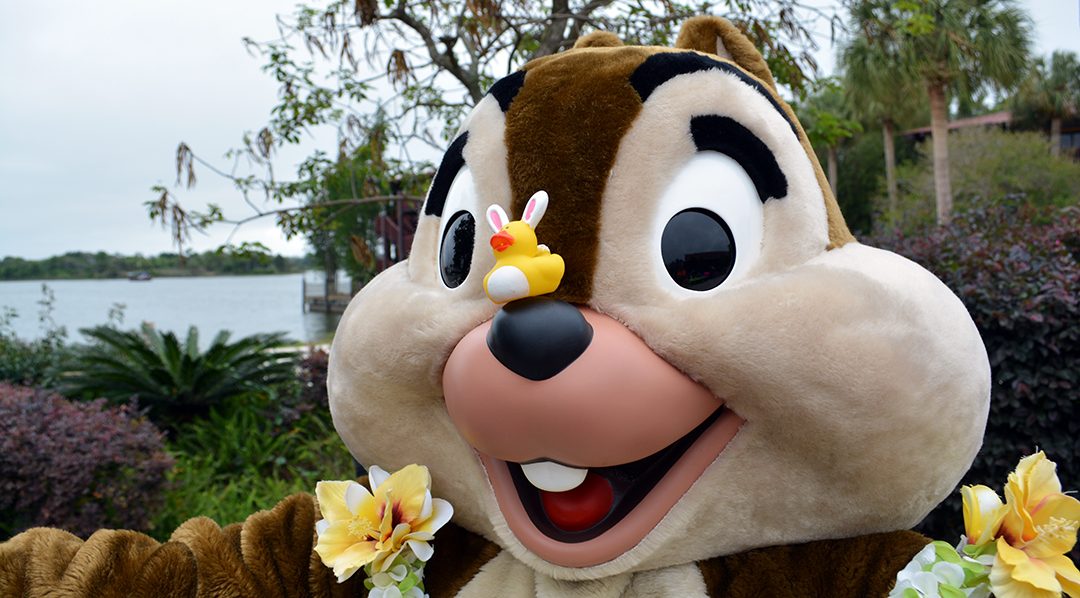 Dale demonstrates how it could balance on Jordyn's nose.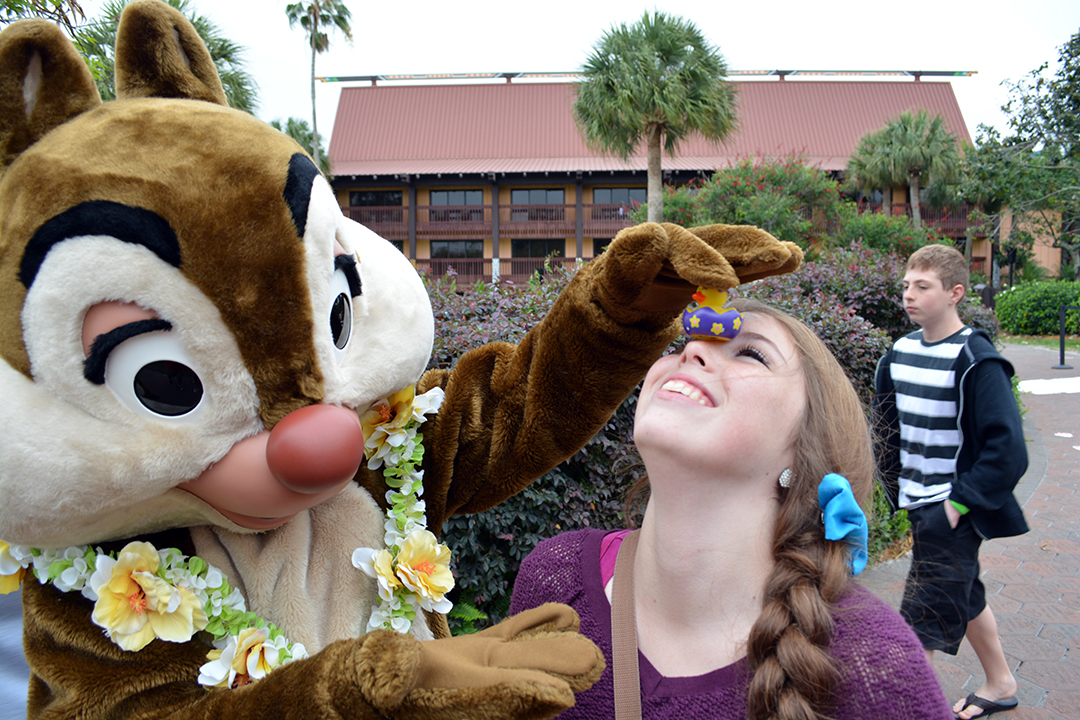 Chip tops him with Debbie's head.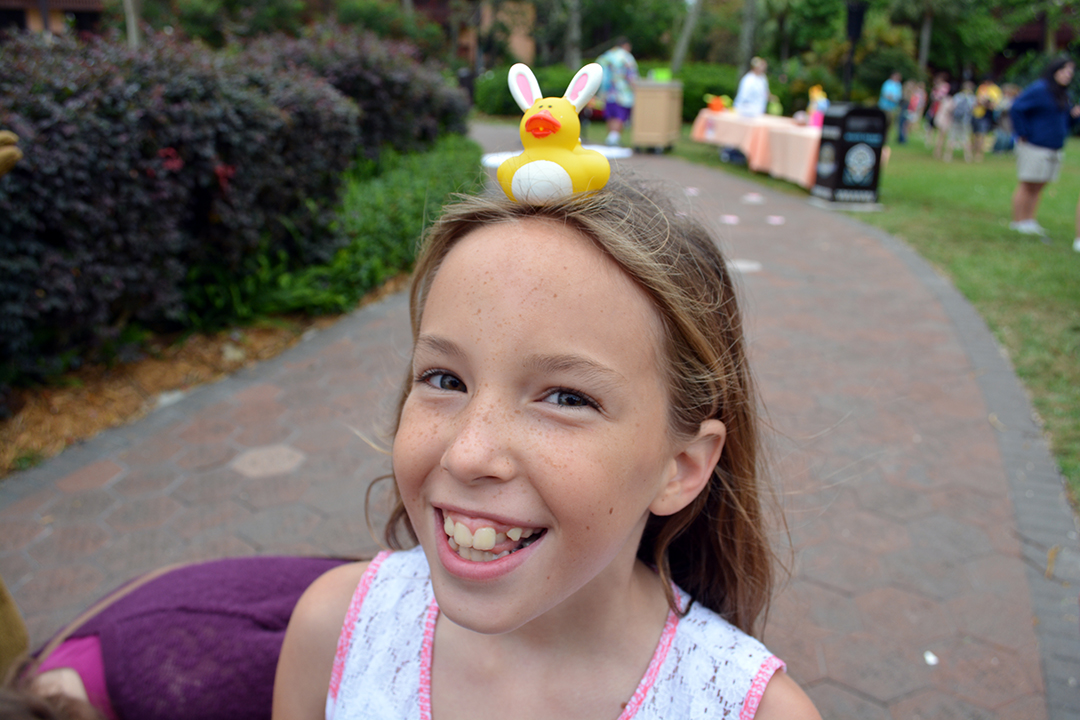 We stopped clowning around long enough for a photo.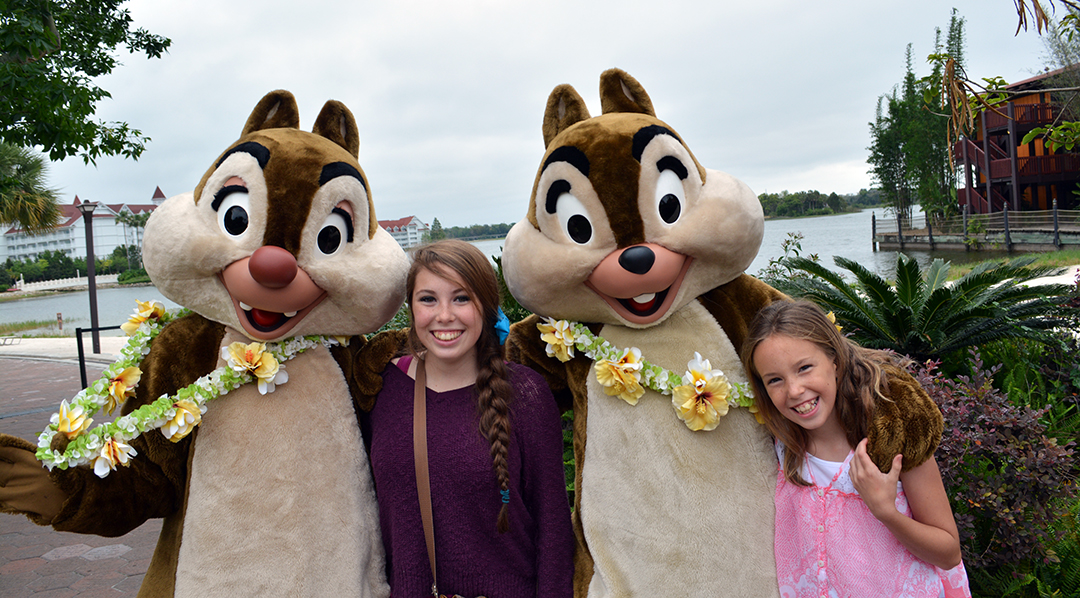 Then they fought over who would be in front for a solo shot.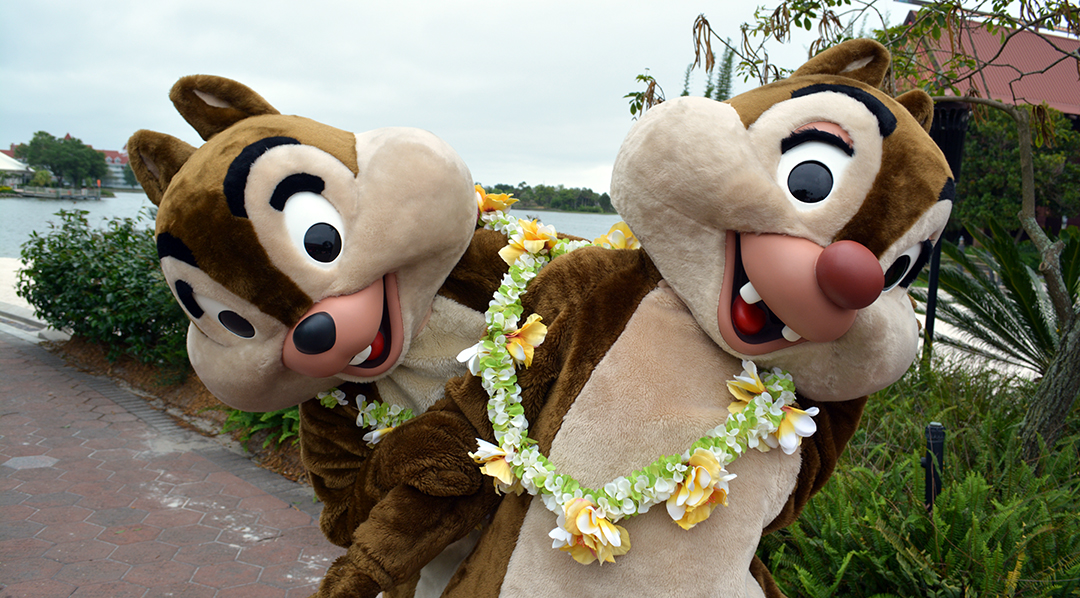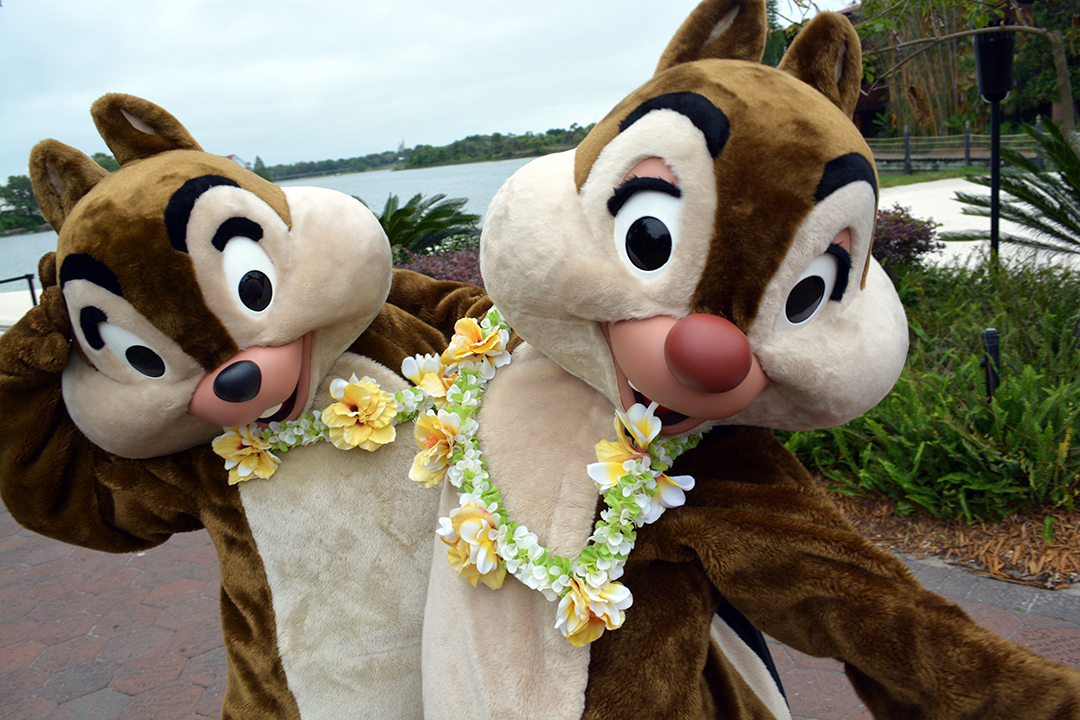 I asked for a photo with them and Dale wanted to compare muscles.  His are slightly larger than mine.  It's all the quality protein I think.  I hope he's not using steroids!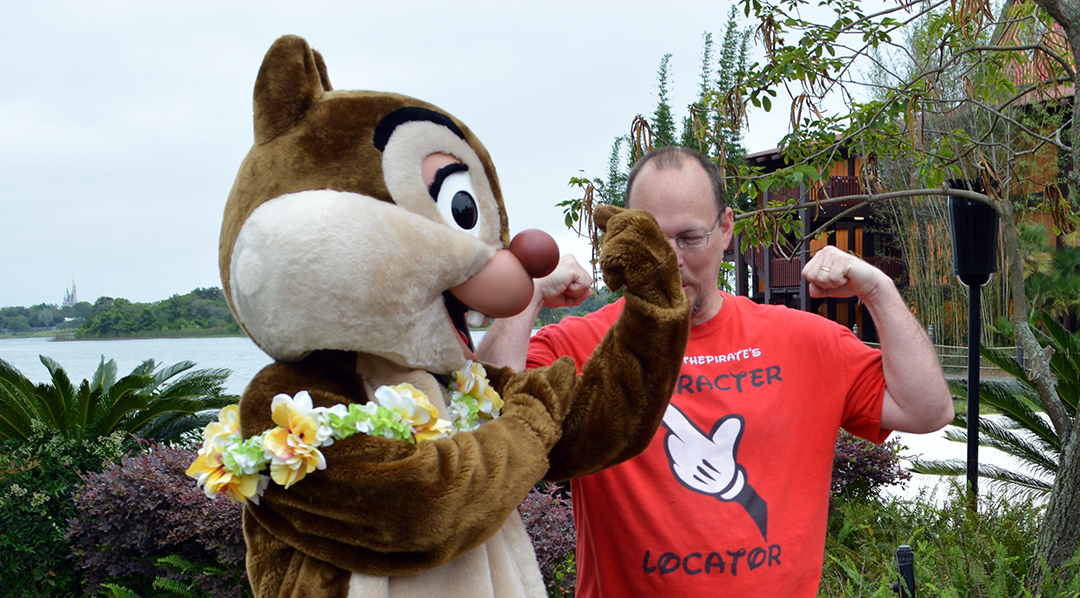 Man up…booya!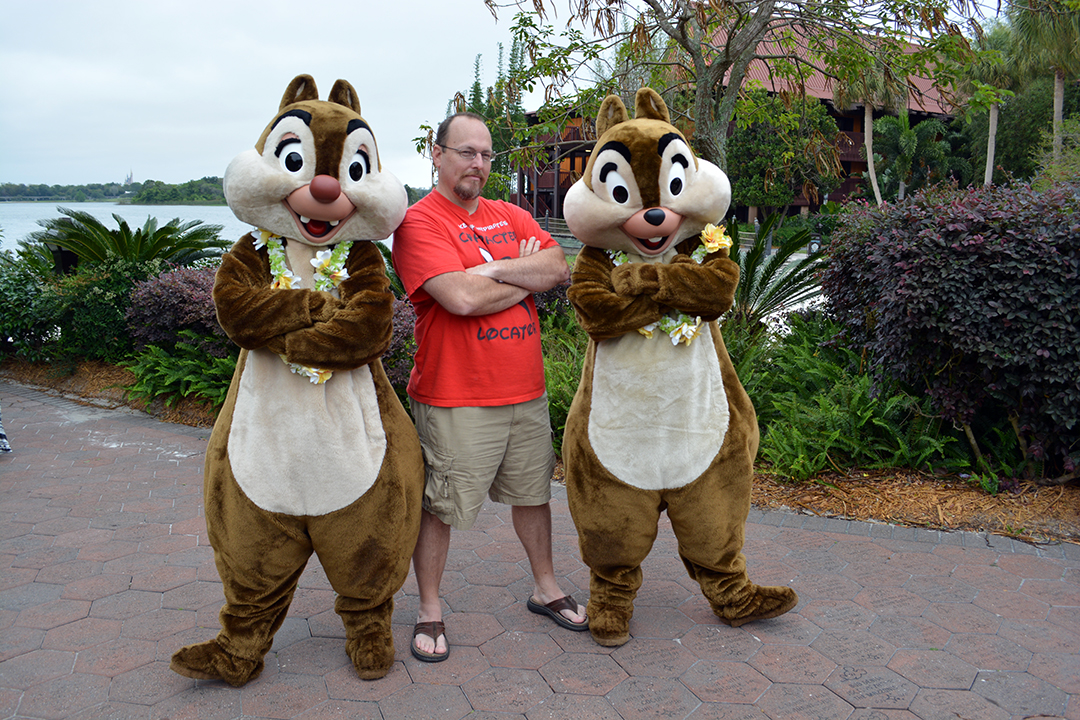 This completes our Easter meet and greets, but some friends will be sharing some photos with me so you can get an idea of what took place at other resorts.  If you have an Easter resort photo to share, you can post it on my Facebook or email it to me.
Have fun locating characters and Happy Easter!