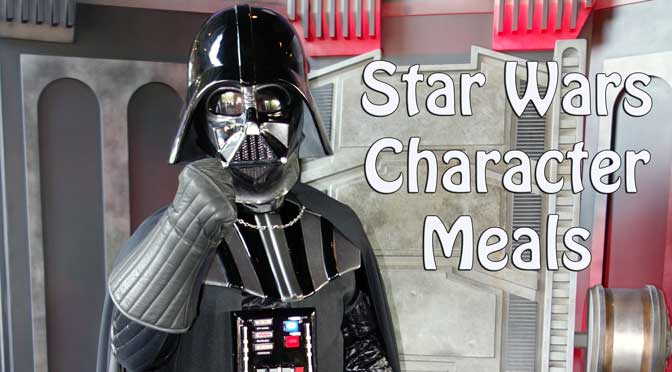 Disney has taken a great leap forward in helping its guests meet Star Wars weekends characters with little wait, but a lot of money.   From May 4th through June 14 guests will be allowed to enjoy character dining with some of Star Wars greatest characters as well as some Disney pals in their Star Wars finest.
Feel the Force Premium Package 2015
This package is only available during Star Wars Weekends from May 15-June 14
This is my honest review of the parade viewing from 2014
This is my honest review of the fireworks viewing from 2014
What you receive for 2015 Packages
Star Wars Weekends Premium Package $69 adult/ $39 kids includes:
Reserved Parade viewing with snacks and soft drinks/water.

Reserved area for Symphony in the Stars and Dessert party including alcoholic and non alcoholic beverages. Standing room only

ONE priority seating show at Theater of the Stars to be booked the morning of your package at Min and Bills starting at 10:00am. (First come first served).
Check in for this event is Min and Bills and starts at 10:00am

SWW Deluxe Premium $99 adults/ $64 kids includes:
All of the Premium package offerings plus:
The option to walk behind the parade to the front of the event stage

Direct access to Darth's Mall (no waiting) only the day of your package

Priority seating to all SWW shows at Theater of the Stars




Check in for this event is at the My Magic Service Center (old Sid's.)




Both packages have 1 day cancellation policy.




Payment is done at moment of booking
The Feel the Force Premium Package occurs every Friday, Saturday and Sunday from May 15 to June 14, 2014.
Legends of the Force: Star Wars Celebrity Motorcade viewing experience happens from 10:30 AM to 11:30 noon with the motorcade starting at 11:00 AM.
Symphony in the Stars fireworks dessert party takes place from 9:00 PM to 10:00 PM with the firework shows beginning at approximately 9:30 PM (9:45PM on weekend ONE).
To check in for this event, please visit Min and Bill's Dockside Diner starting at 10:00 AM.
Guests will receive a wristband during the motorcade viewing that will allow entry into the evening fireworks dessert party. If you are unable to attend the motorcade viewing, please check in at Min and Bill's Dockside Diner starting at 8:30 PM.
Beverages include soda, water, tea and coffee. The fireworks dessert party includes a specialty beverage with an alcoholic option. Guests must be 21 years of age or older to consume alcoholic beverages.
Seating is not available.
Discounts do not apply.
Jedi Mickey's Star Wars Dinner
My review:  http://kennythepirate.com/2014/05/10/jedi-mickeys-star-wars-dinner-at-hollywood-and-vine-in-disneys-hollywood-studios-review/
May 4 through June 14
The Jedi Mickey's Star Wars Dine at Hollywood and Vine DINNER (Breakfast and Lunch will continue to be Disney Jr Characters) will offer Star Wars fans the opportunity to meet Jedi Mickey, Princess Leia Minnie, Chip n Dale as Ewoks, Donald as a Stormtrooper and Goofy as "Darth Goofy."  These are the exact same costumes the characters wear in the park, but there will be no waiting in the sun and you'll be guaranteed to meet them all!  The cost of this Star Wars character meal is $55.99 $57.99 for adults 10 and over and  $32.99 $34.99 for children 3 to 9 years of age.  If you'd like to make it a Fantasmic! dining package the cost is slightly more at $59.99 for adults and $36.99 for children.  The meal will also include a digital download of Ewok Chip n Dale. The meal will begin serving at 4:15 daily and close with the park.
You can book this reservation here.
 Star Wars Dine-In Galactic BREAKFAST
My Review:  http://kennythepirate.com/2014/05/04/my-star-wars-dine-in-galactic-breakfast-review/
May 4 through June 14
The other great Star Wars character dining experience is known as the Star Wars Dine-In Galactic BREAKFAST (The other meals are still standard ala carte dining with no characters).  The characters for this meal include Darth Vader and Stormtroopers, Boba Fett, Greedo and Jawas (ready to trade with you).  There will be no sci-fi movie trailers, instead they will offer clips from Star Wars movies.  The cost is $47.99 $49.99 for adults 10 and up and $29.99 $31.99 for children 3 to 9 years of age.    Reservations for this meal are accepted from 8:00 am until 12:00 noon.
You can reserve this meal here.
For those using the Disney Dining Plan, each meal requires TWO Disney Dining plan credits.
Disney recommends you call 407 WDW DINE, but I called 407-WDW-CREW (Pirate :) you could also try 407 WDW PLAY and requested dining reservations and the lady knew exactly what I was looking for.  The Feel the Force Package cannot currently be booked online or using Disney app.  A credit card is required for guarantee and the typical $10 per person cancellation charge will apply if you fail to cancel by midnight the night before your meal.
Make those reservations now, these meals are sure to fill up quickly!  Hope to see you there.